Home » Business ideas » Financial Service Industry
How to Start a Money Transfer Business in 17 Steps
Do you want to start a money transfer business? If YES, here is a complete guide to starting a money transfer business with NO money and no experience plus a sample money transfer agency business plan template. The money transfer business is one where you help two parties transmit a certain amount of money. It is an ideal business to start up as money transactions happen daily.
You however will need to possess certain skills and abilities so that you can effectively manage financial transactions on behalf of your clients.  The criteria for starting this business however depends on the state where you intend to operate your business from, your start-up capital as well as licensing. To start and run a standard and successful money transfer business, you will need to obtain a license that will allow you to transmit money and this is dependent on the state where you intend to operate from.
The reason why it varies is because of the money transmitting act of the National Money Transmitters Association; this is why it is necessary to know what the requirements of your state are. You might need to submit an online application to the appropriate department. The next step will be to file for a FinCEN Form 107 with the FinCEN which is at the Department of Treasury. The purpose of filing with this agency is to enable them classify your money transfer business.
It is only after you have established the money transfer business that you can then register your business with FinCEN and not before. The registration must not be done later than six months and the aim is to ensure that illegal acts like money laundering are not taking place. Then comes the part where you will need to set up your transactions with commercial banks that you are comfortable with. An alliance with a bank or several banks is very necessary so that you can carry out your full functions as a business.
If you are however still confused about certain parts of the business, this article will help in clearing any confusion or questions you might have about the money transfer business.
17 Steps to Starting a Money Transfer Business
1. understand the industry.
The money transfer industry is one that greatly contributes to the economic growth of countries participating in it. The reason for the growth of this industry is due to several factors such as increase in the labour force of the sending countries, increase in the number of migrants as well as the development of the global economy.
According to a report from World Bank, the money sent back by migrants to families in their home countries amount to $441 billion, which is thrice the amount that is being spent on official aid by international non-profit organizations. The cash that flows in through these money transfers constitute over 10 percent of the GDP in more than 25 developing countries.
As at 2014, $583 billion was transferred globally, with the top three money transfer companies dominating the market with more than 1.1 million combined retail outlets across 200 countries. This has led to an imbalance in the money transfer industry as certain countries dominate the receive volumes while certain other countries dominate the send volumes.
The united states of America for instance was responsible for about 22% of the money transferred globally in the year 2015, while India topped the receiving money transfer countries globally at 12%. Even though this industry is heavily dominated by banks and money transfer businesses, digital players have started entering the industry and are poised to disrupt how things are done.
According to a report from the Aite Group, the global revenue from the money transfer industry will grow to about 6% CAGR between the periods of 2006 and 2010. This means that by 2010, the industry will have generated close to $18.3 billion in revenue as compared to the $13 billion it generated in 2004.
The group also predicts that cross border transfers will increase by 8% CAGR between the same periods as well. By the group's estimate, the remittances globally will amount to $456 billion which is up from $369 billion in 2007. The increase is not only due to new players in the industry, but also increased competition that has been caused by so many players forcing them to expand the range of their products and differentiate their services.
The increase that has been experienced in the money transfer industry is one that has been fuelled by the increase in demand from migrants. This has caused new entrants into the market with smaller companies making use of new technology to compete with the already established companies and their traditionally high costs, limited payment systems as well as limited distribution methods.
The World Bank, United Nations and the G8 countries have also strived to make money transferring become more common and transparent, thereby causing an increase in the industry amongst the players. The growth that has been experienced by the money transfer industry cannot be pinned to just the increasing demand from migrants or increase in the number of players, as the internet has played a huge role as well.
In the early 2000s, only about 27.6% of households has access to the internet; by 2011, this number jumped to 74.9%, which was caused by an increase in the ownership of smart phones, as nearly a quarter of the global population now own one.
The top three countries in 2014 that are on the receiving end of the money transfer industry are India, China and the Philippines , and these positions haven't changed in 2016. Asia as a continent is the biggest recipient especially as migrants from China and india sent 0 billion back to their home countries as at 2012.
According to the World Bank as at 2015, global money transfer exceeded $601 billion. Out of this amount, developing countries got about $441 billion officially as it is believed that this is actually larger because a number of formal and informal channels that aren't being recorded are used.
2. Conduct Market Research and Feasibility Studies
Demographics and Psychographics
The demographic and psychographic composition of those that require the services of a money transfer business include migrants from Asian, African and Middle Eastern countries working in the United States of America. According to statistics, more male migrants, from young adult to middle aged are mostly the ones who are involved in sending money back to their home countries.
This does not however exclude nationals from the United States of America as well; the money transfer business is not only done internationally but nationally as well, therefore making it an all-encompassing business.
3. Decide Which Niche to Concentrate On
The money transfer business is one where you help two parties transmit a certain amount of money and it is an ideal business if you are looking for a lucrative business to start up because money transactions happens daily. There really aren't many niches in the industry as players are mostly concerned with privacy, data security, ease of transactions as well as other factors.
However, due to the evolvement of the industry and the financial industry at large, more niches are opening up as new players are looking toward these sort of niches such as;
Digital transfer
Cyrptocurrency
Money transfer services
The Level of Competition in the Industry
The level of competition in the money transfer industry has no relationship whatsoever to the area where the business is located because a money transfer business can operate from any part of the world via physical or virtual location, or even from both.
This is not to however say that any player can get into the industry and compete with already established players. The big players in the industry have a lot of advantage as their services are spread in strategic locations across the country; even as they have acquired the trust and confidence of their clients.
To be able to compete effectively with these big players, new operators are going digital and offering their services mostly via the internet. This is advantageous because almost every country in the world is connected to the internet and more than a quarter of the world's population has a smart phone which allows them to carry out transactions anywhere in the world.
4. Know Your Major Competitors in the Industry
Every industry has brands that are well known due to a number of factors such as how long they have been in business, their publicity or advertising strategies, how huge they are and several other important factors, and a money transfer business is no different.
Therefore some of the leading money transfer businesses both in the United States of America and around the globe are;
Western Union Company
MoneyGram International Inc (MGI)
Transferwise
Currencyfair
World Remit
Economic Analysis
The money transfer business is one that involves the offering of a service by two parties – where one party sends money to a beneficiary somewhere else using a platform. The service can either be done locally or between two or more countries.
To start this kind of business, you would need to create a business plan so that you have a clear vision of what your business would look like and how the flow of funds will work. You should realize that when running this business that every single penny you make must be accounted for, therefore you must be familiar with every aspect of the business.
One of the major issues that this industry faces is the that of compliance, which is why regulators globally are advocating for players int the industry to adopt platforms that are not only secure and robust but compliant, so as to effectively enforce proper procedures such as KYC (Know Your Customers) and block list checks against beneficiaries as well as remitters in order to efficiently track all transactions and the information attached.
Another reason why automated remittance platforms are seriously encouraged by the government is because such platforms make use of the latest technology so as to not only improve transaction speed but its efficiency as well. These platforms can then be used to conduct the required checks and also provide the needed information to the correct delivery agent. The platforms also store all the relevant identification information as well as enhance customer service by ensuring that critical business information is made available instantly.
Also, these automated platforms can help provide financial information that is accurate about the money transfer business and the profit or loss incurred per transaction. It is also useful for auditing and other compliance purposes.
5. Decide Whether to Buy a Franchise or Start from Scratch
How you decide to start your business depends on the vision and goals you had in mind for the business. Starting your business from scratch versus buying a franchise comes with its own pros and cons; it should however be noted that the money transfer business does not operate via franchise and the closest thing to that is being an affiliate.
Starting your business from scratch means that you are in control of your business and are able to determine how best to achieve your goals and objectives. You can also know what strategies aren't working and have them modified or removed to be able to make your business achieve the level of success you want for it.
6. Know the Possible Threats and Challenges You Will Face
Every business when established newly is faced with threats and challenges and the money transfer business is not different. Therefore, if you are going to start this business, bear in mind that there are several challenges you are going to face, and how you address these challenges will determine the success of failure of your business.
Some of the threats and challenges that you are going to face are; arrival of a competitor into the industry, unfavorable and stringent government and industry policies and the downturn of the global economy.
7. Choose the Most Suitable Legal Entity (LLC, C Corp, S Corp)
The moment that you decide to turn your business idea into reality is the moment you would need to decide on what kind of legal entity to choose for your business. Even though there are 4 basic types of legal entities in the United States, but the legal entity you would choose must take the industry you will be operating in into consideration.
This means that the legal entity you should choose for your money transfer business should take into consideration; protection of your assets, tax issues, how to take money out of the company, your personal responsibility should your business lose money as well as estate planning. Also, the legal structure you finally choose will affect how you open your business legally.
The good thing about a legal entity is that once you find out that the needs of your business can no longer be met by your legal entity, you are free to change it.  It is however beneficial if you have basic knowledge of business laws as it will be highly beneficial to your business or you can engage the services of a law attorney to help guide you on what is best for your business.
8. Choose a Catchy Business Name
Choosing the right name for your money transfer business is very important because it would portray the kind of business you are going into. Therefore, if you are considering some unique and catchy names for your money transfer business, here are some names you can choose from;
Transferpay International
Currency Wise International
Pennywise International
Cash Central Inc
Payable International
9. Discuss with an Agent to Know the Best Insurance Policies for You
Having insurance is very important and for a business as sensitive as a money transfer business, it is very vital that you buy an insurance policy that would protect you from any form of liability. Knowing the right insurance policies to choose from can be quite tasking, which is why it is necessary to approach an insurance agent or broker to advise you on which policies you would need to buy for your business.
Some of the basic insurance policies that you would need to consider purchasing if you intend to start your money transfer business in the United States of America are;
General Insurance
Liability insurance
Workers' Compensation Insurance
Health Insurance
Errors and Omission Insurance
Payment Protection Insurance
Data Breach Insurance
10. Protect your Intellectual Property With Trademark, Copyrights, Patents
While the money transfer business is one that is very sensitive and requires a solid and secure database to protect the information of clients, it is however not a business that requires getting an intellectual property protection. This is due to the fact that this kind of business is a service based business that does not require inventions of any sort.
However, certain money transfer businesses have overtime applied for intellectual property protection for their company logo, slogan or jingle, and if you consider this as a priority, you can do yours as well, especially your logo or company name.
11. Get the Necessary Professional Certification
You would not need a professional certification in order to start a money transfer business. However, there are certain professionals you would need to have on board in your organization if you intend to run a standard money transfer business. A compliance officer is very necessary to boost the profile of your business and there are certain certifications that must be taken by the compliance officer.
Some of the certifications that a compliance officer must have include;
Certified Anti-Money Laundering Specialist (CAMS)
The more certifications the compliance officer possesses, the easier it is for you to legally transact your business.
12. Get the Necessary Legal Documents You Need to Operate
The money transfer business is one that is very serious and sensitive, therefore certain documentations must be in place before the business can be started in the United States of America. However, it is necessary to point out that no business can be effectively run without proper documentations in the United States of America.
Some of the basic legal documents that you are expected to have in place if you want to legally run your money transfer business in the United States of America are;
Certificate of Incorporation
Operating Agreement
Business License and Certification
Business Plan
Non Disclosure Agreement
Insurance Policy
Employment Agreement
Money Services Business Application form
Money transferring license
FinCEN Form 107
Online terms of use
Online Privacy Policy Document
13. Raise the Needed Startup Capital
The money transfer business just like any other business, would need certain amount of capital from you. While seeking for start-up capital for a business is not an easy affair, it is very important that you have a good business plan in place that will help you convince your banks, investors and friends to invest in your business.
Some of the options that you might need to explore when sourcing for start-up capital for your money transfer business include;
Raising money from personal savings, sale of stock or properties
Raising money from business partners
Sourcing for soft loans from family members and friends
Pitching your business idea to angel investors for a loan
Applying for Loan from your Bank
14. Choose a Suitable Location for your Business
The money transfer business is one that can be run from home or from the internet. Whether you choose the traditional brick and mortar building or the internet to run your business, a suitable location is very important to the success and growth of your money transfer business.
One factor that would come to bear greatly on your location issue is the scale of the business you intend to run. If you are a bit constrained by budget, then you might need to choose a location that would not add more financial strain to you. If you carefully study the money transfer business, you would see that the popular and dominant industry players operate from both a physical location as well as from the internet in order to capture a large share of the market.
The location where you choose to locate your physical offices must be strategic; while it must be close to your banks, it must also not be far from your clients. In the money transfer business, most of the clients are migrants who want to send money to relatives or loved ones in their home countries, so it would be unwise to locate it far from where a lot of migrants live or work. If you indeed intend to locate your business far away, a competitor might seize this advantage and use it to get a huge share of the target market.
While your physical location must be conspicuous and easily accessible, your website which should be your virtual office should also be as well. Clients who need to conduct transactions via your website shouldn't have to experience difficulties, insecure website or downtime. This is why you should search for a good web host and developer to ensure that you offer your clients a safe place to carry out secure transactions.
15. Hire Employees for your Technical and Manpower Needs
Due to the fact that the money transfer business is a licensed one, there are certain paths you would need to take to be able to run your business successfully in the United States of America. You could decide to follow the affiliate, correspondent, correspondent/ISO, authorized delegate, licensed or banking agent route.
There are also several players in the business such as the sender, the sender's bank, beneficiary, beneficiary's bank, money transfer operator (sending side), money transfer operator bank (sending side), correspondent bank (sending side) and money transfer operator/bank (receiving side).
In order to fully set up and run your money transfer business, you would need basic office supplies such as computers, printers, phones and software (security, customer and transfer software) to enable you run a business that is reliable and trustworthy for your clients.
As regards your website, you will need to create a firewall so that hackers do not hack into your database and steal customers' information as this could make your money transfer business to quickly lose credibility and eventually fail.
In employing the right people to work in your money transfer business, you would need to conduct security and background checks so as to not employ criminals or those with a bad financial history. The business structure that you would build for your money transfer business are; the chief executive officer, the admin and human resources manager, accountant, customer care officer for both online and offline inquiries, marketing officer, ethical hackers, cleaner, security guard.
The number of people you would need to employ in order to run a successful money transfer business that is of medium scale is at least 10 people.
The Service Delivery Process of the Business
The money transfer business is one that includes several types of operators to be able to function effectively and this includes banks and money transfer operators. For a service to be delivered well, the remitter of cash usually goes to a physical location where he or she hands over cash to a money transfer operator teller.
The money transfer operator will have agreed with the agent (a bank) as to the exchange rate as well as any additional charges that will be incurred during the transaction and these charges are passed on to the remitter before the money can be sent to the beneficiary in another country. The remitter is given a receipt showing the details of the transaction which will include who the beneficiary is and how much will be given.
It is only after this that the money is deposited by the money transfer operator into its bank account and when it has reached a certain amount, make a transfer to the delivery agent in the destination country. This arrangement which depends on the agreement between the money transfer operator and delivery agent can be daily, weekly or monthly.
Once instructions have been received from the money transfer operator, the delivery agent then delivers the money to the beneficiary via the agent's physical location. A commission is usually charged by the delivery agent for this service. This cycle is usually referred to as a transaction.
16. Write a Marketing Plan Packed with ideas & Strategies
The money transfer industry is one that is not only stiff with competition but also filled with dominant players as well; this is why you must ensure that all is in place before you proceed to market your business to your potential clients.
Because marketing not only helps generate revenue for your business but equally increases awareness for the business; it is important that you conduct a market survey that will help you identify your target market as well as ways to penetrate the market using certain strategies. Conducting a market survey will also help you study the strengths and weaknesses of your competitors and then help you develop strategies that you can use to compete with them and get a huge share of the target market.
The result of your market survey would help you determine the right marketing strategies that would be effective for your business. It is also from your market survey that you would determine the budget that you will need to market your business.
The internet has made it possible these days to reach customers from far and wide and so combined with physical form of marketing, any enterprising entrepreneur can achieve all its corporate goals and objectives. Therefore some of the platforms you would need to market our money transfer business are;
Ensure you introduce your business to stakeholders in the industry by having your marketing team approach corporate organizations and international businesses with letters and brochures listing the benefits of your money transfer business.
Ensure that you place advertisements in newspapers, business and money related magazines, as well as on radio and television stations.
Ensure that your business is listed in yellow pages as well as on online directories.
Empower your marketing executives to engage in physical and direct marketing.
Use your website as well as social media platforms such as Linkedin, Facebook, Twitter, and Google Plus to vigorously market and advertise your business.
Place billboards in strategic locations in order to enable your target market be aware of your money transfer business
17. Develop Strategies to Boost Brand Awareness and Create a Corporate Identity
If you are serious about starting your money transfer business, then you should be ready to engage in activities that would promote your brand and create a corporate identity for you. Boosting of awareness is what all companies engage in no matter how long they have been in business, because the more you publicize your business, the more you attract new customers and retain already existing customers.
Because the money transfer business is majorly an international kind of business, you would need to understand the international market when creating the necessary strategies for promoting your business.
The importance of publicity has made it imperative for businesses to get a brand consultant that understands the national and international market and can therefore draft the right strategies that would boost the awareness of the brand.
The money transfer business is one that has a lot of competition and so it is absolutely necessary to create the best strategies that would help the business stand out and be able to compete favorably against its competitors. Below therefore are the platforms that you can leverage on to boost your brand and communicate the corporate identity of your business;
Ensure that you leverage on social media platforms such as Facebook, Instagram, YouTube, Twitter and GooglePlus to promote your money transfer business
Place adverts in popular websites and blogs
Ensure that your website is search engine optimized so that it can appear tops in search engines when clients are looking for a money transfer business to use
Hand out handbills and business cards and paste fliers in strategic locations
Set up branches in countries where you are likely to have enough potential clients and carry out adverts there as well
Use your official website to advertise your business
More on Financial Service Industry
Money Transfer Business Plan Sample PDF Example | Free Download Presented by BizMove
Watch This Video Before Starting Your Money Transfer Business Plan PDF!
Checklist for Starting a Money Transfer Business: Essential Ingredients for Success
If you are thinking about going into business, it is imperative that you watch this video first! it will take you by the hand and walk you through each and every phase of starting a business. It features all the essential aspects you must consider BEFORE you start a Money Transfer business. This will allow you to predict problems before they happen and keep you from losing your shirt on dog business ideas. Ignore it at your own peril!
For more insightful videos visit our Small Business and Management Skills YouTube Chanel .
Here's Your Free Money Transfer Business Plan DOC
Free book for you: how to start a business from scratch (pdf).
Copy the following link to your browser and save the file to your PC:
https://www.bizmove.com/free-pdf-download/how-to-start-a-business.pdf
A Box Full of Kisses
Some time ago, a man punished his 3-year-old daughter for wasting a roll of gold wrapping paper. Money was tight and he became infuriated when the child tried to decorate a box to put under the Christmas tree.
Nevertheless, the little girl brought the gift to her father the next morning and said, "This is for you, Daddy."
The man became embarrassed by his overreaction earlier, but his rage continue when he saw that the box was empty. He yelled at her; "Don't you know, when you give someone a present, there is supposed to be something inside?"
The little girl looked up at him with tears in her eyes and cried;
"Oh, Daddy, it's not empty at all. I blew kisses into the box. They're all for you, Daddy."
The father was crushed. He put his arms around his little girl, and begged for her forgiveness.
Only a short time later, an accident took the life of the child. Her father kept the gold box by his bed for many years and, whenever he was discouraged, he would take out an imaginary kiss and remember the love of the child who had put it there.
Moral of the story: Love is the most precious gift in the world.
Puppies for Sale
A shop owner placed a sign above his door that said: "Puppies For Sale."
Signs like this always have a way of attracting young children, and to no surprise, a boy saw the sign and approached the owner; "How much are you going to sell the puppies for?" he asked.
The store owner replied, "Anywhere from $30 to $50."
The little boy pulled out some change from his pocket. "I only have $2.37," he said. "Can I please look at them?"
The shop owner smiled and whistled. Out of the kennel came a Lady, who ran down the aisle of his shop followed by five teeny, tiny balls of fur. One puppy was lagging considerably behind. Immediately the little boy singled out the lagging, limping puppy and said, "What's wrong with that little dog?"
The shop owner explained that the veterinarian had examined the little puppy and had discovered it didn't have a hip socket. It would always limp. It would always be lame.
The little boy became excited. "That is the puppy that I want to buy."
The shop owner said, "No, you don't want to buy that little dog. If you really want him, I'll just give him to you."
The little boy got quite upset. He looked straight into the store owner's eyes, pointing his finger, and said;
"I don't want you to give him to me. That little dog is worth every bit as much as all the other dogs and I'll pay full price. In fact, I'll give you $2.37 now, and 50 cents a month until I have him paid for."
The shop owner countered, "You really don't want to buy this little dog. He is never going to be able to run and jump and play with you like the other puppies."
To his surprise, the little boy reached down and rolled up his pant leg to reveal a badly twisted, crippled left leg supported by a big metal brace. He looked up at the shop owner and softly replied, "Well, I don't run so well myself, and the little puppy will need someone who understands!"
Who's Counting?
Napoleon was involved in conversation with a colonel of a Hungarian battalion who had been taken prisoner in Italy. The colonel mentioned he had fought in the army of Maria Theresa. "You must have a few years under your belt!" exclaimed Napoleon. "I'm sure I've lived sixty or seventy years," replied the colonel. "You mean to say," Napoleon continued, "you have not kept track of the years you have lived?"
To that the colonel promptly replied, "Sir, I always count my money, my shirts, and my horses - but as for my years, I know nobody who wants to steal them, and I shall surely never lose them."
Manage a Business successfully, manage a company, is the key to the establishment and expansion of the business. The key to successful management is to inspect the market environment and create employment and profit opportunities that provide the possible growth and financial viability of the business. Regardless of the Significance of management, this region can be misunderstood and poorly executed, primarily because people concentrate on the output in place of the procedure for management. Toward the end Of the 1980s, company managers became absorbed in improving product quality, sometimes ignoring their function vis-a-vis personnel. The focus has been on reducing costs and increasing output, while ignoring the long-term advantages of motivating personnel. This shortsighted perspective tended to increase profits in the brief term, but made a dysfunctional long-term small business atmosphere. Simultaneously With the growth in concern about quality, entrepreneurship brought the interest of company. A sudden wave of successful entrepreneurs appeared to render sooner direction theories obsolete. The press focused on the new cult heroes Steve Jobs and Steve Wozniack (creators and developers of the Apple Computer) while ignoring the marketing and organizing talents of Mike Markula, the executive responsible for Apple's business plan. The story of two men selling their Volkswagen bus to build the first Apple computer was more romantic than that of their organizational genius that enabled Apple to develop, market and send its goods while quickly becoming a major corporation. In large Companies, effective manage business abilities requires preparation. Planning is vital for developing a firm's potential. However, many small businesses do not recognize the demand for long-term aims, because the few of people involved with operating the business implies equivalent responsibility in the planning and decision-making processes. Nevertheless, the need for planning is as vital in a small business as it is in a large one. This guide Focuses on the value of good management practices. Specifically, it addresses the responsibilities of handling the external and internal environments. Running A Business Effectively: The External Environment. Five decades ago, Alvin Toffler suggested that the vision of the citizen in the tight grasp of an omnipotent bureaucracy would be replaced through an organizational structure of ad-hocracy. The conventional company organization implied a social contract between employees and employers. By adhering to some predetermined set of duties and sharply defined functions and responsibilities, workers received a predefined set of benefits.The Organizational structure that Toffler predicted in 1970 became the standard 20 decades later, and with it came altered concepts of authority. As organizations became more transitory, the authority of the company and firm has been replaced with the jurisdiction of the individual supervisor. This entrepreneurial management version is now being replicated throughout society. Consequently, the individual business operator must internalize ever increasing organizational purposes. Another Shift In the present business environment is dealing with government agencies. Their influence on the behavior of company most recently seems to have increased. As businesses don't attain high levels of moral behaviour or individual companies exhibit specific lapses, the government rushes in to fill the breach with its regulations. Powerful Communications play an integral role in managing and operating any successful small business. With open communications modifications and their effects on the organization are rapidly shared. Your company then has the time and skills required to react to changes and take advantage of evolving opportunities. The following Checklist addressing how you'd respond to a worker's suggestion offers an assessment of the communication process in your company. Place a check beside the statements that are commonly heard in your business. Balancing Schedules Stress and Personnel. With no organization and decent management the compressed time schedules associated with contemporary business can cause stress and make extraordinary demands on people. A successful management structure can lessen stress and channel the effective capacity of employees into business growth and profits. Setting Duties Tasks and Responsibilities. An organization is characterized by the nature and determination of workers' responsibilities tasks and responsibilities. While many organizations use different procedures for discovering these it is essential that they be clearly defined. The center of any Business is its people and their own functions. Duties responsibilities and tasks often evolve in an ad hoc manner. A typical company starts with a few individuals often one doing all duties. As the company develops others are hired to fulfill specific roles often on a functional basis. Roles which were managed by consultants and experts outside the firm now are managed internally. As new demands emerge new roles have been developed. Another crucial to Successful management is located in controlling battle. Conflict cannot be eliminated from the company or the interpersonal actions of the enterprise. A measure of the business's success is that the degree to which conflict may be exposed and the energies related to it channeled to build up the firm. Though establishing policies and procedures represents the tangible aspect of organization and management the mechanisms to endure and embody barriers to the established operation serve as the actual gist of a firm which will survive and prosper. Even though you May find that certain events are affecting your company be careful not to alter the organizational structure of your firm without discussing it with your management staff. Employees generally can accomplish goals despite organizational structures imposed by management. Since restructuring involves spending a lot of time studying new rules implementing a new organizational structure is pricey. The essence of A successful organization can be simply outlined than employed. The Following checklist can help you determine steps to make sure your direction Structure is sufficient. Check the entries that apply to your firm and also find Out what measures your company needs to take to enhance its management Structure.
custom-clothing custom-jewelry custom-shirt custom-shoe custom-t-shirt-printing custom-wig dairy-farm dance-studio data-center data-entry dealership decal deck-building demolition departmental-store design-studio diagnostic-laboratory diamond-jewelry digital-marketing digital-printing direct-selling disc-jockey-service dispatcher distillery diy dog-breeding dog-grooming dog-kennel dog-training dog-walking dollar-store door driving-school drone dropshipping dry-cleaners drywall dsa dually-truck duck-farm dumpster-rental dump-trailer dump-truck durag earring egg-farm electric-scooter electronics engraving epoxy-countertop
Copyright © by Bizmove.com. All rights reserved.
Business Type
Business Plan for Money Transfer Service
Money Transfer Service Small Business Idea and Business Plan
Starting your own small business in the UK isn't easy but having a properly developed business plan will help you achieve success.
To start a Money Transfer Service business in the UK, take the time and explain the idea via a business plan.
Understanding all of the aspects of the business idea will be the key to getting the Money Transfer Service business running like a well-oiled machine. The business plan you develop will help you organize the elements needed into a strategy that you can actually use to startup, by paving a clear road map as to what you need to follow for the lifespan of your business.
Starting a Money Transfer Service business isn't easy, but when done right, it can lead to a lot of success.
To help you get started, you can use the free business plan builder tool to develop your own Money Transfer Service business plan.
The business plan template is very easy to use, is interactive and will quickly and easily help you create your business plan just by answering the needed questions about your small business idea.
Create your own Money Transfer Service business plan for free using the Business Plan Builder
The free business plan template builder is divided into a few easy to follow steps.
The free business plan builder template is provided by UKStartups.org to help you develop your own business plan. For step by step guidance, see the 5 steps below.
Once completed, the result will be a clean, professional plan that will help you start your own Money Transfer Service small business in the UK.
When you have completed your Money Transfer Service business plan, the next step will be to find available funding that will help, or to speak with a funding adviser who will assist you each step of the way to securing the needed funds to make your Money Transfer Service business startup.
If you are looking to limit your startup costs when starting up a Money Transfer Service small business in the UK, this free business plan builder tool will be it.
Starting a Money Transfer Service business is only one of the ways others have used this free business plan tool. There are hundreds of different ideas you can start, and if you need guidance, do reach out to a UKStartups expert to get the needed assistance and guidance.
Step 1. Your business information
To develop a proper Money Transfer Service business plan with the free business plan builder template, it is important to answer each of the questions about your business to the best of your abilities.
What is your business? What are the products/services you provide? Who are your customers? What are your goals…etc?
Having a clear explanation will help you create a in-depth business plan that you can actually use to start the Money Transfer Service business and to apply for needed funding to cover your startup costs.
Step 2. Projecting your revenues/income
The Money Transfer Service industry can have great results. Planning and projecting the financial figures to approximate what you will make each year is crucial to building a strong business plan.
What do you think your business will make from each of its products/services? Simply list your products/services, enter the appropriate financial figures (costs and expenses).
If you don't have the figures, in many cases it is recommended to do a a bit more research on other Money Transfer Service businesses locally and within your own region to get an idea of potential revenue. You can do your best to estimate the figures and growth potential.
If you need assistance in projecting, you can always contact UK Startups funding experts for the help.
Step 3. Your business market
As a Money Transfer Service business, having a clear explanation of the market and industry that you are in will help you plan for the figure and will ensure you can take the business to the next level.
Explain your location of business, share specifics about your customers, showcase your competition and explain the advantages you have over your competition.
Step 4. The future plan
Starting your own Money Transfer Service business and getting it off the ground is important to you.
No matter if you're planning on applying for government funding for your Money Transfer Service business or not, it is important to plan out the future and provide an explanation of how you will grow the business. This means explaining your marketing plan, your sales strategy and clearly outlining a growth plan for the next few years.
Be sure to break this down step by step to show how you intend on making sure your Money Transfer Service business can grow each year.
Keep in mind that often business plans are focused on key people. Be sure to discuss yourself, your role and any other key figures in the business as well.
Step 5. The financials
In the end, it all comes down to the financials. If you are seeking funding, or not – the business plan you develop needs to have clearly defined financials or projections. The business plan builder tool makes it easy to develop your financial charts by simply entering your expected revenues per month and year. If you don't have the figures as it's a new business be sure to project the figures based on your expectations. If you need help with this, ask the UK Startups experts .
A clear breakdown of your funding needs is also recommended in case you are seeking funding and this free business plan template will help you with exactly that. When developing your Money Transfer Service business plan using this free template, the above 5 steps are recommended in order to succeed. While there are other key points that will assist you in starting your business, finding funding...etc, the free template will help put you on the right path
Be sure to request a professional to review your business plan , to answer any questions you may have and to help you with the funding search once you've done the initial free template. You can request this directly via UKStartups.org and through the Small Business Startup Platform as a member.
If starting a Money Transfer Service business is just one of your ideas, perhaps considering other options, here are some popular small business's others have chosen to startup
Pond Supply Store
Insulation Contractor
Japanese Steakhouse
Cookie Shop
How Do I Set Up A Remittance Money Transfer Business?
Introduction.
Entering the remittance industry is not particularly difficult as long as you have a basic understanding of how businesses operate. However, it is crucial to keep in mind that the transfer of money is a regulated activity that requires compliance with the law.
Failure to obtain the necessary licenses and follow the appropriate regulations can result in significant consequences, including fines and imprisonment.
Therefore, you should consult with local regulatory bodies and attorneys specializing in this field before proceeding with any plans to enter the remittance industry.
Diving Into The Money Transfer Business
It is common for individuals to enter the remittance industry without adequately researching and understanding the field. They may spend a few hours reading about it or even try transferring money themselves, but this is insufficient to become an industry expert. In fact, becoming knowledgeable and successful in the remittance industry requires significant time and dedication. Without a deep understanding of the industry and a commitment to the business, competing with others and making a profit can be challenging.
Additionally, it is important to be aware that the remittance industry is often viewed as a low-hanging fruit, which can lead to intense competition. This can make it difficult to survive in the business, as there are likely to be many other individuals and companies vying for a share of the market.
Dip Your Toes Into the Water
Before you find out the hard way, it is always better to start small. Everyone wants to be able to do this…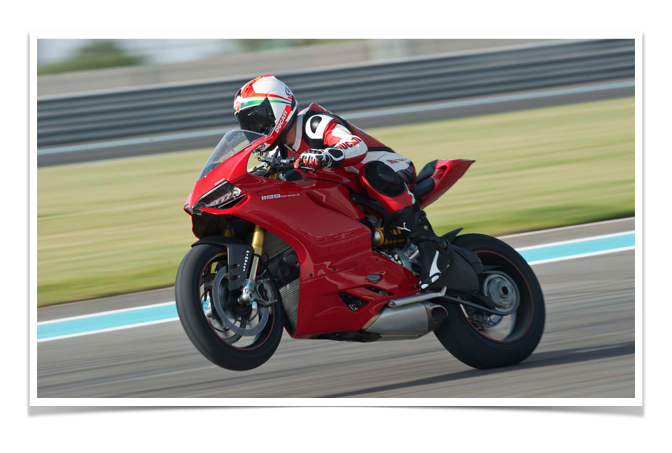 However, the rider you see on that bike most likely started with the vehicle below and worked their way up…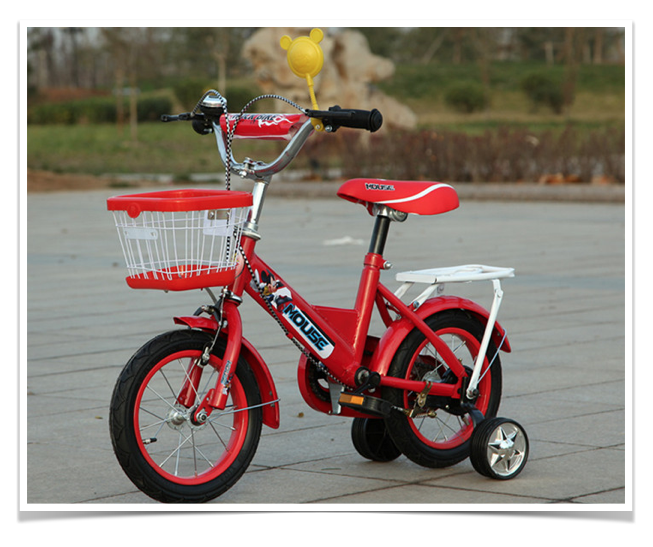 Yes. Training Wheels! Put them on!
It is advisable to start small and proceed with caution when entering the remittance industry, as investing too much money and time too quickly can lead to significant losses. Starting small allows you to make mistakes and learn from them, which is an important aspect of the process.
Additionally, it is important to pay attention to the industry's subtle nuances, as these can ultimately determine your success.
For example, suppose you are planning to set up a physical location for your remittance business. In that case, it may be wise to start with a small location in a less competitive area before expanding to a larger, more competitive location. By starting small and carefully, you can gain valuable experience and knowledge that will help you succeed in the long run.
Establishing partnerships with other companies or individuals: This can involve negotiating terms, setting up contracts, and finding mutually beneficial arrangements.
Seeking help and advice from relevant sources: This could include consulting with legal professionals, regulatory bodies, industry experts, or other individuals with experience in the remittance industry.
Working with vendors and suppliers: This may involve identifying reliable and cost-effective sources for necessary goods and services, negotiating terms, and building relationships with these companies.
Maximizing the use of your working capital: This could involve finding ways to reduce expenses, increase efficiency, or generate additional income in order to maximize the use of your available financial resources.
Marketing your business and targeting specific client groups: This may involve creating marketing materials, identifying potential customers, and developing strategies to reach and attract these individuals.
Testing different approaches and measuring their effectiveness: A/B testing involves comparing two or more versions of something (such as a marketing message or website design) in order to determine which is most effective.
Understanding and complying with relevant regulations: This may involve obtaining necessary licenses and permits, following industry standards and guidelines, and staying up-to-date on any changes to the regulatory environment.
Knowing your competition and their strategies: This may involve researching other companies in the industry, analyzing their offerings and marketing techniques, and developing ways to differentiate your business from theirs.
Paying attention to the specific characteristics and trends of different remittance corridors: This could involve analyzing data on exchange rates, fees, and other factors that can impact the cost and feasibility of transferring money in different regions.
Building relationships with banks and other financial institutions: This may involve negotiating terms, complying with their requirements, and finding ways to make your business an attractive partner for these organizations.
Carefully calculating the costs associated with transferring money: This could involve analyzing expenses such as fees, exchange rates, and other charges that can impact the overall cost of a transaction.
Increasing the volume of money transferred: This may involve finding new customers, expanding to new regions, or offering additional services in order to grow your business.
Effectively managing Know Your Customer (KYC) processes: This could involve developing and implementing procedures to verify the identity of your customers and ensure compliance with relevant regulations.
Avoiding involvement in money laundering or terrorist financing: This may involve implementing policies and procedures to prevent your business from being used to funnel illicit funds.
Building a strong and effective team: This could involve recruiting and hiring skilled and dedicated employees, training and developing their skills, and creating a positive and supportive work environment.
Remember, there is no shame in starting small. It pays in the long run to start small and grow.
It All Starts With Licensing
In most countries and territories, operating a money transfer business requires a license. Therefore, it is advisable to research and understand the licensing process before proceeding with any plans to enter the industry.
This may involve consulting with regulatory bodies and attorneys, obtaining the necessary permits and approvals, and fulfilling any other requirements set forth by the authorities.
By taking the time to properly address the licensing issue from the outset, you can avoid potential legal issues and set your business up for success.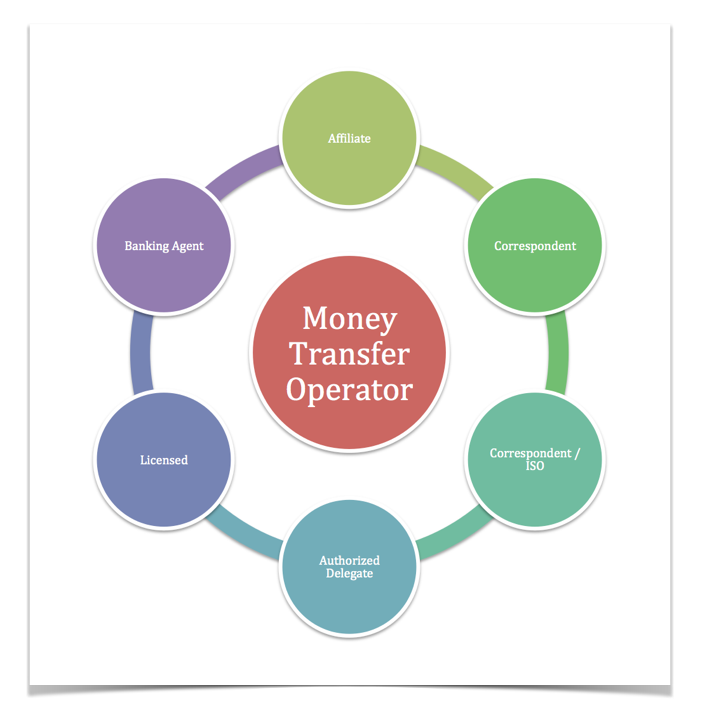 In order of difficulty (from lowest to highest):
Correspondent
Correspondent / ISO
Authorized Delegate
Banking Agent
A more detailed explanation of the route you can take with respect to licensing is explained here:   US Money Transmitter License
One option to consider when entering the remittance industry is becoming an affiliate. There are several advantages to this approach, including:
Minimal financial investment: As an affiliate, you typically do not need to invest a significant amount of money upfront, making it a relatively low-risk option.
Rapid learning: Working as an affiliate allows you to gain hands-on experience and quickly become familiar with industry terminology and processes.
Comprehensive understanding: While you may not learn about every aspect of the industry as an affiliate, you will still gain a thorough understanding of how money transfer works and the various factors involved.
Practical experience: Rather than simply learning about the industry theoretically, becoming an affiliate allows you to gain firsthand experience and see the practical applications of what you have learned.
Testing the waters: By becoming an affiliate, you can gauge the difficulty of acquiring and retaining clients, which can be valuable information as you consider expanding your business.
Flexibility: If things do not work out as an affiliate, you can walk away without incurring significant losses or being tied to long-term contracts. You can also enroll with another money transfer operator as an affiliate if you wish to continue exploring the industry.
Free education: The MTOs you work with may provide additional training and support to help you better understand the industry and succeed as an affiliate.
Once you feel confident in your understanding of the remittance industry and your own risk tolerance, you may be ready to move on to the next level of involvement. This could involve transitioning from a training wheels approach, such as becoming an affiliate, to a more advanced level of involvement such as becoming an authorized delegate or agent.
Alternatively, if you have already gained significant knowledge and experience in the industry through internships or work with an MTO, you may be ready to pursue your own licenses and establish your own business.
Ultimately, the appropriate level of involvement will depend on your understanding of the business and your comfort with the associated risks.
Players in the Ecosystem
The next thing is to understand the different players in the money transfer business that make up the ecosystem:
The image below depicts more or less a complete model of all the players that will ever be: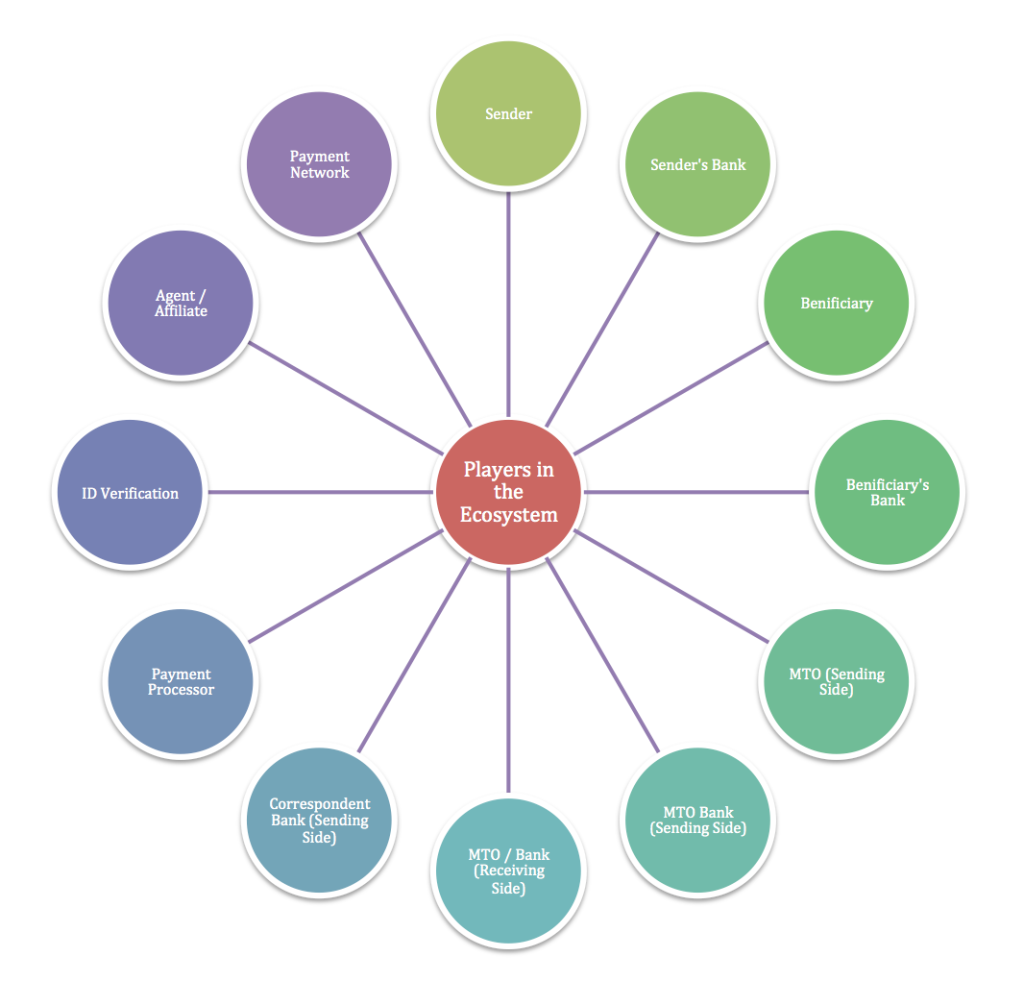 Sender: The individual who is sending the remittance.
Sender's Bank: The bank that the sender will use to fund the remittance transaction. This can also be funded in cash at an agent location or by using other payment instruments such as credit/debit cards or mobile credits.
Beneficiary: The person who will be receiving the remittance money.
Beneficiary's Bank: The bank where the remittance money is credited. Alternative methods include mobile wallets (which also involve a bank on the back end) or cash-over-counter (COC), in which case the beneficiary can receive cash upon presenting proper identification at an agent location or bank.
Money Transfer Operator (Sending Side): The licensed entity in the sending country that is legally responsible for facilitating the remittance.
Money Transfer Operator Bank (Sending Side): The financial institution(s) that the MTO in the sending country uses to aggregate the funds and distribute them.
Money Transfer Operator/Bank (Receiving Side): The counterparty in the receiving country, which may be a licensed MTO or a bank.
Correspondent Bank (Sending Side): A correspondent bank may be involved in hosting the sending bank/MTO's Nostro account or in channeling funds between the sending MTO and the receiving MTO/bank.
Payment Processor: A payment processor may be used if payment instruments such as ACH, debit/credit cards, or other platforms like PayPal or Dwolla are being utilized. The payment processor is contracted by the money transfer operator (sending side).
ID Verification (KYC): A third party service may be used to authenticate and verify the IDs submitted as part of the onboarding process by the sending MTO.
Agent/Affiliate: An agent or affiliate may be used on the sending side to onboard the transaction and on the receiving side to offload the remittance transaction.
Payment Network: MTOs may use various payment networks to route the remittance transfer, such as a third-party network like Earthport to settle transactions in countries where the MTO is not directly integrated.
Diving Into The Business
Before entering the money transfer industry, it is advisable to consider taking two steps to gain a better understanding of the field:
Attend a money transfer conference: There are several conferences that focus on the money transfer industry, such as the CrossTech , formerly known as International Money Transfer Conference (IMTC) and the International Association of Money Transfer Networks (IAMTN) . Attending one of these conferences can provide valuable insights and networking opportunities.
Find a mentor: Having a mentor in this field can be extremely beneficial, as they can provide guidance and support as you navigate the industry. It may be helpful to reach out to professionals with experience in the money transfer industry to see if they are willing to mentor you.
Working Capital
Regardless of your approach to entering the money transfer industry, it is important to have access to working capital. If you are considering the affiliate route, you may need financial resources to invest in marketing efforts such as creating landing pages, writing blog articles, and utilizing search engine optimization, search engine marketing, and social media marketing.
On the other hand, if you are pursuing the correspondent route, you may be required to provide pre-funding to the sending MTO. This means you will be responsible for providing the necessary financial resources to cover the cost of the transaction before it is completed. It is important to carefully consider your financial needs and plan accordingly when entering the money transfer industry.
If you're going the Authorized Delegate route, then you can read up the following articles to better understand:
Access to US Money Transfer Market
Should you own a Money Transmitter License?
FAQs on ISO/Correspondent Relationship
Correspondent vs. Authorized Delegate
For trying to obtain your own licensing, you can check the amount of money needed from each financial regulator, by visiting their website. The complete list can be found here: List of Money Transmitter License Regulators
Access to Banking
This could be a very difficult proposition for you. Finding a bank (read: MSB Friendly Banks ), willing to work with an MSB engaged in the cross-border money transfer business is not easy.
Because of Operation Chokepoint, there is a lot of De-Risking of MSBs going on in the banks.
You can read more about this in these 3-series articles that I wrote:
The Sandstorm that is blanketing the Money Services Business
Can't find MSB Friendly Banks?
Banking De-Risking: The Domino Effect Is Now In Full Force.
Most MTOs will not provide you with access to banking (unless you're 100% purely affiliate). If you are going to come on-board as an ISO/Correspondent, Authorized Delegate, etc. you bring your own banking relationship to the equation.
Anti-Money Laundering Training
One of the reasons that MTOs and banks may be hesitant to work with small businesses and individuals is due to a lack of knowledge about anti-money laundering (AML) and Know Your Customer (KYC) regulations. It is crucial for everyone in the money transfer industry to undergo AML training, and this includes affiliates.
To gain a thorough understanding of the industry and the associated terminology, it is advisable to invest time in obtaining advanced training. These trainings can be completed online and may take anywhere from one week to several weeks to complete.
Before beginning advanced training, it may be beneficial to read extensively about AML and KYC regulations. There are numerous books and manuals available online that can provide a solid foundation of knowledge in these areas. Additionally, there is a wealth of free educational material available on YouTube and other online platforms that can help explain key concepts.
Compliance Officer
In addition to being an affiliate, most other programs or associations in the money transfer industry will require you to have a full-time compliance officer on staff at your organization. It is important to ensure that your compliance officer is fully qualified and has undergone comprehensive training in areas such as anti-money laundering (AML), Know Your Customer (KYC), and Customer Identification Procedures (CIP). A certification such as the Certified Anti-Money Laundering Specialist (CAMS) may be preferred.
While it may be tempting to try to save money in this area, it is important to invest in a highly qualified and competent compliance officer. A solid compliance officer can provide credibility and stability for your business, and can be well worth the investment in the long run.
Compliance Program
An effective and constantly improving compliance program is essential for any reputable money transfer company. It is not uncommon for a significant portion of a company's human resources, such as 5-10%, to be dedicated to running the compliance program.
To ensure the success of your compliance program, it is advisable to work with a high-quality compliance specialty company to develop and implement the program. These companies have expertise in the subtle elements that can impact a compliance program, and can help ensure that your program is tailored to the specific legal corridors and transaction/financial models under which your business operates.
While it may be tempting to try to cut costs in this area, it is important to invest in a top-quality compliance program. Skimping on this aspect of your business can have serious consequences and is not worth the risk.
Choosing Your Corridor
One important step in entering the money transfer industry is identifying the markets in which you want to operate. Depending on your arrangement, you may already have an established bank or MTO to work with, or you may need to find one and establish a partnership with your principal license holder in the sending country.
Establishing partnerships, or "tie-ups," can be a tedious process involving a significant amount of paperwork and time. However, these partnerships are essential for operating in both markets and should not be overlooked. It is important to carefully consider your market strategy and ensure that you have the necessary partnerships in place to succeed.
Software & Allied Services
If your arrangement does not include software and related services such as ID verification, OFAC checks, and sanctions list checks, it is important to make arrangements for these resources. It is advisable to begin this process as early as possible, as it can take some time to implement.
The goal is to have a system that can handle both front-office and back-office functions, and that can provide audit logs for auditors. A list of transaction data points that may be required for an MSB audit can be found here: List of Transaction Data Points for an MSB Audit (Note: this is just an example).
There are various options available for obtaining software for your money transfer business, such as purchasing, leasing, renting, or using a software as a service (SaaS) model with original equipment manufacturers (OEMs). A list of OEMs that offer software for the money transfer industry can be found using Google or talking to peers in the industry who might be able to recommend something for you. It is important to carefully consider your options and choose the solution that best fits the needs of your business.
Put a Plan Together
It is crucial to have a clear understanding of your transaction set and the flow of funds in your business. This includes being aware of the potential profits and ensuring that every penny is accounted for. It is important to have a detailed understanding of how the process works and how much money is being deducted at each step, as well as who is responsible for keeping this money. This knowledge will help you to run a profitable and transparent business.
A sample flow can look like this: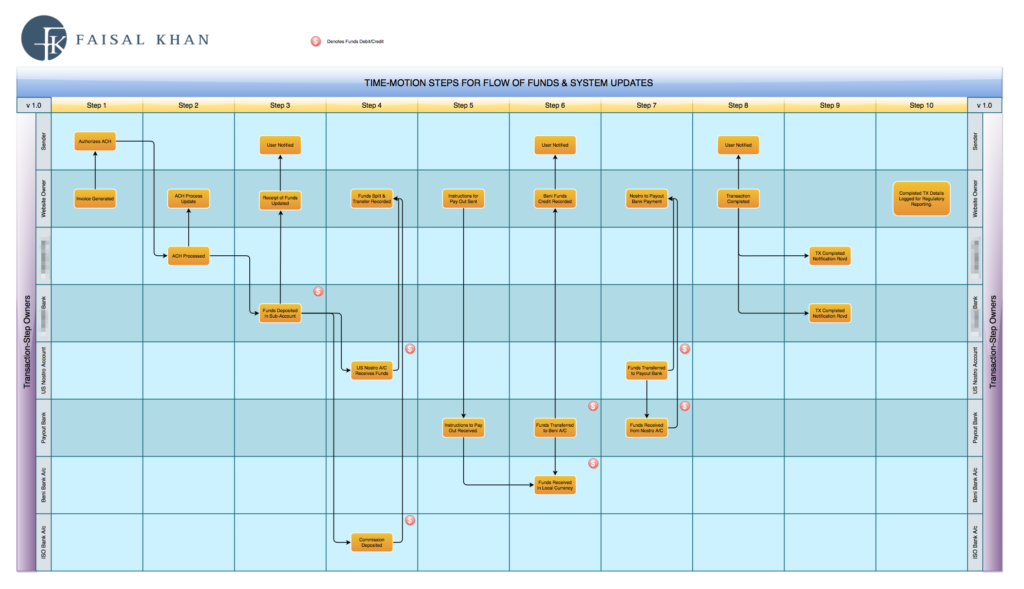 Some Essential Homework
Before starting your business, it is important to take care of the following tasks:
Choose a name for your business. This may or may not be the same as your brand name, but it is necessary to have a legal name for your company.
Decide where to incorporate your business. Consider factors such as location, tax laws, and the overall business environment.
Choose a brand name for your remittance product, even if you are initially going the ISO/Affiliate route.
Purchase a domain name for both your business and brand name.
Obtain Google Apps to have a professional email address for your company.
Get a dedicated phone number for your business.
Create social media profiles on platforms such as Facebook, Twitter, LinkedIn, TikTok, Pinterest, Quora, and Instagram.
Build a professional website with the help of a design and development team. Consider using a customizable WordPress theme.
Hire a professional writer or firm to create content for your website.
Have a professional design a logo for your business.
Set up a mailing list using a service like MailChimp, and create a "Launching Soon" landing page.
Conduct market research by interviewing potential customers and gathering data on their needs and preferences, as well as the current state of the market.
Determine your target market and the cities you will initially focus on for marketing.
Estimate the cost of marketing efforts.
Consult with local regulators and specialized attorneys to ensure compliance with relevant laws and regulations.
Determine the best way to access banking services, considering factors such as fees, account requirements, and potential hurdles.
Calculate the costs associated with transferring money, including fees for banking services, currency exchange, and other expenses.
Develop a plan for growth, including strategies for increasing volume and improving control over know-your-customer (KYC) processes.
Consider the risks and benefits of partnering with vendors and suppliers, and determine the most suitable arrangement for your business.
Evaluate the competition and identify opportunities to differentiate your business in the market.
Determine the best way to leverage your working capital, considering factors such as investment opportunities, marketing efforts, and potential risks.
Implement marketing and focus your efforts on acquiring clients. Consider using techniques such as A/B testing to determine the most effective strategies.
Build a team of skilled and reliable professionals to support the growth and success of your business.
Stay up-to-date on industry trends and developments, and continually seek out opportunities to improve and evolve your business model.
Research and Data are extremely important for you to proceed ahead. Go out into the real world and interview potential customers. Take notes.
What facilities are desired by potential customers?
What are the pain points of potential customers when using current services?
Who do potential customers currently use for money transfer services?
Why would potential customers choose your service over others?
What is the average amount of money being transferred by potential customers?
How long does it typically take for money to arrive at its destination for potential customers?
What improvements can be made to the customer experience?
What is the exchange rate typically experienced by potential customers?
What aspects of current money transfer services are disliked by potential customers?
What aspects of current money transfer services are liked by potential customers?
If you were to offer a service today, would potential customers switch from their current provider?
How many existing players are in the market? Is it overcrowded?
What sets your service apart from others in the market?
In which cities would you initially focus your marketing efforts?
How much would it cost to effectively market your service in these cities?
Business Plan
It is important to create a business plan, as it helps to give structure to your ideas and approach. It can also be a helpful tool to refer to in order to stay on track and make informed decisions. There are many templates available online to guide you in writing a business plan. Remember to make time to develop this important document and consult it regularly as you work on your new venture.
Here are some tips to consider when creating your business plan:
Determine your goals and objectives. What are you trying to achieve with your money transfer business?
Understand your target market. Who are you targeting as your customers?
Research your competition. What other money transfer businesses exist and how do they compare to your business?
Outline your marketing strategy. How will you reach and attract customers?
Develop a financial plan. How much money do you need to start and run your business, and how will you generate revenue?
Set milestones and create a timeline. What are the key steps you need to take to achieve your goals and how long do you expect them to take?
Having a well-written business plan will give you a clear roadmap to follow and help you stay organized and focused as you start and grow your business.
Wishing you the best of luck on your project.
This page was last updated on January 4, 2023.