Community Economic Development
Small Business
Small Meat Processor Business Planning Guide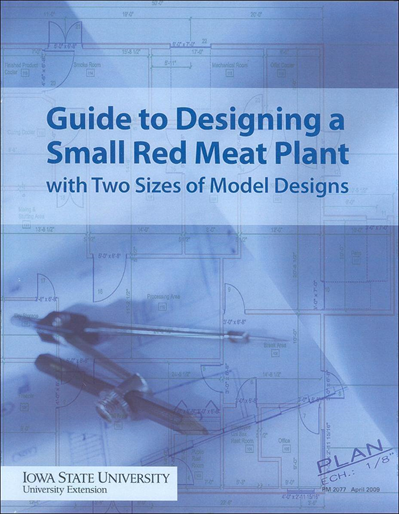 About NMPAN
Beginner's Guide to Local Meat Processing
State Help / Find a Processor
Office Hours
Meat Summits

Business Plan for Small Inspected Meat Plant
Business plan for a new small usda inspected meat processing plant to serve local livestock producers.
May 2011. Prepared by Keith DeHaan, Food and Livestock Planning, and funded by USDA Rural Development, for the South Coast Meat Project. Includes financials.
Table of Contents
Plan summary.
Download full plan (pdf, 34 pages, 280KB)
Executive Summary
Introduction
Target Markets
Products and Services Offered
 Product Volume and Growth Expectations
Marketing Budget and Requirements
Storage and Distribution
Competitive Programs
Byproducts and Waste Products
Disposal of Waste Materials
Treatment of specified Risk Materials
Effluent and Water Use
Permits and Certifications
Humane Handling and Stress on Animals
Plant Size and Scope
Estimated Plant, Property, and Equipment
Expected Manning and Labor Expense
Expected Processing Expense
Further Processing Yields, Costs and Product Prices
Organizational Structure and Ownership
Governance and Management
Issuance of Shares
Development of Financial Models
Financial Statements
Financial Summary
Barriers to Entry / Core Competencies
Literature Cited / Credits
Tables and Figures
Species and number of animals processed per week
Room size estimates
Estimated equipment listing
Estimated plant and property capital costs
Manning and labor estimates
Processing costs
Further processing yields, costs and prices
Monthly income statement and cash flows for Year 1
Monthly income statement and cash flows for Year 2
Monthly income statement and cash flows for Year 3
Annual balance sheet
Annual financial summary
Financial ratios
Net margin by livestock category in year 3
This is a business plan template for a small, USDA-inspected, multiple-species harvest and processing plant that provides fee-based meat processing services to livestock producers and manufactures processed meats for sale to wholesale or retail customers.
Size and Capacity:
~25 to 32 beef cattle per week and a similar amount of hogs and lambs/goats;
One to three days of harvest with the latter part of the week dedicated to boning, grinding, portion cutting, curing, sausage manufacture, cooking, and packaging;
 7 to 11 full-time workers.
Location and Physical Details:
In a rural district
6,200 sq. ft. building
A dug well for water, a commercial septic system for wastewater treatment
Compost station for decomposition of waste tissues from the plant.
(Note: the model can be adapted for plants in municipalities that can use city water and sewer services and will have rendering picked up routinely by a commercial rendering company.)
Cost and financing:
Total cost of building, infrastructure, equipment is estimated at $2.4 million;
If a term loan is used for 50 percent of the plant, property, and equipment, plus working capital, the company will have to raise approximately $1.9 million in equity capital;
Total income will come from a combination of sales of processing services, sales of processed beef and pork, and the sales of beef hides;
Due to short payment terms on most accounts receivables, the business should not need a line of credit to shore up the monthly cash position;
Cull cows $222
When a margin is added to processing costs, the following net margins for fee-based processing are predicted:
The financial model predicts the following three-year results, which are comparable to a successful, well-managed food business.
*Earnings before interest, taxes, depreciation, and amortization.
Maintaining margins is critical in this business and can be assured by:
Satisfying customers;
Producing good quality products;
Monitoring and managing yields;
Monitoring and managing expenses.
Click here to download the full plan as a pdf .
Ways to get involved, join our monthly newsletter.
Email This field is for validation purposes and should be left unchanged.
Join Our Member Only Forum
Search nmpan.
Beginner's Guide
New Facility or Expansion
Webinars & Case Studies
State Help/Find a Processor
Mobile Slaughter and Processing
Running Your Facility
Meat Processor Academy
Meat Producer Resources
Regulations & Food Safety
NMPAN Research
Poultry Specific Resources
Peer Consulting
Policy Engagement for Processors
Western Meat School
A program of:
Meat Processing Business Plan
If you are creating a meat processing company and require investment, it is likely that you will require a business plan. The experts at Pro Business Plans have extensive experience working with companies to prepare professional plans for investment and strategy. This article provides information about what is included in a meat processing plant business plan and how it is structured.
There are several things to consider when starting a meat processing plant such as the type of meat processed, method of procurement, and size of the facility. A small plant producing for a limited regional area is substantially different than a large one that has many locations and exports globally. The structure of a plant can also vary depending on the company's supply chain, for instance, some may sell directly to consumers whereas others may sell under a private label .
Want a Meat Processing Business Plan Template?
Business Model
The business model for a meat processing facility can range depending upon a variety of factors. The largest determinant of the business model for the facility is its degree of engagement within the supply chain and overall size. Some plants may have highly vertical supply chains, as has been demonstrated in some other industries , For instance, some meat processing plants may have access to farms and even retail stores or sell online to customers. The method of operations will also heavily impact the financial performance of the company. For instance, a smaller family owned meat processing facility that uses automated technology will have higher initial investment than one that is very manual and requires high overhead due to many employees.
Positioning
The positioning for a meat processing business generally depends upon what area of the market that your company will target based on your plan to capture and retain market share. This is often done by an approach in which your company is compared relative to others in the market based on your value proposition.
The operations strategy of a meat processing business plan is designed to inclde information related to the supply chain, management team, and process your company will follow in order to produce and/or distribute processed meats. The operations model can range substantially for each company in the meat processing industry.
Marketing Plan
The financial projections for a meat processing company will be required if you are in need of investment. Most investors will want to identify the risks and project the profitability of your meat processing facility based on going market rates, competition level, and market prices. The most effective way to perform financial forecasting is to base it on the prior operating history of your company. If this is unavailable, you will analyze the comparable performance of other meat processing facilities in order to gain an understanding of their profit margins.
It is important to identify the key costs associated with your meat processing company depending upon your operating structure. Some companies will have high fixed investments to automate the process by acquiring sophisticated machinery, whereas others may be heavily reliant on labor costs. The appropriate structure for your business made depend upon its location, volume, and cost of capital at your current phase.
Marketing & Promotions
The promotion strategy for a meat processing company is based on several factors. In general, it will depend upon the nature of your supply chain. If your are selling direct to consumer, it may be more effective to promote your brand directly to consumers through a combination of online and offline advertisements. However if you are going through wholesale companies, brand awareness and sales promotions may be more effective.
Business Development
The best approach to business development is to form strategic partnerships, distribution agreements, and wholesale buyer networks for your meat processing business. If you are selling direct to consumer, this may mean potential affiliates. On the other hand, selling direct to wholesale buyers would mean attending trade shows and hiring trained business development staff.
Financial Projections
The financial forecasts for a Meat Processing business plan are designed to provide banks with a solid three to five-year period of profit estimations. This is typically done in the form of a set of income statements, cash flow forecasts, balance sheet, and consolidated P&L. The projections for a Meat Processing studio can range depending on the average customer order price, costs associated with acquiring the business, and the expenses related to its implementation.
Revenue Projections
The revenue forecasts for a meat processing company generally depends on several factors including the amount of capital the business is estimated to generate based on its wholesale and retail orders, as well as at what rate its sales will increase over the course of the next three to five years.
Budget Forecasts
The budget estimates are most appropriate if they are based on vendors and suppliers for meat processing equipment, vendors, and service providers as it relates to the sales forecasts and production quantities that your company must meet within the market.
What is Included in Our Custom Meat Processing Business Plan?
SWOT Analysis
Competitive Analysis
Profitability Analysis
Personnel Plan
Organizational Chart
Company Valuation
Executive Summary
Company Description
Keys to Success
Three Year Objectives
Product or Service Description
Market Research
Fundraising Support
12 Month & 3 Year Profit & Loss
3 Year Balance Sheet
12 Month & 3 Year Sales Forecast
12 Month & 3 Year Cash Flows
Break-Even Analysis
Financial Ratio Analysis
Management Team
The ultimate
Meat processing business plan template for startups.
Business Plan Templates
Meat Processing
Blank Template Sample
Custom Business Plan
A business plan built by the leading experts.
Regardless if you are opening a new business, or expanding an existing one, having a business plan can help you to make more informed decisions and manage your money. It is also required by many lenders as part of your loan application. This business plan template is updated annually to reflect the most up-to-date information on how to create a profitable operation. It was created by Chase Hughes , our CEO, and has evolved over hundreds of client engagements over the past 10+ years to become the backbone of operations and management for 1,000s of entrepreneurs.
Project future revenues using real industry data
Fully-compatible with Microsoft Excel and Word.
Critical information for operating and running the business.
Annually updated market research specific to your market.
What is a Business Plan?
A Business Plan is a description of the business, market, and expected financials. Plans may be used to increase sales and profitability, outperform competitors, and used to obtain bank loans or investor funding. For startup founders and small business owners, the Business Plan is a fundamental resource for managing the business and making educated business decisions about the company's future. There's no need to reinvent the wheel, though. There's a standardized set of information and variables for most small businesses including the financial model, market research, and basic business overview that most executives are familiarized with.
Business Description
Summary of what it does, how it operates, key staffing and operations procedures, risk & success factors, and management team bios.
Third-party information on the market size, key trends, growth rates, and competition both overall and for a specified region.
Complete financial projections including Revenue, Cost of Goods Sold, and Operating Expenses to produce Profit & Loss statement, Cash Flow statement, and Balance Sheet.
Comprehensive plan including market launch, social media, promotional strategies, pricing strategy, and web presence.
Request a Quote
Get a free copy of our financial modal template.
This is a functional model you can use to create your own formulas and project your potential business growth. Instructions will be included on the front page.
Academia.edu no longer supports Internet Explorer.
To browse Academia.edu and the wider internet faster and more securely, please take a few seconds to upgrade your browser .
Enter the email address you signed up with and we'll email you a reset link.
BUSINESS PLAN FOR A MEAT PROCESSING FIRM IN THE KUMASI METROPOLIS
A processed meat is a product in which properties of fresh meat have been modified using one or more procedures such as grinding, chopping, addition of seasonings, alteration of colour or heat treatment. Some processed meats are sausages, bacon and meat loaves. Meat processing contributes to preservation, convenience, appearance, palatability, and safety, and provides consumers a wide variety (choice) of meat products. To the manufacturer, processing meat is a way of value addition to otherwise low grade quality meats that have reduced premium and value and contributes little to overall profits. It is also an effective way of extending the shelf life of products in order to satisfy consumer demands over a long time.
Related Papers
Project Report …
Ellen Goddard
Moses Teye , Gabriel Teye
Ahleiyna Tan
Mohammad Rifky
IJIRAE - International Journal of Innovative Research in Advanced Engineering
Quality Function Deployment (QFD) is a tried and tested method which ensures proper translation of the needs and demands of the customer into corresponding engineering attributes that can be easily incorporated into the design process. The methodology will also serve in properly refining the process in a continuous manner, helping the company adapt to the ever-changing voice of the customer (VOC). In short, QFD sets effective development targets for enhanced product and service characteristics.In spite of its multifarious advantages, the food industry appears uncertain of adopting it. This study aims to break into this formerly uncharted area, with an integrated QFD and TPM analysis on a meat product industry. Based on the inferences derived from the subsequent HoQ, the study arrives at several strategic areas for development. While some of these can be decided upon independently, most decisions are to be taken only after being fed into the TPM module.Owing to its high sales volume, pork sausage is the product under study.
International Journal of Food Science and Technology
Theodoros Varzakas
abinet terefe
Jyothsna Mathangi
Loading Preview
Sorry, preview is currently unavailable. You can download the paper by clicking the button above.
RELATED PAPERS
Journal of World's Poultry Research JWPR
Meat Science
Athanasios Krystallis
Li-Oon Chuah , Gulam Ali
Journal of Animal Science
Gabriel Teye , Moses Teye
timothy igila
Veterinary World
We're Hiring!
Help Center
Find new research papers in:
Health Sciences
Earth Sciences
Cognitive Science
Mathematics
Computer Science
Academia ©2023