The Digital Health Business Model Canvas
Have you ever wondered why it is so darn hard to find product market-fit?  You have this great idea for this problem that you want solved, but the rest of the world just isn't seeing it…yet.  And even when there is a ray of light, where it looks like some market traction is forthcoming, BAM!  Something comes from out of the blue and just puts a wrinkle in the momentum.
So you keep at it and keep at it and for some of you, there will be a time when you hit that escape velocity button. Companies that achieve that breakout velocity of finding their target market that wants to buy their product or service succeed at two things.
Luck: I'm not going to write about that here but I'm not minimizing its importance either.  Luck may be the right place, right time.  It may be throwing that dart and just happening to hit on the perfect customer segment.  Listen, luck is awesome.  Actually, it's essential.
Running Experiments: The more controllable variable is how quickly you run experiments and test and learn and test and learn until you find your role in the market with the right customer, value proposition, partners, revenue model, resources, and capabilities.  The best solution I have found to rapidly evaluate experiments is through the use of the Business Model Canvas (BMC) created by Alex Osterwalder.
My entrepreneurial background for 15 years before Stride was healthcare.  From clinical practices to venture backed digital health companies, I have ridden the ups and downs of pushing innovation into an industry that sometimes says one thing but the incentives of the industry portend another.  So instead of just adopting the Business Model Canvas, I adapted it to be more relevant for digital health.
I have struggled with the traditional Business Model Canvas, because I think it misses some fundamental considerations for digital health start-ups, specifically selling into the complexity of healthcare (selling to insurance companies, employers or health systems).  So I created the Digital Health Start-up Canvas (free worksheet download below) based on my experience.  The boxes shaded in blue I added to the BMC:
Here is some description of sections that I added :
Consumer Value Proposition:   I am making a distinction here between the customer and the consumer (the Business Model Canvas does not delineate).  While healthcare certainly wants to impact the health of the consumer, the customer (the one paying the bill) is more often the insurance companies, employers, or health systems.  But without consumer engagement, no one is going to be buying.  If they don't use it, you aren't going to successfully sell to a paying customer.
Prove It:  What is the market telling you that you need to prove to get credible traction?  Is it showing measurably lower cost, increased engagement, revenue for your customer, integrations into workflows, command of the regulatory environment?   Buyers in healthcare want to de-risk their decisions.  How will you help them do it?
Customer Population Served:   This is all about customer development, figuring out who is the target population that would most resonate with your service or solution.  Are they rich, poor, high risk, healthy, old, young, managing a chronic condition, dealing with end of life?  Too often we want to serve everyone which results in us serving no one.
Ideal Pilot Targets:   The early customers must be the "right customers".  Who is that?  Have them in your sights at the outset.  Are they industry influencers?  Are they the ones with the budget or stated objective to innovate?  Are they in your city?  Do they need to play "catch-up" in their market?  By knowing the characteristics of the customers you want to pilot with will help you focus the value proposition.
Customer Measures of Success:   It is easy to get caught up in how you want to measure success but what is the metric or perception that your customer will evaluate?  Sometimes it is not what you think.  It may not have anything to do with saving healthcare costs in the early phases (even if the promise of doing so is core to your vision).  It might be ease of use, quality of reporting, ability to configure for multiple clients, positive feedback from consumers.  Figure out what your customer(s) really care about and spend time optimizing for that.
Building a business is just hard.  Building a digital health business with the intention of changing the world, navigating regulation, pushing up against legacy thinking, and…..running a business is doubly or triply hard.
This digital health canvas should help entrepreneurs run experiments to test their assumptions.  Experimentation sprinkled with a bit of luck can create the velocity to break out and truly make the game changing impact you set out to.
At Stride we can help you build this Canvas through our Strategic Services group.  We are also experts at taking over your back office bookkeeping, accounting and HR compliance so you can focus on achieving the objectives of your Canvas.
Download the free Digital Health Canvas Worksheet below.
Russell Benaroya
Ready to achieve your highest and best use.
Contact us today for a free consultation.
Company Name
How did you hear about us?
Referral Google Asana Website Yelp Linkedin Facebook Other Current Client
May 21, 2021
Member-only
How to Select a Business Model for your Digital Healthcare Startup
The question of how to get the revenue out of your new for-profit idea in the healthcare industry scares lots of entrepreneurs away from the field.
To figure out if your idea of service or technology is needed on the market, and you have resources to make it work, you need to create a business model.
"Business models are…
More from Codescrum
We make the unthinkable possible by understanding our client company's problems, envisioning how software solves them and delivering the right result.
About Help Terms Privacy
Get the Medium app
Text to speech
How to create a business model for your digital health startup
How your startup creates value?
Revenue streams: direct-to-customers (d2c) digital health apps, revenue streams: insurers as your sponsors.
Revenue streams: contracts with hospitals - B2B & B2B2C
Revenue streams: contract with employers (B2B2C)
The cost structure of your digital health startup, it doesn't work - how to make it better conclusion.
A question of how to get the revenue out of your new for-profit idea in the healthcare industry is what scares lots of entrepreneurs away from the field.
To figure out if your idea of service or technology is needed on the market - and if you have resources to make it work, you need to create a business model. Here's the definition, refined by Joan Magretta, about what the business model is:
"Business models are stories that explain how enterprises work."
Building a business model is often confused with choosing the right way of monetization (it's a sore spot for healthcare startups, we'll talk about it here, too).
However, monetization appears in the second third of the "story" of your startup. And business models help you figure out all of it and when you start creating it, you can choose a framework for your startup, a rail path you'll put it on, and lead till your destination (hopefully, revenue and customers.)
Now, one of the biggest challenges of the digital health industry is that it's damn hard to become profitable within it. We're writing this article mostly for early-stage entrepreneurs in digital healthcare to
Show you how to figure out if your health technology/idea for digital health startup is viable, doable, and wanted.
Show how the questions to themselves and testing help to reduce guesswork and save resources, but still, sufficiently prepare for meetings with investors
Show you a few examples of different business models in different areas of healthcare
Let's start with the components of your digital health startup's story.
Essentially, to build BM, you have to answer questions about your future technology/service, your customers, and the way you'll be going to work on the development of your product. People use business model canvas to formulate these answers - and we ain't changing anything.
So each of these nine blocks describes how a business runs.
You see the problem: in the early stages of startups, people don't know answers to these questions - and have nothing better to offer than assumptions and biases.
But assumptions are good — if they're visible.
To find a functional, commercially viable business model for a digital healthcare startup, you have to start getting these beliefs, stereotypes, and knowledge, heard or read a long time ago out there — and start ruthlessly challenging them.
Let's go step-by-step on this one, shall we?
Formulate a purpose for your business . For instance, it can be "help adults with ADHD," "improve meds adherence," or "improve mental health in employees."
Follow the purpose with a hypothesis you'll test with your canvas, for instance,
" if we release an app that will connect adults with ADHD to their peers and get them educated about the syndrome, it will reduce their anxiety. "
" if participants of clinical trials will be reminded of medications via app & can connect to their investigators, the medication adherence will improve ."
" if we build an app that will be freely provided to employees of the company X (for employer's money) and will connect them to our local therapist, their mental health will improve. "
After you figured out your hypothesis, start looking more at how your startup will create (assumed) value.
Don't get attached to a certain technology to deliver your mission; you might find out it doesn't fit your customers — and it will be easier to change it if you view tech as a method of delivering value, not a value-holder.
Customer segments and value proposition
Next question: who are your customers? Let's dive into some terms
Business-to-business startups (B2B): if you sell other businesses (hospitals, clinics, insurers, CROs, etc.) products and services that help work better. For instance: automation software for hospital administrators, scribing software for doctors, tracking systems for bed management, etc.
In this case, customer segments you need to research will be
Buyers: stakeholders that don't use the tech, but purchase it
Users: people who'll use this software; all of them.
Business-to-business-to-customers (B2B2C): if you sell tech that helps other businesses work more efficiently with their customers, e.g.: telemedicine software, apps for clinical trial retention, patient portals, and so on.
Your customer segments here:
Users on the business side (in hospital, clinic, etc.)
Users on the customers' side (patients, trial participants).
Direct-to-customer (D2C) startups: if you sell apps or software right to the end customers - to your user. So you have, like, one customer segment.
But that's on the high level. Each customer segment needs a different value proposition .
For both B2B and B2B2C, your product should come with a model of integration/adaptation into organizations you're selling to. Healthcare stakeholders (buyers & insurers) are often hesitant to adopt new technologies exactly because they are, while advanced and helpful in a vacuum, don't fit into infrastructure. They rely on unfamiliar technologies, disrupt care processes for too long to consider installing them, and so on. Just cool tech is simply not enough.
In the case of B2B2C, they'll need your product to be valuable for their patients.
This is why you have to create tech that will be comfy, useful, and robust — for all parties involved. The more people you want to get to use your product, the more additional knowledge about them you have to obtain to build a product they would want to pay for.
To figure out the right value proposition to address your customer segments, know exactly how your product will ease their pains/improve their operations, jobs, lives, and so on.
Assumptions are not enough. You don't know what they want. We are often told B2B is more "stable" and "difficult to get into," because businesses make rational decisions. This is not the case. Behind businesses, there are people, who need facts to support their emotional decisions . It's still not rational. So: talk to them. We've written about user research in healthcare in detail here.
Note . When talking to potential customers (patients, doctors, specialists of research organizations – or whoever you think belongs to your customers), don't hint on the technology you develop with your questions. Your job here is to figure out if people speak about the challenge you're trying to solve in the same way you do. Don't cheat. Don't ask high-level questions ("Why losing focus feels bad?") and don't stop on high-level answers ("I want to spend more time with my patients.")
If you don't know why it's important to them to fix their issues, your customer acquisition will suffer, even if you have a cool, really helpful tech, — because of the words you use when talking to them.
What if I already have a health-tech solution and just want to sell it?
Often, people with technical backgrounds create technology first and then think about the market, customers, and all these things.
Use this: "I think my health tech X [your device/app/service] solves the problem Y1 [ its purpose/the challenge its addresses] for people Y2 [your customers], who will be ready to purchase it for Z [the sum you'd like to get]. "
You can ask people's opinions (from the target audience,) ask people to register for a demo (if the technology is ready), or just release with a free trial for a limited number of people and ask them what they think.
Channels and relationship with customers
Moving on! After figuring out what value you can offer to each of your customer segments, start mapping your channels . This section describes the way your startup communicates with your leads to acquire them, how you retain your existing customers, and what platform you use to do both. You can choose to attract them via ads on YouTube, through a landing page or cold calls, and then test what works for your customers and you.
Customer relationship describes the nature of your communication with customers: is it a one-time date or a long and loving (or exhausting) relationship? Do you want them to install your app from Google Play and never, ever talk to you after that — or do you want a renewal of licenses and annual partner conferences? Figure it out in the beginning.
To find good customers and build something for them and with them, you need to:
Sell confidently or outsource sales to someone who can sell confidently
Know what channels customers use / Where they usually decide to buy or try something / Where they can start thinking about the purchase
Utilize the full potential of chosen channels using advantages of the medium
Think about channels you've marked as outdated and test if they are; maybe they are a right fit for your customers and you let your bias get better of you
Choose relationships/types of communication you will be able to sustain
Remember : good customers are customers who are retained. They talk about you with their friends and stay with you until the end of time, - because they love you.
The idea is to find channels and the manner of communication that clearly show your product's value to your audience. If you have a product-market fit, that will allow you to get long-term revenue from a single acquisition.
Now, let's talk about revenue.
Introducing: revenue streams for D2C startups and methods you can use to monetize them.
Advertising . Turn your app into an advertising platform and earn money from that.
Pros : it's easy money, and you don't have to do any extra-difficult development to get ads in your app.
Cons : ads are annoying; if you want to use location-based applications – and this is often a case when you have to – you have to get users' agreement for using their data.
Freemium . There's a functional free version of an app and a paid version, with bonus features. This model is classic for applications, and it's more or less familiar for end-users of the digital healthcare market:
Pros : risk-averse people get to know your product before starting paying you, so it's easier to acquire first customers; the model is good for providing digital health to underserved people, which makes your product accessible and inclusive.
Cons : if a free version demands to get users' credentials from the start or shows lots of ads, freemium can annoy as well. The risk users will stay on a free version forever exists.
Note : If you plan to go for freemium, make free services super useful, helpful, and likable. This way, they will give you outreach: people who can't afford to buy a premium version will become your promoters.
Another model exists on the border between monetization through advertising and freemium: when you have a free app with ads, and if users want to turn them off, they get a paid version.
Monthly/annual subscription . Subscriptions are also classic that became extremely popular lately: you offer users to pay monthly or annually. Usually, startups offer free trials within this model.
Pros : a continuous flow of revenue,
Cons : you need to establish strong customer engagement to get this flow.
Note: There's a difference between the freemium model and subscription-based model with a free trial. Freemium offers a free standalone version of a product or service; people can use it for years without buying anything. Free trial ends, and users have to choose between subscribing or deleting the app.
In-app purchases . It's one of the most strong models: you add a bit of e-commerce into your app. You can sell content (lectures, or articles, or training videos), products (yoga mats), services (consultations or lab tests), vitamins, prescription refills, and so on.
Pros : a fairly easy way to start getting money quickly; an understandable and well-known model; starts getting more popularity, as remote healthcare and wellness get insanely popular.
Cons : you need to be very careful with initial pricing: first-time users are often not ready to pay a lot.
Users' data monetization . You can help people sell their health or wellness data to research companies and take commissions for transactions.
Pros : is a good way to get money, help people contribute to studies, and help create more personalized products.
Cons : a controversial method; a hella lot of security work and potential conflicts with users and government. If you want to sell people's data, you'll need to create an elaborate and explicit consent form that people will want to read; install strong security safeguards in place, as health information is rigorously protected by organizations that guard patients' privacy (as HIPAA in the USA).
Before the multiple privacy scandals we were seeing in the previous three years, users have been mostly fine with sharing their data to improve their customer experience. Right now, the situation with data from digital health apps is more complicated: on the one hand, people don't want their data exploited by governments and corporations. On the other, the line between health tech products and consumer products blurs, so the demand for personalization of care services is growing. The third factor is even more interesting: social determinants of health and data about them are becoming that new thing everyone's talking about. It can be amazingly beneficial both for you as a platform provider and for health practitioners you might work with to collect and analyze such data.
As you have probably guessed, D2C digital health startups usually combine two or more of these approaches to get revenue.
Calm , a startup, described by its co-CEO, Michael Acton Smith, as a "mental fitness" app, offers annual, monthly, and lifetime subscriptions. Calm also sells sleep products, offers gift cards for subscribers to present their friends. Apart from that, Calm is open to paid partnership with people who share their values - and in 2019, they've extended their model to B2B and started offering Calm to employers.
mySurg, a company that develops solutions that synchronize with various blood glucose meters for people with diabetes, offers mySugr app using the freemium model (Basic App with ads is free, and mySugr PRO is paid). Both of them help users track their blood sugar, activity level, and medication adherence - but the paid version offers additional services, like gamification-driven challenges. The company was acquired by Roche a few years ago and started licensing products to healthcare insurers.
D2C monetization models are very good, but they have downsides. First of all, they become insufficient in terms of revenue: founders want to tap into new customers segment, scale, upgrade their product. That is why most D2C companies do a B2B or B2B2C push. Secondly, they often are freaking expensive for patients.
To make your product less costly for patients and keep the revenue flow intact, D2C businesses can find someone else to reimburse the cost of their product or service: for instance, insurers. That's what mySurg and, for instance, Ginger, the 24/7 mental support startup, have done.
How can you do it?
1. After obtaining the CPT code for your health tech product. CPT code (from CMS' Current Procedural Terminology) is a code that is assigned to smart apps that can be insured. You can get one from CMS or the American Medical Association. To bill insurers using these codes, your digital health startup should be considered a healthcare provider by the government and should be assigned with a national provider identifier number.
2. Without CPT code, just by partnering with insurers. Find insurers you like, check if they cover your services, and get them to the negotiation table. It's a good option for healthcare startups that develop software but don't provide healthcare services – and for healthcare services that are not covered by CPT.
How insurers will pay you?
Fee-for-service model. Some digital health apps and medical devices can be covered by insurance companies in the same way they reimburse medical services. Telemedicine as well as drug replacement therapies and digital care for people with chronic conditions (like Type II Diabetes), can be covered by insurance companies via this model.
Value-based reimbursements. In this way, you're getting a yearly contract or a contract that specifies an earning rate you will receive for certain volumes of app usage or for results users will get with your product. ($1000 for 100 active users - or reported reduction of anxiety from 9/10 to 4/10.) Note: sometimes it's really difficult to accurately measure the outcomes you deliver via your app and translate them into dollars, so this model can be tricky.
Software-as-a-medical-device (SaMD) model. If you will get your product cleared by FDA, you can make claims to the insurer for a special device-like reimbursement (but instead of CPT codes, you'll need HCPCS codes). Getting FDA clearance is often compared to a nightmare; it's not, but it is difficult and costly, so you have to take it into account when planning your resources. Remember: in the US, FDA approval is a must if you want to sell medical devices to hospitals.
Note: add simple in-app payment options for people who are not insured.
When selling software to hospitals or other care organizations (especially B2B2C software), you need to understand stakeholders well. One of their pain points is the cost of services: both the direct cost of them and cost, associated with their installation and adoption. Contracts with insurers and acquired CPT or HCPCS codes will automatically make you more attractive as a seller, as they will be able to save a part of the costs.
Revenue streams: contracts with hospitals - B2B & B2B2C
Now, let's move closer to the monetization models you can consider when selling to healthcare organizations:
One-time sale/Perpetual license . They buy your software or device, period. It's a one-time deal.
Pros : it's quick; it doesn't require large communication efforts, so you will have low-maintenance relationships; they can tell about your high tech device to their partners - other healthcare organizations; a wholesale deal can be organized.
Cons : it's a one-time sale.
Subscription licensing. You sell software/devices and get your renewal money each year, each month, or after a certain "expiration date," established in the contract. The monthly option is a good way of selling to small clinics who can't pay you a full-year sum at once. Can include a free trial.
Pros : long-term relationship and long-term money.
Cons : high maintenance — you'll need to get a customer support team.
Freemium . Freemium works here as it does in D2C startups. Hospitals download your software, you provide a range of services for free, — and give them an option to upgrade for additional, advanced functionality if needed.
The pros and cons are similar to D2C, too.
Pay-per-use . Good for early-stage medical device startups: you're giving clinics new experimental tech/software and charging them on an hourly basis or with a fixed sum for each user.
Pros : good for user tests; a good analog of in-field trial for your medical device.
Cons : hard to predict revenues; you'll have high-maintenance communication, but not enough interactions with customers: what if they'll forget about the device and won't use it at all?
The nice real-life case of selling to hospitals in healthcare B2B is DrChrono, an eHealth platform with an EHR system, telehealth services, and a patient portal that offers to optimize productivity in clinical practice of any scale and runs by freemium model.
Right now, the most popular startups that work with healthcare organizations ground their business models into multi-year contracts and high retention and renewal rates when selling software or software-as-a-service.
Note, that in critical situations - for instance, if it's necessary to rapidly respond to the pandemic, sales cycles for startups that work with hospitals will become longer, because hospitals are focused on getting through intense patient flow, not on adopting new automation software for their EHRs or digitizing their check-in process.
Talking about alternative ways of financing: you can monetize like Headspace , a startup for healthy sleep and meditation, or like Calm: through offering your application to employers. This way, you can organize a one-time deal or get your clients to pay to you based on the volume of usage.
On the one hand, this option is tricky. If the client company's employees won't use your offering, you won't get paid, so if you want to pivot into employee benefits' offering you need to, once again, research their environment on the stage of preparations for product development.
On the other, contracts with employers (of any type) are easier to get and maintain and the sales cycles are shorter.
For instance, Omada Health , a digital behavioral company, and a digital therapeutic that deals with diabetes and other chronic conditions are doing exactly that. They bill clients, large employers, one-time enrollment fees, based on the number of users. As the startup is insured, a part of the sum is paid by insurers through medical claims. The cost of service is calculated via a performance-based model and connected to clinical outcomes: the startup is paid if employees get better.
What it takes to create your value?
Now, let's move to the other side of our business model canvas: the left part of the table answers a question of what it takes to create your product and deliver its value.
Key resources
Resources are your team, money, workstations, etc.
Things to keep in mind about human resources :
For almost any kind of digital health startup, you will need a person with industry knowledge . Healthcare is a large pile of regulations that will bite you if you ignore them.
Invite physicians/nurses/specialty practitioners to work with you - they will be your healthcare domain experts . It will save you a ton of time and help create an evidence-based product and test it properly
Of course, you need to pay these people. That's your financial resources .
If you work in the office, you need to provide people with workstations and equipment that is necessary for them to create a project + give them tea, coffee, chillout room, etc. These are physical resources .
As you market your product later, you will need to have a brand, copyright, and other things that will identify you among other software & startups. This relates to intellectual property . Note, that the existing brand is an incredible growth advantage, but for early-stage ventures, it is worth investing in only after you've tested your hypothesis and it is proved viable and needed.
Key activities
Key activities are what you need to be good at and what you should do to get your product working and creating the value you want it to.
For digital healthcare startups, it's software development (with a special emphasis on APIs integrations and secure architecture.)
Key partners
One of the most popular partnerships digital health practitioners startups make is, of course, partnership with clinicians . Any other domain knowledge/access to new technologies or business-related customers (like administrators in the hospitals, investigators in research organizations, etc.) you get via the third party is also a partnership.
The next type of partnership is outsourcing software development or any other activity you don't have resources or expertise for. Usually, such optimization is used by founders to reduce the cost of production and get more free time to do high-level tasks.
We've mentioned a partnership with an insurance company . That you can have, too.
Then, if you're developing a deep tech product that requires a recurrent purchase of chips, sensors, or other hardware, you would need a partnership with a supplier .
If you're asking people for their data and process their data to improve your product, they are also your partners - in case you're considering data monetization revenue stream.
There is an opportunity to ally your startup with marketing experts and people from the media , so they support you when you launch.
And, of course, your investors are your partners . (Ideally.)
And, we've got to the cost structure of your health tech startup : it's a sum of costs spent on key activities, partnerships, and resources. It includes all money that is necessary to keep your business running.
So, you should know about the different types of costs.
Fixed costs are costs that don't change: office rent or lease, the cost of workstations and other equipment, or salaries. Variable costs are fluctuating: marketing expenses, piece-rate wages, travel & transportation costs, salaries if you pay employees on an hourly basis, costs for getting FDA 510(k) approval.
Ongoing costs are costs you need to pay continuously: monthly, yearly, daily. It's HR-related costs, rent, taxes, salaries, payment to subscription-based marketing SaaS products, FDA Annual Establishment Registration Fee for medical devices, etc. One-off costs are costs you pay once: it's delivery, hiring a freelance designer for a project, FDA device review fee.
The highest costs are usually product-related (cost of mobile app development, cost of hardware) and customer acquisition-related (marketing and sales efforts). Customer success teams and full-blown clinical research are also quite expensive, as well as getting compliant with regulations, so keep them in mind.
The road to success in startup finances, as Kirsty Nathoo, CFO of YCombinator, says, is to know and track your bank balance, your revenue, and your expenses . We're working with business model canvas and your hypothesis, these would be assumed revenue and assumed expenses.
After you'll know them, you can calculate your burn : how much money you spend monthly (It's monthly expenses minus monthly revenue.) Burn changes over time, so consider that as well.
Then, you can calculate your runway : it describes how long, within the chosen business model, will you have until you're out of money and near the end of the line. (It's your bank balance divided by your average burn.)
Then, you can calculate the growth rate of your digital health startup. The growth rate will help you understand when your startup becomes profitable . Here is a helpful Growth calculator , built by folks from YCombinator. You can use it for modeling. (GR is your revenue for the second month, minus your revenue for the first month, divided by revenue for the first month.)
The main goal of creating and testing business models through canvas is to understand if your idea is doable, wanted, and viable. If you find, by calculation from our previous paragraph, that you will run out of money before you become profitable, you're not alone: 47% of startups shut down because they ran out of cash, and that is especially true for healthcare due to the industry's specifics.
While building a business model for your startup, you need to reduce risks of failure: risks of not fitting into the market, not being able to develop a technology, running dry, and so on. Your job is to figure out which sector of the canvas you need to re-examine to make your idea viable; to find your growth and pivot potentials.
Here are some ideas on how you can make it better
Research customers more: there's always a chance to find an underserved audience who is ready to pay for a product that addresses their needs, — especially in healthcare .
Prepare for pivoting from the start. For instance, if you are a D2C startup, prepare the infrastructure for a B2B2C push to collaborate with hospitals and clinics.
Consider prioritizing a predictable monetization method, if you're unsure you can establish sustainable revenue. Predictable is regular and long-term: e.g., choose service-based instead of a product-based model.
Don't be afraid to cut costs and outsource activities. That will help you save time and money and focus on product development.
Establish clear KPIs for how your product should help people and what results will mark your success. Test the prototype on a small scale according to these KPIs.
Combine clickable prototypes with in-depth interviews with stakeholders to get sincere feedback.
Finally, if you pour cash in customer acquisition and there are no customers, you have a wrong value proposition, target the wrong people, or communicate poorly (the latter is a less likely option.) Re-evaluate all three.
As soon as you figured how not to run out of cash for at least a year , start testing. Help your story become one of the good ones.
Tell us about your project
Fill out the form or contact us
Related posts
Subscribe to our newsletter
Get in touch
Your submission is received and we will contact you soon
The Digital Health Business Canvas
I have been a healthcare entrepreneur for about 15 years. I have started clinical practices and venture backed digital health companies. I have ridden the ups and downs of poking on institutions to drive innovative models of care that empower the individual to better manage their health. But building a product or service is not building a business. We tend to spend 999 miles on what we are building and the last 1-mile we just "believe it will get adopted" and poof....we have a business. Usually that doesn't work.
The Business Model Canvas popularized by Alex Osterwalder has gone a long way toward approaching business building with a design mindset and it has worked really well. Ash Maurya produced the Lean Canvas to get even more actionable specifically for an entrepreneur. But I have struggled with both of these because I think they miss some fundamental considerations for digital health start-ups, specifically selling into the complexity of healthcare (selling to insurance companies, employers or health systems). So I created the Digital Health Start-up Canvas based on my experience. Here are the boxes that I added shaded in yellow(ish):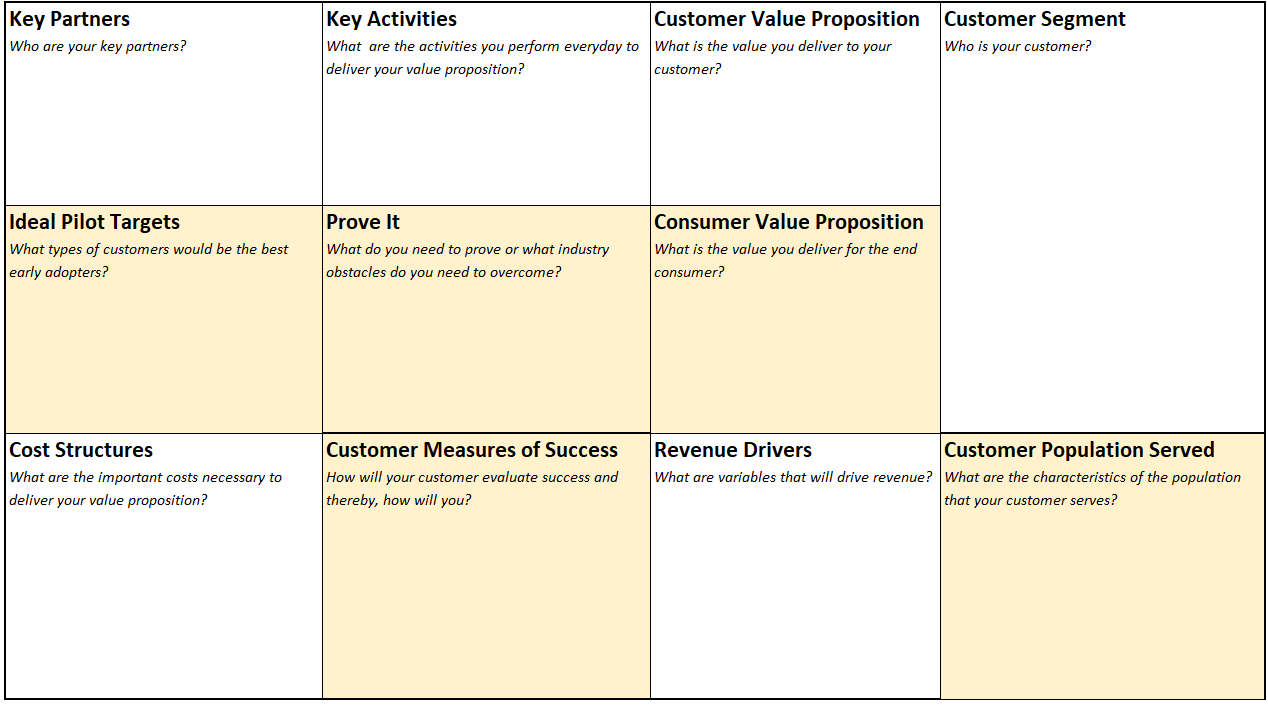 Russell Benaroya -- Digital Health Start-Up Canvas. Click on the image to download
Here is what I added/modified :
Consumer Value Proposition: I broke out the value proposition between the customer and the consumer (the Business Model Canvas does not delineate). While healthcare certainly wants to impact the health of the consumer, they are typically not paying for it (insurance companies, employers, health systems often pay). That said, consumers need a reason to use it. If they don't use it, you aren't going to successfully sell to a paying customer.
Prove It: What is the market telling you that you need to prove to get credible "non-pilot" traction? Is it showing measurably lower cost, increased engagement, revenue for your customer, integrations into workflows, command of the regulatory environment? Buyers in healthcare want to de-risk their decisions. How will you help them do it?
Customer Population Served: Typically health insurance companies, health systems, and employers write the big checks in healthcare. You might be building to serve them but who are they trying to serve? Are they rich, poor, high risk, healthy, old, young, managing a chronic condition, dealing with end of life? Peel the onion back on who is the consumer profile you are trying to impact via the sale to the customer and build for that profile.
Ideal Pilot Targets: The early customers must be the "right customers". Who is that? Have them in your sights at the outset. Are they industry influencers? Are they the ones with the budget or stated objective to innovate? Are they in your backyard? Do they need to play "catch-up" in their market? By knowing the characteristics of the customers you want to pilot with will help you focus the value proposition.
Customer Measures of Success: It is easy to get caught up in how you want to measure success but what is the metric or perception that your customer will evaluate? Sometimes it is not what you think. It might be ease of use, quality of reporting, ability to configure for multiple clients, positive feedback from consumers. It may not have anything to do with saving healthcare costs in the early phases (even if the promise of doing so is core to your vision). Figure out what your customer(s) really care about and spend time optimizing for that.
Here are the sections of the The Original Business Model Canvas that I removed:
Customer Relationships: This was a tough one to delete because it speaks to how the customer wants to interact with you. The reason I left it out is because the modes of interaction are pretty simple to define in digital health service delivery.
Channels: The channels in digital health at the outset are pretty well established and fanciful thinking about how you're going to leverage some other party to sell on your behalf (a la a third party sales channel) tends to be a pipe dream. I think once the customer segment is identified the channel is redundant.
Key Resources: I typically see the same things here and it's usually engineering, sales, marketing, capital, tech infrasx, etc. It seemed like one that we could leave off as it tends to be the one box that notoriously gets the least amount of attention.
I hope that digital health entrepreneurs find this canvas useful and whether you are just starting a business or incubating within a larger institution, the considerations are the same. These additional questions in the canvas will force a level of customer and consumer discovery that will help start-ups bridge better to the last mile, so that the solution they are building actually can make the impact they set out to achieve.
This web app uses cookies to compile statistic information of our users visits. By continuing to browse the site you are agreeing to our use of cookies. If you wish you may change your preference or read about cookies
Or explore sectors:
Why healthy.io's business model is so successful.
Healthy.io business model canvas
Healthy.io's Company Overview
Healthy.io is delivering health care innovation by turning everyday smartphone cameras into powerful medical devices.
Country: Israel
Foundations date: 2013
Type: Private
Sector: Technology
Categories: Health
Healthy.io's Customer Needs
Social impact:
Life changing: motivation
Emotional: provide access, therapeutic value, wellness, reduces anxiety
Functional: organizes, quality, informs, saves time, avoids hassles, integrates
Healthy.io's Related Competitors
Healthy.io's business operations.
Digitization:
This pattern is based on the capacity to convert current goods or services into digital versions, which have several benefits over intangible products, including increased accessibility and speed of distribution. In an ideal world, the digitalization of a product or service would occur without compromising the consumer value proposition. In other words, efficiency and multiplication achieved via digitalization do not detract from the consumer's perceived value. Being digitally sustainable encompasses all aspects of sustaining the institutional framework for developing and maintaining digital objects and resources and ensuring their long-term survival.
Mobile first behavior:
It is intended to mean that as a company thinks about its website or its other digital means of communications, it should be thinking critically about the mobile experience and how customers and employees will interact with it from their many devices. The term is "mobile first," and it is intended to mean that as a company thinks about its website or its other digital means of communications, it should be thinking critically about the mobile experience and how customers and employees will interact with it from their many devices.
A formal agreement in which the owner of the copyright, know-how, patent, service mark, trademark, or other intellectual property grants a licensee the right to use, manufacture, and sell copies of the original. These agreements often restrict the licensee's scope or area of operation, define whether the license is exclusive or non-exclusive, and stipulate whether the licensee will pay royalties or another kind of compensation in return. While licensing agreements are often used to commercialize the technology, franchisees also utilize them to encourage the sale of products and services.
Disruptive trends:
A disruptive technology supplants an existing technology and fundamentally alters an industry or a game-changing innovation that establishes an altogether new industry. Disruptive innovation is defined as an invention that shows a new market and value network and ultimately disrupts an established market and value network, replacing incumbent market-leading companies, products, and alliances.
Subscription:
Subscription business models are built on the concept of providing a product or service in exchange for recurring subscription income on a monthly or annual basis. As a result, they place a higher premium on client retention than on customer acquisition. Subscription business models, in essence, concentrate on revenue generation in such a manner that a single client makes repeated payments for extended access to a product or service. Cable television, internet providers, software suppliers, websites (e.g., blogs), business solutions providers, and financial services companies utilize this approach, as do conventional newspapers, periodicals, and academic publications.
Embed code:
Recommended companies based on your search:

Scanadu Business Model

Eargo Business Model

Intuitive Surgical Business Model
Vizologi is a platform powered by artificial intelligence that searches, analyzes and visualizes the world's collective business model intelligence to help answer strategic questions, it combines the simplicity of business model canvas with the innovation power of mash-up method .
See how Vizologi works View all features
You rock! Thank you for your interest. Before starting the canvas download, we would like to ask you to pay with a tweet.
Download paying with a tweet
Before downloading the canvas, we would like to invite you to our newsletter, from time-to-time we will send you curated content about business strategy
Super Guides
Presentations
Spreadsheets
Search for:
No products in the cart.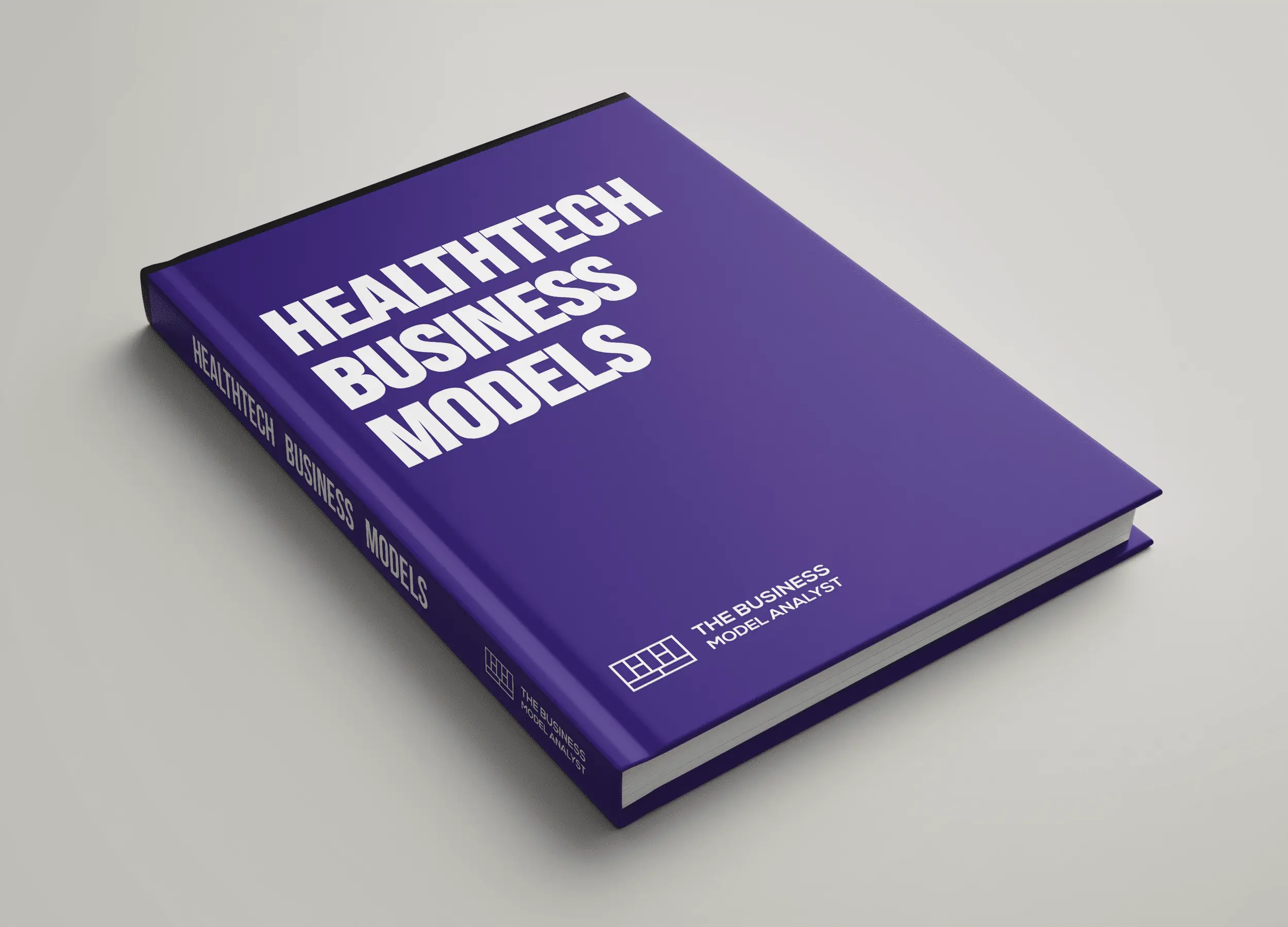 Healthtech Business Models
$ 35 $ 19
7 HealthTech Business Models Analyzed
Hours of Research just 1-click away
PDF File Format
Instant Download
— OR —
Description
Super guide: healthtech business models.
The Super Guide about Healthtech Business Models is a complete guide on how the health industry and the technology are connecting to improve the overall quality of healthcare.
Table of Content
Here's the content you'll find in this guide
Introduction
What Is Healthtech?
Healthtech Vs. Digital Health Vs. Healthcare It
Consumer Care
Medical Care
Healthcare System Management
Startup Ecosystem
Funding Landscape
The Evolution Of Digital Health: How Did We Get Here?
Predictive And Preventative Care
Personalized Medication
Consumerization
B2c2b / Bottom-Up Sales
Risk-Based Contracting
Two-Sided Networks
Distribution Partnerships Through Aggregators
Healthtech Has Been Experiencing A Shift From B2b To B2c Business Models
7 Health Tech Business Models
Five Touch Points In The Healthcare Cycle Of A Typical Customer
Personalized Health Solutions
Information On Request
Patient Experience Benchmarks
Care-Anywhere Networks
On-Demand Home Services
On-Demand Medical Transport
Doctors/Clinicians – Hospitals Marketplace
Medical Devices — Hospitals Marketplace
Crowdsourced Safety Net
Curation Models
The Business Model Canvas
The Value Proposition Canvas
How To Assess Digital Health Business Models
The Application Of Business Models To E-Health
Research And Development
Wellness And Disease Prevention
Rapid Genome Sequencing
Ai-Based Imaging Diagnostics
Improved Care Effectiveness
Remote Patient Support Technology
Improving Product/Service Delivery Technologies
Optimization Of The Current Health System Financial Model
Increased Operational Efficiency Solutions
Which Value Pools Are Investors Most Excited About?
Which Value Pools Are Patients Most Excited About?
Avoid Stagnation And Constantly Look For New Value Pools
Encourage Partnership And Collaboration
Take The Initiative And Seize Opportunities
Gather Your Core Team Members
Employ An Experienced Cto
Outsource Software Development
Study The Market
Hire A Medical Advisory Board
Outline Of The Development Plan
Create A Business Plan And Calculate The Budget
Start With An Mvp
Choose The Revenue Model
Ensure Compliance With Regulations
Promote Your Product Before Release
Develop And Release A Full Product
Direct-To-Customers (D2c) Digital Health Products
Insurers As Your Sponsors
Revenue Streams: Contracts With Hospitals (B2b & B2b2c)
Insufficient Networking And Marketing
Wrong People At The C-Level
Tunnel Vision
Lack Of An Evidence-Generation Strategy
Reimbursement And Payment Problems
Lack Of Demand
Evolution Health Systems Inc.
Sensory Technologies
Medshr Used Facebook Ads To Grow Its Medical Community
Doctify Created An Omnichannel Marketing Strategy To Target Different Buyer Personas
Patientpop Revamped Its Case Study Library Based On Outcomes
Medical Realities Live Streams 360° Vr Video On Youtube For Brand Awareness
Mayo Clinic's Content Marketing Strategy Makes It A Subject-Matter Expert In The Industry
Rochester Regional Health Created Social Media Hashtags To Collect User-Generated Content
Wego Health Works With Influencers In The Medical Community To Reach A Wider Audience
Read an excerpt from this Healthtech Business Models Super Guide:
"Every day, we notice the ever-increasing presence of technology and digitization in virtually every aspect of our lives. Therefore, it was only natural that such innovations would eventually make their way into the healthcare sector and the way we interact with it. What most people never expected (except maybe ambitious sci-fi movies) was the degree of integration that we would see and the birth of an entire branch of technological application known as Health Technology (HealthTech).
At its most basic definition, HealthTech represents a union between the different parts of the healthcare industry and various disciplines within the field of engineering. The purpose of this overlap was to achieve improved healthcare services in terms of delivery, payment, and consumption. This includes numerous and widely varying technologies, from robot-assisted surgeries to telehealth solutions and even virtual augmented reality."
This is must-have knowledge for entrepreneurs and  business model analysts, and consultants if you want to dominate business models, this super guide was made especially for you.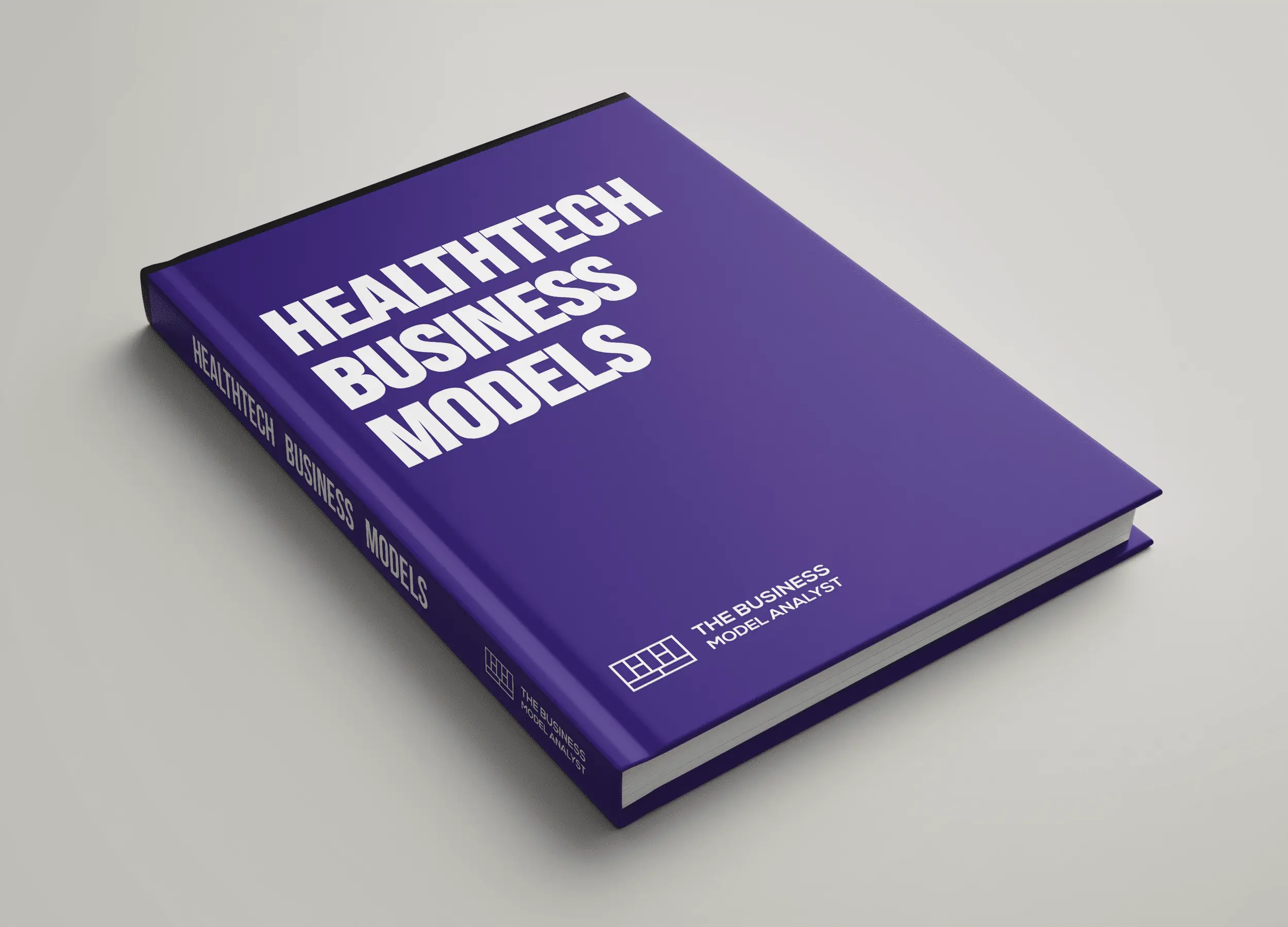 Product images are for illustrative purposes only
Related products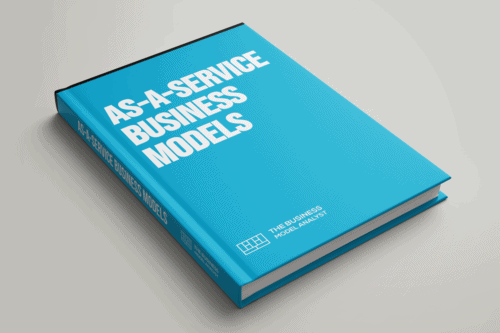 As-a-Service Business Models
7 Types Of As-A-Service Business Models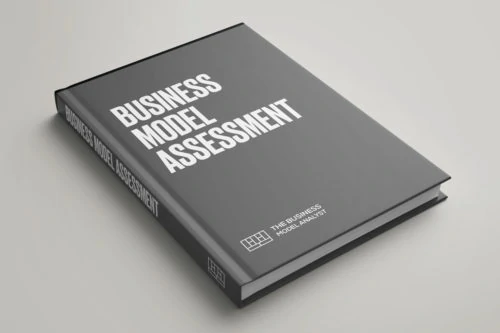 Business Model Assessment
6 different assessment methodologies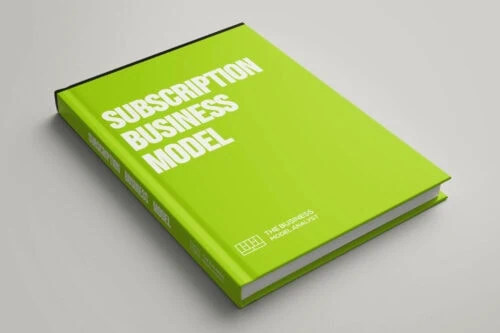 Subscription Business Model
9 Key Strategies to Build a Successful Subscription Business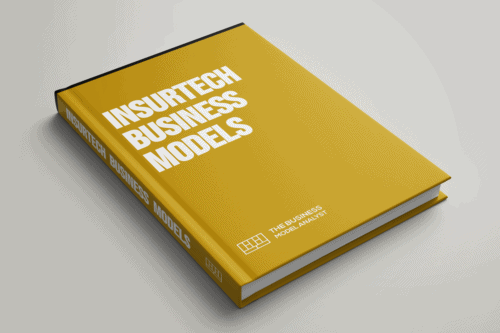 Insurtech Business Models
9 InsurTech trends and opportunities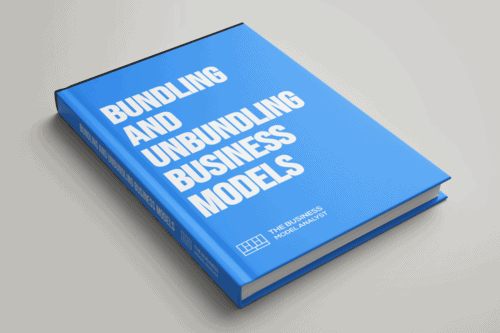 Bundling and Unbundling Business Models
13 Examples Of Product Bundling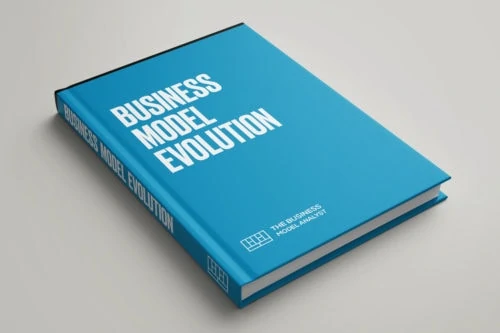 Business Model Evolution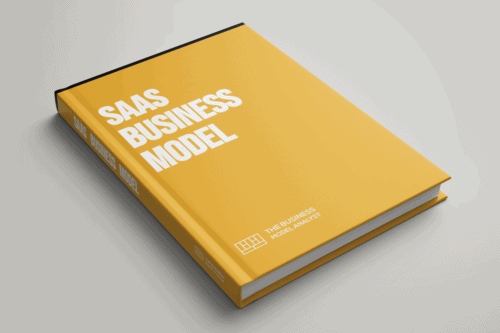 SaaS Business Model
Best SaaS Companies And Secrets Of Their Success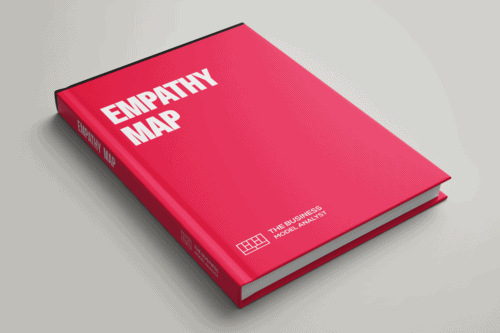 Empathy Map
Example Of A Complete Customer Empathy Map
Username or email address *
Password *
Remember me Log in
Lost your password?