The Future Business Model of Hospitality Brands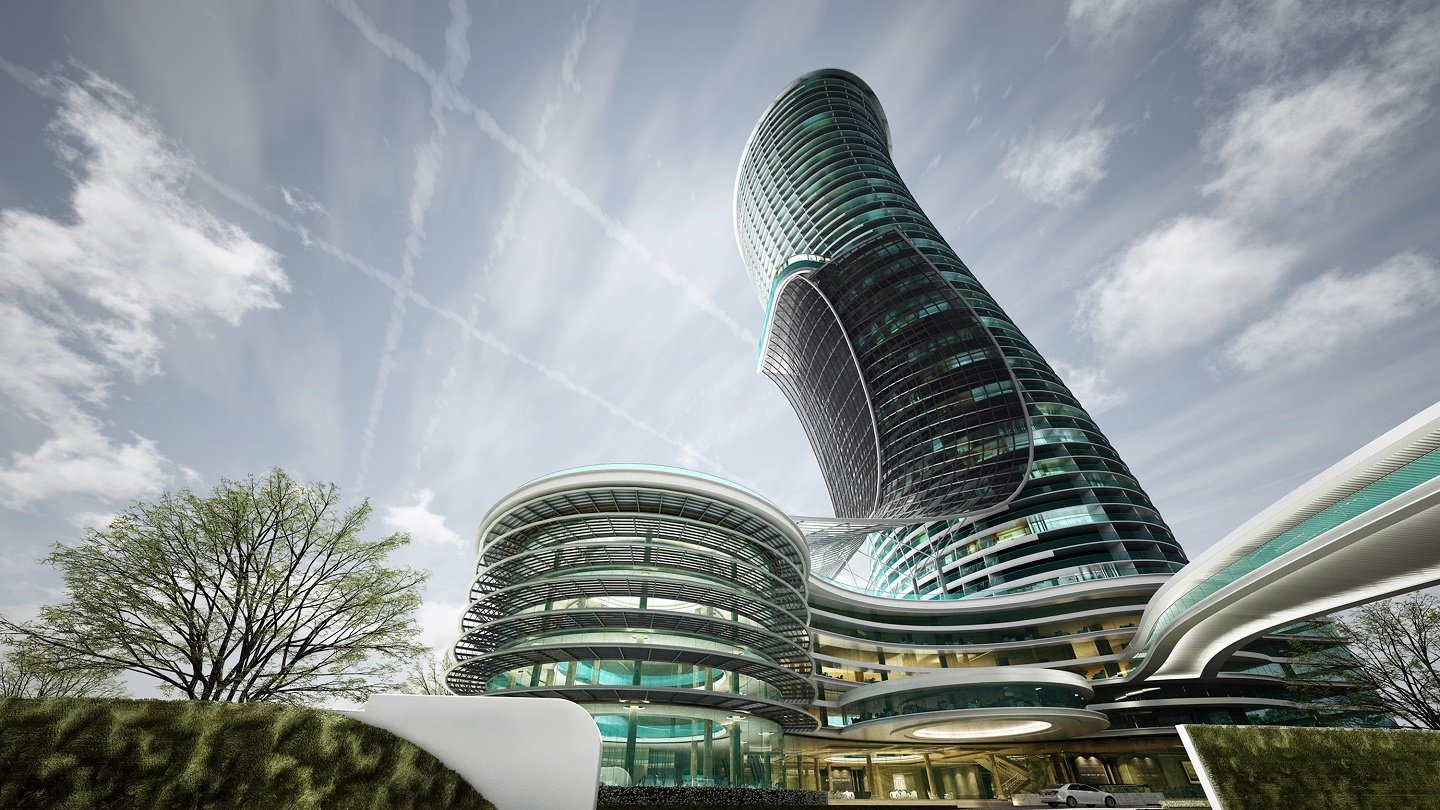 The fundamentals for the hospitality industry all point to growth. According to the UN's World Tourism Organization (UNWTO), international tourist arrivals are projected to increase by more than 3 percent a year to reach 1.8 billion by 2030, whilst the World Travel & Tourism Council ( WTTC ) predicts that the hospitality industry will grow in value on average by 3.9 percent a year over the next 10 years to $11.5 trillion – just slightly less than China's entire economy today.
At the same time, the industry is feeling nervous as the hospitality landscape undergoes a period of significant change. The entrance of tech-platforms like Airbnb , the dominance of online travel agencies such as Priceline.com and Expedia in the distribution chain, and major consolidation – as seen with Starwood and Fairmont Raffles Hotels International (FRHI) – are all having a profound impact on traditional hotel brands and their business models.
So what will be the next stage in the evolution of hotel brands?
While most hotel brands are facing similar challenges and opportunities, there does not seem to be a single approach to dealing with these new dynamics and the big players are all responding differently.
For example Marriott is going for scale with the acquisition of Starwood and is forming alliances with strategic partners like Alibaba ;
Accor is hedging its bets by acquiring hospitality-tech start-ups and platforms ;
Hilton is making specific investments into their own technological capabilities ;
and IHG has invested heavily in the lifestyle space and has now the highest number of rooms in this segment.
The evolution of hotel companies – from owner-operator to brands
This is not the first time that the industry has been forced to adapt to a rapidly-changing industry landscape – there have been fundamental changes before and the most successful brands have succeeded in adapting to them.
The future business model is a direct result of these changes over the last decades as hotel companies have moved from an asset-heavy model to consumer brands.
It started when hotel companies went public in the late 1970s and early 1980s, and subsequently evolved from the original business model of being exclusive owner-operators towards becoming more asset-light.
What followed is a continuing separation of the hotel model into real estate, operations, distribution, and brands with distinct organizations specializing in each element. In simple terms, this left global hotel brands that are focused, in mature markets, almost solely on brand equity and loyalty programs, with access to millions of customers and their respective data.
As a result of this shift, hotel brands' income profiles have changed significantly. In an effort to develop alternative revenue streams and capitalize on the value of brand equity, some hotel brands have expanded into branded residences like Four Seasons and Mandarin Oriental. However, this is a market with limited reach as most branded residences are firmly positioned in the luxury space. Beyond branded residences, however, there lies a potential to target a much broader market by expanding into everyday services and experiences.
The experience economy – growth vehicle for hotel brands
The concept of the experience economy describes the transition from a product- and service-driven economy to an experiential one. Figures from Barclays and other economic research centers point to 2001 as the tipping point when consumers started to buy fewer products and consume more services. Eventually, the combination of advances in technology with the changing values of consumers led to the success of social media and sharing networks as commercial platforms.
The initial success of Airbnb was underpinned by the desire of a growing share of travelers to have experiences and share a sense of community with like-minded people. Since then, the company has announced its ambitions to become a global travel company and has started to offer travel experiences in selected cities. However, Airbnb and similar platforms offering experiences are limited as they do not control the actual delivery of the experience. Customers are also faced with a large number of uncurated offerings and the choice can be overwhelming.
This provides an opportunity for traditional hotel brands to leverage their existing brand equity to offer a range of more focused services and experiences that go beyond hotel stays.
Brands can capitalize on their knowledge of their customers and experience in service delivery to open up new revenue streams from a variety of sources and collect royalties through new collaborations.
Wherever a service and design element are key to the experience delivery, hospitality brands have a great opportunity to add and improve on the existing product. In turn, this allows hospitality brands to create significantly more customer touchpoints with their target markets and collect more insights to help them create an ecosystem of services that could leverage off each other. For the hotel brands, this can create a stickiness for their customers, drive value rather than benefit-driven loyalty, and a far more universal brand presence beyond hotel stays.
After detaching themselves from physical hotel assets, the time seems right for hotel brands to capitalize on their brand equity and find opportunities beyond traditional hotel stays to become universal travel and service brands.
Perhaps customers can soon commission Four Seasons interior design services, hire a Relais & Château chef, receive recommendations from a Hoxton community manager, and check into a Marriott -branded medical facility.
Need more resources on the travel, tourism and hospitality industry?
Hospitality Industry - All Your Questions Answered
Associate Director at Deloitte and industry specialist in its Travel, Hospitality and Leisure (THL)
Got a story to share? Become an EHL Insights contributor
Four Seasons Athens: Lessons from the field on Talent Management Systems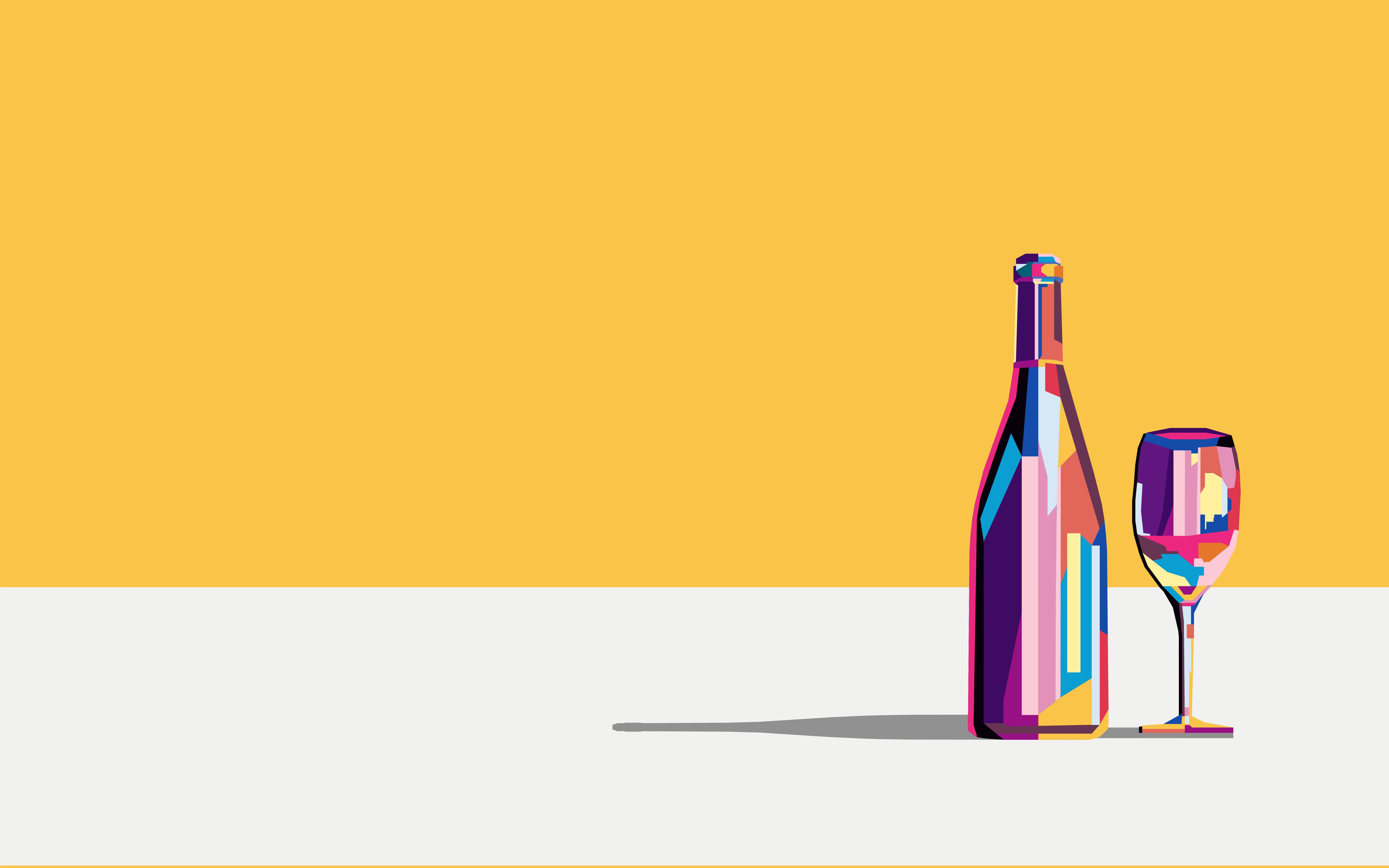 Best practice for pairing wine with art in the classroom: A synesthetic approach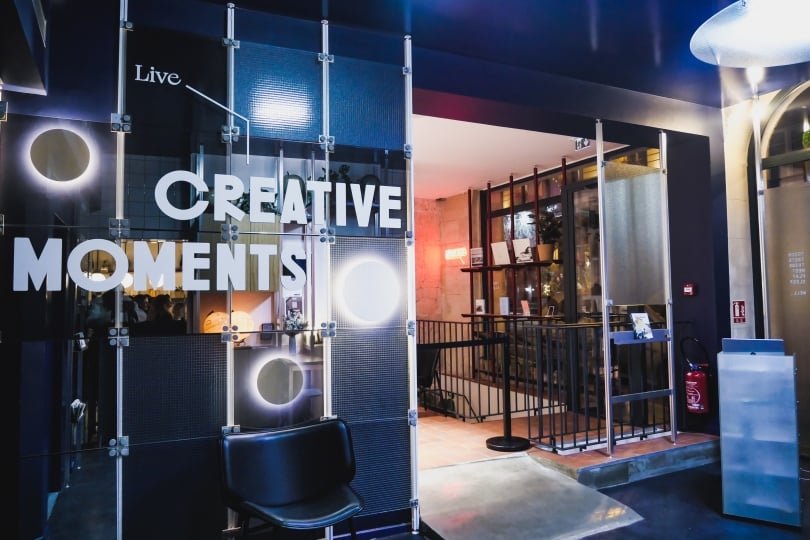 The 7 components of designing a hotel concept
EHL Group Route de Cojonnex 18 1000 Lausanne 25 Switzerland
Privacy Policy
Legal terms
© 2023 EHL Hospitality Business School, Switzerland, all rights reserved.
Hotel Operator Company
Boutique Hotel Management
Resort Management
Hotel Pre-Opening Services
Hotel Turnaround Management
Hotel Asset Management
Hotel Owner Representative
Hotel Concept Development
Hotel Franchise
Independent Hotel Chain
Hotel Representation
Hotel Revenue Management Consulting
Resort Revenue Management
Outsourced Revenue Management
Revenue Manager for Hire
   LinkedIn
NL +31 205 320 433
UK +44 203 966 5658
BE +32 258 890 25
ES +34 931 641 801
FR +33 973 038 902
US +1 202 870 5081
Hotel Business Plan
OK, so you have decided to realize your dream and open your own hotel . You have thought out an amazing concept delivering unparalleled guest service. The next step would be to write a hotel business plan. It's like a road map to the opening. However, as a seasoned Hotel Management Company , we have seen that this is where most entrepreneurs get stuck.
Why? Many do not have the time and don't know what to write or how to do the financials. But until you finish your business plan, you will not be able to get the financing either. So you end up with ideas sitting in your head not realizing your dream.
Really it is not that difficult to make a good hotel business plan. It is merely a structured summary of your idea. Most people try to include everything about their hotel concept in the plan. This leads to an indigestible super novel-like bookwork, aka a mess.
The key is, knowing what to include, and what not to include in your hotel business plan. Create a clear road map for success. Excite investors rather than bore them to death like most business plans full of redundant information do. And you need to lead readers down the exact path you want.
One of the main challenges for example is that after reading the first page most businesses often don't fully understand what the hotel is all about. For investors and lenders, it is crucial they can quickly comprehend your plan, without reading the whole document.
Hotels 101: The Basics of Business Planning
We have put together a hotel business plan template to help you on your way. Check out our approach based on 10 critical points, being:
Executive Summary
Company Analysis
Industry Analysis
Customer Analysis
Competitive Analysis
Strategic Plan
Operations Plan
Management Team
Financial Plan
Key Milestones
Steps of your Hotel Business Plan
Let's dive into the step-by-step checklist of what your hotel business plan should look like.
Infographic by Xotels
1. Executive Summary
This first part should consist of two main parts, being:
Mission Statement (Introduction): a 1 line company description only the essence of your hotel (not 2 lines or a paragraph). It explains why you are in business or which huge need you are solving, that currently is not being met. For example in the case of Qbic Hotels "Moving modular hotels into under-utilized real-estate to reduce build-out cost and time." 
Objectives : What do you hope to accomplish (i.e. "Reach an annual occupancy of 90%").
 2. Company Analysis
More detailed information on the USPs (unique selling points) of your hotel concept.
3. Industry Analysis
Information on the current industry trends and the current state of the market and how this will impact your hotel. This is needed as investors want to be sure you really understand the hotel industry. This acts as the foundation on which decisions such as trends and developments to follow will be based.  
4. Customer Analysis
In-depth information on your target market, including geographic, demographic, socioeconomic, psychographic, and behavioural segmentation details. Which are the types of guests who will mostly stay at your hotel? Explain which features will be meeting the needs and wants of these main segments when thinking of:
Basically, how will consumers answer this question 'Why my hotel?'
Aim to break it up to the point value can be easily communicated (do not make it too overcomplicated). Think of the following examples:
Psychographics: interests, lifestyles, personality, values, opinions, and attitudes
Behavioural segmentation: purchasing behaviour, level of engagement, customer loyalty
Demographics: gender, age, marital status and education
Geographics: location (country, state, region, city)
Socio-economics
Any of the above examples of hotel segmentation can, if described well, be of great value to your business plan. An example of this could be a hotel located in a beach town, where you should be able to describe how demographics and psychographics differ from summer to winter time. Especially, since this example is typically known for lower demand in winter which you could be compensating for with the right marketing strategy on hand.
5. Competitive Analysis
A study of your local competition or global concept competitors, with each of their strengths, weaknesses, occupancy rates and market share ( SWOT analysis ). And don't forget the most important part; what differentiates you from them. What makes you stand out?
Ask yourself: "can I add value to a specific area", especially when it comes to hotel-dense areas like city centres or major destinations.
6. Strategic Plan
This exists of 3 parts:
Marketing : How exactly will you attract customers/guests? How will you position yourself? What will your message be to the different segments of your business mix? How will your direct marketing work? What will be the plan for your hotel website, SEO, SEM and SMM? Will you do offline promotion? In short, your hotel marketing strategy should cover everything there is to know about how to market your hotel.
Distribution : Which 3rd party channels will you use and how will you manage availability? What technology will you need?
Revenue management : What pricing and yield techniques will you use? What will your payment and cancellation policies be? Which room types will you be selling, and how will they be individually marketed? How many revenue scenarios will I create? Where can I compensate income/demand streams when necessary?
Make sure you have the capabilities to plan out a strong marketing, distribution and revenue management strategy. 
Things get complicated rather fast, and choosing to outsource hotel and revenue management is likely to give you a strategic advantage, during the planning phase, and the execution of your business plans.
7. Operations Plan
How will you run your hotel? Think of the following elements:
How many staff and supervisors will you need? 
What are their job descriptions/responsibilities? 
What background and experience should they have? 
When should they start? 
What are your service standards?
Will you develop manuals?
Which supplier will you use?
How will you manage inventory?
8. Management Team
Include the bios of your team. Focus on what uniquely qualifies you to make your hotel such a success. Having a great team is the key to success , and stakeholders will be impressed with a thorough explanation of the added value everyone brings to the table.
9. Financial Plan
Provide the start-up costs of the hotel (capital investment), the ongoing business costs, operational expenses and revenue projections for the next five years. These figures should be always based on your Hotel Feasibility Study . The KPIs to look at include expected occupancy, ADR (Average Daily Rate) and RevPAR (Revenue per Available Room).
If you are raising money , outline how much funding will be needed and when. Explain how you will generate a return on investment for investors, or when lenders will be paid back.
10. Key Milestones
These are the most important achievements which once they have been completed, will make your hotel more likely to succeed. Think off:
Location selection
Permits & Licenses
Build-out / Construction of the Hotel
Staffing and Training
GOP Break-even
NOI Break-even
Each time one of the key milestones is achieved, the risk of lenders or investors decreases . And once your last key milestone is reached, the chance of success is more or less guaranteed.
11. Appendix
Provide any other relevant information here. Don't clutter the main sections of your hotel business plan with too many details. Rather support them with attachments in this part.
Putting Your Plan into Action
Many people have great business ideas. But that really doesn't matter. The difference between dreamers and entrepreneurs is the action mindset. Are you ready to ship your idea to the market? 
The first step is to put your ideas on paper. I hope this free sample will help you write a persuasive hotel business plan. Because no investor or lender will be interested if you cannot present a clear plan.
Follow your dreams and go for it!
Need help to Develop and Manage your Hotel Concept?
Our hotel consultants at XOTELS have helped hundreds of hotels to develop and optimize their businesses. 
With cost-effective implementations and best practices developed over years of experience, successful business as a boutique hotel , resort, B&B, aparthotel, hostel, or any other lodging concept for that matter, is guaranteed.
Hope this template has helped you get inspired to start your own hotel business .
Best of luck in your endeavours!
Patrick Landman
PS. Get in touch with us if you need help developing and managing your hotel concept.
Share This Story, Choose Your Platform!
About the author: patrick landman.
Related Posts
Hotel Budget Plan: Are you Ready for 2023?
Hotel Marketing Plan & Strategies for 2023
10 Solutions to Challenges the Hotel Industry faces in 2023
Top Hospitality Industry Trends in 2023
How to write a business plan for your hospitality venue (that works)
At the start of any business venture, there needs to be a plan for how it will move forward. A business plan is necessary for you to determine whether the investment will be successful or not, and it serves as a road map for developing your hospitality business.
It helps you focus on the goals you set forth while establishing your business. If you are looking for investors, a business plan proves to them that you have done your homework and have a realistic idea of how to make your business successful.
It's also one of the first steps to the growth. But what exactly should a business plan include? Here are some of the areas it needs to cover.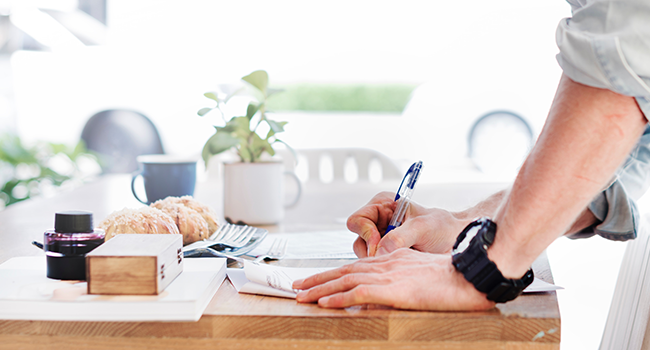 Pinpoint your business identity
There are several types of hospitality businesses out there, so establishing the identity of your business is really important. It also sets the scene and will help with your plan and goals moving forward.
Are you a popup food truck? A quick service restaurant? An upscale hotel? A cafe? A bar? All of these hospitality businesses are different and will all have different identities. Keep the concept simple, think about how you would introduce your business to a stranger and if they would understand it. Once you know this, building on the rest of your business plan becomes easier.
Know your vision and mission
Your business plan needs to contain the vision that you have for your hospitality venture. This will help with structuring your goals and business purpose, it's your big picture outcome. It's ok if this changes because at the start it can be challenging to predict what your business will look like ten years from now. In your vision statement, you need to hype your ambitions such as "Our vision is to run the best fine dining restaurant in Washington D.C." The mission comes next, stating what you intend to do with your business, i.e., "Our mission is to offer excellent and reliable service to all our customers. We shall strive to always be ahead of our competitors by offering high-quality food and beverages while ensuring a high level of customer service and professionalism."

Identify your business structure
Here, you need to explain the business structure that you'll use and why you chose this particular model. The success of the business largely depends on this. Get a specialist to advise you on which structure best suits your business .
There are various models, so it's crucial to get this part right. An experienced adviser has seen numerous business structures and may offer a perspective that you didn't think of - it could set you apart from your competitors. You'll also need to explain the positions in your business and the role that each plays. Some of the positions you should include are:
Chief executive officer
Business partners/investors
Human resources manager
Bartenders/Waiters
Front desk operators
Security guards
Depending on your business structure, some of these roles may not suit, so you'll need to research which ones best work for your business.
Have a clear budget and finance plan
You will need an accountant or business adviser to guide you through this step. It includes coming up with a financial plan and budget that will start the business, for example where you expect to raise funds from and the allocation to each sector of the company. It's also important to know the number of employees that you'll need and their salaries. Other key costs will include the property (is it new/existing? what are the lease costs?), equipment/tools, your suppliers, and utilities.
Writing a plan helps you to determine whether your hospitality business is financially viable . You will need to include projections of how much money you will make - this is crucial, especially if you're showing it to potential investors. In the end, there should be a total figure of how much it will cost you to start and maintain the business.
Identify your services and amenities
The services and amenities that you provide will determine your clientele and customers. Their quality will justify the amount you charge the customers. All those that visit should experience exceptional customer service. If a customer has a memorable experience at your place, they will, in turn, recommend it to friends and family adding to the growth of the business. Depending on your hospitality business, here are some services and amenities to consider:
Quality food and beverage menu that caters to your customers
Fitness center/swimming pool
Conference room
Transport service
Outdoor/indoor dining area
Wifi access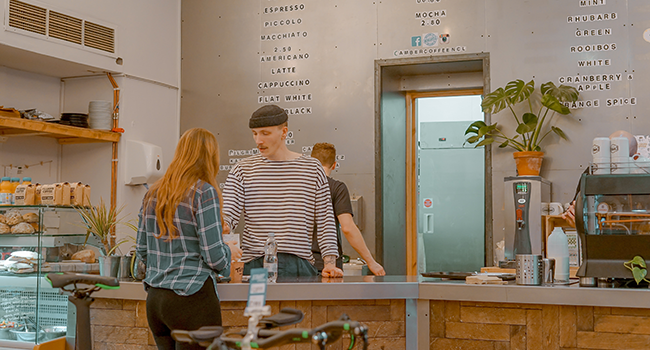 Determine price points and payment options
The price you set should be competitive and match your rivals. If you offer customized or premium services, identify firstly if it's feasible as guests will pay more, and this will need to be justified. Setting your price points will require significant research from you, especially if the product or services you're offering are uncommon for consumers. Offers and discounts to customers can also be used, so long as research is done prior to its effect on your profitability and finance plan. Overall, knowing your price points will help you not to overcharge or undercharge your clients and customers.
Once you've identified this, you'll need to indicate the payment options acceptable in your venue. Some people prefer to pay cash, others via check, cards, mobile money transfer, or bank transfer. Your payment options should cater to all of them.
Research your target market
Who do you intend to target with your hospitality business? Whether it is for specific clients or the general public, your services need to be inclusive. You will need to conduct a feasibility study and some research to determine the type of customers best suited for your business.
Knowing your audience, for example, what they do for a living, and their age will help you in setting up a business that will appeal to them. The neighborhood and location will also play a significant role in the type of customers that you'll attract. Space, human traffic, parking, and security also need to be considered when identifying your target audience and the location of your business.
Create a marketing strategy
Your marketing strategy will depend on your target audience. The type of strategies that you employ will be useful if they attract the right people. Here are some marketing strategies to consider:
Advertising online through social media channels
Advertising on television, radio and/or print
Employing competent people
Improving performance and services to warrant referrals
Creating partnerships with relevant stakeholders
Having a loyalty program to reward clients
Research the economic conditions of the area that you intend to start your hospitality venture in and the general industry. Identify what marketing strategies have historically been successful and resonate with your target audience. Know who your competitors are, get feedback from your customers and industry experts - all of this information will help in executing the right marketing strategy.
Your business plan will determine your success. The location, pricing, amenities, and services that you offer should be impeccable if you wish to create a community of loyal customers. A large part of this will entail the level of customer service that your clients experience. You will need to come up with a strategy that will put you above your competitors making your hospitality venue the go-to place for every person.
Learn more about business management and start your Typsy hospitality training now on Improving hospitality business operations with Eden Sunshine.
You might also like
Topics: Hospitality operations , Hotels , Hospitality managers , Restaurants , Bars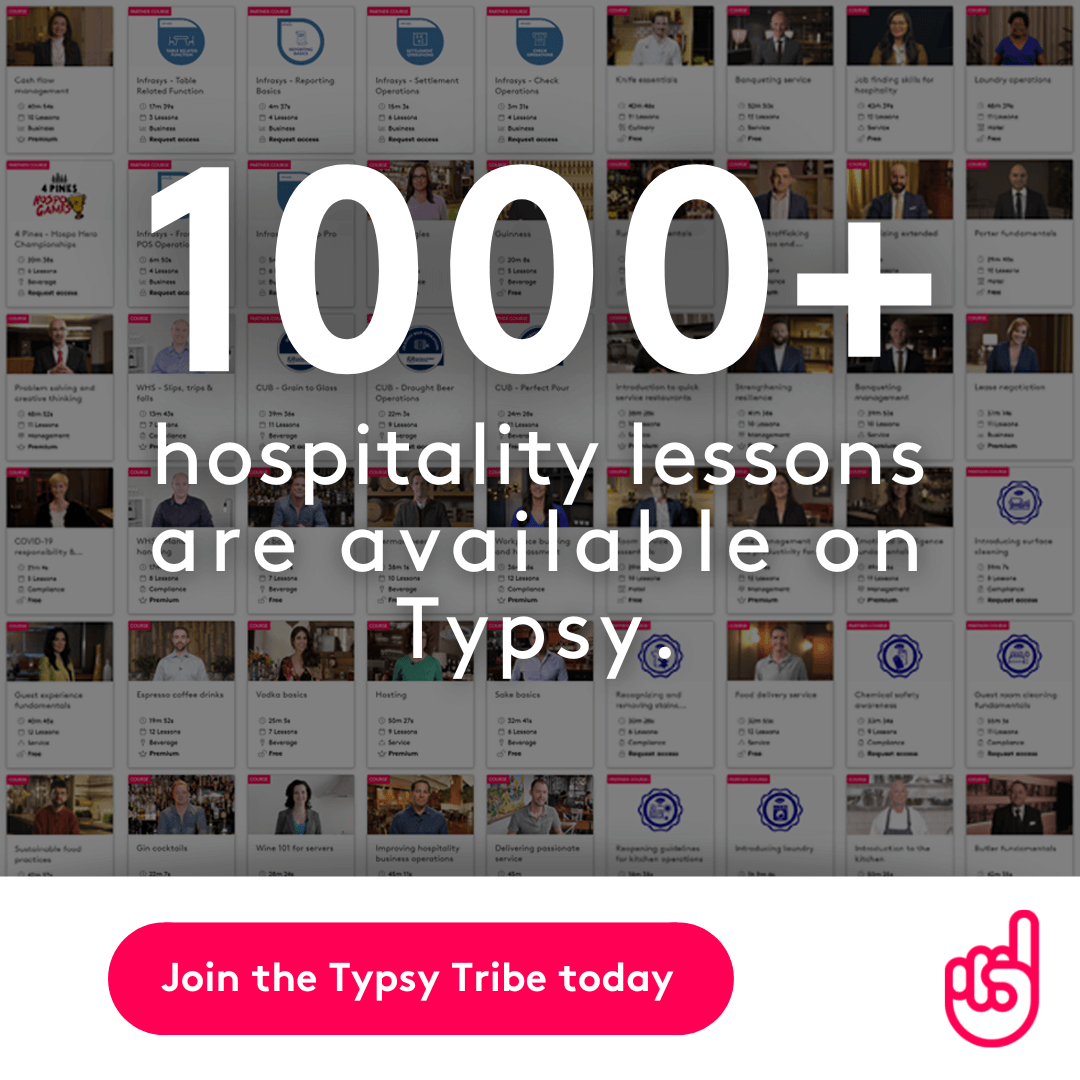 About Typsy
Browse by category
Case studies (7)
COVID-19 (41)
cybersecurity (1)
Expert Q&A (10)
Health and wellbeing (49)
Hospitality career tips (108)
hospitality courses (1)
Hospitality insights (157)
Hospitality managers (314)
Hospitality marketing (134)
Hospitality operations (109)
hospitality recruitment (1)
hospitality skills shortage (8)
Hospitality staff (188)
hospitality technology (1)
Hospitality training (103)
Hospitality trends (10)
Hotels (259)
onboarding (1)
online hospitality training (2)
Restaurants (292)
Schools (23)
Travel & tourism (4)
Typsy updates (101)
Recent posts
Search this blog.
There are no suggestions because the search field is empty.

Find the right Typsy plan for you
For job seekers, casual workers, university students, travelers and career builders, for businesses and teams of any size.