Vocabulary Worksheet Maker and Activity Generator
Easily generate printable vocabulary worksheets and activities to improve language arts skills. Employ cloze tests, spelling exercises, word puzzles and other challenging and motivating worksheet activities.
Support materials fast
The ideal instructional resource for spelling, language arts, ESL, and vocabulary enrichment in any subject. Quickly create individual or class sets of vocabulary worksheets to support your lessons saving valuable preparation time and resources.
Designed for educators but ideal for anyone interested in making cloze tests, spelling exercises, word searches, crosswords, word jumbles, and other vocabulary puzzles and activities.
Auto-Generated Activities
Activities are automatically generated from your word list, sentence collection, or text file. Just a single-click of the mouse and a completely new and original activity is generated instantly.
Word Activities
Create more than 25 word activities instantly from just one word-list. All it takes is a list of words with accompanying clues. Use one of the many included lists or easily create your own. Then generate new original word activities with a single click. Includes crosswords, word searches, jumbles, mazes, decoding, spelling, and a whole lot more.
Text Activities
Create multiple text activities from a single text passage. Use one of the included text passages or create your own. Each text activity is automatically generated from the provided text. Includes cloze tests, cryptograms, spelling, punctuation practice, and more.
Sentence Activities
Generate sentence activities from any collection of sentences. Create your own collections with the sentence collection editor or use one of the built-in collections. Sentence activities include spelling, scrambles, matching, word shapes, and more.
Cloze Tests for Reading Comprehension
One of the most popular activity generators in Vocabulary Worksheet Factory is the cloze generator. Take any passage of text and instantly turn it into a cloze worksheet. Select the increment and miniumum word length, and optionally add a word bank, hints, and distractor words.
I use the vocabulary worksheet software. I have subscribed to another software package this year. I have just wasted US $30.00. No other software comes anywhere near your products. Your stuff is easy to use and adaptable to Australian needs. All the worksheets I make using Schoolhouse Technologies software look professional and are easy for children to use. The one off payment gives me a solid product that I can use almost daily.
Spelling Practice
Provide spelling practice and assessments in a variety of contexts. Turn any word list, text passage, or sentence collection into an instant spelling activity. Misspellings are automatically generated based on common typo, phonetic, and other spelling errors.
Word Searches Plus
Why settle for just the common style of word search? Mix things up with these word search variants: Word Angles, Wacky Trails, and Missing Vowels. With any of the word searches, employ a word bank or clues or both. Hide words in up to eight directions. Even use start bubbles to aid discovery.
Word Banks with a Twist
Word banks can be added to almost every word list activity to aid in solving the activity and to provide self-correction. But an extra fun challenge can be provided by turning the word list into its own jumble. Words can be reversed, split and rejoined in mixed order, or just completely scrambled. A puzzle within a puzzle.
I have been using the Vocabulary Worksheet Factory puzzles to teach math vocabulary and spelling. They are a big hit with the kids. Spelling and word recognition has improved. I assign them as homework and they return them completed dying to check the answer keys. I have left them as review work when a substitute teacher has been needed. I use them as a warm up exercise on Monday mornings...Keep up the good work.
Clues in Unexpected Places
We expect to find clues in crossword puzzles but not normally in word searches. So imagine a word search that, instead of a word bank simply providing a list of the hidden words, has a set of clues that must first be solved. Now imagine that option being available in 16 additional word puzzles from jumbles to decoding. A whole new level of challenge.
The Activity Generators
Engage and challenge your students with targeted vocabulary worksheet activities. With a total of more than 45 activity generators and the many activity configurations, limitless vocabulary worksheets are just a mouse click away.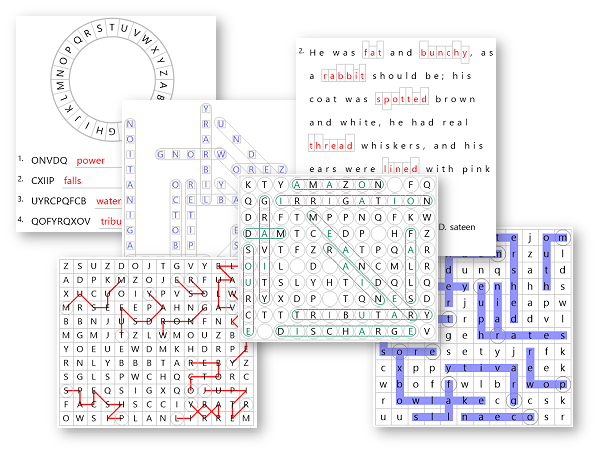 New in version 6
Experience new ways to engage and challenge your students with version 6 of Vocabulary Worksheet Factory. This new version brings new activities, new options for existing activities, enhanced document layout, improved dialogs for working with word lists, sentences, and text, and much more.
Select your edition
With five editions of Vocabulary Worksheet Factory from Free to Enterprise, there is an affordable vocabulary worksheet generator for everyone.
single-user
free word search maker
23 activity generators
45 activity generators
all users site wide
site-wide + publishing
60-Day Money-Back Guarantee
If for any reason you are not satisfied with your Schoolhouse Technologies Software product in the first 60 days after purchase, simply contact our customer service team and we will make it right.
Not a Subscription
You buy it, you own it. No monthly or yearly subscription costs. Of course, from time to time, we release a new improved version that you just might want to pay a reduced upgrade cost to acquire. But it's your choice.
No-Penalty Edition Upgrades
Changed your mind about which edition would best meet your needs after buying? Not a problem. You simply pay the difference between editions when you upgrade.
Outstanding Support
One thing our customers agree on is that our support is exceptional. We are always there to help with any issues you may encounter.
Free Word Search Generator
Download the Word Search Edition of Vocabulary Worksheet Factory and get a free word search generator. Generate word searches from any word list in seconds. Hide the words in up to eight directions. Jumble the words in the word bank to add a degree of difficulty. Or provide a greater challenge by using clues in place of the word bank. Includes evaluation of the Pro Edition.
English Work s heet Generators version 2.0
English worksheet generators for teachers and parents, these are some really handy worksheet generators that you will find on this page. we are continuously adding new generators to make your task of assigning english practice work to students easy..
New in version 2.0 : You can save your worksheet data and re-generate a worksheet based on your data anytime in future.
Are you a parent who wants to keep your child positively engaged? Or, are you a teacher looking to give a helping hand for students to accentuate their English skills? SubjectCoach's English worksheet generators will help you to accomplish this with dynamic results.
SubjectCoach is dedicated to enriching the lives of children 3 years and up, with highly advanced dynamic worksheet generators. The English vocabulary worksheet generators impart the key skill sets. We provide a platform for children to practice and perfect their English skills, with an array of customizable worksheets.
Dynamic English worksheet generators
We are evolving with a pragmatic approach towards knowledge enhancement and retention. Our dynamic worksheet generators are focused on helping parents and teachers. Instead of wasting your precious time trying to gather worksheets from google searches, you can feed your own content to the worksheet generators, and come up with an efficient worksheets. You know your child/student better than anyone else.
Reading and writing English worksheet generators
These English worksheet generators ideally are suited for ages 3 - 15. Generated worksheets will potentially help your child/student with their reading and writing skills.
Our word and sentence based worksheet generators help younger children grasp the basics. Our wide range of English worksheet generators for kids includes fun activities like finding words in a maze, unscrambling words, and Bingo grid. Handwriting improver, flash cards, and spell bee worksheet generators keep the little minds engaged!
Free english worksheet generators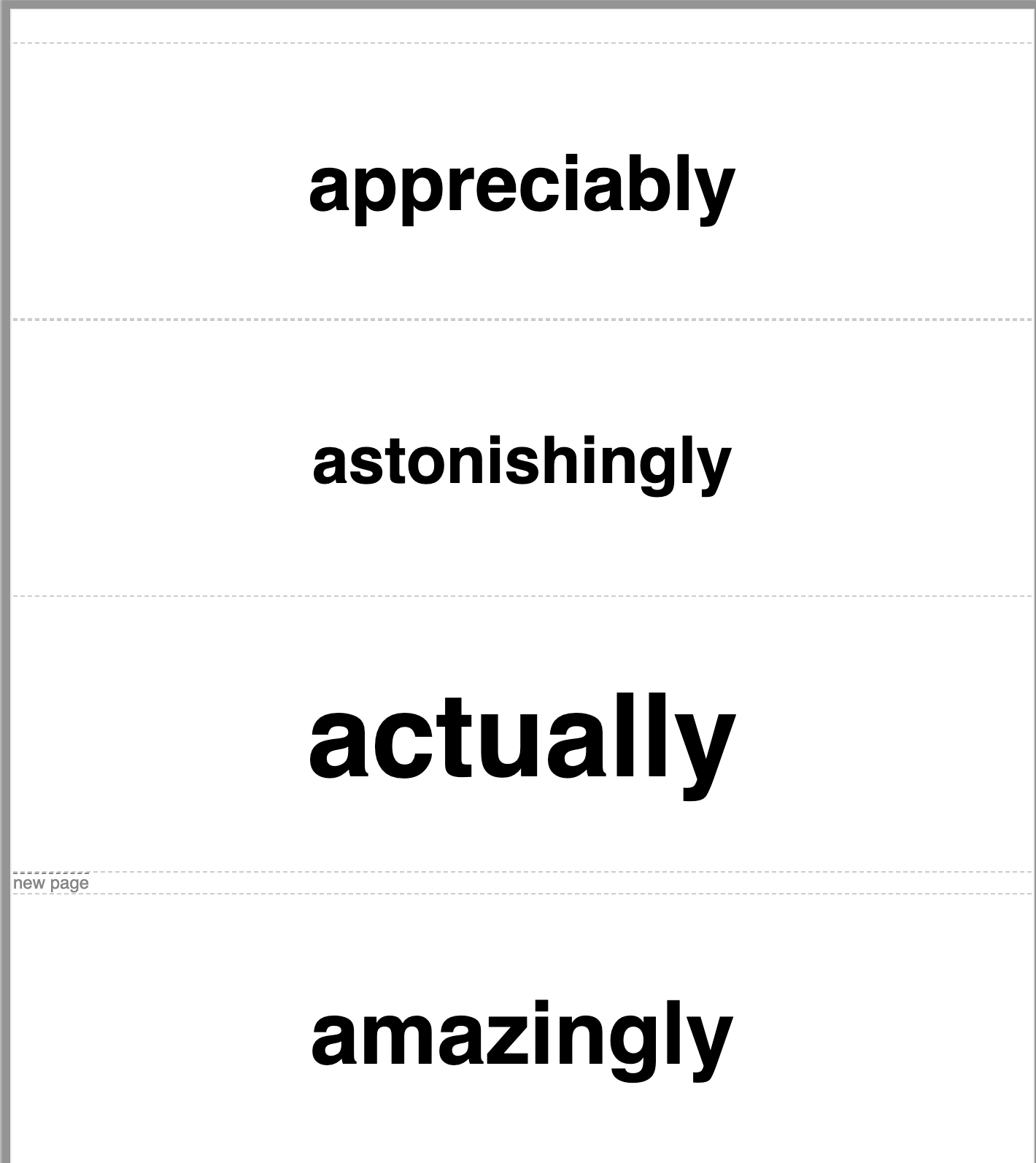 [FREE] Extra Large Flashcard Sheet Generator
Why spend tens of dollars on Word Flash cards when you can easily generate and print it with this flash card generator. You can print single or three cards per page. Please note that if you are printing on A4, some paper area will be wasted.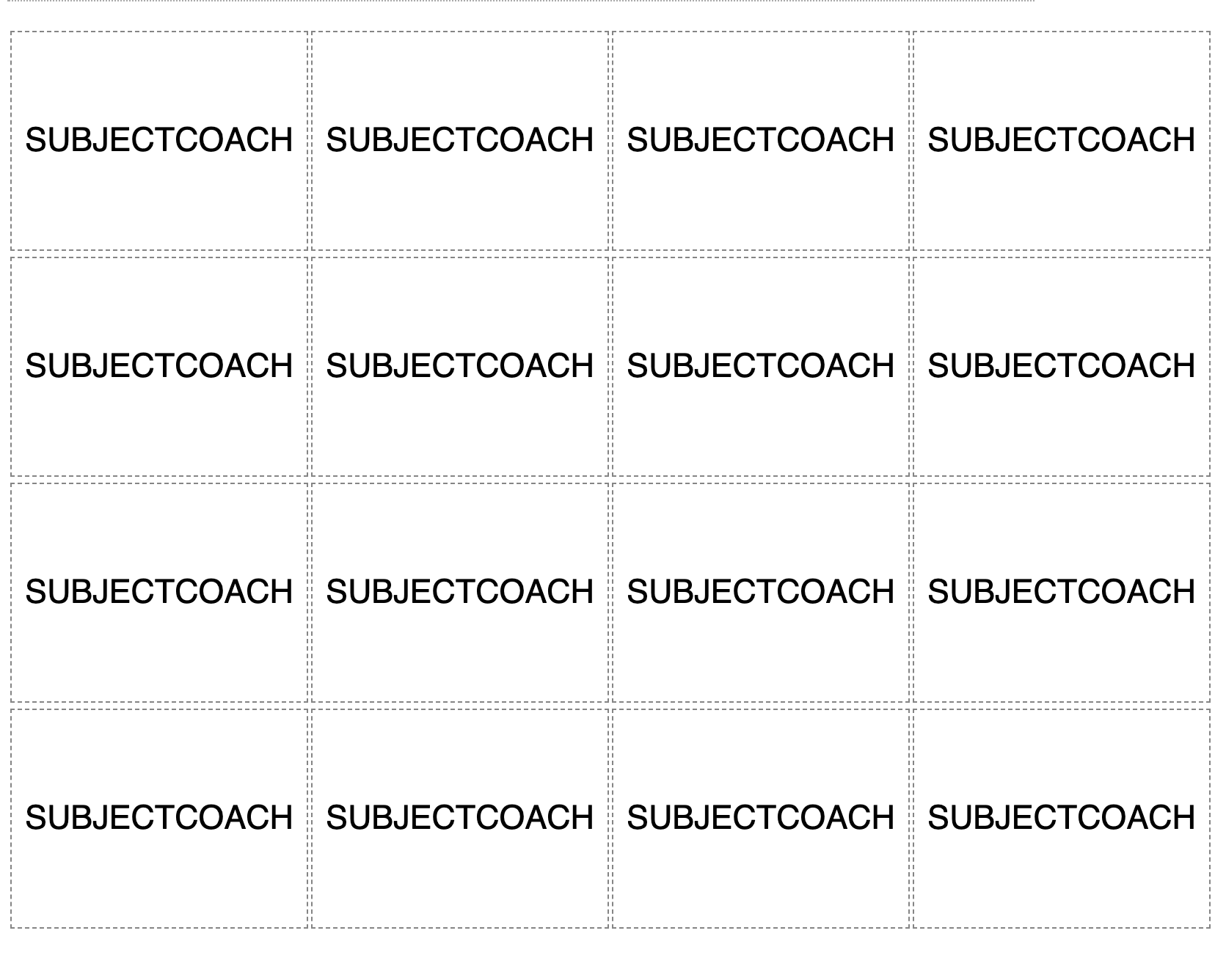 [FREE] Small Flashcard Sheet Generator
Why spend tens of dollars on Word Flash cards when you can easily generate and print it with this flash card generator. Please note that if you are printing on A4, some paper area may be wasted.
Generators below requires a valid subscription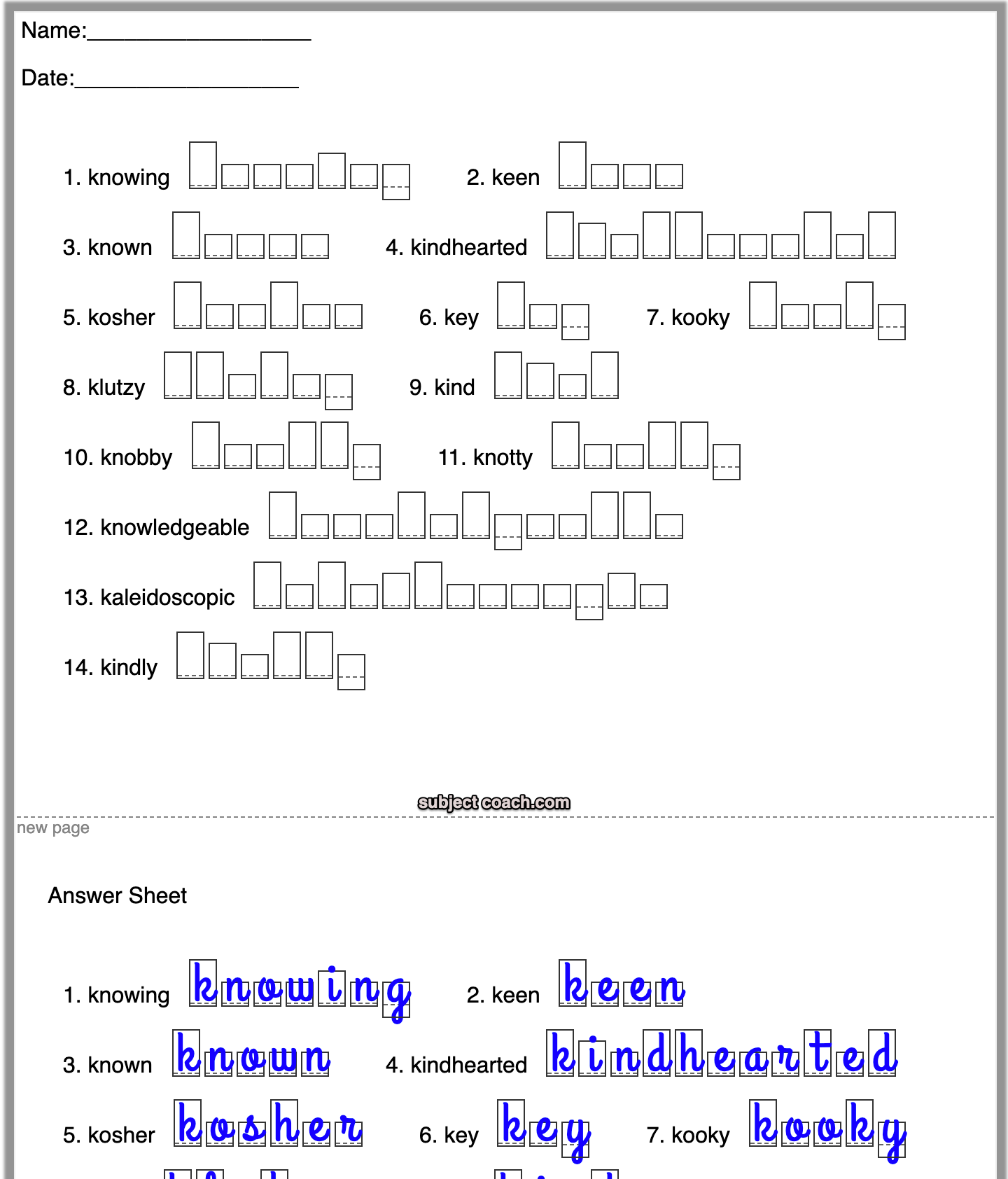 Word Shape (Words based) Worksheet Generator
This handwriting helper worksheet generator creates a worksheet where each letter in a word is replaced with a rectangular box. The boxes are sized according to the letter height such that students can correctly write a complete word with ascended and descended letters with ease.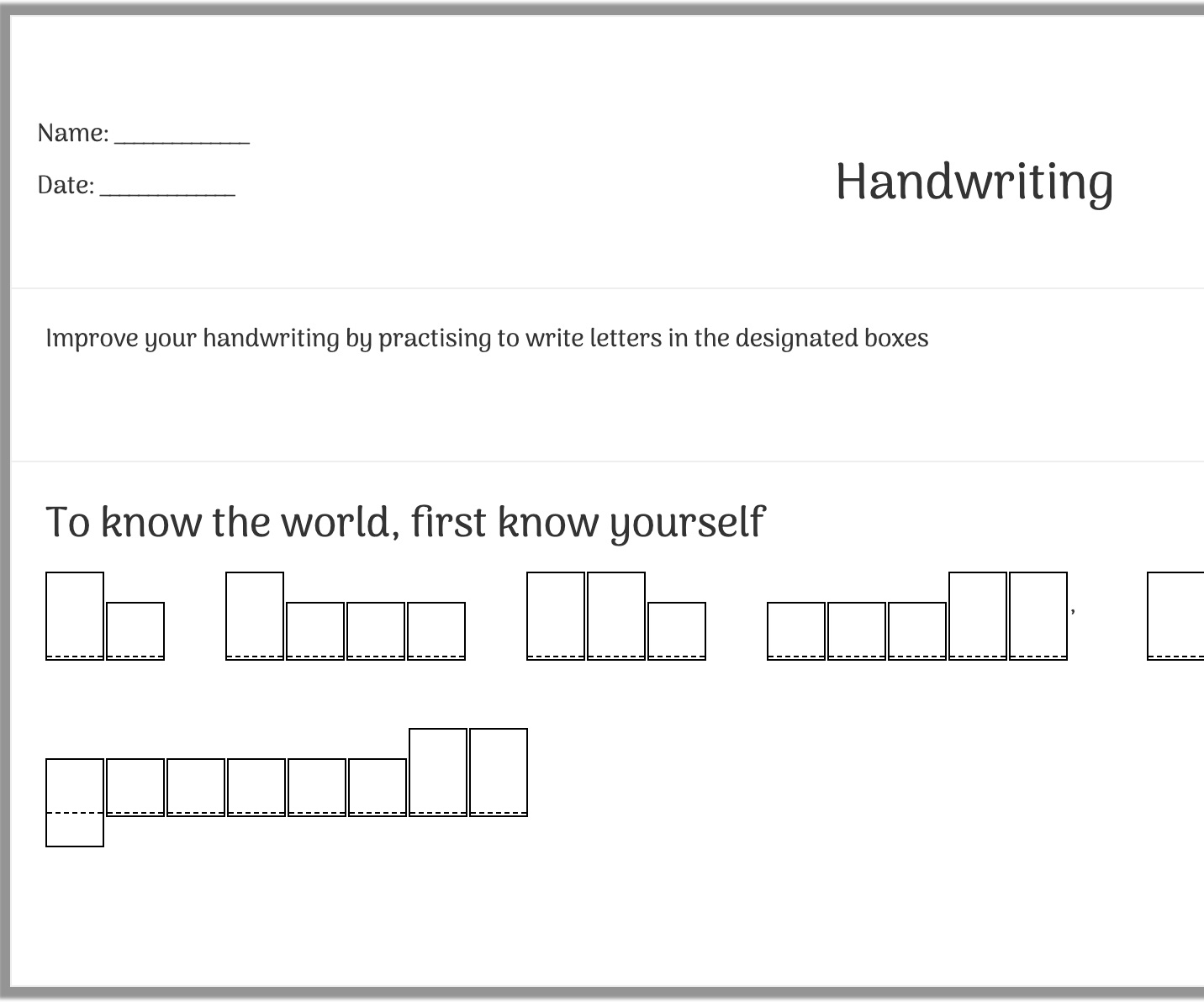 Word Shape (Sentence based) Worksheet Generator
Handwriting Improver (Letter Tracer) Worksheet Generator
This handwriting worksheet generator will produce sheets with dotted letters which students will trace down the words, as they practice doing it again and again, they will sure feel more confident about their handwriting. Select the appropriate settings to suit your needs.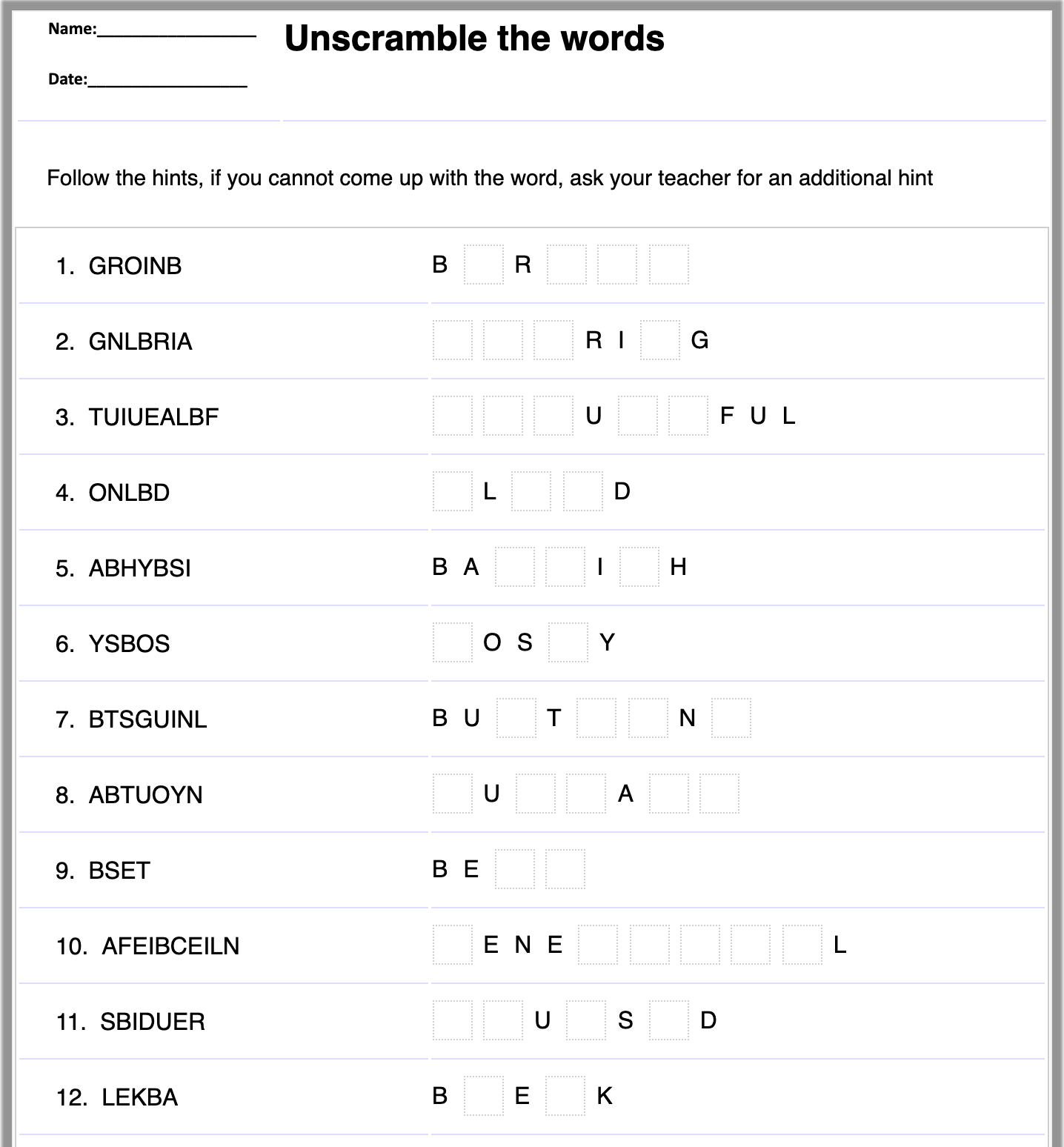 Unscramble the Words Worksheet Generator
You provide the list of words and this vocabulary worksheet generator will automatically jumbles the spellings and generates a worksheet with letter spaces for the correct spelling of each word you've provided. There are heaps of settings for you to play with to come up with the difficulty level you think your student would be comfortable with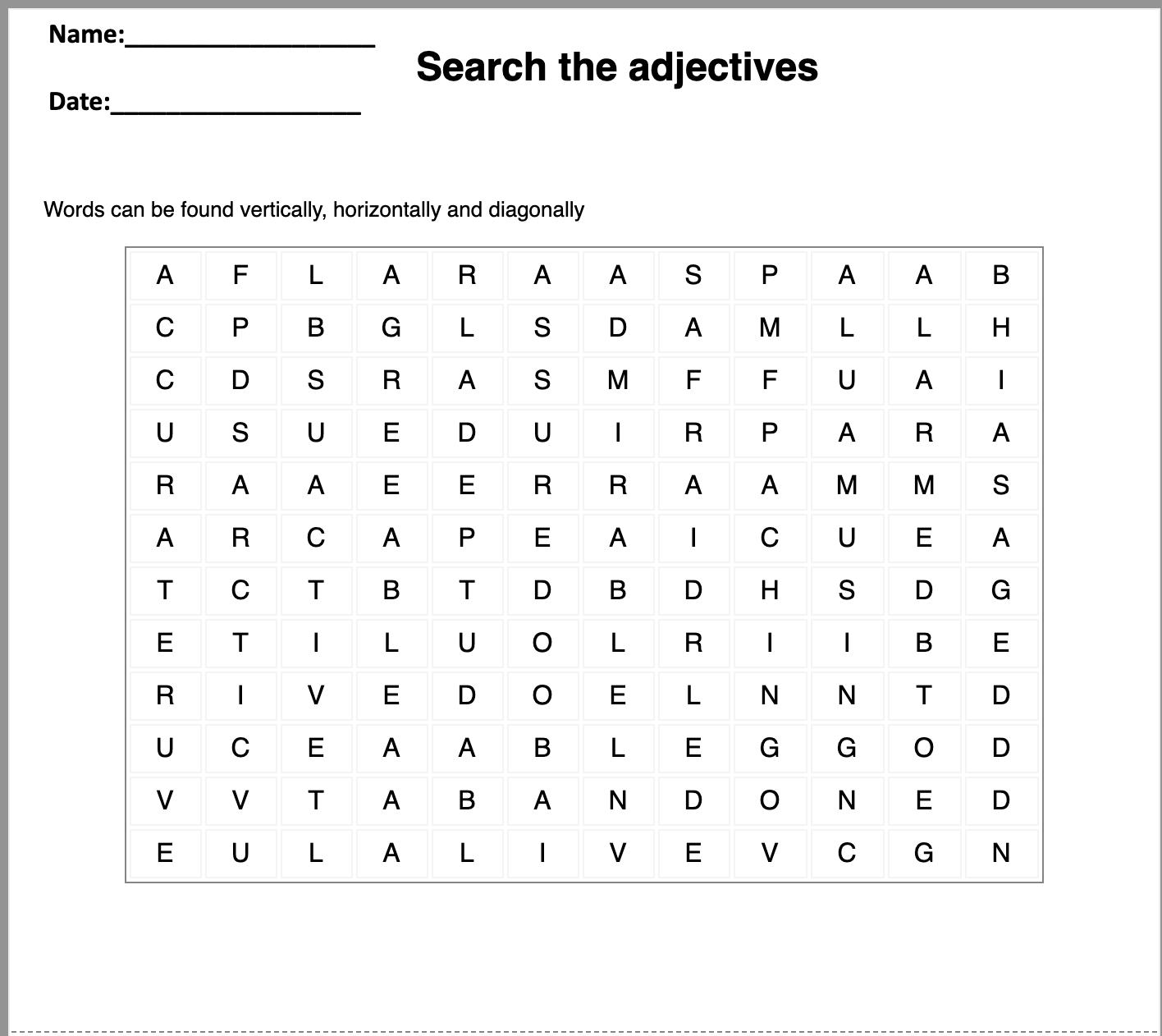 Ultimate Word Finder Worksheet Generator
This word search worksheet generator fits up to 15 entered words into a grid of letters. This is an ultimate vocabulary builder tool, make sure that students carry a dictionary with them in case if they don't understand the meaning of any word. Words are placed either vertically, horizontally or diagonally within the grid. Play around with the settings to see what fits you.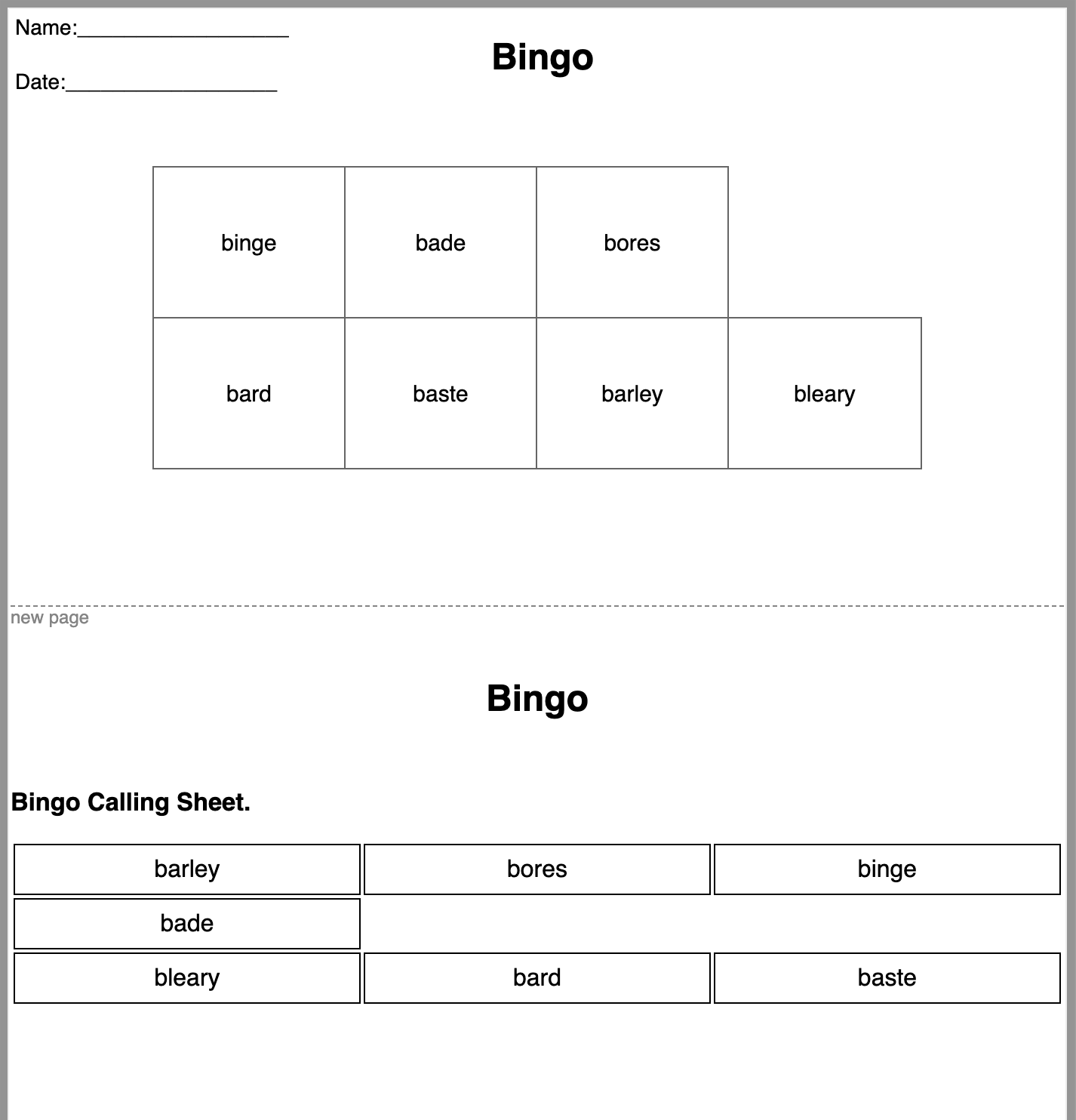 Bingo Grid Worksheet Generator
Bingo! Bingo! Bingo! It is awesome to train your students with new vocabulary and spelling. This worksheet generator will create a number of bingo grids, all unique, with a caller card. Play with other settings too just to see if they are fit for purpose.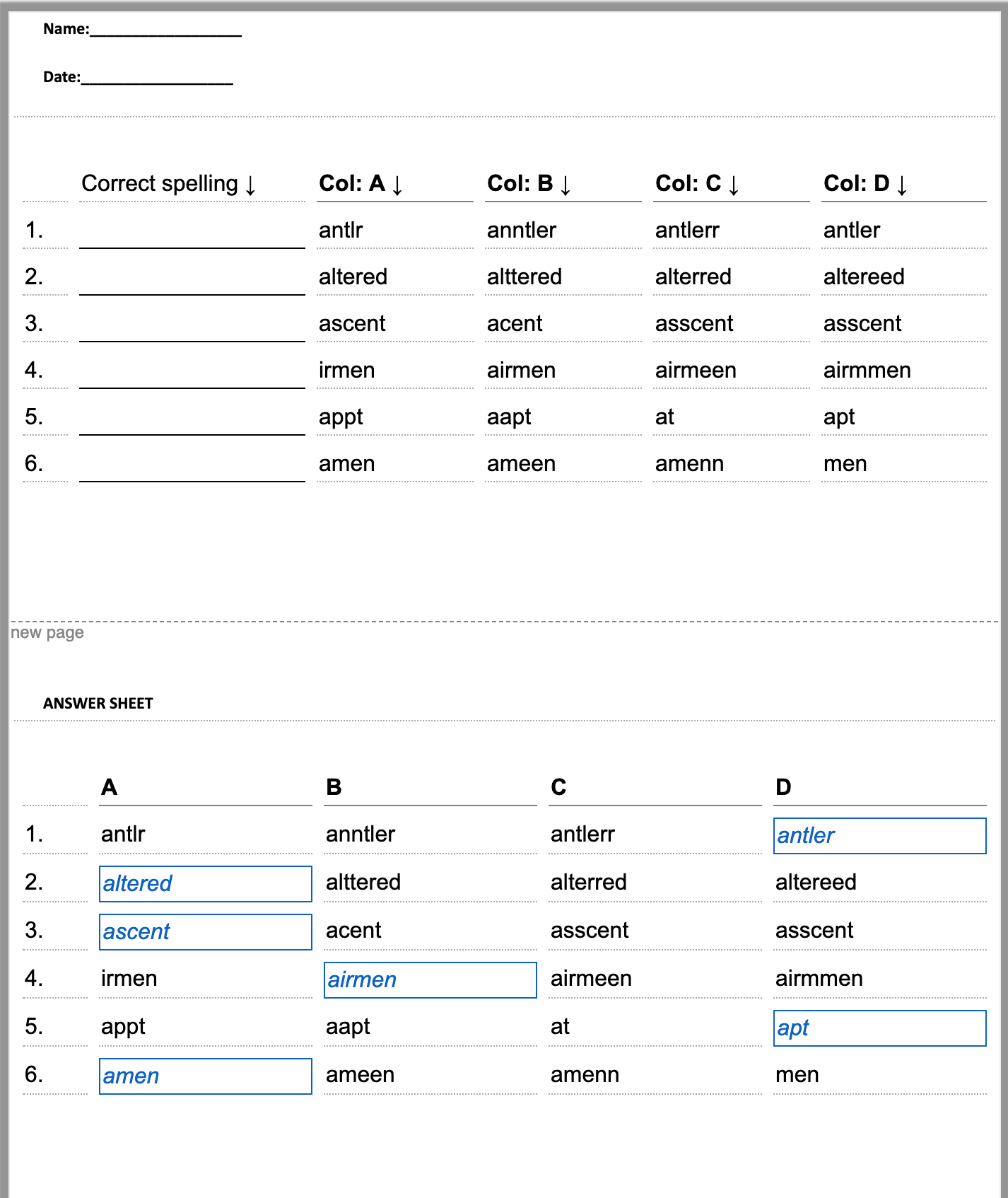 Spelling Bee Worksheet Generator
This worksheet generator will produce worksheets where a word is represented by 4 choices and one of which is the correctly spelt word. Try out the various setting to see what fits your purpose.
Multipurpose Worksheet Generators
Our free form English worksheet generator helps you set the phase of imparting knowledge. You can choose the style of the worksheet to best suit the child. Multiple choice worksheets trigger logical thinking and help the child think with pragmatic clarity.
Free Form Sheet Generator
This free-form worksheet generator is like a blank slate that you can use to enter your own content in whatever way. A full blown rich text editor is provided for you to utilize.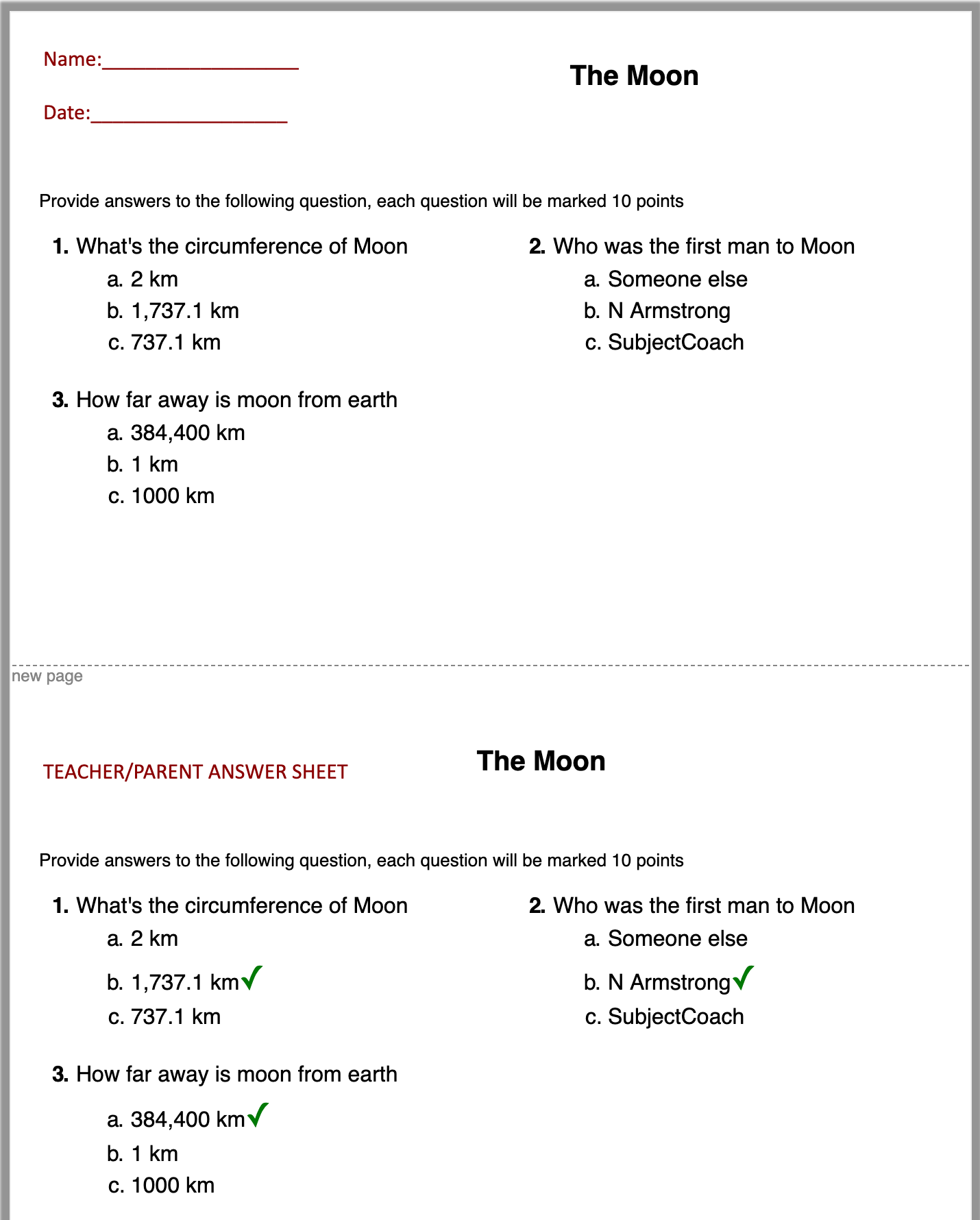 Multiple Choice Test Worksheet Generator
This worksheet generator generates a sheet of multiple-choice questions with 2, 3 or 4 possible answers. Play with options to see what fits your need. This generator is ideal for simple quizzes through to formal tests.
Comprehension Worksheet Generators
Reading comprehension is an essential skill for success in school and in the real world. As a parent or a teacher, you would remember that childhood stage where matching pairs of words logically or completing a crossword puzzle successfully, left you with a sense of accomplishment. Our comprehension worksheet generators do just that. Matching a pair or a trio of words, or solving a crossword is fun for the child in your care. It helps then think logically and enhances their basic understanding of concepts.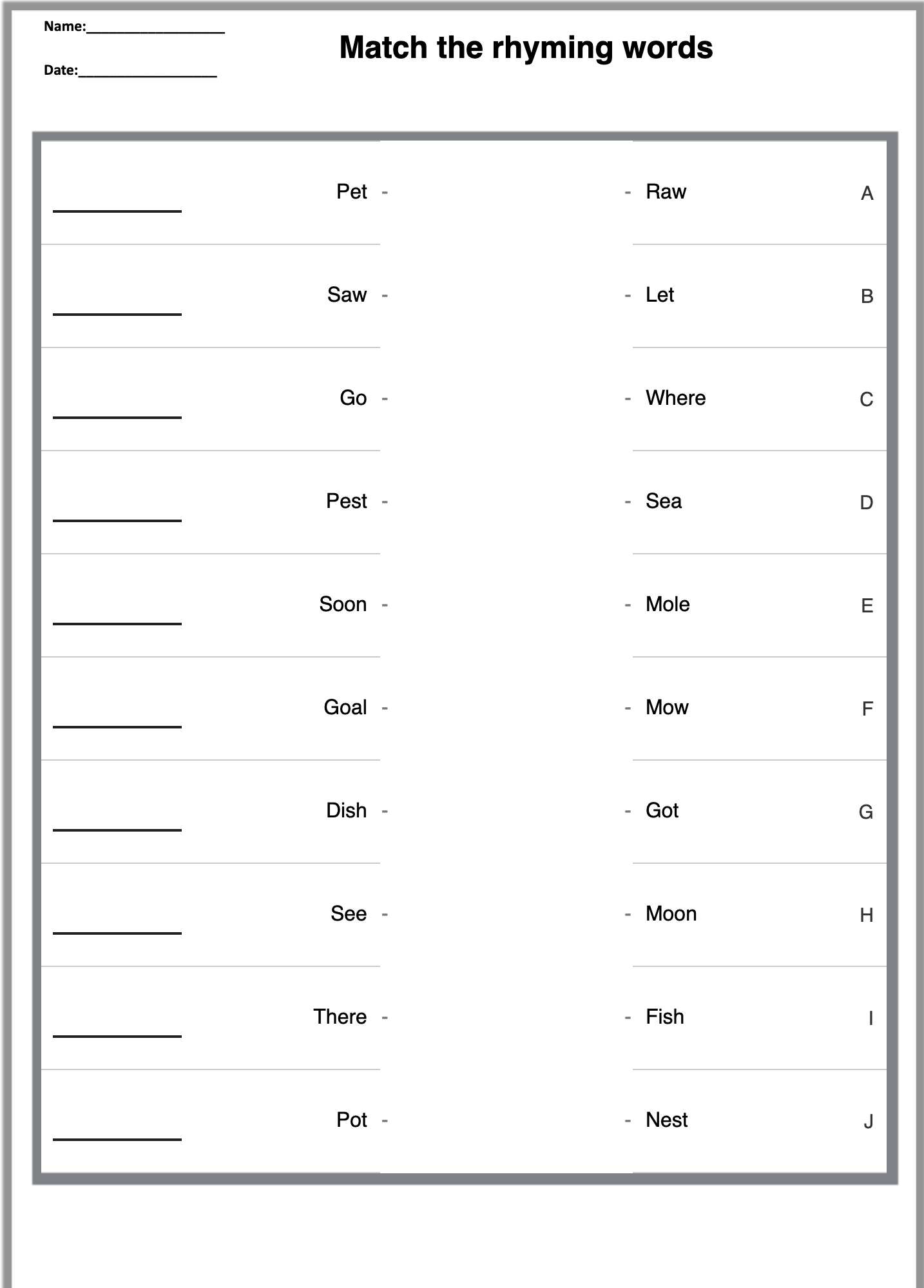 Matching Pairs Worksheet Generator (Two columns)
This worksheet generator will produce a set of matching cut out cards, or spaghetti worksheet where student draws a line from left to right to match the pair for sets of words or phrasal pairs.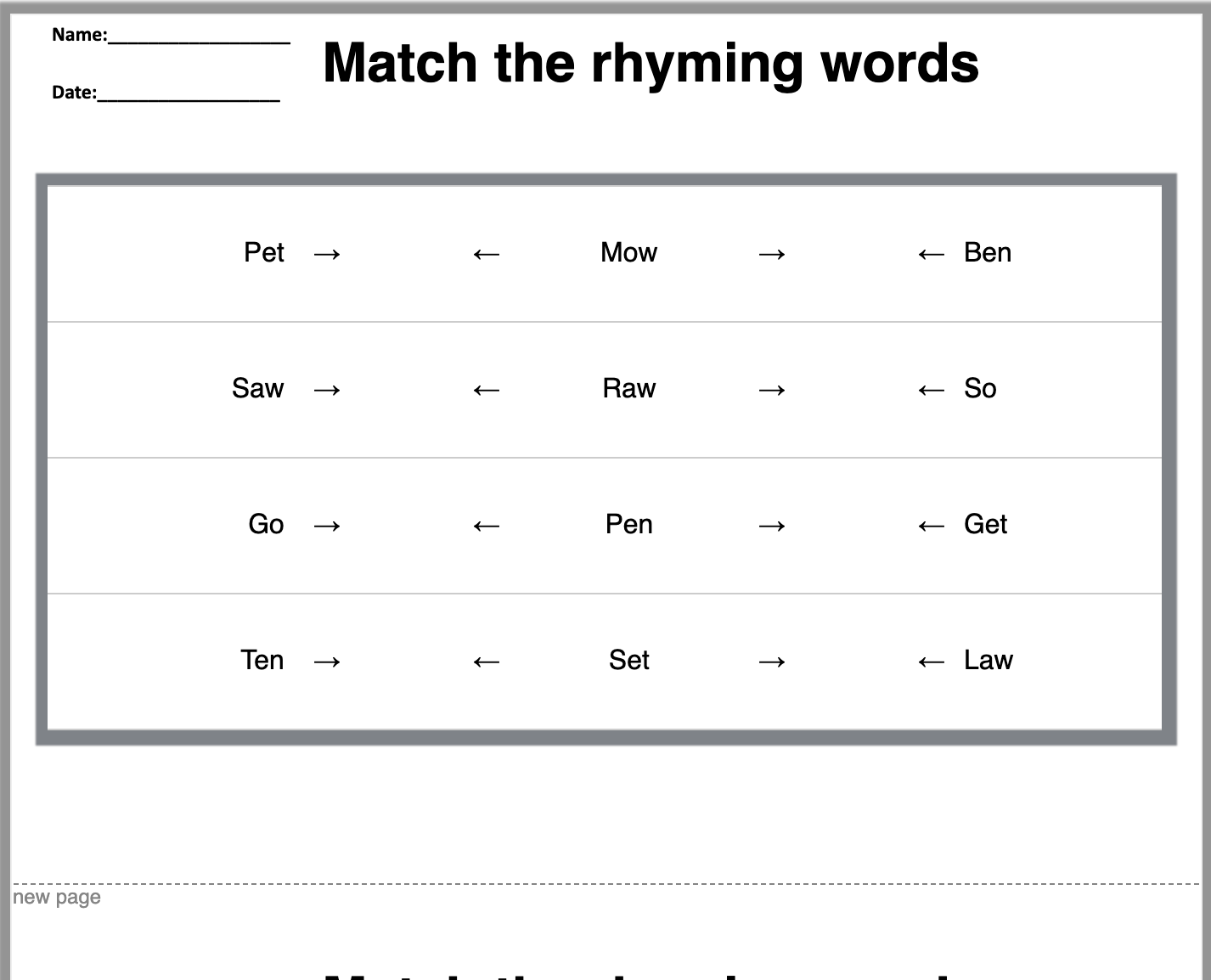 Matching Triples Worksheet Generator (Three columns)
This worksheet generator will generate sheets where you can have 3 related items in a set, e.g. forms of verbs. You can either choose to create cut out cards or draw a line kind of worksheets for students.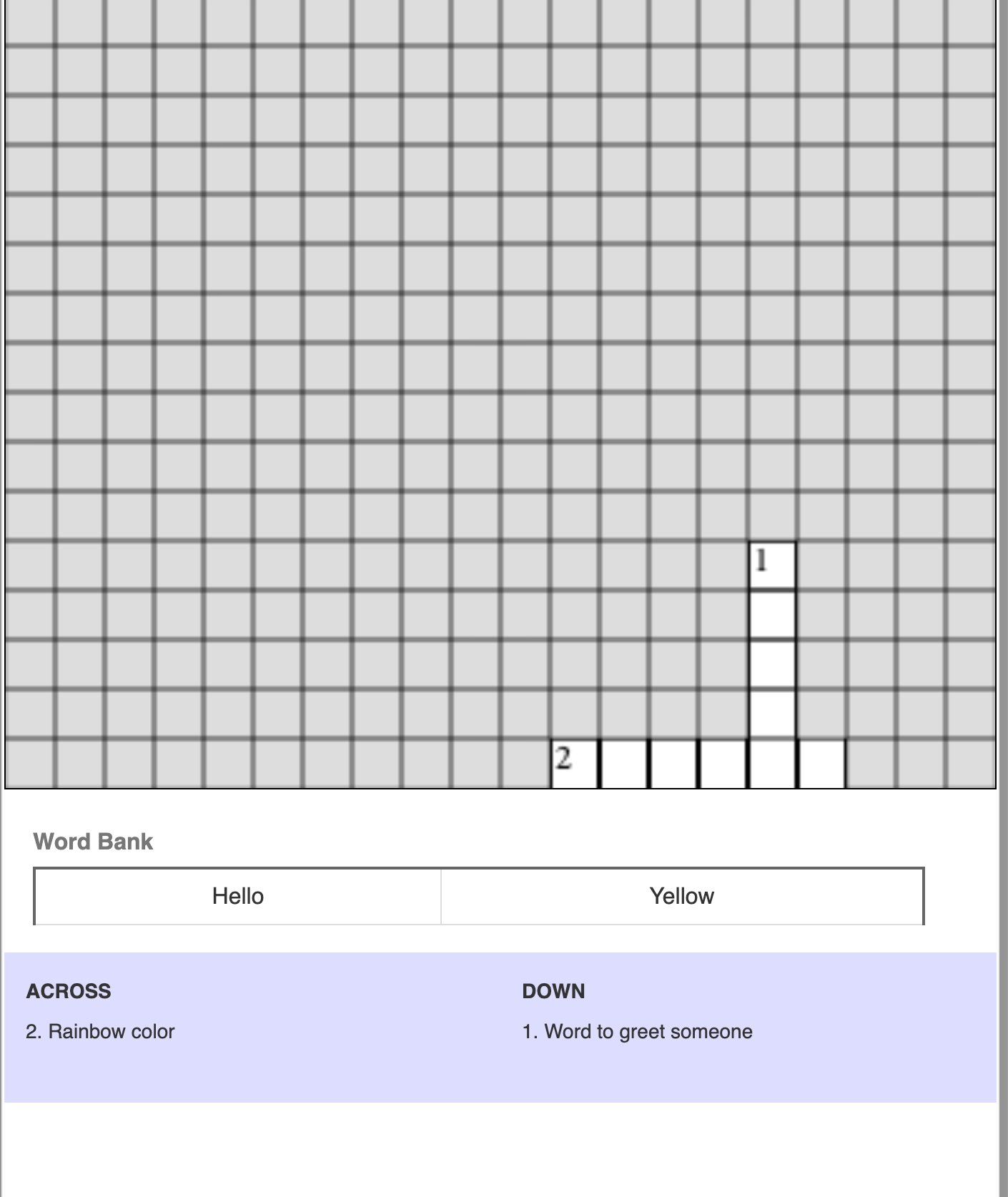 Crossword Worksheet Generator
This worksheet generator will produce crossword sheet. Students will use the clues to find the corresponding word and write in the boxes as per the recommended direction (Across/Down). The produced worksheet is good way of checking students' ability to match definitions or explanations to words.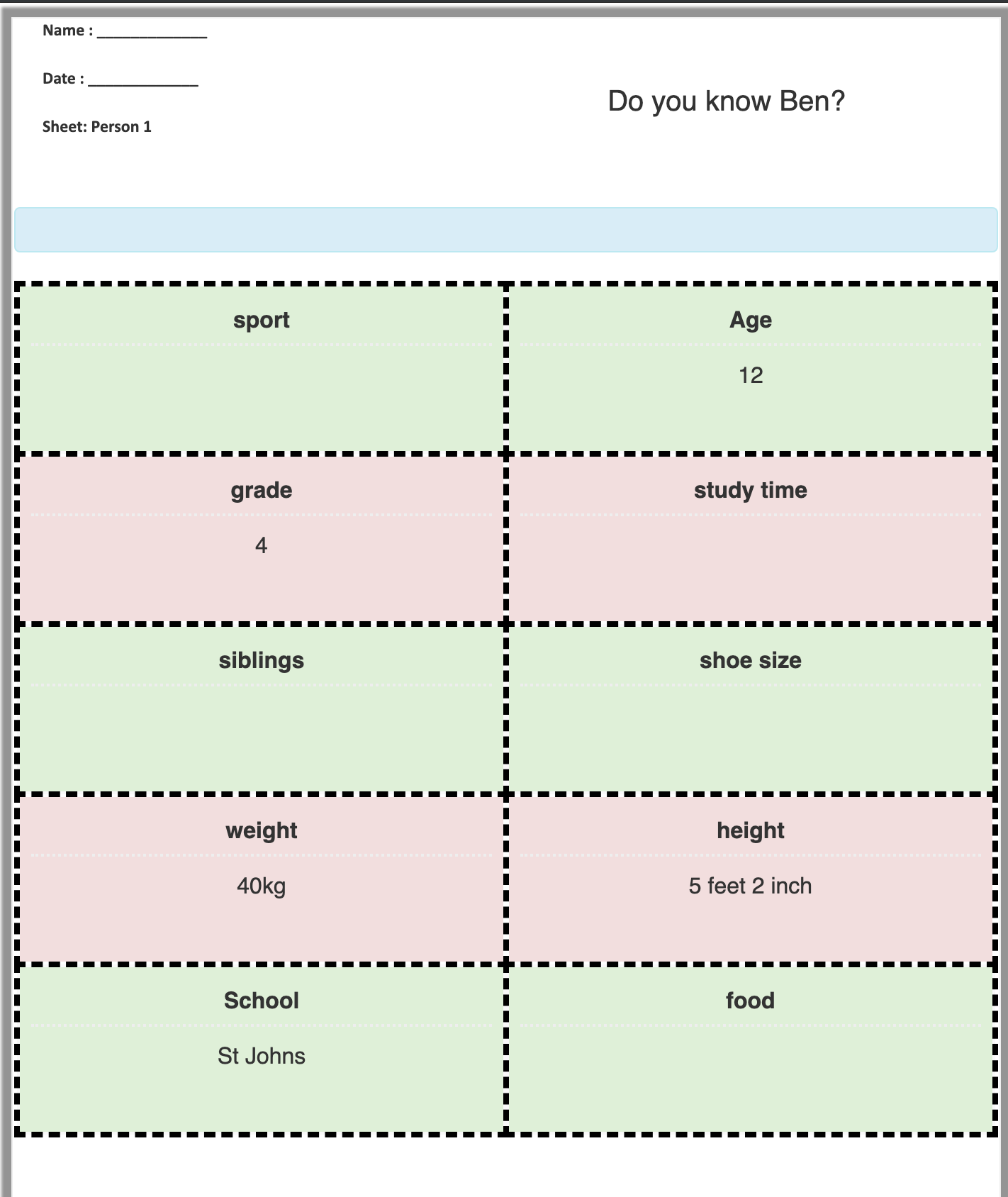 Information Gap Worksheet Generator
This information gap task generator generates a pair of "A and B" worksheets with with some alternate information missing. Students should communicate with each other to fill in the missing information required to complete their sheet. This kind of task help improve knowledge and communication between the students. An information gap task is a technique in language teaching where students are missing information necessary to complete a task or solve a problem, and must communicate with their classmates to fill in the gaps.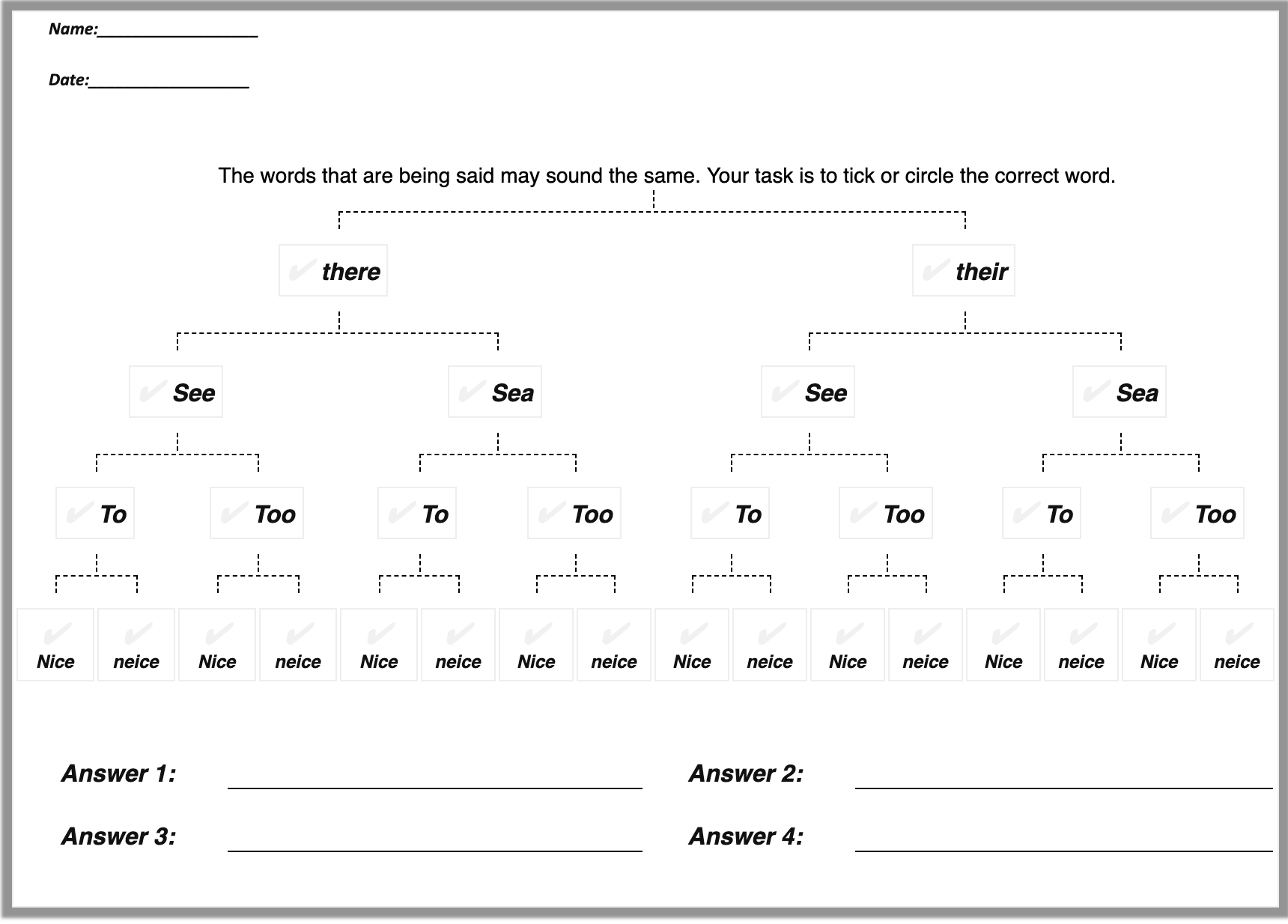 Minimal Pairs Worksheet Generator
Minimal pairs are words that vary by only a single sound, it could be a vowel or consonant. This worksheet generator generates a listening tree activity or exercise from four sets of minimal pairs. Students listen to the teacher as he or she speaks and circle the correct word to arrive at the correct final destination. This exercise can be repeated as many times from the same worksheet.
Question and Answer Worksheet Generator
This worksheet generator is quite flexible for generating any type of Question and Answer based worksheets. It could be a class test that you want to create or some other random activity such as Quiz on Moon . To conduct the activity online, you can use our Quiz creator. You have the ability to choose answer spaces for single-word answers, longer spaces for answers in shorter sentences, or multiple line answers.
Context and Grammar Worksheet Generators
If you want to test a child on the contextual thinking, or whether he is able to apply the rules of grammar aptly in sentences, our huge range of worksheet generators help you accomplish this. With interesting worksheets for sorting, unscrambling a sentence, fill the blanks, and proofreading tasks, our worksheet generator is power packed with knowledge enhancement. Want something more challenging? Our cryptogram puzzle is a handy aid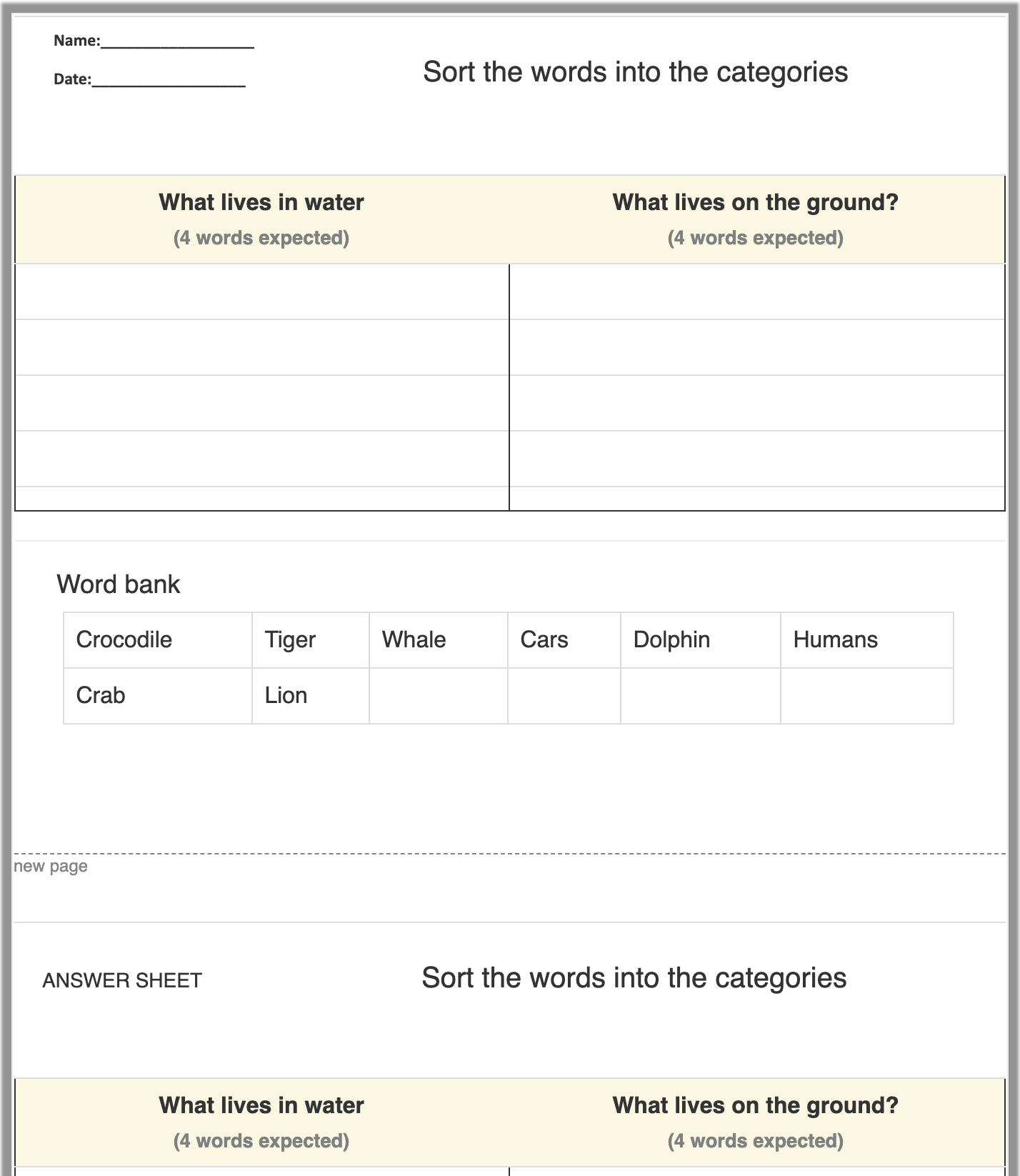 Sort into Categories Worksheet Generator
This worksheet generator will produce worksheets with separate columns for 2, 3 or even 4 different categories. Students are provided with a word bank from which they will pick words and put it in an appropriate category column. Its good way of checking students's ability to contextualise words or objects, plus their knowledge of grammatical rules.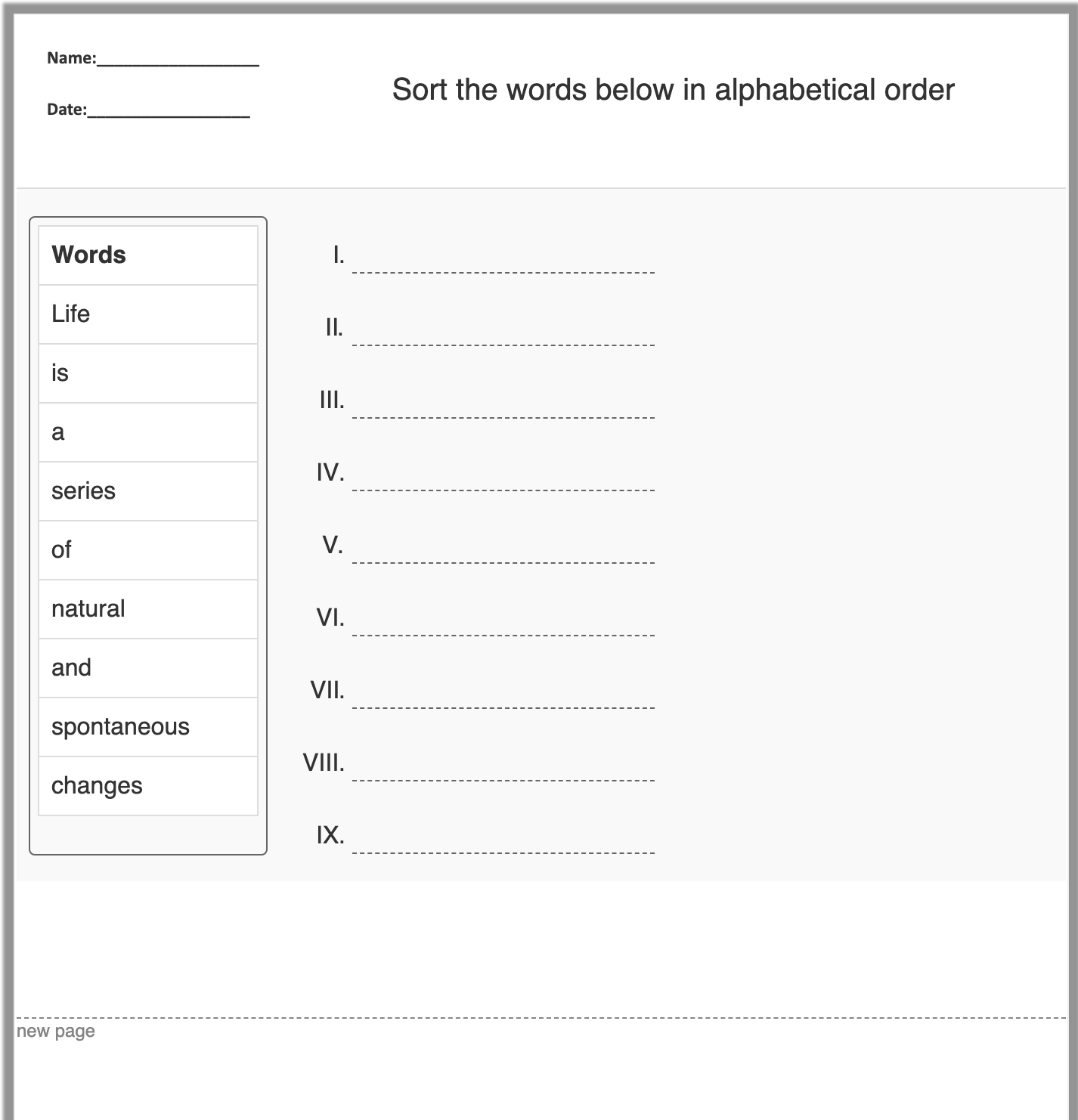 Sort the unsorted Worksheet Generator
This worksheet generator will produce a worksheet where students are given an unsorted list of words. Students then must sort the words into the correct order, be it alphabetical or your own custom order. This task helps students recognize word letter patterns plus so much more can be achieved.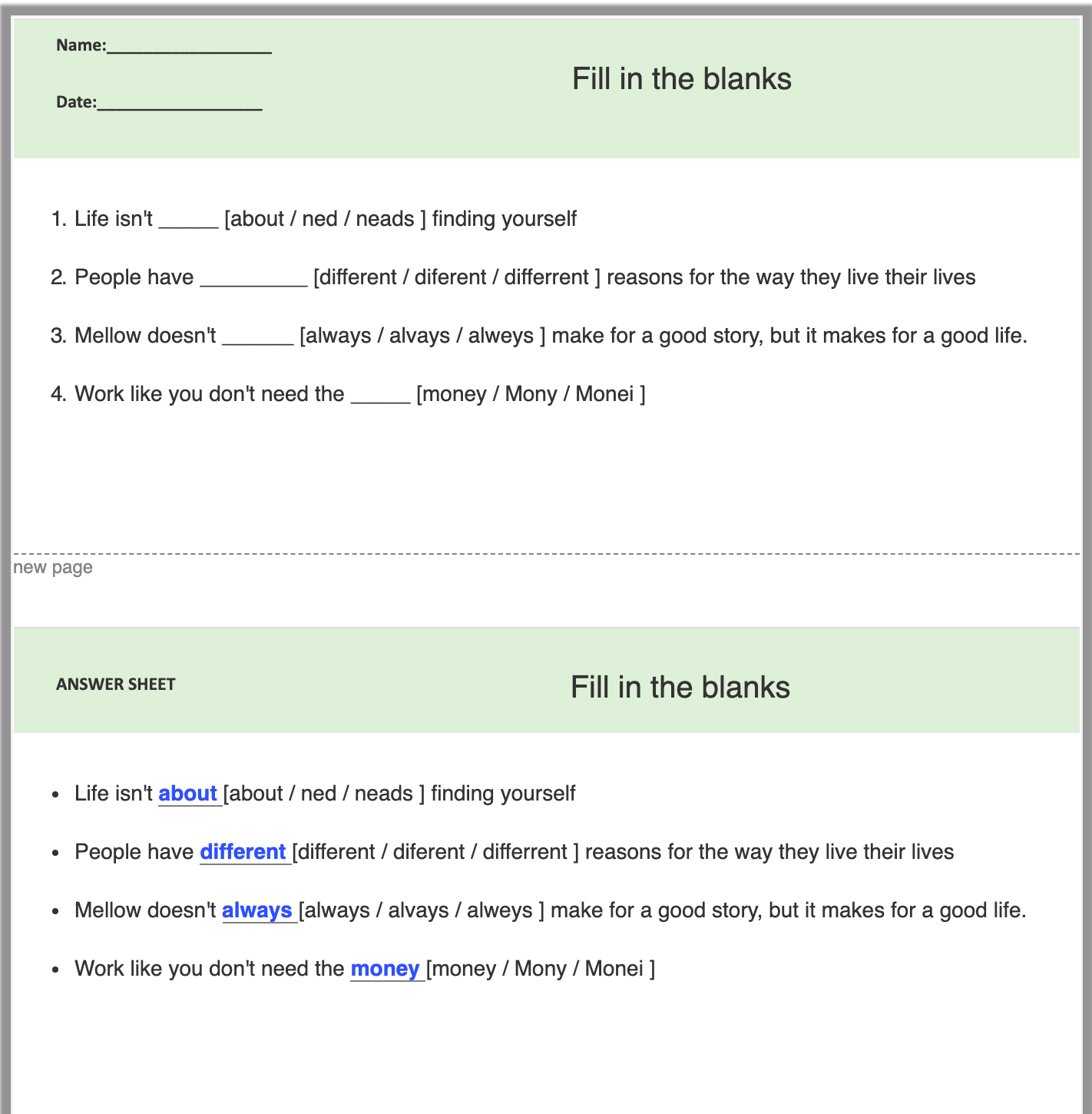 Fill-in-the-Blanks Sentences Worksheet Generator
This worksheet generator will produce a worksheet with sentences that contain blanked out words. Clues can be provided to the student in intuitive way to get them going, we recommend to start easy before you go hard. This generator is helpful to help students understand the sentence structure.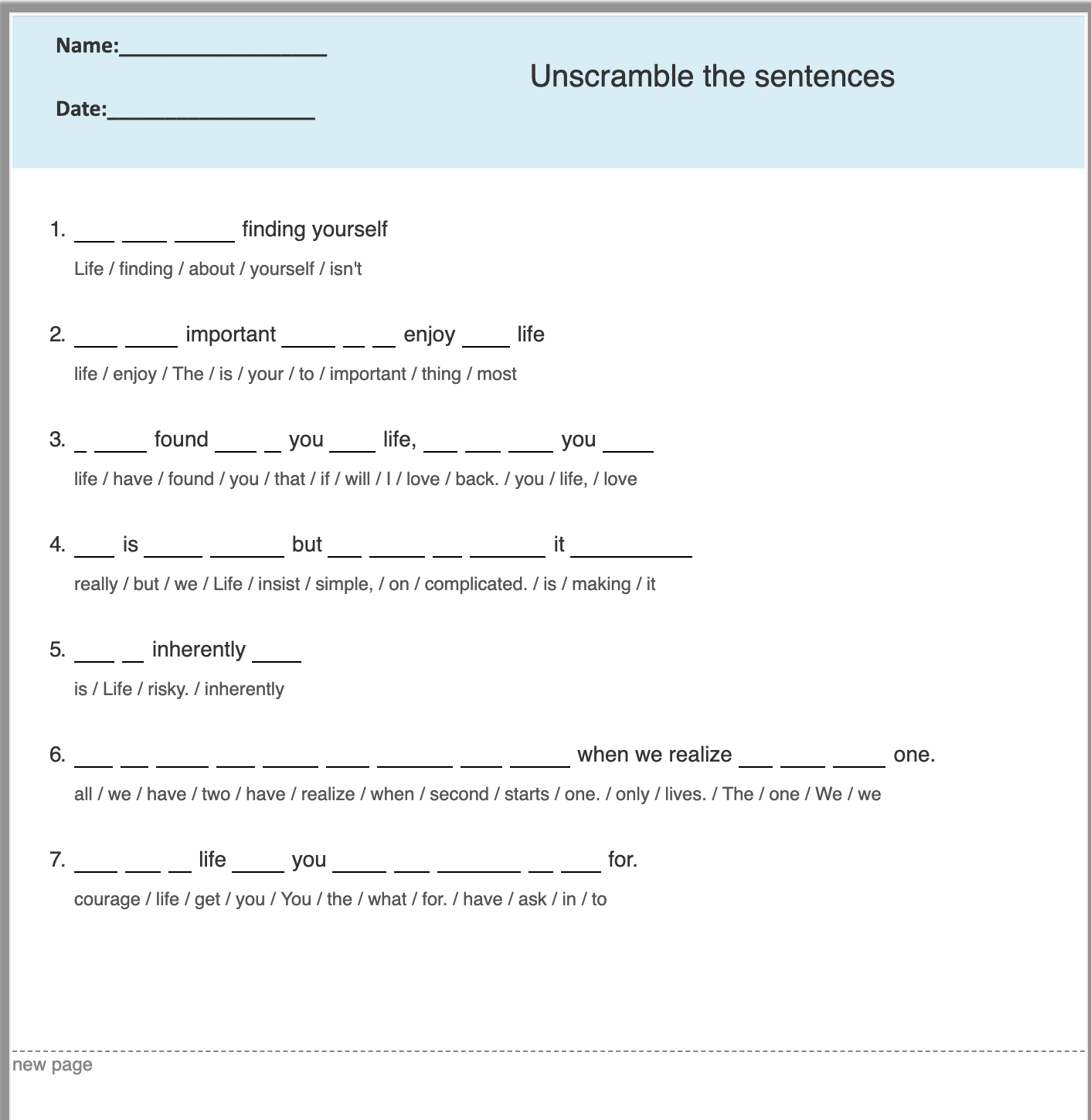 (Un)scramble the sentence Worksheet Generator
This worksheet generator will produce a worksheet with automatically jumbled order of the words in up to 10 sentences with answer spaces for the correct order of each sentence. It is a handy tool to teach sentence structures etc.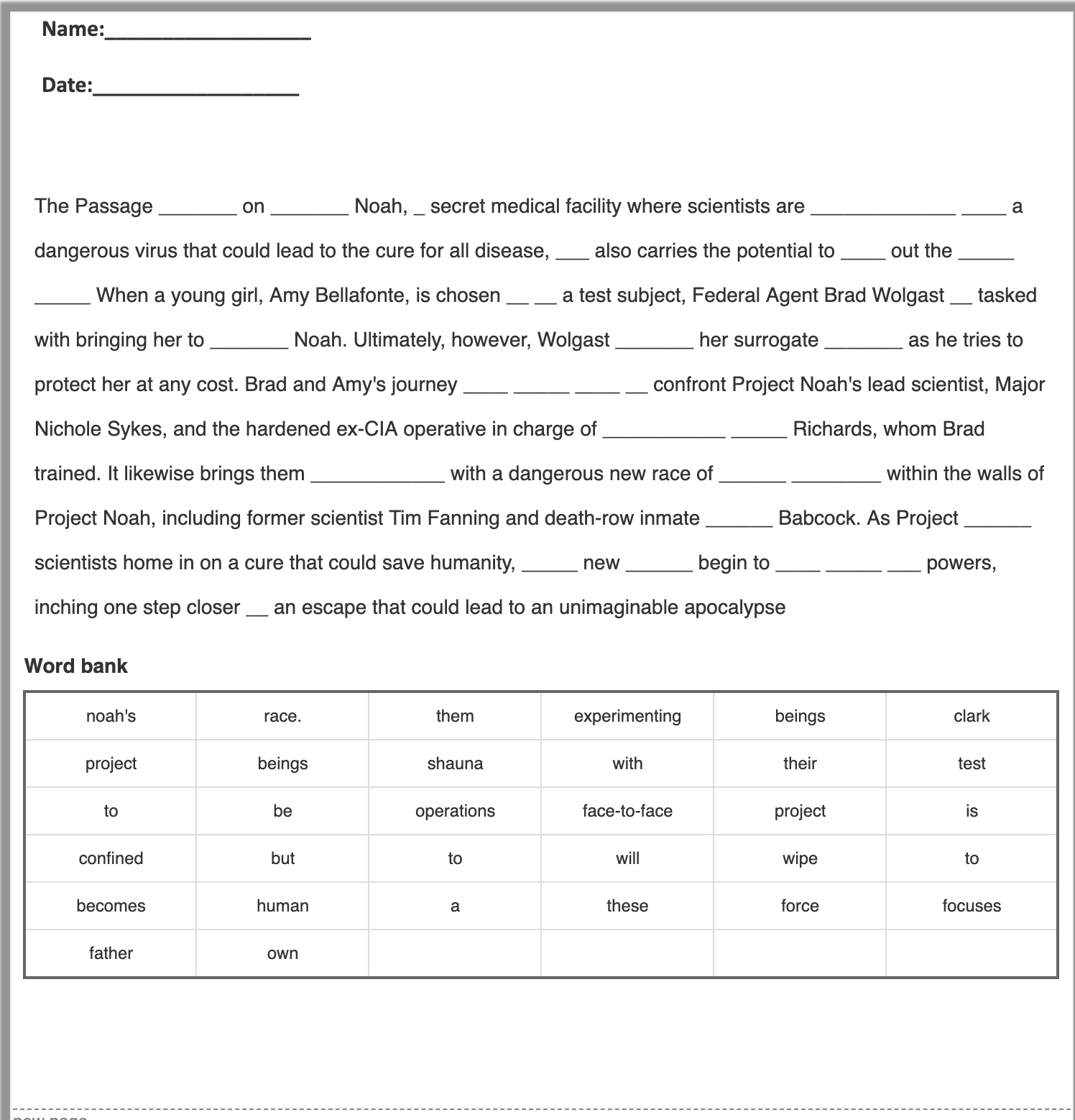 Cloze Test Worksheet Generator
This worksheet generator will produce a worksheet with a passage of cloze text. User selected words are marked and blanked out. Students must fill in the blanks with the correct words as determined by the context.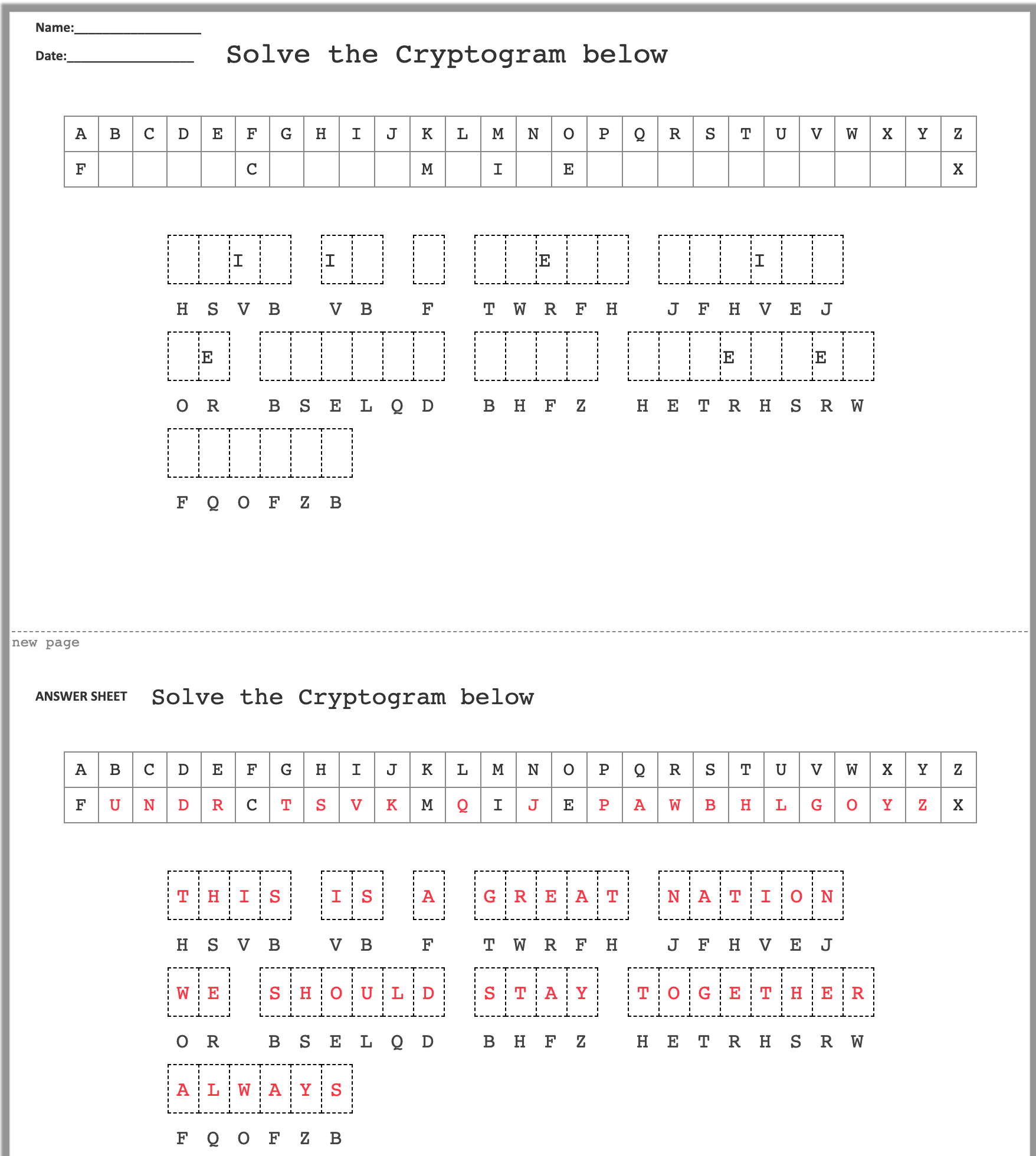 Cryptogram Puzzle Worksheet Generator
Politicians and military strategists have used simple-substitution ciphers to encode their secret documents for thousands of years. This worksheet generator will produce a worksheet with a secret coded passage. Each letter in text you enter is substituted with a corresponding letter code. Students must use logical thought to solve the puzzle.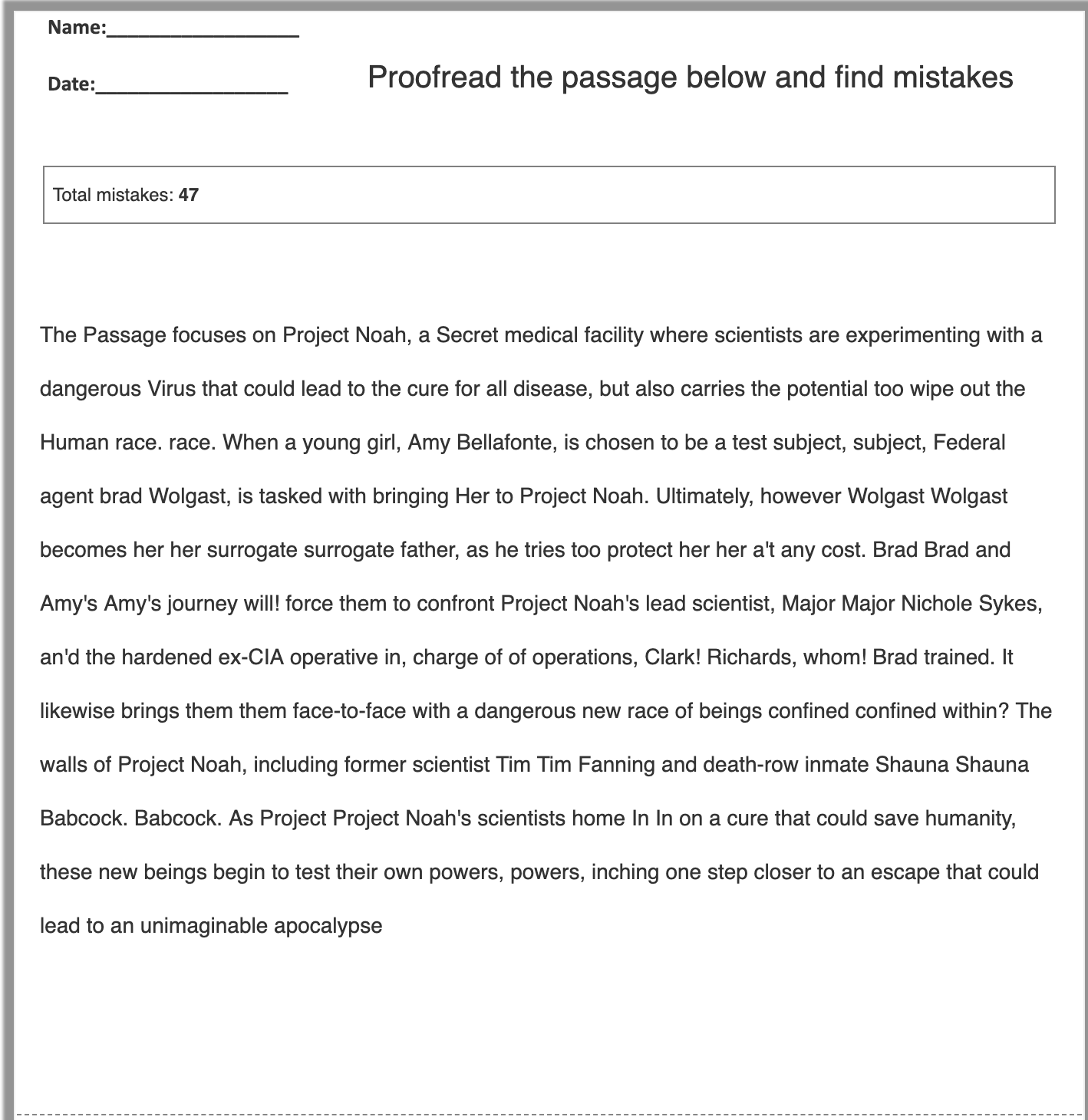 Correcting Mistakes (Proofread) Worksheet Generator
This worksheet generator automatically introduces common English mistakes into a passage of text that you enter. Students will proofread and correct those mistakes.
Subject coach is a rich source of study tips on various subjects. Have you checked our online Maths practice ? Our interactive clocks make you challenge yourself. Our Naplan paper ideas is a treasure trove of writing prompt ideas on varied topics, and our Naplan practice tests for grades 3-9 endeavours to accentuate the skill sets. Check out our collection of Naplan past papers to be better prepared. Happy learning!
THANK YOU FOR STOPPING BY!
Worksheets, Videos, Tests, Pretests
Science Projects
Maths Projects
Activity Ideas
Let's create a new list!
Whatever you're learning (or teaching) , vocabulary.com can help., just testing try a sample:.
The Scarlet Letter: Chapter I
United States Bill of Rights
Science Text: What is a Genome?
The bad news...
We're sorry, but we couldn't find any words we can teach in your text. Please try a different list or text.
We're sorry, but there are words on your list that Vocabulary.com can't teach yet. Vocabulary.com can teach over 16,000 words, but sadly, these aren't among them:
We had to omit some words from your list. You may want to back up and check your spelling: Here they are:
Your list is ready for learning .
Continue by creating a free basic account., working on it..., we're creating your list right now., sign up now (it's free).
Whether you're a teacher or a learner, Vocabulary.com can put you or your class on the path to systematic vocabulary improvement.

Free Printable Worksheets
Match-up Maker
Match-up Worksheet Maker
Enter your words and their match in the form lines below OR choose a premade word list (just below the instructions box).
Click the large green "Generate Word Search" button near the bottom of the form to make your free custom puzzle quickly!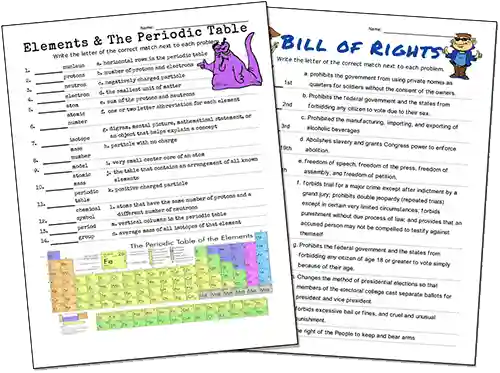 Ad blocking users: Free, 10 lines with basic customization options, no saving options
Non-ad blocking users: Free, 20 lines with many customization options, and basic saving features.
Premium Subscription : 100 lines, Ad free + premium customization and saving features
Click here to view all of our plans

All Banner Ads removed from the entire website Note: Subscriptions do NOT allow citation removal from puzzles and worksheets created on our site.
More stock images to choose from!
More images allowed per puzzle!
Many more available fonts! (over 125 fonts!)
Use ANY font installed on your computer
10 word list save slots - and access your saved lists from anywhere!
More word/clues for crosswords (up to 50)
More word/clues for match-ups (up to 100)
More word/clues for fill-in-the-blank (up to 100)
More word/clues for word scrambles (up to 100)
More options for Sudoku puzzles
No wait delays imposed for saving puzzles to an image or PDF
'Fake Bank' on our Fill-in-the-Blank worksheets
More features coming soon
More Daily Writing Prompts! Over 30 extra prompts for our premium members for each month! (excludes July)
All subscriptions support The Teacher's Corner!
FAQ: Can I remove the " Created on The Teacher's Corner " (or similar) citation on the puzzles I create? No . That is not a benefit of our subscriptions. All citations must remain on worksheets and puzzles you create.
Go here to view our plans and discounts
NOTE:ALL Packages contain the same features, longer subscriptions get better price breaks
SAFE: All subscriptions can be paid via Paypal or Stripe, so your sensitive banking information is never seen nor stored by our website.
Click on Facebook and LIKE US to get up-to-date information about the release of our subscriptions and get valuable coupon codes!

Addition (Basic)
Addition (Multi-Digit)
Algebra & Pre-Algebra
Comparing Numbers
Daily Math Review
Division (Basic)
Division (Long Division)
Hundreds Charts
Measurement
Multiplication (Basic)
Multiplication (Multi-Digit)
Order of Operations
Place Value
Probability
Skip Counting
Subtraction
Telling Time
Word Problems (Daily)
More Math Worksheets
Reading Comprehension
Reading Comprehension Gr. 1
Reading Comprehension Gr. 2
Reading Comprehension Gr. 3
Reading Comprehension Gr. 4
Reading Comprehension Gr. 5
Reading Comprehension Gr. 6
Reading & Writing
Reading Worksheets
Cause & Effect
Fact & Opinion
Fix the Sentences
Graphic Organizers
Synonyms & Antonyms
Writing Prompts
Writing Story Pictures
Writing Worksheets
More ELA Worksheets
Consonant Sounds
Vowel Sounds
Consonant Blends
Consonant Digraphs
Word Families
More Phonics Worksheets
Early Literacy
Build Sentences
Sight Word Units
Sight Words (Individual)
More Early Literacy
Punctuation
Subjects and Predicates
More Grammar Worksheets
Spelling Lists
Spelling Grade 1
Spelling Grade 2
Spelling Grade 3
Spelling Grade 4
Spelling Grade 5
More Spelling Worksheets
Chapter Books
Charlotte's Web
Magic Tree House #1
Boxcar Children
More Literacy Units
Animal (Vertebrate) Groups
Animal Articles
Butterfly Life Cycle
Electricity
Matter (Solid, Liquid, Gas)
Simple Machines
Space - Solar System
More Science Worksheets
Social Studies
Maps (Geography)
Maps (Map Skills)
More Social Studies
Valentine's Day
Presidents' Day
St. Patrick's Day
More Holiday Worksheets
Puzzles & Brain Teasers
Brain Teasers
Logic: Addition Squares
Mystery Graph Pictures
Number Detective
Lost in the USA
More Thinking Puzzles
Teacher Helpers
Teaching Tools
Award Certificates
More Teacher Helpers
Pre-K and Kindergarten
Alphabet (ABCs)
Numbers and Counting
Shapes (Basic)
More Kindergarten
Worksheet Generator
Word Search Generator
Multiple Choice Generator
Fill-in-the-Blanks Generator
More Generator Tools
Full Website Index
Worksheet Generator Tools

Create basic addition drill-and-practice pages with 25 or 50 problems on a page. This generator creates worksheets with single-digit problems. (example: 7 + 8)
Create advanced addition worksheets. You select the number of digits in each addend (2-7). You can also choose whether or not to include word problems. (example: 457 + 108)
Create basic subtraction drill worksheets with 25 or 50 problems per page. This generator creates worksheets with answers less than 10. (example: 14 - 7)
Create advanced subtraction worksheets. You select the number whether or not you would like borrowing, and choose between vertical and horizontal problems. (example: 561 - 304)
Create basic multiplication practice worksheets with 25 or 50 problems per page. You choose the range of the factors, up to twelve. (example: 7 x 6)
Create advanced multiplication worksheets. You choose how many digits you'd like in each factor. Also choose between vertical and horizontal problems. (example: 899 x 14)
Create your own worksheets with basic division facts. Select the range of dividends and range of divisors. (example: 72 ÷ 8)
Create advanced, long division worksheets. You choose the number of digits in the dividend and divisor, and whether or not you'd like remainders. (example: 560 ÷ 10)
Generate your own classroom bingo game, complete with a class set of bingo boards and calling cards. Enter your own math facts, questions, sight words, or vocabulary words.
Make your own flash cards. Choose any color and enter your own word list. Use these flashcards for spelling words, math facts, vocabulary definitions, or study facts.
Create a word search with your own word list. Choose between basic, intermediate, and advanced-level puzzles.
Make your own crossword puzzle. Simply enter your own vocabulary words and clues and the puzzle generator will do the rest.
Type in a phrase and this tool will generate a cryptogram puzzle (with letters, numbers, or symbols) for your students to decode.
Make your own word scramble puzzles with this word scrambler tool. Simply input your word list, and the computer generates a word scramble worksheet.
Create a missing letter puzzles with your own spelling or vocabulary word lists.
Enter a list of words, and the computer will generate a cut-and-glue ABC order worksheet for your students.
Generate a quiz or worksheet with multiple choice questions. Write your own questions and make a quiz with a professional layout. Members can save their worksheets to their accounts to edit or reprint any time.
Make a quiz or worksheet with matching questions. Choose between two styles of matching questions - draw lines or write letter answers. Members can save their work to their online filing cabinets.
Make quiz with fill-in-the-blank questions. Enter your own questions and generate a worksheet with a professional layout. Members who are logged in can save their work to their accounts.
Easily create short answer quizzes with our simple and quick generator tool. Professionally format your essay question tests. Site members can store their files on STW and conveniently grab them any time.
Make your own custom classroom newsletters. Choose a layout, and a theme. Then enter your own content.
Create your own monthly calendars. Insert your own notes for holidays, birthdays, events, and special occasions.
If you've generated any worksheets and saved them, you can access them in your virtual file cabinet with this link. (This feature is available for logged-in members only.)
Download and print our collection of holiday worksheets.
We have thousands of worksheets, covering all elementary math topics, including geometry, fractions, algebra, telling time, counting money, and more.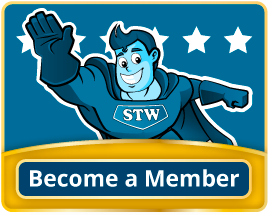 My Education.com accounts
To switch between accounts click on the account below
Kindergarten
All Worksheets
All Lesson Plans
All Workbooks
All Exercises
All Project Ideas
Reading & Writing
Worksheet Generator
Common Core Resources
Guided Lessons
Weekly Boost
School Licenses
Notifications
Word tracer, reading worksheet generator, enter word tracer content.
Enter each word you would like your student to trace on its own line in the box below. If you'd like guidelines on your tracing worksheet, select "Use guides" in the check box below. Be sure to capitalize letters that you would like students to trace as capital letters. Exceeding 10 rows of entries may cause formatting issues.
As you work, click "create" to generate a preview of your tracing worksheet to the right. Click "create" again to update the worksheet with additional changes.
Click "Theme" above to change the graphics that will be featured on the bottom of your worksheet.
Once your worksheet is completed, use the "Download Worksheet" button to download and print your creation or click "Save" to save your tracing worksheet for downloading at a later time. Click "Download Answer Key" to download and print the completed, traced version of your worksheet.
Select Word Tracer Theme
Preview worksheet.
You've reached the limit of free worksheets you can create this month.
To continue, become an Education.com Premium member. Premium members can create unlimited worksheets and access thousands of worksheets, workbooks, games, and activities.
Add to collection
Create new collection, new collection, new collection>, sign up to start collecting.
Bookmark this to easily find it later. Then send your curated collection to your children, or put together your own custom lesson plan.
Choose an Account to Log In
Not an Education.com member yet? Create an Account
Join Education.com for Free Access to Resources
I'm a parent or guardian
I'm a teacher
I'm a student
What is your date of birth?
Create account.
Already a member? Log In
By clicking 'Create Account' above, I agree that I have read and agree to Education.com's Terms of Use and Privacy Policy .
Members receive Education.com emails. You can change email preferences in account settings.
Forgot your password?
Please enter your email address and we'll send you instructions to reset your password. Go back to sign in page
If you no longer have access to the email address associated with your account, contact Customer Service for help restoring access to your account.
Reset Password Email Sent
The email is on its way. Please allow a few minutes for it to arrive. Didn't receive the email? Go back and try again
Set/Reset Password
Tell us about yourself, i'm interested in grades:.
Reading & Math for K-5
Kindergarten
Learning numbers
Comparing numbers
Place Value
Roman numerals
Subtraction
Multiplication
Order of operations
Drills & practice
Measurement
Factoring & prime factors
Proportions
Shape & geometry
Data & graphing
Word problems
Children's stories
Leveled Stories
Context clues
Cause & effect
Compare & contrast
Fact vs. fiction
Fact vs. opinion
Figurative language
Main idea & details
Story elements
Conclusions & inferences
Sounds & phonics
Words & vocabulary
Reading comprehension
Early writing
Numbers & counting
Simple math
Other activities
Dolch sight words
Fry sight words
Multiple meaning words
Prefixes & suffixes
Other parts of speech
Punctuation
Capitalization
Cursive alphabet
Cursive letters
Cursive letter joins
Cursive words
Cursive sentences
Cursive passages
Grammar & Writing
Breadcrumbs
Download & Print Only $4.99
Vocabulary Worksheets
Vocabulary worksheets for k–5.
Free, printable vocabulary worksheets to practice and improve vocabulary, word recognition and word usage . These exercises help students develop their knowledge of words.
Vocabulary worksheets by grade:
Vocabulary Cards
What is K5?
K5 Learning offers free worksheets , flashcards  and inexpensive  workbooks  for kids in kindergarten to grade 5. Become a member  to access additional content and skip ads.
Our members helped us give away millions of worksheets last year.
We provide free educational materials to parents and teachers in over 100 countries. If you can, please consider purchasing a membership ($24/year) to support our efforts.
Members skip ads and access exclusive features.
Learn about member benefits
This content is available to members only.
Join K5 to save time, skip ads and access more content. Learn More
Free Printable Worksheets for Kids
Free printable vocabulary worksheets.
Check out our wide range of free printable Vocabulary worksheets designed to build their vocabulary skills like Word Search, Crossword Puzzle, Spelling Word Scramble and Match Picture with words. These worksheets will help students to expand their vocabulary knowledge.
Word Search Animals
Word Search Birthday
Word Search Body Parts
Word Search Christmas
Word Search Farm Animals
Word Search Fruits
Word Search Halloween
Word Search Medicine Tools
Word Search Sea Animals
Word Search Sports
Word Search Transportation
Word Search Vegetables
Recently added worksheets.
Arrange Letters
Unscramble the Letters
Arrange the Letters
Crack the Code Worksheet
Click Here to create your own customized Vocabulary Worksheets.
Benefits of solving vocabulary worksheets :
Working memory – It facilitates the collaboration of long-term and short-term memory. Interactive Vocabulary Worksheets, Crossword puzzles and logic problems, in which your kid must recall terminology and meanings from memory, can assist your child in developing their working memory. This can have an impact on their learning and success.
Increase in Speed – Interactive Vocabulary Worksheets can increase your child's processing speed, allowing them to solve it and come to the correct solution more quickly. This is beneficial for reading and other educational activities that need fast-thinking, such as mental math.
Problem-solving skills – Interactive Vocabulary Worksheets need your kid to analyze how each word interacts with one another. In contrast, code breakers require your child to explore several alternative answers before arriving at the proper answer. Several Interactive Vocabulary Worksheets need extensive vocabulary and spelling proficiency and the ability to think sensibly and strategically. It encourages youngsters to think outside the box, which improves their problem-solving skills and creativity.
Latest Posts
WHICH IS BETTER FOR EARLY LEARNING: TEACHERS OR ENGAGING WORKSHEETS?
5 TIPS ON MAKING FREE PRINTABLE WORKSHEETS SET FOR KIDS OF DIFFERENT AGE
EDUCATIONAL GAMES FOR PRESCHOOLERS THAT SHAPE THEIR CAREER THE RIGHT WAY!
INTERACTIVE ONLINE MATH WORKSHEETS FOR KINDERGARTNERS
FUN THINGS TO DO THIS SUMMER: FREE PRINTABLE DOT TO DOT WORKSHEETS
WHY CHOOSE US ?
Free printable worksheets, kiddo worksheet generator.
Worksheet Maker
Make your own printable PDF worksheets with the EnglishClub Worksheet Maker . You can print out your worksheets FREE on A4/US paper sizes and photocopy for the class—including automatic answersheets.
easy instant worksheets
no registration or boring logins
professional formatting
just fill out and print
get automatic answersheets too
Below you can see some pre-filled example worksheets. You will create your own by entering your own words and phrases. Worksheet Maker immediately scrambles or shuffles your words for you.
Matching Worksheet Maker
Excellent for : opposites, synonyms, collocations, cities and countries...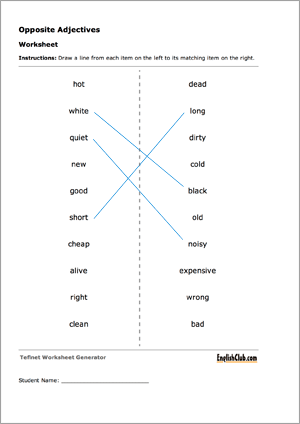 Sorting Worksheet Maker
You choose a collection of words which appear at first in the single box at the bottom. Students sort them by writing them in the appropriate column (category) above.
Excellent for : word stress, categories, parts of speech...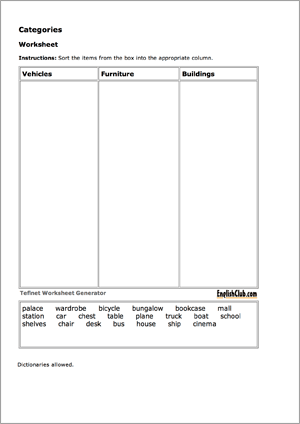 Word Scramble Maker
Excellent for : spelling and vocabulary, writing and reading skills...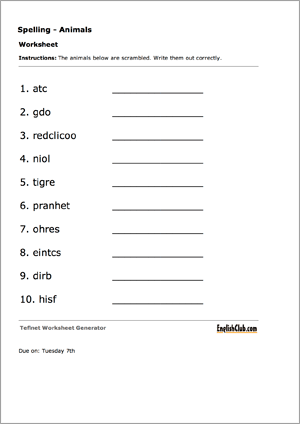 Worksheet Generators
Please choose a worksheet generator below for related tabs.
Free Worksheet Generators
Not ready for a Premium Account yet? We've made the following worksheet generators available to try for free!
FREE Word Scramble Worksheet Maker
This vocabulary worksheet generator automatically jumbles the spelling of words and generates a worksheet with letter spaces for the correct spelling of each word. You can choose difficulty options such as whether to display hints or a word bank.
FREE Wordsearch Worksheet Maker
This vocabulary worksheet generator automatically fits words into a grid of letters. Students find the words, that are placed either vertically, horizontally or diagonally within the grid. The puzzle difficulty and grid size are able to be customized.
FREE Minimal Pairs Worksheet Maker
This ESL listening worksheet generator creates a listening tree exercise from 4 sets of minimal pairs. At each juncture the teacher speaks one word from the pair, and the students follow the path to arrive at the correct final destination. The exercise can be repeated multiple times using the same worksheet.
FREE Interactive e-Worksheet Maker
Make interactive worksheets that your students can complete on a computer, tablet or smartphone. Worksheets are graded automatically, and results are available for you to view and analyse.
This worksheet maker currently supports multiple choice, short-answer and spoken questions.
Upgrade to a Premium or Pro account to get so much more!

Create a Storyboard
My Storyboards
Log In Log Out
More Picture Encyclopedias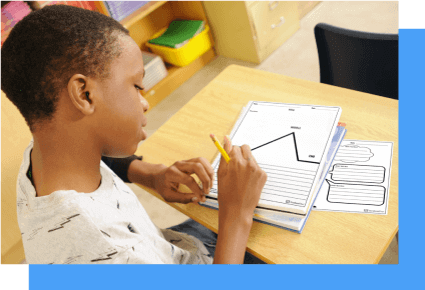 Vocabulary Worksheet Templates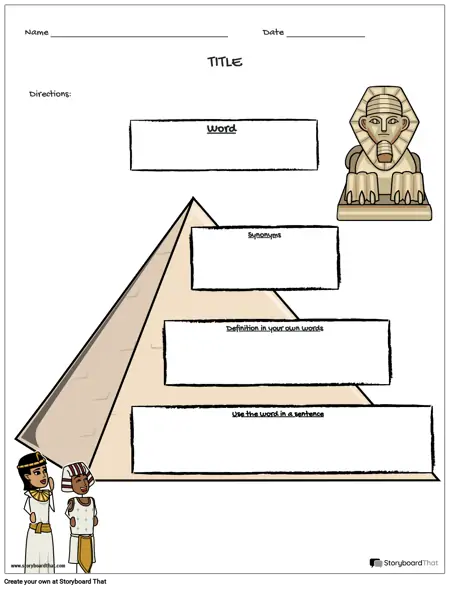 If you're assigning a vocabulary worksheet template to your students, copy the worksheet to your account and save. When creating an assignment, just select it as a template!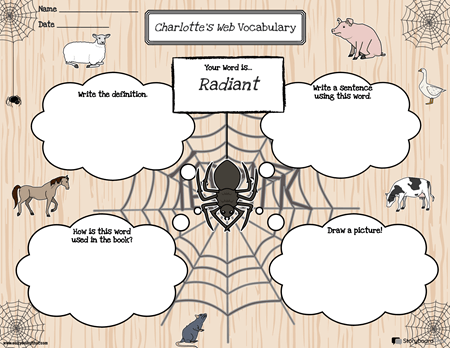 Printable Vocabulary Worksheet Templates!
Make vocabulary building activities fun! Oftentimes, explicit instruction of vocabulary can be dry and boring for students. However, Storyboard That's digital and printable worksheets can spice up any vocabulary lesson!
Vocabulary templates and graphic organizers are used to help students visually organize and keep track of new vocabulary words and their definitions. These templates for vocabulary above are designed to be used digitally or offline. Teachers may customize our free printable blank vocabulary worksheets for their students to enhance their learning on any subject!
Starting a unit or lesson with the key vocabulary that students will see in their readings or presentations aids in overall comprehension and retention. Vocabulary is the foundation of language. Becoming acquainted with new terms and concepts is crucial for students to have a thorough understanding of any unit. Storyboard That's vocab chart templates can help!
Why are Vocabulary Templates Important and How are they best used?
Academic achievement in any subject depends on a students' ability to grasp the concepts and apply them. Acquiring an extensive vocabulary is critical in achieving this goal. Educators know that expanding students' vocabulary is the key to expanding their reading comprehension in more advanced texts. However, improving students' vocabulary needs a multi-faceted approach. Most students are visual learners. When students define and illustrate each term using Storyboard That's graphic organizers, they will master the application of it and retain it as part of their lexicon. By illustrating and using new vocabulary words and their definitions students' will increase their understanding of any topic whether it is science, social studies, math or language arts.
Far better than simple vocabulary lists, vocab charts and graphic organizers often have places for students to draw a picture, write a sentence, and use context to help solidify the student's understanding of the word and its meaning. There are many types of vocabulary templates that get students engaged with the words they are learning. Teachers can choose from different styles of worksheets above such as a vocabulary chart template where students can benefit from graphic organizers such as the Frayer Model which encourages them to not only know the definition of a new term or concept, but also its characteristics, examples and non-examples. Teachers could also use a vocabulary word template where students can focus on one word or concept at a time and demonstrate their understanding by writing the definition, synonyms, adding an illustration and using the word in a sentence. If there are many new and unfamiliar terms to focus on, teachers could provide students with a vocabulary list template that includes all of the terms. They could combine more than one in a sentence and create an illustration that demonstrates the meaning of multiple words. Teachers could also provide students with a more generic vocabulary sheet template that can provide students with more choice on how to demonstrate their understanding.
Other Vocabulary Resources
Storyboard that knows how important it is to integrate explicit instruction of vocabulary within any subject. Visual vocabulary storyboards are a part of many of our units and lesson plans in English language arts, science, social studies and even math! For example, most of our in depth novel study units include a lesson on vocabulary like this one from the popular novel, The Wild Robot .
When studying about new places, people and events in social studies, students are bound to come across new and unfamiliar words. That is why most of our social studies units include a vocabulary building activity like this one in our unit on the American Revolution .
Science teachers know that student success depends on their ability to integrate brand new words and concepts into creating hypotheses and conducting experiments in class. All of our science lesson plans were created by veteran science educators with this in mind which is why most include visual vocabulary boards like this one for States of Matter .
Many language learning programs are focused on the immersion method which is widely considered to be the most effective way to learn a foreign language. However, within this method is a need to explicitly teach new vocabulary for future application. Storyboard That has many lessons and applications for teaching vocabulary for English language learners as well as French and Spanish such as this lesson on Food and Restaurant Vocabulary .
For even more ideas, check out this article on vocabulary , this article on vocabulary boards , and our social studies vocabulary worksheets , and even math vocabulary worksheets .
Happy Creating!
Why Use Storyboard That?
Storyboard That is the perfect tool for novel lesson plans and activities because it's so easy to use and extremely versatile. With Storyboard That, you can create a wide variety of storyboards such as the story from the main character's perspective, or any other character's point of view.
You can also use Storyboard That to create a summary of the book, a movie poster, or analyze themes and events. Plus, our printable worksheets make it easy to take the fun offline.
Why is Storyboarding a Great Method of Teaching?
Storyboarding is an incredibly powerful tool for educators because it helps students process and understand the information in a deep, meaningful way. When students storyboard, they are actively engaged in the learning process and can make connections between the text and their own lives.
Storyboards also promote higher-level thinking by encouraging students to synthesize information and think critically about what they have read. Finally, storyboards are a great way to assess student understanding because they provide a visual representation of student learning.
Frequently Asked Questions about Vocabulary Worksheet Templates
How can i make a vocabulary worksheet from the templates above.
Choose the template above that you like and click copy
You will be brought into the Storyboard That Creator. Give your vocabulary worksheet a name!
Make any changes you wish such as adding in a title, directions and key terms. Make any changes to art, color and design that you wish! With the Creator - the sky's the limit! We have thousands of artist created images as well as millions of images from Photos for Class that you can access using search. You can even upload your own images!
After making any changes you wish, click Save and Exit.
Click on View All Options above your storyboard to see all of the different ways to download and print!
Print your worksheet for students to complete offline or add it to an assignment for students to complete it as a digital worksheet!
For more information about assigning students digital worksheets, check out our Digital Worksheet Activities Page .
How to Make a Vocabulary Worksheet from Scratch?
Are you interested in making your own vocabulary worksheet from scratch? Great! Simply follow these steps:
Click on the "create a storyboard" button. This will bring you to the storyboard creator.
Give your vocabulary worksheet a name. We suggest giving it a detailed name so that you know how to find it in the future. Click continue.
Now that you are in the storyboard creator, click on the "layout" button in the right hand menu. You can choose either the worksheet (8.5x11) layout for easy printing.
Choose whether you want your worksheet to be horizontal or vertical and click "okay".
To find Storyboard That's worksheet assets, click on the "worksheets" button in the top row. If you are on a small screen such as a chromebook, you may have to press the "more" button to find this option.
Once you are in this category, you will find all kinds of assets such as colorful borders, graphic organizers, and much more. Simply drag and drop where you want the assets to go.
Check out the 'Scenes' category for other beautiful backgrounds, including patterns. Look under 'Speech Bubbles' to see the myriad of ways to add text including Free Form Text. You can find characters that look like teachers or students and adorable animals under the 'Characters' category. There are even whimsical icons and banners under 'Infographics' and emojis under 'Web and Wireframes'!
Once you have made your vocabulary worksheet, click save and exit.
Print or add to an assignment for your students to complete digitally!
How Does Vocabulary Affect Comprehension?
When reading higher level texts in language arts and learning about new concepts in social studies, science and math, students are bound to encounter many new and unfamiliar words. Learning new vocabulary is key to increasing reading comprehension. Students cannot understand what they are reading or learning about if they do not know what most of the words mean. Explicit instruction surrounding vocabulary is essential for developing a thorough understanding of new social studies concepts.
How can Teachers Help Students with Vocabulary Acquisition?
Vocabulary development is a foundation for all subjects as all teachers know. There are many ways for students to increase their lexicon. Students acquire new vocabulary through exposure to the language from a range of reading materials, discussions and presentations. It is also beneficial to preview new terms and concepts that students will encounter and explicitly teach their definitions. Most students are visual learners and using visual vocabulary storyboards will help them retain the information for future applications.
Privacy And Security
Each version of Storyboard That has a different privacy and security model that is tailored for the expected usage.
Free Edition
All storyboards are public and can be viewed and copied by anyone. They will also appear in Google search results.
Personal Edition
The author can choose to leave the storyboard public or mark it as Unlisted. Unlisted storyboards can be shared via a link, but otherwise will remain hidden.
Educational Edition
All storyboards and images are private and secure. Teachers can view all of their students' storyboards, but students can only view their own. No one else can view anything. Teachers may opt to lower the security if they want to allow sharing.
Business Edition
All storyboards are private and secure to the portal using enterprise-class file security hosted by Microsoft Azure. Within the portal, all users can view and copy all storyboards. In addition, any storyboard can be made "sharable", where a private link to the storyboard can be shared externally.
Book Jacket Projects
Character Map
Exit Tickets
Graphic Novel Layouts
Plot Diagram
Story Cubes
Circle Charts
Flow Charts
Frayer Models
Inferencing
KWL and KWHL
Other Templates
Spider Maps
Venn Diagrams
Journal Cover Templates
Letters and Postcards
Scrapbook Project
Social Media Pages
Checklist Worksheets
Daily Planner
Goal Setting
Social Emotional Check Ins
Student Organizers
Weekly Planner
Area and Perimeter
Long Division
Math Vocabulary
Multiplication
Pictographs
Place Value
Problem Solving
Subtraction
Tally Charts
Telling Time
Active Reading
Before and After
Book Recommendations
Book Report Planning
Cause and Effect
Character Comparison
Definitions
Discussion Cards
Fact vs. Opinion
Figurative Language
Main Idea and Details
Point of View
Reading Logs
Reading Responses
Setting Maps
Bell Ringers
Blank Templates
Hall Passes
Lesson Plan
Meet the Teacher Worksheets
Morning Check-Ins
Multiple Choice
Newsletters
Parent Teacher Notes
Parent/Teacher Conferences
Rubric Templates
Seating Charts
Student/Teacher Conferences
Tests and Quizzes
Beginning, Middle, End
Character Analysis
Compare and Contrast
Creative Writing
Critical Analysis
Illustrated Story Worksheet
Long Composition
Multi-Paragraph Essay
Open Response
Personal Narratives
Persuasive Writing
Poetry Templates
Spelling Tests
Summary Synthesis
Thesis Statement
Images and Text
Cornell Notes Worksheets
Science Lab
Scientific Method
Scientific Observation
Social Studies Organizers
Social Studies Vocabulary
Practicing Writing
Birthday Certificates
Classroom Awards
Classroom Decorations
First Day Activities
Suggestion Box Slips
Free tools for teaching - printable worksheets, classroom printables and on-line worksheet templates with images
A looping Board Game - a racing theme game. More board games: Bounce Around
Crisscross Bingo is another bingo board creator. It creates bingo boards for use in conversational activities.
vocabulary categories
choose the correct spelling , read and choose the picture , read and write
Certificate Templates and Award Certificate Maker
New! - picture dictionary maker : make vocabulary handouts, exercises and homework that students can collect and use to build their own picture dictionaries.
More worksheet wizards from Tools for Educators:
Word bank worksheet creator : create worksheets with 9 pictures and a place for students to write in the vocabulary word. At the bottom of the page there is a word bank where students can find the matching words
Spaghetti String Worksheet Generator : create matching worksheets and matching homework sheets students can trace as well
End User License Agreement: You are free to use any resource created from this site as an end user and MES grants you an End User License with the following restrictions: You may not redistribute, copy, modify, transfer, transmit, repackage, re-engineer, charge for, or sell any of the materials from this site. You may use photocopies or printouts for the purposes of distributing them for free to your students. MES reserves the right to terminate or make changes to this agreement for any reason and without notice.
Copyright © 2005 - 2023 Tools for Educators and MES English | privacy