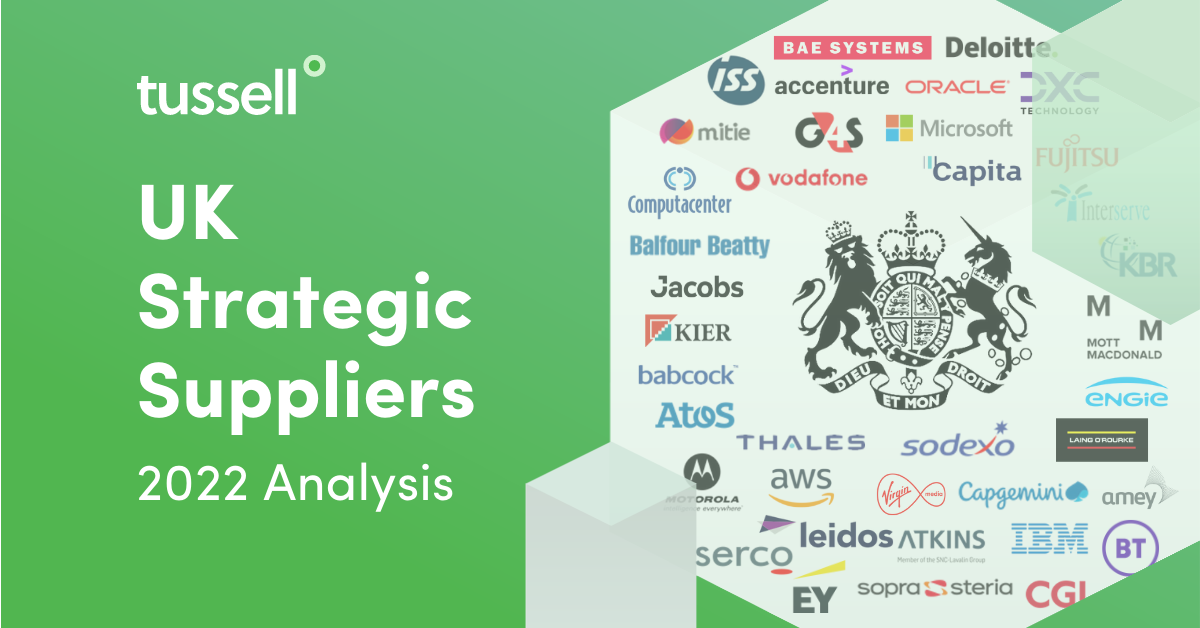 2022 Analysis of UK Government Strategic Suppliers

Introduction
Around a third of UK government spending goes on the procurement of goods and services from third-party suppliers, ranging from paper clips to major infrastructure projects.
Some of these suppliers are deemed so critical to the delivery of essential public services that the Cabinet Office designates them as Strategic Suppliers to the government.
In this blog, we provide an overview of:
What are Strategic Suppliers?
What are the pros and cons of becoming a Strategic Supplier?
Who are the strategic suppliers, what were the biggest contracts awarded to strategic suppliers in 2021.
Profiles of the 40 UK Strategic Suppliers
A much more extensive analysis of the Strategic Suppliers can be found in our 2022 interim report. To download the full report, click here .
What are the Strategic Suppliers?
The Strategic Suppliers are private sector companies whose relationship with the government is centrally coordinated through the Cabinet Office , due to the strategic importance of the goods and services they provide.
Though not an official requirement, the government typically spends over £100 million per year with these suppliers.
The Cabinet Office manages the Strategic Supplier programme as part of its responsibility for supporting 'collective government' and promoting efficiency and reform through better procurement and project management.
Since 2011 , each Strategic Supplier has had a ' Crown Representative ' within the Cabinet Office. Crown Representatives act as a focal point for suppliers and help the government to act as a single customer. They ensure that the government is communicating a consistent message to its suppliers, identify areas for cost savings and coordinate cross-departmental procurement issues.
Since 2019 , the Cabinet Office has operated a ' Memorandums of Understanding ' approach with the Strategic Suppliers. The MOU approach puts the onus on suppliers to provide the government with the information it needs to monitor and manage risks. The Cabinet Office argue this policy is more efficient and flexible, and increases the accountability of these suppliers to the government.
Making it onto the government's Strategic Supplier list is a major accomplishment for any company.
With a dedicated Crown Representative, Strategic Suppliers' relationships to the government are managed more centrally and strategically. Their close proximity to the heart of government will offer unrivalled liaising opportunities with key procurement stakeholders.
On the other hand, becoming a Strategic Supplier comes with much greater scrutiny and oversight. The Strategic Supplier programme's use of MOUs means, as the Cabinet Office describe , "strategic suppliers will agree to provide the government with the information it needs to monitor and manage risks", with the aim of increasing "accountability".
As of May 2021 there are 40 companies designated as Strategic Suppliers. This is a dynamic list - some companies join the list (in early 2021, BEA Systems and Thales were added to the list ), whilst others are removed (most notably Carillion after its collapse); the addition or removal of Strategic Supplies can happen at any time.
The Strategic Suppliers operate in sectors across the UK economy, including telecomms, defence, IT, consultancy, facilities management and construction.
Tussell's 2022 interim report found that in the 12 months to September 2021 Strategic Suppliers earned £19bn from the UK public sector, representing 11% of overall spending (despite making up 0.3% of the total number of suppliers).
Some of the key findings from our 2022 Strategic Suppliers interim report include:
In the 12 months to September 2021, Strategic Suppliers' revenue increased by 24% , but their market share remained flat.
Three of the group achieved more than 100% growth in public sector revenues, having been heavily involved in the COVID-19 response.
Central Government remains the largest buyer of goods and services from the Strategic Suppliers.
20 buyers accounted for more than 75% of spending with the group.
To dig deeper into our analysis, download the 2022 Strategic Suppliers interim report !
Below is a breakdown of the largest contracts - by value - awarded to Strategic Suppliers in 2021, including their value and from which authority the contract originated.
Profiles of the 40 Strategic Suppliers
(Data covers 01/01/2015 - 08/09/2021; Listed alphabetically)
Below is a list of all 40 Strategic Suppliers to the UK Government, containing the total number of contracts they've been awarded since 2015; their total value; the number of public sector organisations that buy from them; their largest public sector contract by value, a list of the frameworks they are a member of, and their Crown Representative.
#1: Accenture
Accenture is a professional services company that operates primarily in the IT and digital consulting sector. It is headquartered in Dublin and was founded in 1989.
Amey is an Oxford-based infrastructure support service provider that primarily operates in highway and rail transportation and facilities management. Since 2003, Amey has been a subsidiary of the Spanish transportation company, Ferrovial.
Atkins is multinational engineering, project management and consulting company. Founded in 1938, the company was acquired by Canadian company SNC-Lavalin in 2017.
Atos is a French IT and consulting company that specialises in communications, cloud-computing and cyber-security. Its subsidiaries operate in healthcare and outsourcing. Atos was founded in 1988 and is headquartered in Bezons, France.
#5: Amazon Web Services (AWS)
Amazon Web Services, Inc. is a subsidiary of Amazon providing on-demand cloud computing platforms and APIs. It was founded in 2006 and is headquartered in Seattle.
#6: Babcock
Babcock is a multinational engineering company that specialises in managing complex assets and infrastructure. Founded in 1891, the company does the bulk of its business with public bodies.
#7: BAE Systems
BAE Systems PLC is a British multinational defence, aerospace and security company. It is the largest defence contractor in the UK by sales. BAE Systems was founded in 1999 and is headquartered in London.
#8: Balfour Beatty
Balfour Beatty is a multinational construction company that operates in the infrastructure sector. The company was founded in 1909 and is headquartered in London.
BT is a British telecommunications company that provides fixed-line, broadband and mobile services. Formerly known as British Telecom, the company was privatised in 1984.
#10: Capgemini
Capgemini is a French multinational company that was founded in 1967. The company primarily provides technology, consulting and outsourcing services.
#11: Capita
Capita is a business processing and outsourcing company. The company was founded in 1984 and is headquartered in London.
CGI is a Canadian IT company that operates in consulting, systems integration and outsourcing. The company was founded in 1976 and its headquarters are in Montreal.
#13: Computacenter
Computacenter is a British multinational that operates in IT. It was founded in 1981 and is headquartered in Hatfield.
#14: Deloitte
Deloitte is a multinational professional services firm and one of the "Big 4" auditing companies. Deloitte also provides tax, consulting, and financial advisory services. Founded in 1845, the company has its headquarters in London.
DXC is a multinational IT company. The company operates in outsourcing, consulting and managed services. DXC was founded in 2017 and is headquartered in Virginia.
Engie is a multinational utilities company that supplies electricity, natural gas, nuclear and renewable energy, as well as facilities management services. The company is based in Paris and was founded in 2008.
EY is multinational professional services firm, and one of the "Big 4" auditors. EY also provides assurance, consulting and advisory services. The company was formed by a merger in 1989 and is headquartered in London.
#18: Fujitsu
Fujitsu is a multinational ICT equipment and services company that offers a diversity of products across computing and telecommunications. The company is headquartered in Tokyo and was founded in 1935.
G4S is a British security services company that operates in secure transportation, the provision of security personnel and monitoring equipment. The company was founded in 2004 and is headquartered in London.
IBM is a multinational IT company that offers hardware, software and cloud computing services. The company was founded in 1911 and is headquartered in New York.
#21: Interserve
Interserve is a group of firms that operates primarily in professional services, construction and support services. The company was founded In 1884 and is headquartered in Reading.
ISS Facility Services is a multinational company that operates primarily in facilities management and the provision of catering, security, support and property services. ISS was founded in 1901 and is headquartered in Copenhagen.
#23: Jacobs
Jacobs is the world's largest engineering firm. The company operates primarily in the provision of technical, professional and construction services. Jacobs was founded in 1947 and is headquartered in Dallas.
KBR is an American engineering, procurement and construction company. Formerly a subsidiary of Halliburton, KBR was founded in 2006 and is headquartered in Houston.
Kier is a construction company that operates primarily in building, civil engineering and support services. The company was founded in 1928 and is headquartered in Befordshire.
KPMG is a network of professional services firms, and one of the "Big 4" auditors. The company provides auditing, tax and advisory services. KPMG was founded in 1987 and is headquartered in Amsterdam.
#27: Laing O'Rourke
Laing O'Rourke is a British international construction company. It was founded in 1978 and is headquartered in Dartford.
#28: Leidos
Leidos is a US company specialising in defence, aviation, IT, and biomedical research.
#29: Microsoft
Microsoft is a technology company, producer of personal computers and the largest provider of software in the world. Microsoft was founded in 1975 and is headquartered in Washington.
Mitie is an outsourcing and energy company. The firm provides consultancy, facilities management and custodial services. Mitie was founded in 1987 and its headquarters are in Bristol.
#31: Motorola
Motorola is a multinational telecommunications company that provides telephony and networks services. Motorola was founded in 1928 and its headquarters are in Illinois.
#32: Mott MacDonald
Mott MacDonald is a multidisciplinary consultancy company that provides design, engineering and project management services. The company was formed through a merger in 1989 and its headquarters are in Croydon, Greater London.
#33: Oracle
Oracle is a multinational IT company that operates in enterprise software, database software and cloud computing. Oracle was founded in 1977 and is headquartered in Santa Clara, California.
PwC is a professional services network and one of the "Big 4" auditors. Founded through a 1998 merger, PwC provides assurance, advisory and legal services worldwide. The company is headquartered in London.
Serco is a multinational outsourcer that works across the public sector. Serco provides health, security and border services in the UK and around the world. The company was founded in 1987 and has its headquarters in Hook, Hampshire.
#36: Sodexo
Sodexo is a food services and facilities management company that serves schools, prisons, universities and military bases. The company was founded in 1966 and has its headquarters in Paris.
#37: Sopra Steria
Sopra Steria is an ICT company that specialises in the provision of consultancy, systems integration and subcontracting solutions. Sopra Steria was established in 2014 as part of a merger and is headquartered in Annecy, France.
#38: Thales
Thales is a French multinational company specialising in electrical systems, defence systems and security. It was founded in 2000 and is headquartered in Paris.
#39: Virgin Media
Virgin Media is a telecommunications company that provides telephony and internet services. Since 2013 Virgin Media has been a subsidiary of Liberty Global PLC. The company has its headquarters in Hook, Hampshire.
#40: Vodafone
Vodafone is a multinational communications conglomerate that operates in the provision of telephony and IT services. The company was founded in 1991 and has its headquarters in London.
To see a deeper analysis and comparison of the government's Strategic Suppliers, download Tussell's 2022 Strategic Suppliers interim report .
All the data in the above tables was collected using Tussell's market intelligence platform - book a demo today to start monitoring the Strategic Suppliers yourself!
Receive free Tussell insights
Get the latest market updates sent straight to your mailbox
Related content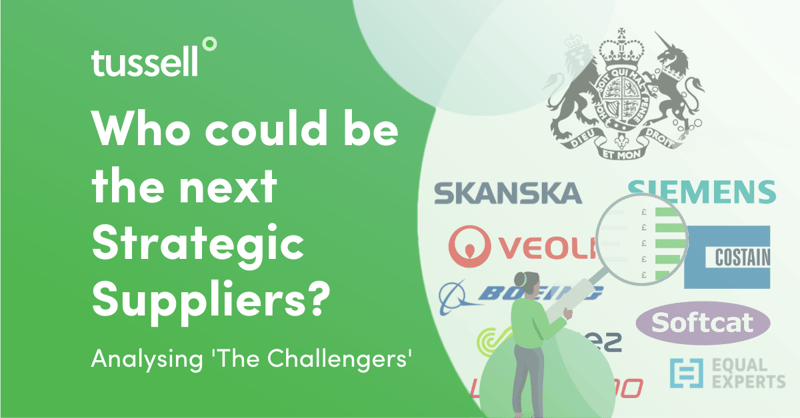 Who could be the next Strategic Suppliers?
The UK 'Strategic Suppliers' are a group of companies who provide such vital services...
Continue reading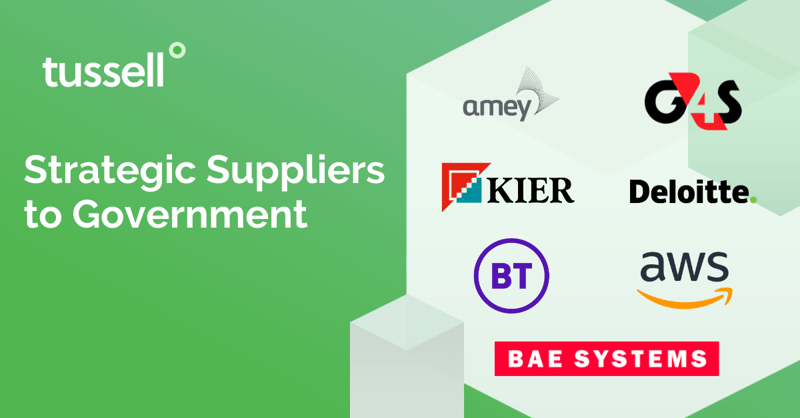 2021 Analysis of UK Government Strategic Suppliers
Introduction Around a third of UK government spending goes on the procurement of goods...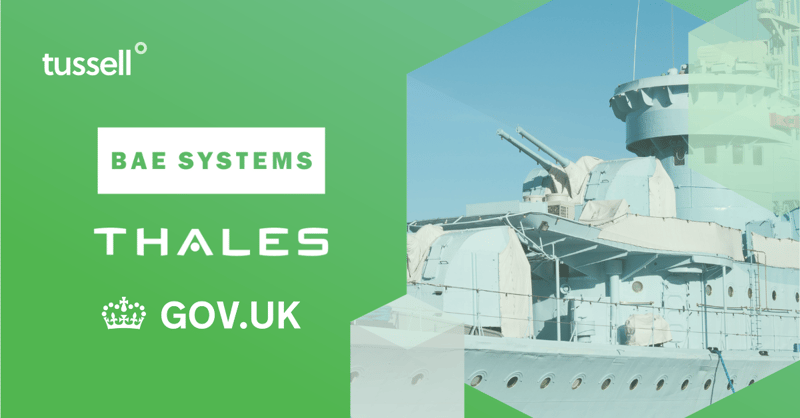 BAE and Thales are government Strategic Suppliers once more
Since Tussell's reporting of Computacenter's addition to the government's list of...
Due to a power outage, UK HealthCare's Urgent Care Clinic at Turfland is closed.
More information....
All Services A-Z
Markey Cancer Center
Gill Heart & Vascular Institute
Barnstable Brown Diabetes Center
Kentucky Children's Hospital
Kentucky Neuroscience Institute
Orthopaedic Surgery & Sports Medicine
Digestive Health
Primary Care
Emergency Department
Appointments
Tests & Exams
Find a Doctor
Schedule an Appointment
For Patients
Amenities & Resources A-Z
Appointment request online form
Appointment reminders
Patient Notice of Privacy Practices
Become a Patient
Clinical Trials
Don and Cathy Jacobs Health Education Center
Interpreter Services
In-Network Insurance Plans
Visit MyChart
Maps & Directions
Pastoral Care
Office of Patient Experience
Pharmacy Locations
About Advance Directives
Privacy Policy
Notice of Nondiscrimination for UK Health Programs & Activities
Subscribe to HealthMatters
Wellness & Community
For Visitors
Food & Lodging
Pay your bill
Patient's Condition & Phone Number
Tobacco Free Policy
Authorizations & agreements
Autorizaciones y Convenios
Mail & eGreetings
Thank a Great Provider
Refer a Patient
Request a Login
Corporate Compliance
Information Technology
Manage Your Profile
Brand Strategy
Employee Health
Enterprise Learning
UK Health & Wellness
UK Human Resources
Department Phone Directory
Quality & Safety
Cancer Clinical Trials
Emergency Transport
Physician Liaison Program
UK•MDs Medical Contact Center
Employment at Eastern State Hospital
Nurse Residency Program
Continuing Nursing Education
Nursing Faculty Orientation
Nursing Staff Development
Registered Nurse (RN) Internships
Nursing Scholarships
Student Nurse Academic Practicum (SNAP)
Tuition Reimbursement
Acute Care Nursing
Behavioral Health Nurse Services
Central Monitoring System
Critical Care Nursing
Emergency Services
Maternal Care Area Nursing
Markey Cancer Center Nursing
Nursing at Kentucky Children's Hospital
Per Diem Nursing Pool
Perioperative Nursing Services
Rapid Response Nursing Teams
Nursing Special Services
Ambulatory Care Nursing Services
Advanced Practice
Care Delivery Model
Certifications
Career Center
Clinical Nurse Expert
Community Outreach
Professional Advancement
Professional Practice Model
Service Line Triads
UK HealthCare Research
Genomics Core Laboratory
Morris K. Udall Centers of Excellence in Parkinson's Research
Sanders-Brown Center on Aging
Cancer Researcher Directory
Making a Difference
Awards & Recognitions
Strategic Plan
Visual Arts
Performing Arts
Learn about volunteering
Office of Observation and Learning Experience
Diversity, Equity & Inclusion
Healthcare Jumpstart Program
Application Process
How to become a RD
Accreditation
Tour facility
Patient Stories
Request an Appointment
Medical Records
Daisy Award Nomination Form
Community Commitment
Cooperative Extension Service
Community Resources
Office of Opioid Safety
Safe Kids Fayette County
UKHC Digital Platforms
Learn about MyChart
Log in to MyChart
Request a MyChart account
Proxy accounts
Appointment
Mission, Vision and Values
Strategic Planning Process
Be A Community
Be Exceptional
Be Committed
Strategic Enablers
Key Indicators of Success
2025 Strategic Plan
Our vision for the future..
Our main focus has been and will continue to be on our patients and how we can exceed their expectations. Over past the decade, our focus on advanced subspecialty care and collaborating with providers across the commonwealth has been a tremendous success.
With Strategy 2025, we want to continue building on that success as the health care industry continues to rapidly evolve and change. It is critical that we have a strategy for our future that provides a clear and adaptable roadmap for our organization.
This roadmap starts with our new vision statement: One community … committed … to creating a healthier Kentucky.
One community , a unified health system that works together to deliver on every aspect of our mission: clinical care, education and research.
A community committed to our vision as well as to living out our values.
Together, we will proactively create something new. New approaches, new models, new relationships. With this vision, we will make substantial progress toward a healthier Kentucky.
One community committed to creating a healthier Kentucky.
Thousands of our team members were engaged in our strategy's creation, from surveys to work groups. Through the yearlong process, we pulled the best of our community's thinking to design a plan that can guide us through the next few years.
The plan outlines five key strategic objectives that will drive our future success:
Build Our Culture
Invest in Our People
Provide More Value
Advance Care Strategically
Create a Healthier Kentucky
Together, focused on each other and our patients, there is no limit to what we can do for the health of Kentucky.
We must change the way we think about strategy at UK HealthCare.
Even before a novel coronavirus became an event of worldwide impact, the rapidity of change had already convinced us of the need to think differently about strategy and planning for the future.
In today's accelerating and rapidly changing environment, our planning process must be fluid and responsive to changing consumer, market and industry dynamics.
To that end, with the 2025 strategic plan, we are initiating a framework for a recurring planning cycle where we will annually evaluate our progress and adjust as needed.  This process will integrate all aspects of enterprise decision making and hold us accountable to achieving our goals.
Our plan must be integrated, actionable and prioritized.
Our approach has been to involve a broad cross-section of the UK HealthCare community in setting our objectives that align with the 2017 College of Medicine strategic plan and support our mission of patient care, education and research.
As our teams evaluated need within our organization, our campus, our community and our commonwealth, we labored to truly prioritize and identify a realistic approach with detailed supporting tactics to reach our goals.
Our team will define the success of Strategy 2025
A successful strategy requires an enterprisewide commitment toward our vision that builds momentum and energy with endless positive impacts. The engagement of our faculty, clinicians and staff will drive our success. This document is only the beginning as we continue to refine and align our daily work over the next five years so that, together, we can create a healthier Kentucky.
We will know we are successful when:
All of us are working toward the same goals, on the same path, as one team.
Our goals align with the real needs and high expectations of our employees, patients, their families, and the community
We can identify clinical services that need to grow rapidly, while maintaining funding and operational excellence everywhere else.
Plans are continuously monitored in relation to our goals and adjusted as needed.
We are driven by performance standards and shared accountability to continuously improve quality and care for our patients.
We are committed to being the academic health system the commonwealth so desperately needs. Lives are at stake. And based on this commitment, we will make a real contribution to improving the health of Kentucky.
Explore city services, report issues online, pay parking tickets
More about city services
Report & Pay
Trash & Recycling
Getting Around
Event Permits & Rentals
Livable Neighborhoods
Streets, Sidewalks, Sewers, and Utilities
Birth & Death Certificates
Domestic Partnership
Community GIS Portal
Current Service Notices
Explore news and events, adopt a pet, visit a city park or pool
MORE ABOUT COMMUNITY & RECREATION
Parks & Recreation
Volunteering
Animal Care Services
Affordable Housing in Berkeley
Community Services
Get vaccinated for COVID-19, report a crime, access homeless services
MORE ABOUT SAFETY & HEALTH
Disaster Preparedness
Public Health
Police Accountability
Mental Health
Homeless Services
Apply for a permit, schedule an inspection, research zoning policies
MORE ABOUT Construction & Development
Permits & Design Parameters
Seismic Safety
Green Building
Land Use & Development
Apply for a business license, get business assistance, find bid & proposal opportunities
MORE ABOUT Doing Business
Economic Development
Operating in Berkeley
Working with the City
Attend a City Council or commission meeting, apply for jobs, look up City holidays
MORE ABOUT Your Government
Boards & Commissions
City Council
Financial Information
Public Records
City Holidays
Lobbyist Registration
City Audits
Housing Authority
Public Library
School District
Strategic Plan
The City of Berkeley's Strategic Plan identifies the long-term goals and short-term priorities that the City government will focus on to benefit the Berkeley community.
The Strategic Plan identifies the City government's long-term goals on behalf of the Berkeley community. The Berkeley City Council approved the plan in January 2018. 
The plan includes numerous priorities, which are short term projects or programs which support a goal. For each of these priorities, a significant phase of work is expected to be done by the end of a budget cycle. Priorities are refreshed each budget cycle.
Create affordable housing and housing support services for our most vulnerable community members
Be a global leader in addressing climate change, advancing environmental justice, and protecting the environment
Champion and demonstrate social and racial equity
Provide an efficient and financially-healthy City government
Provide state-of-the-art, well-maintained infrastructure, amenities, and facilities
Foster a dynamic, sustainable, and locally-based economy
Create a resilient, safe, connected, and prepared City
Be a customer-focused organization that provides excellent, timely, easily-accessible service and information to the community
Attract and retain a talented and diverse City government workforce
Progress on priorities
The following chart and table show the status of Strategic Plan projects at the end of the second quarter of calendar year 2022.
Interested in learning more about how the City is progressing on Strategic Plan Priorities? Take a look at the Strategic Plan Quarterly Report .
Performance measures
Each Department in the City of Berkeley sets performance measures to track the impact of their work over time. The performance measures help the City track how much do we do, how well do we do it, and whether anyone is better off as a result. These performance measures are based on the Strategic Plan goals.
Citywide performance measures are incorporated into the City Budget .
Related Documents
Berkeley Strategic Plan (560.78 KB)
Strategic Plan Quarterly Report (749.54 KB)
Low-income residents can apply for E-bike lottery
Give feedback on designs for Civic Center buildings, park, streets
Help finalize the design for key Civic Center buildings, park
Practice for an earthquake on Oct. 20: "Drop, cover, and hold on" in shakeout earthquake drill
Cookies on GOV.UK
We use some essential cookies to make this website work.
We'd like to set additional cookies to understand how you use GOV.UK, remember your settings and improve government services.
We also use cookies set by other sites to help us deliver content from their services.
You have accepted additional cookies. You have rejected additional cookies. You can change your cookie settings at any time.

Corporate and operational information (transport)
DVLA Strategic Plan 2017 to 2020
The DVLA strategic plan sets out the agency's direction for the next 3 years.

DVLA Strategic Plan for 2017 to 2020
PDF , 2.66 MB , 26 pages
This file may not be suitable for users of assistive technology.
The strategic plan focuses on 5 key themes:
best in class customer service – by working with stakeholders and others to identify improvements and continuously make services simpler and better
dynamic business and technology – over the next 3 years, DVLA will move to more agile and cloud based services and put more services online
hub for digital motoring – DVLA will build new interacting software to allow businesses and government to develop services, while removing the reliance on paper documents
modern workplace and skills – by creating a state-of-the-art, modern workplace, staff can work in an environment where they have the training, skills and capabilities they need
unrivalled safety, security and compliance – by making compliance with the law simple and easy, DVLA will focus on reducing vehicle excise duty evasion and introducing online processes
PDF updated to include link to the latest Business Plan (2018 to 2019)
First published.
Related content
Is this page useful.
Yes this page is useful
No this page is not useful
Help us improve GOV.UK
Don't include personal or financial information like your National Insurance number or credit card details.
To help us improve GOV.UK, we'd like to know more about your visit today. We'll send you a link to a feedback form. It will take only 2 minutes to fill in. Don't worry we won't send you spam or share your email address with anyone.

EPSRC strategic delivery plan 2022 to 2025
This foreword was written by Professor Dame Lynn Gladden, the Executive Chair at the Engineering and Physical Sciences Research Council (EPSRC), in September 2022.
Engineering and physical sciences have transformed the world around us and will play a critical role in achieving a sustainable, resilient, and prosperous future. EPSRC will support the people, ideas, innovations, and technologies to achieve this, investing in a balanced portfolio of diverse, curiosity-driven research and focused mission-led programmes.
We will work in partnership with our community and across UKRI to strengthen our outstanding research and innovation system, driving benefits for society and the UK economy.
The disciplines within EPSRC's remit underpin and advance all areas of science, engineering and technology, enhancing fundamental understanding and delivering business capabilities and innovations that drive a better world. This expertise was integral to the UKRI COVID-19 pandemic response, where engineering and physical sciences research quickly translated into policy impacts: from evidence to support the reopening of the events industry, to rapid vaccine manufacturing underpinned by years of fundamental and applied research.
The engineering and physical sciences community is well-connected, partnering and co-creating across disciplines and sectors to accelerate innovation and impact. These partnerships catalyse private sector investment, generating new jobs and contributing towards the government's target of total research and development spend reaching 2.4% of GDP by 2027.
Investment in science, engineering and technology produces the talented people and innovative solutions that boost the productivity of UK businesses, supporting innovation clusters and key industrial sectors across the country.
Adding value through investment, partnerships and leadership
The UK has an outstanding research base, which EPSRC builds upon and strengthens by investing in the people, ideas and technologies needed to tackle today's priorities and create tomorrow's opportunities. We are proactively collaborative in this endeavour, capitalising on our expertise and track record to work across UKRI and with other funders, including government at all levels and businesses, as well as the wider local, national and global research and innovation landscape.
Through these strong partnerships, we enhance the research and innovation ecosystem in line with the UKRI principles for change:
supporting diversity and creativity
increasing local, national and global connectivity
enabling resilience through our funding routes
widening engagement.
We catalyse change and drive impact through our leadership, for example in harnessing our existing partnerships to increase academic-business co-creation and business co-investment in research, and in embedding environmental sustainability in everything that we do.
Delivering EPSRC's vision and ambitions
EPSRC's vision is for the UK to be recognised as the place where the most creative researchers can deliver world-leading engineering and physical sciences research. In creating this delivery plan, we have developed our ambitions and priorities to realise this vision, enabling our community to advance fundamental knowledge, while aligning our mission-driven investments to government strategies. Our investments will generate positive impacts on the sustainability, resilience and prosperity of the UK, helping the country to respond to current and future national and global challenges, and delivering value for society.
This delivery plan arrives at a particularly exciting time for the research and innovation community. EPSRC welcomes the opportunity to deliver against UKRI's five year strategy , building on our successful history of driving interdisciplinary research and innovation working across UKRI's councils.
The research and skills training that we fund will be integral to addressing the challenges highlighted in the five strategic themes set out in the UKRI strategy. EPSRC investments will also enable UKRI to lead across the UK Innovation Strategy's (GOV.UK) seven technology families and deliver key technologies identified in the Integrated Review (GOV.UK) .
We have focused our plans in three areas:
discovery-led research: reaffirming our commitment to the core disciplines of engineering and physical sciences
driving the translation of breakthroughs in engineering and physical sciences research through to social and economic benefit in net zero
artificial intelligence (AI), digitalisation and data
transforming health and healthcare
quantum technologies
maintaining an effective ecosystem for engineering and physical sciences: providing the skills training, partnerships, places and infrastructure required by our community to deliver their ambition.
Balanced delivery of these three areas will ensure that the UK has the strong academic foundations, knowledge networks, skills and capabilities to realise strategic advantage as a science superpower.
I look forward to working across UKRI and with the wider engineering and physical sciences community to deliver EPSRC's vision and ambitions.
What we will achieve
EPSRC invests in world-leading research and skills to advance knowledge and deliver a sustainable, resilient and prosperous UK.
EPSRC supports new ideas and transformative technologies which underpin innovations that benefit our economy, environment and society.
Working as part of UKRI to deliver our five-year strategy , we will support the world-class engineering and physical sciences research and innovation system to make a substantial contribution to increasing UK-wide research and development spend beyond 2.4% of GDP.
In this delivery plan, we build on our strong track record of working across UKRI, and in partnership with government, businesses of all scales and the wider local, national and global research and innovation landscape.
We will convene and catalyse these communities so they are more resilient, and better connected to deliver national and global priorities. We will also enhance business co-investment, including by supporting clusters of leading-edge expertise across UK nations and regions.
Our plans are framed around eight cross-cutting priorities, which we have developed to:
deliver against the UKRI strategy
support research and innovation across our remit
address government and National Science and Technology Council (NSTC) priorities.
These priorities, outlined below, provide balance across our portfolio: the third addressing discovery research, the fourth delivering mission-inspired research, and the eighth ensuring an underpinning effective ecosystem.
Discovery research
EPSRC will support the UK's ambition to be a science superpower by investing in world-class ideas through discovery research through three priorities across our core disciplines:
physical and mathematical sciences powerhouse
frontiers in engineering and technology
digital futures.
EPSRC's investments in these areas deliver clear long-term economic, social and environmental benefits, as shown in case studies later.
Our core disciplines underpin and advance all areas of science, engineering and technology development across UKRI, producing tools and technologies that form the foundation of future UK prosperity.
Mission-inspired research
We will target world-class impacts focused on four mission-inspired research priorities:
engineering net zero
artificial intelligence (AI), digitalisation and data: driving value and security
quantum technologies.
These interdisciplinary challenges underpin the five strategic themes set out in priority 5.1 of UKRI's strategy, for example, to build a green future, and build a secure and resilient world.
They respond to business needs and the Innovation Strategy's seven technology families, especially through programmes in AI and quantum technologies, and scoping options for digital twins.
These priorities will support delivery of government strategy while building resilience to future challenges following the COVID-19 pandemic.
An effective ecosystem for engineering and physical sciences
Our eighth and final priority is to enable delivery across our remit by supporting world-class people, places and innovation through a more inclusive, connected and resilient ecosystem. We will maximise UK prosperity by:
developing the skills that underpin and encourage multidisciplinary research and deliver economic growth, while attracting and retaining the next generation of global research leaders, research software engineers, instrument technicians, innovators and business leaders
enhancing the institutions and research infrastructure needed for excellent research and innovation
catalysing business co-creation and investment across the UK. By coworking with businesses across the supply chain, we will translate early stage research and innovation into the business research and development base, while providing the skilled people for more effective engagement with rapidly advancing technologies
using our knowledge and connectivity across UK nations and regions to support research and innovation clusters that meet local strengths and needs. This will contribute to levelling up commitments, benefitting economic growth, local productivity across key sectors and a wider variety of publics
recognising that research is a global endeavour, working with international partners to address shared priorities and ensure that the UK remains a world leader in engineering and physical sciences, at the forefront of collaborating on global challenges.
Framed around the six UKRI strategy objectives, this delivery plan sets out how we will deliver these eight priorities to realise our wider vision, transforming both our research communities, and UK productivity and prosperity more widely.
We will do this while continuing to innovate and drive greater efficiency and agility, contributing to the UKRI objective of being a world-class organisation and providing value for money in line with the public's expectations.
We will proactively manage our portfolio across our priorities, maintaining a focus on yielding tangible short, medium and long-term benefits from our research.
We will enhance positive outcomes from our activities, including by enhancing environmental sustainability across our operations and funded activities.
Our strategic objectives
These objectives provide the framework for how we will achieve our vision and realise our principles, through the following
World-class people and careers
Creating an effective ecosystem by:
delivering essential STEM skills for the UK through investment in people
championing a research culture where everyone is respected, valued and able to contribute and benefit, embedding equality, diversity and inclusivity in everything we do.
World-class places
enhancing UK prosperity through local, national and international partnerships, nurturing excellent research and strengthening clusters across UK nations and regions
delivering world-leading capital and digital infrastructure, and championing the people and teams that enable this.
World-class ideas
Investing in discovery research to support the UK's ambition to be a science superpower, investing in three priorities across our core disciplines:
World-class innovation
coworking with business, facilitating deep partnerships and securing private co- investment
connecting research and innovation
accelerating translation, commercialisation and knowledge exchange, to realise the full potential of EPSRC-funded research.
World-class impacts
Investing in mission-inspired research, delivering key technology families, addressing UKRI's five strategic themes and transforming sectors, with four priorities:
A world-class organisation
Being an efficient, agile organisation, empowering our staff, catalysing outcomes through partnership and leadership, and improving the sustainability of our operations.
Objective one: world-class people and careers
At the heart of thriving research and innovation systems are talented, empowered people and teams. The UK needs a diverse academic and business workforce with the right skills to maximise the benefits of scientific and technological advances.
Investment in engineering and physical sciences creates a strong UK ecosystem that is globally attractive to researchers and innovators.
We will recognise and value the diversity of roles required for effective engineering and physical sciences.
This includes researchers and innovators, and the essential contributions of wider support systems including project managers, technical and administrative support, software specialists, and those who maintain our infrastructure.
Investing in people to deliver skills
EPSRC will build on our strong track record to attract, develop and retain talented people and teams across career stages.
We will promote skills development and mobility across disciplines and career paths, including wider exploitation of fellowships for research software engineers, research technical professionals and applied research. Through this, we will deliver essential higher-level skills for the UK.
We will work across UKRI to support people across the research and innovation system, reducing bureaucracy and silos.
This will reflect increased collective working across UKRI's £2 billion People, Culture and Talent portfolio, with initial evolution of our fellowships investments, and longer-term changes to doctoral student investments.
start to implement the recommendations of our doctoral education review, including through the investments below
continue to recognise the importance of flexible studentship funding through further investment in our doctoral training partnership
recruit doctoral students to our existing Centres for Doctoral Training (CDTs), and launch a funding opportunity in autumn 2022 for new CDTs. The funding opportunity will address key interdisciplinary engineering and physical sciences needs aligned to our three discovery and four mission-inspired priorities, and to regional, national and global drivers. It will seek significant business leverage and co-creation
support doctoral students through our Industrial CASE award allocations, discussed in the section 'coworking with business'.
Shifting research culture to support people and teams
EPSRC will champion a research culture where everyone is respected, valued and able to contribute and benefit. We will empower our community to embed equality, diversity and inclusion (EDI) and enact change in their own environment, promoting greater collaboration and sharing good practice.
We will champion and support open and responsible research and innovation, and encourage public engagement across our funded activities.
publish and implement our EDI action plan in 2022, focusing on issues arising in the engineering and physical sciences research community. An example is improving our policies and practices to enhance accessibility and working environments for researchers with disabilities
fund an EDI sharing hub to harness existing resources including outcomes from EPSRC's Inclusion Matters portfolio (see case study below) and our published EDI expectations
fund an EDI Caucus of interdisciplinary experts to provide research insights that will inform policy and practice across the research and innovation system (working across UKRI and with the British Academy)
champion and support public engagement, aligned to the forthcoming UKRI public engagement strategy and to our place-based activities. We will encourage researchers to inspire the next generation of STEM people, involve diverse publics in research with potential public benefits including net zero, artificial intelligence (AI) and digital technologies, and enhance public and patient involvement and engagement in our health and healthcare programmes.
Case study: empowering researchers to decarbonise rail transport
Research carried out by an EPSRC-supported PhD student has demonstrated the feasibility of introducing fleets of hydrogen trains, to support rail decarbonisation and therefore net zero commitments.
The project demonstrates how EPSRC supports people to build connections in academia and industry to deliver impact.
Charles Calvert's EPSRC-funded PhD research, supervised by Dr Stuart Hillmansen, formed a vital part of the HydroFLEX project, a collaboration between the University of Birmingham and British rolling stock owner Porterbrook to develop the UK's first full-scale hydrogen train.
The plan is to be able to retrofit current in-service trains to hydrogen by 2023, improving efficiency and sustainability.
Case study: promoting equality, diversity and inclusion among researchers and innovators
Our 2018 Inclusion Matters funding opportunity funded 11 projects to accelerate culture change with respect to equality, diversity and inclusion.
This includes the multidisciplinary STEMM-CHANGE project at the University of Nottingham, which has highlighted specific EDI impacts and challenges, alongside recommendations and good practice interventions to improve processes, cultures and behaviours.
This has included a report drawing out the specific impacts of the COVID-19 pandemic on the technical community, who are critical to research success. The report outcomes will support advancement of EDI across the breadth of research teams.
Objective two: world-class places
EPSRC will nurture excellent research and innovation in places across the UK. We will enhance prosperity by supporting the clusters, institutions and infrastructure that attract global talent and help address regional inequalities. Many of our investments contribute to levelling up commitments by co-locating research and infrastructure investments within clusters of regional industrial strengths.
We have previously enhanced and broadened our relationships with stakeholders by introducing a team of heads of regional engagement, placed strategically across UK nations and regions:
Northern Ireland
England's east and west midlands, north west, and north east, Yorkshire and the Humber.
These have already informed EPSRC's national approach, for example, influencing a call to enhance clusters of academia and businesses in the financial services industry.
We will continue to identify areas for collaboration, using local insights to deliver benefits across the UK.
Local, regional and national partnerships and clusters
EPSRC has a strong track record of connecting the people and organisations required to tackle societal and economic challenges and solve problems, wherever they are.
Through this delivery plan, we will continue to develop strong, mutually beneficial partnerships built on trust and openness with:
universities
public sector research establishments
devolved administrations
other key stakeholders across the research and innovation landscape.
We will strengthen existing partnerships and clusters, and develop new co-created opportunities in engineering and physical sciences and beyond, built on national and local insights. Local partnerships and clusters are also key to delivering our innovation plans for objective four.
build on the success of our institutional impact acceleration accounts (detailed in the section 'accelerating translation, commercialisation and knowledge exchange') with £50 million to develop complementary place-based impact acceleration accounts, supporting growth in regional clusters and capabilities
widen and tailor our communications to demonstrate our approach to place and regional engagement, including by building new relationships with key local stakeholders and clusters through our heads of regional engagement
explore opportunities to align investments with local ambitions, across our mission-inspired research priorities where appropriate, and through our Centres for Doctoral Training funding opportunity (see objective one)
consider regional diversity in recruitment for our advisory structures, to broaden input into EPSRC's decision making, and ensure that local insights inform our approach towards a collaborative vision for UK engineering and physical sciences
establish place-based investments, including £2 million for a network to develop academic- business partnerships aligned to regional clusters of financial services businesses. We will monitor the effectiveness of this investment in expanding business networks, and look to extrapolate learning into our broader business engagement and place-targeted activities
trial innovative approaches to enable the government's levelling up commitments, such as facilitating co-delivery of research with local civic and business leadership. We will build on the established networks of our heads of regional engagement, our portfolio knowledge and recommendations from our recent civic- academic partnerships survey.
We will enhance prosperity by supporting the clusters, institutions and infrastructure that attract global talent and help address regional inequalities.
International partnerships
The UK is at the forefront of addressing global societal and economic challenges that have engineering and physical sciences at the heart, including climate change, cyber security and long- term sustainable growth.
More than 40% of the projects we fund have international links.
We will work with overseas research funders and communities, deepening partnerships with key countries to strengthen the UK's international profile as a partner of choice, in the context of the UKRI trusted research and innovation principles.
Through this, we will facilitate joint working between the UK research community and their preferred global partners, while attracting global talent and inward investment to give the UK a competitive advantage.
connect our research and innovation base with international leaders through circa £30 million for centre-to-centre grants, circa £10 million for early career researcher international collaborations and additional joint funding agreements
develop new joint activities with overseas partners such as Canada, Germany, India and Japan, to share expertise, address mutual priorities, and support delivery of the Integrated Review and government science and technology priorities
build on our partnership with the US National Science Foundation, expanding our joint funding agreement across our discovery research remit, and with the ambitions to grow co-funded collaborations in priority areas of artificial intelligence (AI), net zero and quantum technologies
address challenges facing low and middle income countries investing circa £11 million to develop partnerships and position the community for future official development assistance funding opportunities.
Support for research and innovation clusters
EPSRC's previous investments have already catalysed innovation across the UK, often linked to regional strengths and clusters:
the world-leading South Wales compound semiconductor cluster, bringing together EPSRC-funded academic research centres, a UKRI Catapult and businesses from the complete technology chain. The cluster generates more than £600 million in revenue each year, employing more than 2,000 people. Over £25 million of EPSRC funding has supported expertise, skills and technology development
Silicon Gorge in the South West of England, one of Europe's most significant high-tech regions, featuring academic centres at the Universities of Bath, Bristol, Exeter and West of England, along with key UK and international businesses
cyber security in Northern Ireland, with investments such as the £5.5 million innovation and knowledge centre for secure IT (see case study for objective four)
photonics in Southampton, where decades of EPSRC support for pioneering work at the University of Southampton has driven a thriving cluster in and around the city. Over 1,500 jobs have been created through over 50 companies at the vanguard of photonics innovation, underpinning the UK's £13.5 billion photonics industry.
Research infrastructure
EPSRC will support and enhance research infrastructure at all scales, from single items of laboratory equipment through to large-scale national facilities.
This includes working with the community to strengthen cases to the UKRI infrastructure funding process. We will also champion the visibility, recognition and career development of research technical professionals (see objective one).
Through this, we will sustain world-class research across the landscape, aligned where appropriate to regional clusters. Equipment sharing across institutions and with industry is now well-established across the EPSRC portfolio and will continue to be an important characteristic of our investments, where appropriate.
Improving the environmental sustainability of the portfolio will also be a key focus for selecting future investments.
EPSRC is committed to working across UKRI to deliver a coherent national digital research infrastructure within five years.
This will enable UK researchers and innovators to harness the full power of modern digital platforms, tools, techniques and skills: an essential capability for the UK to lead partnerships on key global challenges, attract talent and remain globally competitive.
invest up to £190 million over the next three years in essential research equipment and facilities to support leading-edge research activities across engineering and physical sciences. This will include two further rounds of strategic equipment funding each year, and two institutional core equipment investments over the three-year spending review period
secure and deliver an ambitious pipeline of specific facilities, including £18 million for high- field nuclear magnetic resonance, £29 million for ultra-high field human MRI scanning (in collaboration with MRC), and £3 million for relativistic ultrafast electron diffraction and imaging
enhance nuclear energy research capability across the UK, making highly-specialised equipment available for exploitation by completing commissioning of the National Nuclear User Facility
work with relevant communities to develop large-scale compute, data, skills and software infrastructure, delivering UKRI's vision for digital research infrastructure. In particular, we will develop a business case for a UK-based exascale compute capability
maximise the sustainability and usage of our infrastructure portfolio, considering sustainability broadly from an equipment, people and place perspective. We will build local collaboration and cross-sector initiatives, to improve accessibility of research infrastructure and technical skills to our diverse industry and user base
minimise the environmental impact of our research infrastructure investments, partnering with the community to enhance and share knowledge on the sustainability of research infrastructures, and piloting novel greener approaches
pilot UKRI problem driven, interdisciplinary approaches to developing next generation technologies in sensing and imaging (circa £1 million) and collaborative, community data infrastructure in physical sciences (circa £2 million).
Case study: strengthening creative industries in south west England
Built on 10 years of core EPSRC support, the Centre for the Analysis of Motion, Entertainment Research and Applications (CAMERA) is home to unique expertise and groundbreaking research into virtual reality and motion capture.
Based at the University of Bath, CAMERA's skills and facilities have helped over 50 businesses to apply leading-edge technologies such as artificial intelligence (AI) and machine learning to opportunities and challenges facing the £116 billion creative industries sector.
CAMERA has been a cornerstone of growth in the sector, as well as the position of the south west England region at its forefront.
Case study: catalysing a cyber security cluster in Northern Ireland
The Centre for Secure Information Technologies (CSIT) is at the heart of an innovation ecosystem, with over 40 companies providing almost 2,000 jobs in the Belfast area, and bringing £80 million per year into the local economy, including significant foreign investment.
CSIT was established in 2009 as one of seven EPSRC-sponsored innovation and knowledge centres, with co-funding from Innovate UK and Invest Northern Ireland.
Research at CSIT has led to ten new product concepts with a clear route to market, and enabled the formation of six spinouts in areas including visual speech recognition and cryptography.
CSIT have also supported 17 start-up companies through their incubator programme.
Objective three: world-class ideas
EPSRC will invest in the brightest ideas, creating the pipeline of future knowledge that will fuel the industries of tomorrow.
We will identify emerging fields, take risks, and tackle problems through novel, creative approaches which bring a diversity of thought and experience. Through this, we will enhance resilience and sustainability in the research base.
We have set out three priorities which maintain and enhance discovery-led research, across mathematics, physics, chemistry, materials science, engineering and technology, computer science and ICT.
These research areas are dynamic: they influence, and are influenced by, trends in global science and technology, driven by UK research expertise, infrastructure and excellence.
Physical and mathematical sciences powerhouse
This priority covers a broad range of research, including chemistry, materials science, mathematical sciences and physics.
Discoveries in these fields have transformed our understanding of the world around us, from the subatomic to whole planet level. Often driven by curiosity, these discoveries have created the building blocks for scientific and technical transformations that underpin all aspects of our lives, society and economy.
Our goal is to advance the science that provides the platform for the generation-after-next technologies to sustain the UK's global competitiveness. We will also highlight the role of research in these areas in opportunities aligned to the five UKRI strategic themes.
catalyse new ideas and creativity in discovery science across the breadth of physical and mathematical sciences. This includes £6 million over three years to fund feasibility studies and short research projects through the small grants scheme in mathematical sciences
monitor and evaluate the outcomes of the additional £124 million investment made in 2020 to 2022 in mathematical sciences, capturing the impacts and successes from the different modes of investment to expand the evidence base of the key contribution of mathematical sciences to UK research and innovation
enhance advanced materials research and leadership through planned investment of £95 million for a second phase of the Henry Royce Institute
nurture high-risk discovery research in areas of potential high reward, connecting with industry and other partners to accelerate translation in areas such as catalysis, digital chemistry and materials discovery (circa £7 million).
We will ringfence a minimum of 30% of our financial headroom for purely responsive, discovery-led research. With at least £200 million of investment, this will encourage diverse, creative discovery research activities, with opportunities for team science and business collaboration alongside exploration of single investigator ideas.
Beyond purely responsive activities, we will signpost key strategic areas in other discovery-led research investments, including the new UKRI interdisciplinary responsive mode pilot, building momentum for the UK to compete on the global stage.
We will evolve and simplify our Big Ideas initiative, making it easier for the community to influence our future funding opportunities.
Alongside our talent investments outlined in objective one, these funding routes are an integral part of sustaining the people and skills needed by UK business and research communities.
Case study: commercialising discovery research
Technology developed by Professor Rachel Oliver at the University of Cambridge is enabling the next generation of micro-LED displays, key features of future TVs, wearable devices and smartphones.
Professor Oliver founded spin-out company Poro Technologies in 2020 to commercialise the new technology, and the company has just secured £15 million investment to continue its growth.
The new class of porous gallium nitride technology created by Professor Oliver can be used to manufacture multiple colours of LED using a single material system, enabling simpler manufacturing and improved reliability.
The new technology means high quality micro-LED displays can more easily be scaled-up for the mass market.
The spinout builds on EPSRC support for fundamental gallium nitride research, led by Professor Oliver and colleagues.
New Horizons scheme
Our New Horizons scheme supports creative, high-risk discovery proposals. The process is simpler to minimise bureaucracy and speed up decision making for applicants, and the trialling of anonymous peer review aims to reduce bias.
The 2020 pilot phase focused on the mathematical and physical sciences community, investing £25.5 million in 126 adventurous projects. Through this delivery plan, we will:
build on learnings from the first phase by investing a further £15 million, supporting new paradigms in computer science, information technologies and engineering research
evaluate the research outcomes from first phase projects, and subject to that evaluation, invest circa £10 million in a further round.
Frontiers in engineering and technology
The strength of UK engineering research lies in translating emergent ideas into new technologies, and responsible solutions to local and global problems.
EPSRC will enable the community to explore new solutions, knowledge and commercial applications, producing the skills and business creation opportunities that will enhance UK productivity.
Engineering disciplines are integral to catalysing multi and interdisciplinary systems-based approaches, connecting with business, government and end users to drive application across sectors and society. A whole-systems approach is central to our thinking.
identify emergent engineering and technology ideas and challenges, working in partnership with the research community and learned societies to complete and promote the community-driven Tomorrow's Engineering Research Challenges project, which will shape our future investment in engineering research across key societal challenges
fund the transformative ideas that will enable step changes in the UK's ability to deliver a greener, healthier and more resilient future. This includes working across UKRI in areas such as engineering biology (see objective five)
support breakthroughs in core engineering understanding, tools and techniques enabling researchers and businesses to make, measure and model more efficiently and effectively. This includes evolving our capability in UK systems engineering and £3.5 million for fellowships in fluid dynamics
accelerate design to manufacture of the new materials needed for a more resilient, sustainable UK, working in partnership with Innovate UK and businesses
improve the UK's defence capabilities aligned to the government's Integrated Review, by investing at least £3 million in hypersonics, with STFC and the Ministry of Defence.
Digital futures
We will support a digital future that is resilient, environmentally sustainable and secure by design, to support the UK's economy, international leadership and sovereign capability.
Improvements to communications, computing and the internet will shape our future society and economy. Our investments will enable the research needed to develop responsible tools and technologies that will underpin these critical advances.
We will achieve wider impact by increasing the pull-through of these technologies to commercialisation.
Delivering this priority also relies on our plans outlined in objective one to develop, attract and retain digital research infrastructure professionals, ensuring the UK has the skills to capitalise on these innovations.
support high risk and high reward research in both hardware and software that deliver future computing paradigms, such as neuromorphic computing
deliver low-powered digital systems, including design, novel materials, software, semiconductors and devices. This includes £8 million for research in sustainable low-powered, low-cost computing to enable energy efficient devices and components
invest in future communication systems across satellite, wired and wireless connectivity, semiconductors and photonics technologies. We will establish a platform for the development of a hub-based research and innovation ecosystem for industrial-academic coworking and business creation, engaging with the Department for Digital, Culture, Media and Sport, with a first phase of £6 million
provide world leading infrastructure to tackle the most challenging simulations in science and engineering, taking full advantage of ARCHER2 and preparing for exascale compute capability. Our high-end computing consortia will be refreshed, providing continued effective and flexible access to computing resources for researchers and other users (£3 million)
invest at least £6.5 million in software and skills required to take advantage of next-generation large-scale research computing, in areas including high-performance, high-throughput and exascale computing, artificial intelligence (AI), machine learning and data science.
Case study: optimising solar energy forecasts through fundamental research
Tracking solar energy generation is difficult, as solar power suppliers range from tiny domestic solar panels to field-sized industrial solar farms.
More accurate forecasts reduce the need to keep back-up power stations on standby, saving financial and energy resources.
The University of Sheffield's Sheffield Solar Group have created the Microgen database, a public-industry-academic collaboration which collects solar power information from almost one million locations around the UK, and uses fundamental research from mathematics and machine learning to improve the National Grid's forecasts of the electricity that can be supplied by UK solar panels. This will potentially save National Grid around £13 million per year.
Objective four: world-class innovation
EPSRC has an extensive record of working in sustained and highly productive partnerships with business and the wider innovation ecosystem, including Innovate UK.
We have developed 15 strategic partnerships with key innovation-led UK businesses, alongside wider two-way discussions with critical businesses through our Business Engagement Forum.
Through this delivery plan, we will build on our strong base of business involvement across funding routes, encouraging even greater co-creation and co-investment, expanding our strategic partnerships, and making it easier for large businesses and SMEs to invest in research and development.
This will contribute directly to the government's vision for the UK as an innovation nation, and the commitment to ensure total research and development spending reaches 2.4% of GDP by 2027.
Working across UKRI and with businesses of all scales, EPSRC will fund the people, collaborations and technologies across disciplines and sectors to secure a competitive advantage for UK businesses.
This investment will also enhance societal and economic prosperity in places across the UK, fostering greater alignment between our projects, local and regional priorities, and clusters of economic activity.
EPSRC's strength lies in the breadth of our investments: our commitment to innovation starts from our investment in discovery research, essential to delivering the solutions of tomorrow.
We will harness this to accelerate the translation of research and ideas into tangible outcomes and commercial solutions, maximising the societal, environmental and economic impact of our investments.
We will encourage a responsible and inclusive approach to innovation, ensuring that more of society can benefit from and influence research.
Coworking with business
We will continue to co-create with business, facilitating deep partnerships spanning fundamental research to commercialisation, towards the government's 2.4% target.
This builds on our strong existing track record with circa £1.8 billion leverage in our existing portfolio, and partnerships on over 50% of our awards: from skills training including our Centres for Doctoral Training, to critical mass investments co-created with business, to the most fundamental research projects across our remit.
increase business co-investment in the UK's engineering and physical sciences research base by at least 20% from its value in our current portfolio
invest at least £88 million in our flagship Prosperity Partnerships. Through these, we will co-create impactful collaborations between researchers and business, focused on high value sectors and national priorities. Of this, circa £20 million will focus on earlier-stage collaborations to catalyse future strategic partnerships, and to support cross-sector challenges involving multiple business and university partners. This will include collaborations aligned to local strengths in line with levelling up commitments. We will also explore enhancing the model to increase participation among SMEs
use sector-based networks and other approaches to facilitate better sharing of pre- competitive technologies, research knowledge, data and best practice across business partners and their supply chains
co-design transformative research with end-users, including through three residential workshops, each resulting in £3 million of funding to better understand and develop trustworthiness of autonomous robotic systems, ultrasensitive sensors and novel computing architectures for machine learning. All are in collaboration with the National Security Technology and Innovation Exchange and UK government partners
create opportunities for individual, business-relevant skills training and improved mobility between academia and the private sector. We will enhance and refine our approach to our Industrial CASE studentships, investing £18 million per year, and exploring opportunities to scale our investment to address unmet demand
ensure our strategy and investments are even better aligned to a diverse array of UK businesses, through enhanced existing strategic business relationships, and improved portfolio monitoring to identify gaps and opportunities to build relationships with further key business partners.
Prosperity Partnerships
EPSRC's Prosperity Partnerships featured in the government's Innovation Strategy as a prime example of academic-business collaboration, driving private co-investment into the research base.
The scheme demonstrates industry interest in supporting fundamental research, as part of the critical pathway to innovation.
Every £1 invested in research and development through EPSRC's Prosperity Partnerships secures circa £1.30 of additional private research and development investment.
EPSRC has already invested in four rounds, with £129 million of EPSRC funds met with £167 million from business and £40 million from universities. Through this delivery plan, we will invest more and broaden the scheme to increase SME participation and earlier-stage collaboration.
Case study: partnering academia and industry to commercialise green transport
In 2021, national public transport provider Go-Ahead Group ordered 20 hydrogen-powered buses as part of its commitment to decarbonising its bus fleet by 2035.
With a range of 640 miles and emitting only water, the buses will improve urban air quality and reduce our reliance on fossil fuels.
EPSRC's Prosperity Partnership between Queen's University Belfast (QUB) researchers and bus company Wrightbus Ltd built on 25 years of collaboration to use modelling and techniques to rapidly develop the bus, funded by the Advanced Propulsion Centre.
Connecting research and innovation
EPSRC has experience of developing and enhancing connections between research and innovation activities, often stemming from our strong business and civic stakeholder relationships.
We enhance connectivity to create new opportunities and growth, including those aligned to local strengths (see objective two for examples).
We will increase connectivity across the research and innovation system, pulling through research outcomes to be the next technology breakthroughs and business creation opportunities.
Harnessing the full potential of research excellence across the UK, we will enable all UK nations, regions and communities to capitalise on opportunities to benefit from our investments, supporting levelling up commitments.
work with Innovate UK to build on our collaborative portfolio, unleashing innovation through co-development of high business impact investments
catalyse long-term partnerships and accelerate innovations and technologies from our critical mass investments, including our funded institutes, hubs and Prosperity Partnerships. We will work closely with Innovate UK who have committed an initial inward investment of £5 million to enhance EPSRC's investment of at least £200 million in The Alan Turing Institute, the Henry Royce Institute, the Rosalind Franklin Institute and the UK Quantum Technology Hubs
foster more collaboration between researchers, businesses, civic bodies and the public, particularly linked to our critical mass investments. We will work across UKRI to increase connectivity, unlock further SME and large business co-investment, and deliver public benefits
capitalise on the synergies between our research base and the Innovation Accelerators in the Glasgow City Region, Greater Manchester and the West Midlands, in partnership with Innovate UK.
Accelerating translation, commercialisation and knowledge exchange
Working closely across UKRI and with partner universities, we will capitalise on EPSRC's investments and institutes to realise the full potential of the research we fund.
We will deliver this by brokering collaborations, and developing innovative initiatives to accelerate innovation and commercialisation.
Together, these actions will enhance positive impacts on science, society, the economy and the environment, driving prosperity locally, nationally and globally. Integral to this is promoting and supporting responsible innovation and inclusive public engagement.
simplify and improve the innovation funding landscape within EPSRC's remit, working across UKRI and government departments by bringing together our research communities to solve challenging problems that cut across government and society
incentivise our research community through impact acceleration accounts, delivered as part of the harmonised UKRI-wide approach. We will invest £60 million, while enhancing our approach with even more emphasis on enabling emerging technologies, catalysing private co-investment, and building on more than 1000 spinouts from past EPSRC funding
enable additional economic and societal impact, including through follow-on funds and opportunities within the UKRI commercialisation framework.
Case study: accelerating materials innovation through business partnership
Major consumer goods company Unilever was able to scale up and manufacture a new polymer in just two years, significantly shortening the time to product launch and generating an unprecedented return on investment.
They were supported by their partnership with the University of Liverpool, building on 20 years of EPSRC funding and a legacy of institutional leadership in materials chemistry.
This has translated into the £81 million Materials Innovation Factory, with investment by Unilever, the university and Research England to discover and develop innovative new materials.
The factory brings together academics with SMEs and major international companies to enable translational research in fields including pharmaceuticals, performance coatings and energy materials.
Objective five: world-class impacts
We will focus on four mission-inspired, interdisciplinary challenges, working across UKRI, but with engineering and physical sciences activities at their core.
Advances in these areas will impact aspects of everyday life and the breadth of industrial sectors, from how we will ensure the future of carbon-intensive UK industries, to improved data-driven decision-making by government and businesses, through to life-saving NHS services.
We will deliver on the government's UK Innovation Strategy , investing in the seven technology families identified in the strategy. This will involve working across UKRI and in partnership with government departments, with clear targets for business leverage, and emphasis on regional impact and international collaboration.
co-lead development of a programme with the Department for Business, Energy and Industrial Strategy (BEIS), Innovate UK and BBSRC to derive strategic advantage from high potential platform technologies in areas such as artificial intelligence (AI), quantum technologies and engineering biology
support manufacturing technologies for a sustainable future, including through refreshed investment in hubs, and by partnering with BBSRC and Innovate UK in a strategic investment to enable businesses, academic researchers and other stakeholders to catalyse and expand research, innovation and commercialisation in sustainable biomanufacturing across the UK (£4 million from EPSRC)
partner with BBSRC in engineering biology and work with Innovate UK to develop opportunities in advanced materials
lead for UKRI in creating the conditions for an integrated research and innovation programme in AI and data science
lead the evolution of the next phase of the UK National Quantum Technologies Programme, working with that programme's Strategic Advisory Board and Programme Board
develop a digital twins use case in decarbonising transport
establish hubs in semiconductors, photonics and 5G+ communications (as described in the section 'digital futures') and ensure these are networked into existing quantum technologies hubs to maximise convergence across technology families.
Engineering net zero
Engineering and physical sciences research is critical to the discovery, development and deployment of solutions to tackle climate change, enhance sustainability and ensure economic prosperity and fairness.
EPSRC will continue to support a whole systems approach to developing the technological solutions which will decarbonise our economy and society, to create a sustainable net zero future.
Our plans align to our 'building a green future' strategic theme, as well as the UK's net zero research and innovation framework (GOV.UK) and the British energy security strategy (GOV.UK) .
Our interventions will build a diverse, inclusive and interdisciplinary research and innovation community working across UKRI, academia, business, government, the public and international partners to create lasting and sustainable benefits for all.
stimulate development of entirely new and transformative low and zero carbon, and zero pollution technologies and systems, including £20 million in partnership with industry and across UKRI to set up two hubs in hydrogen and alternative liquid fuels
develop negative emission technologies including greenhouse gas reduction technologies and carbon capture utilisation and storage solutions, establishing the foundations of a virtual carbon-negative institute to push the frontiers of carbon removal technologies
maintain an interdisciplinary approach to tackling future UK energy security, including through innovation in nuclear energy, and £20 million to support coordinating investments in energy systems integration, to help UK distribution and use of solar, bioenergy and offshore wind
produce zero carbon and waste solutions through extensive electrification, alternative sustainable fuels and the development of circular economies. For example, EPSRC and BBSRC will co-fund a funding opportunity for sustainable plastic systems, including £5 million of EPSRC investment
deliver solutions to reduce our energy demand and increase efficiency across all greenhouse gas emitting, resource consuming and polluting systems and sectors, taking a whole systems approach working across UKRI.
Manufacturing and the circular economy
The development of manufacturing processes, systems and networks spans the topics of world-class ideas, innovation and impacts.
Our aim is to drive a sustainable, resilient, thriving and productive UK-wide manufacturing sector and a truly circular economy through mission-led investments.
We will do this by supporting both the transformation needed in existing approaches and in the longer term by enabling a fundamental rethink of product and service systems, where appropriate to do so.
EPSRC will invest in up to 11 manufacturing hubs for a sustainable future (total value up to £124 million), supporting innovative business-led research in the engineering and physical sciences, including a specific focus on environmental sustainability and strategic technology advantage.
We will also explore further strategic investments in manufacturing and the circular economy.
Artificial intelligence (AI), digitalisation and data: driving value and security
We will generate scientific and technical advances to realise the benefits of AI and digital technologies, creating opportunities and improving outcomes for the UK economy and society.
Through this priority, we will deliver platform technologies that underpin a range of potential applications, as well as research and innovation across UKRI and its strategic themes.
We will encourage adventure, pushing boundaries to realise the transformational impact of digital technologies across industry and society.
A key outcome is enhancing national security to address the government's Integrated Review and the UKRI strategic theme 'building a secure and resilient world'.
establish up to eight hubs (£80 million) across foundational AI, AI for real data and a number of application areas
doubling the number of Turing AI World-Leading fellows
refreshing the portfolio of AI Centres for Doctoral Training, in line with the government's announced intention to fund an additional £117 million
uplifting the Alan Turing Institute's national convening and leadership role with at least a further £10 million per year
ensure the UK remains confident, capable and resilient as a thought leader in the fast-moving digital world, including by investing £7.5 million in cyber security research with partners such as the National Cyber Security Centre
scope future priorities, including building opportunities in digital twins. An initial focus will be up to £20 million on a digital twins decarbonising transport use case working with the Department for Transport.
Transforming health and healthcare
Engineering and physical sciences research plays a unique role in improving our health, from the development of new healthcare technologies and consumer health products through to digital improvement of the healthcare system and engineering of healthy environments.
Almost everything we do involves working across UKRI and with the wider research and innovation system.
This priority underpins the UKRI strategic themes in 'health, ageing and wellbeing' and 'tackling infections', creating healthier environments and sustainable healthcare.
enable a more sustainable and resilient healthcare system integrating manufacturing across scales (from population to personal level) and circular economy approaches. Our plans include up to £15 million for future healthcare manufacturing investments
maximise the potential of digital health and artificial intelligence (AI) across personal health, treatment and the wider system, with up to £8 million for digital health hubs to increase skills and capacity, accelerate translation and enable rapid commercialisation of emerging digital technologies
continue to work with the National Institute for Health and Care Research on multiple long- term conditions and explore opportunities in other areas
support new knowledge and skills for healthier environments in the home, workplace and the community, including engineering solutions to meet air quality challenges by exploring a partnership with the Department of Health and Social Care
lead the design and development of future and affordable healthcare technologies including biopharmaceuticals, medical technologies, genomics and diagnostics with a programme of up to £20 million in partnership with MRC, and follow on activities to build on our responsible neurotechnology networks
address major health challenges from regenerative medicine to tackling infections, drawing on digital chemistry and materials discovery, mathematics and the physics of life. This includes £40 million additional investment in the Rosalind Franklin Institute to build connectivity with physical sciences.
Case study: supporting the global response to COVID-19
The spike protein is a major target in COVID-19 research, as it binds to human cells when infected.
Researchers from Protein Production UK successfully isolated nanobodies, a type of antibody, and demonstrated that these bind to the spike protein of the SARS-CoV-2 virus, blocking infection.
These nanobodies are now available to researchers at the University of Oxford, as well as being a widely available tool to other research groups around the world.
Protein Production UK is a collaborative project led by the EPSRC-funded Rosalind Franklin Institute, based at the Research Complex at Harwell.
Case study: medicines manufacturing at the University of Strathclyde
With EPSRC, other UKRI and wider funding providing crucial support at key points, the University of Strathclyde has supported western Scotland leadership in the high-impact medicines manufacturing sector.
The EPSRC-funded Future Manufacturing Research Hub in Continuous Manufacturing and Advanced Crystallisation (CMAC) has underpinned this, pioneering new ways to develop and make medicines.
EPSRC funding, through the hub and previous Centre for Innovative Manufacturing, has resulted in £45 million of industry cost savings, including £10 million for AstraZeneca through an improved process.
CMAC supports small companies across the pharmaceutical supply chain, brokering new partnerships with major companies. The strong partnerships, catalysed by EPSRC's critical mass investments, have helped to secure investment for the £56 million Medicines Manufacturing Innovation Centre, enhancing UK leadership in this global sector.
Quantum technologies
Quantum technologies are a key example of how EPSRC delivers research, innovation, skills and research infrastructure, converging expertise from across engineering and physical sciences to create transformative technologies with applications across many sectors.
EPSRC will continue to advance quantum technologies, building on our world-leading platform of research strengths to extend our leadership position in this strategically important technology.
Through this, our ambition is to make the UK a quantum-ready nation in line with the government's Integrated Review of Security, Defence, Development and Foreign Policy and UK Innovation Strategy .
support the UK's National Quantum Technologies Programme into its third phase, refreshing the hub portfolio with an investment of up to £100 million
enable ongoing strategic and translational quantum technologies research in sensors and timing, enhanced imaging, computing and simulation, and communications through the phase two UK Quantum Technology Hubs
complete our programme to establish the £93 million National Quantum Computing Centre, and expanding the breadth and depth in quantum computing research and development
build international collaborations through the lead agency agreement with the National Science Foundation and other priority global partners (up to £10 million).
Case study: making nuclear fusion commercially viable
Researchers at the Mega Ampere Spherical Tokamak (MAST) Upgrade experiment are tackling one of the biggest challenges with nuclear fusion reactors: the high temperatures which affect the lifespan of materials.
They are testing a new super-X divertor, a system which dissipates heat, reducing exhaust components' heat exposure at least tenfold. This would allow a commercial nuclear fusion reactor to run for longer without repair, making the technology commercially viable.
Unlike current nuclear fission reactors, nuclear fusion produces very little radioactive waste, little CO2, and carries no risk of catastrophic failure.
The MAST Upgrade experiment is supported by the UK Atomic Energy Authority (UKAEA), EPSRC and the EUROfusion consortium. This research will support UKAEA's plans to build a prototype fusion power plant in the next 20 years.
Objective six: a world-class organisation
As part of UKRI, EPSRC strives to be an efficient, agile organisation, which always seeks to innovate and continuously improve.
Our outcomes-focused approach drives everything we do, ensuring that we invest through the most effective routes to deliver maximum impact. We will deliver our ambitions within our agreed operating expenditure budget.
We will empower our staff to achieve our ambitious plans, leveraging their extensive knowledge of our portfolio, close working relationships across UKRI, and partnerships that catalyse change within government at all levels, and the business and university communities.
We are also committed to improving the sustainability of our operations, and of our research, innovation and skills programmes.
Being an efficient, effective and agile organisation
deliver simpler, better funding processes and peer review, working across UKRI as part of the Simpler, Better Funding programme's vision and objectives. We continually evolve our grant awarding processes to try to reduce the administrative burden on the research system and to increase the diversity of applicants, as seen in innovative approaches like our New Horizons scheme (see objective three)
review and streamline our operations, governance, advisory structures and stakeholder engagement, to ensure they contribute effectively to UKRI's new operating model. We will adapt EPSRC as part of UKRI's commitment to reduce operating expenditure
support delivery of a new cross-UKRI Enterprise Resource Management system through the SHARP programme
respond to all of the relevant Grant Review recommendations through our wider Reforming our Business and Operating Model organisational change programmes, as part of UKRI
maintain a focus on outcomes and impact, using data and evidence, and delivering proportionate monitoring and evaluating of our investments aligned to UKRI-wide approaches. We will evaluate progress against this delivery plan using a monitoring framework which includes routine advice and guidance from our council. This framework will ensure that we are delivering against the UKRI strategy and government priorities
build and improve portfolio knowledge through data, analytics, tools and frameworks, to remain agile and responsive to new ideas and emerging challenges. Through this, we will develop our long-term strategic thinking and become more future-focused as an organisation.
Catalysing outcomes through partnership and leadership
publish and implement our equality, diversity and inclusion action plan, discussed in objective one, aligned to the forthcoming UKRI equality, diversity and inclusion (EDI) strategy. As an example, we will create the role of unconscious bias observers at peer review prioritisation and interview panels, to reduce bias in our decision making. We will also continue to use positive action for diversity in gender and race in our advisory groups and Peer Review College
improve the environmental sustainability of our operations and investments, by delivering our action plan in line with the UKRI environmental sustainability strategy . EPSRC invests in science that enables environmental sustainability, including clean energy technologies, circular economy, sustainable manufacturing and low power computing. We will continue to use our role to support and improve the sustainability of our programmes, building on existing interventions such as our Responsible Research and Innovation Framework. We will also enhance sustainability in our research and skills programmes, infrastructure investments and impact activities, and support the community to improve their environmental sustainability
embed trusted research and responsible innovation throughout EPSRC's technology-driven portfolio. We will work in partnership across the landscape to share learnings as part of UKRI's role as a national funder, maximising the positive impacts of the research we fund. By leading on trusted research, we will respond to the government's Integrated Review by protecting those working in our thriving and collaborative international sector
strengthen our relationships with government departments, public sector research establishments, learned societies, devolved administrations and local stakeholders, identifying new opportunities for collaboration and enhancing connectivity between research and policy
use communications to enhance our stakeholder engagement. EPSRC will contribute to effective UKRI communications, working with the research community to enhance recognition of how EPSRC-funded research underpins and advances all areas of science, leading to national and global impacts. Our approach will be flexible and agile, but focused on enhancing engagement with key audiences across the science and innovation community, parliamentarians and government at all levels, and the public.
The figures provided in this document are in line with the 2022 to 2023 and 2024 to 2025 budget allocations for UK Research and Innovation. These are broken down by our budgeting and reporting categories, and exclude funding for official development assistance (ODA), financial transactions and BEIS managed programmes. Figures are indicative and may vary over the course of the three-year period due to budget adjustments made as a part of on-going financial management and planning processes to maximise the use of our total funding.
From 2022 to 2023, UKRI talent investments are managed collectively across the research councils. The funding for collective talent activities outlined in this delivery plan are accounted for in the broader collective talent funding line included in our corporate plan.
Further infrastructure allocations to councils may be made during the Spending Review period from the Infrastructure Fund, Digital Research Infrastructure Programme and Carbon Zero Fund Programme.
Further allocations may be made during the Spending Review period. Excludes wave one preliminary activities where spend was in 2021 to 2022 only. Allocations include contingency, which may be returned if unused.
Page viewed: 10:55 pm on 4 March 2023
This is the integrated website of the seven research councils, Research England and Innovate UK. Let us know if you have feedback or would like to help us test new developments .
Your account
ICE near you
Media centre
Login or register for a MyICE account
Back What is civil engineering?
Back Civil engineering explained
What do civil engineers do?
Who are civil engineers?
Back How to become a civil engineer
11-15s - Studying at school
15-18s - Studying at school or college
Over 18s - Studying or working
Changing career to civil engineering
Back Education & resources
Educational resources
Become an ICE STEM Ambassador
Education & careers FAQs
ICE Academic Partnerships
Back News & Insight
Back News and blogs
Latest news
Back Policy and advocacy
Policy insights and advice
All Party Parliamentary Group on Infrastructure (APPGI)
Enabling Better Infrastructure
Back Media centre
Press releases
Back Events
Back Latest events
Conferences
Back Passed events and recordings
Recorded Lectures
Events archive
Back Learning and Exhibition Centre
Time is running out
Back Engineering resources
Back Knowledge resources
Coastal and offshore engineering
Development, planning & urban engineering
Geology, geotechnical and ground engineering
Professional practice
Transportation
Back Learning resources
ICE Knowledge Hub
ICE Knowledge Networks
ICE and Decarbonisation
ICE State of the Nation
ICE Breakwaters 2023
ICE Brunel International Lecture Series
Back Our services
ICE Benevolent Fund
ICE Dispute Services
ICE Library
ICE Publishing
ICE Training
NEC Contracts
One Great George Street
Panel for Historic Engineering Works
Research and Development Enabling Fund
Back Careers & Learning
Back Develop your career
Advice for civil engineers
Advice for technician engineers
Advice for graduate engineers
Advice for students
Apprenticeships
International recognition
Membership guidance
The President's Future Leaders Scheme
Awards and competitions
QUEST scholarships
Back Professional qualification support
How to become a professionally qualified civil engineer
Professional Qualification Training
Technician member support (EngTech)
Member support (IEng, CEng)
Professional Review preparation
Membership surgery
SCE and delegated engineers support
Back Training
Professional Development Training
Project Manager (APMP)
Chartered Environmentalist (CEnv)
Chartered Manager (CMgr)
Law and contracts
Back About us
Back Who we are
Diversity and inclusion
Our mission and work
Our Royal Charter
Our governance
Our leadership team
Our history
Annual reports
Working with us
Ethics committee
Back What we do
Volunteering with ICE
Specialist Knowledge Societies
ICE near you - UK regions
ICE near you - International regions
Back Our members
Find a member
ICE Pass List
Admission procedure list
Membership of ICE
What can the UK government do to improve strategic infrastructure policy making?
A new report calls for government action to make UK infrastructure decision-making more streamlined, objective and transparent.  
The Lords Built Environment Committee has published its views on how effective the UK government is at infrastructure policy making and implementation.
The report follows a short inquiry last year. The ICE gave oral evidence to the committee along with the National Infrastructure Commission (NIC), the Infrastructure Projects Authority (IPA) and other stakeholders.
The committee's focus was on how the government makes decisions for planning, delivering and evaluating infrastructure in the UK.
Here are its key findings.
1. The government must stay the course to capitalise on strategic improvements
The UK does a lot well, including the overall structure of its policymaking. The Global Infrastructure Hub has recently ranked the UK first in regulatory frameworks and planning.
This strategic framework has been strengthened in the past decade by the establishment of the NIC and the IPA.
Evidence-based decision-making, project management and assessment have all improved.
However, large-scale infrastructure projects are long-term undertakings. The benefits of these changes may take years to emerge.
The committee therefore calls on the government to continue supporting the NIC and IPA. This includes embedding the skills and capacity needed to maximise these benefits in the long run.
However, it didn't explicitly back the ICE's view that the NIC should be put on a statutory footing to help provide this long-term certainty.
2. Infrastructure investment could be more objective and transparent
The assessment process for project business cases via the five-case model and Green Book is relatively sound.
However, political choices and manifesto commitments often, inevitably, determine what infrastructure is planned and prioritised.
The committee says the government should set out objective criteria to explain how it selects which infrastructure projects to fund.
Clarity needed on scale of investment
It also notes that public sector capital expenditure on economic infrastructure hasn't risen above 0.96% of GDP in any of the previous six years.
This is at odds with the NIC's fiscal remit of proposing interventions within a window of 1.1-1.3% of GDP.
The committee doesn't suggest the NIC's fiscal remit should be removed. Instead, it says the Treasury (HMT) should clarify whether it will invest in infrastructure at the level of the fiscal remit.
If not, HMT should explain why and detail how its expenditure on infrastructure will be sufficient to meet the government's growth objectives.
It also calls for more data to be made available on the regional breakdown of infrastructure investment across the UK.
3. Infrastructure planning takes too long
The UK's infrastructure planning regime is far too slow, according to the committee.
An infrastructure planning decision now takes on average five months longer than it did a decade ago. Some projects are taking as long to get planning permission as to be built.
This is time the country cannot afford to waste when we urgently need to build the infrastructure necessary for net zero, energy security and other national objectives.
Delays can be caused by the number of planning stages, allowing multiple opportunities to challenge sometimes minor issues.
In response, the committee calls for the government to consider 'an approach that provides all necessary planning permissions for major government infrastructure projects before construction begins'.
However, it doesn't outline exactly what that approach should look like.
4. More time should be spent on post-project evaluation
The UK has historically been poor at delivering major infrastructure projects to cost and schedule.
The committee calls for more clarity over how and when decisions are made to cancel or continue projects that are consistently rated red for overspending by the IPA.
It also says that too little time and effort is spent on post-project evaluation in the UK.
The government should explain how it ensures that lessons learnt on one infrastructure project inform future similar projects.
It should also set out how it assesses the successes or failures of infrastructure projects in delivering the benefits for which they were designed.
Currently, many projects lack detailed benefit statements or abandon stated benefits during delivery.
5. More political control of decision-making needed
The committee says a more streamlined central decision-making process for infrastructure would help tackle these challenges.
There is currently no single ministerial responsibility to coordinate between the NIC, IPA, the UK Infrastructure Bank and HMT, and own the process of deciding and delivering major infrastructure projects.
The committee calls for the government to ensure greater political grip on priorities, and improved interdepartmental coordination. However, it doesn't propose a structure to achieve this.
The ICE's view
The Lords Built Environment Committee's report sets out both recent progress and ongoing challenges for infrastructure planning and delivery in the UK.
It aligns with the ICE's evidence that government must act to secure and fully realise the benefits of recent changes to strengthen the strategic framework.
Those changes have included creating the NIC and IPA.
However, the committee didn't explicitly back our view that this can best be achieved by putting the NIC on a statutory footing.
We have argued that this process could begin by adding a formal mechanism in the UK Infrastructure Bank Bill for setting up and regularly updating the National Infrastructure Strategy.
The report further aligns with our evidence that more should be done to define and deliver the social, economic and environmental benefits of infrastructure investment.
The committee also draws particular attention to planning delays in delivering key infrastructure, which can have a much wider societal impact.
The UK has done much to strengthen infrastructure planning and implementation. Many of the challenges it faces are not unique but shared by governments worldwide .
However, the committee's report follows a recent Public Accounts Committee report about the creation of the UK Infrastructure Bank .
That report highlighted risks to the UK's strategic infrastructure framework without government action to build on the bank's establishment and make it sustainable.
The government has to respond to the Built Environment Committee within six weeks.
In case you missed it
Suranjali Tandon examines how funding gaps for net zero infrastructure can be bridged internationally to accelerate the transition.
Read the latest update to ICE's policy and public affairs engagement activity.
The ICE made a submission to ICE submission to the Levelling Up, Housing and Communities (LUHC) Committee on funding for levelling up.
You can also sign up to ICE Informs to get a monthly digest of the latest policy activities from the ICE, including calls for evidence to support our ongoing advice to policymakers.
David McNaught, policy manager at ICE
Improving infrastructure delivery
Infrastructure blog
Infrastructure planning
Sustainable Development Goals:
Industry, innovation and infrastructure
Climate action
Peace, justice and strong institutions
You may also be interested in
IPW: New Zealand's post-disaster resilience, and South Africa's response to growing infrastructure woes
Hong Kong Budget 2023-24: three key takeaways for infrastructure
3 things we hope to see in the UK government's Net Zero Strategy update
Strategic Planning
Local authorities are now doing strategic planning via local plans, and are working with neighbours and other partners (aiming to satisfy the Duty to Co-operate in the process) on housing provision, employment growth and infrastructure. 
We ran some events in February 2016 to find out more about how strategic planning can be used to deliver growth across areas, and fit in with the devolution agenda.
Presentations from our "Beyond the Duty" events can be found below.
Press Release
Biontech announces strategic partnership with uk government to provide up to 10,000 patients with personalized mrna cancer immunotherapies by 2030.
5 January 2023
Multi-year collaboration focuses on three strategic pillars: cancer immunotherapies, infectious disease vaccines, and expansion of BioNTech's footprint in the UK
BioNTech aims to design and roll out randomized clinical trials with registrational potential for the Company's personalized mRNA cancer immunotherapies in the UK
Accelerated clinical trial recruitment with first patient to be enrolled in a trial as part of this collaboration in H2 2023
Set-up of an R&D hub in Cambridge (UK) with the aim to employ more than 70 highly skilled scientists with the first employees commencing work in Q1 2023
MAINZ, Germany, January 6, 2023 – BioNTech SE (Nasdaq: BNTX, "BioNTech", "the Company") today announced that the Company signed a Memorandum of Understanding ("MoU") with the Government of the United Kingdom ("UK") to benefit patients by accelerating clinical trials for personalized mRNA immunotherapies with the aim to provide personalized cancer therapies for up to 10,000 patients by the end of 2030, either in clinical trials or as authorized treatments. This objective is part of a multi-year collaboration focused on three strategic pillars: cancer immunotherapies based on mRNA or other drug classes, infectious disease vaccines, and investments into expanding BioNTech's footprint in the UK as one of the Company's key markets.
As part of the MoU, the Company and the UK Government plan to accelerate trial site and patient recruitment for clinical candidates of BioNTech's pipeline for personalized mRNA cancer immunotherapies and infectious disease vaccines. To achieve this, the parties plan to utilize the UK's clinical trial network, genomics and health data assets. The next steps of the collaboration will be the selection of candidates, trial sites and the set-up of a development plan with the aim of being ready to enroll the first cancer patient in the second half of 2023. BioNTech intends to design and roll out randomized trials in adjuvant or metastatic settings with registrational potential for the Company's personalized mRNA cancer immunotherapies in the UK.
"The UK successfully delivered COVID-19 vaccines so quickly because the National Health Service, academia, the regulator and the private sector worked together in an exemplary way. This agreement is a result of the lessons learnt from the COVID-19 pandemic as we all experience that drug development can be accelerated without cutting corners if everyone works seamlessly together towards the same goal. Today's agreement shows that we are committed to do the same for cancer patients," said Prof. Ugur Sahin, M.D., Chief Executive Officer and Co-Founder of BioNTech. "Our goal is to accelerate the development of immunotherapies and vaccines using technologies we have been researching for over 20 years. The collaboration will cover various cancer types and infectious diseases affecting collectively hundreds of millions of people worldwide. If successful, this collaboration has the potential to improve outcomes for patients and provide early access to our suite of cancer immunotherapies as well as to innovative vaccines against infectious diseases – in the UK and worldwide."
BioNTech plans to invest in a UK Research and Development ("R&D") hub in Cambridge with an expected capacity of more than 70 highly skilled scientists, the first to commence R&D by the end of the first quarter 2023. In addition, the Company will strengthen its UK footprint by setting up a regional headquarter in London to accommodate employees in global and regional supporting functions including Regulatory, Medical, Intellectual Property and Legal. As part of the MoU, BioNTech will remain the local sponsor of current and upcoming new clinical trials of its programs in the UK and will design the clinical trial protocols.
As of today, several hundred patients have been treated with mRNA-based cancer immunotherapies as part of BioNTech's trials for product candidates from the Company's FixVac and iNeST 1 platforms. Since its founding, BioNTech has been developing mRNA-based cancer therapies targeting a patient's unique tumor. In 2012, the first mRNA-based personalized cancer therapy developed by BioNTech was administered in a first-in-human trial. The first patient to receive a fully individualized mRNA-based cancer therapy developed by BioNTech was treated in a clinical trial in 2014. In 2015, the first patient received an exploratory mRNA-based cancer treatment intravenously, with BioNTech pioneering the first intravenous nanoparticle delivery of mRNA vaccines in humans. The Company continues to evaluate various combinations of mRNA backbone and delivery technologies with the aim of identifying highly efficient candidates with a favorable safety profile.
In collaboration with Pfizer, BioNTech developed the first COVID-19 vaccine which was approved in the UK, the United States and the European Union, making it the first-in-class mRNA drug product in the history of medicine. In addition to the approved COVID-19 vaccine, BioNTech's infectious diseases vaccine pipeline includes influenza and shingles vaccine programs, which are also partnered with Pfizer, as well as a fully owned malaria vaccine program and a herpes-simplex-virus-2 vaccine program. In total, the Company is running research and preclinical development programs targeting more than 10 additional infectious diseases.
About BioNTech Biopharmaceutical New Technologies is a next generation immunotherapy company pioneering novel therapies for cancer and other serious diseases. The Company exploits a wide array of computational discovery and therapeutic drug platforms for the rapid development of novel biopharmaceuticals. Its broad portfolio of oncology product candidates includes individualized and off-the-shelf mRNA-based therapies, innovative chimeric antigen receptor T cells, bispecific immune checkpoint modulators, targeted cancer antibodies and small molecules. Based on its deep expertise in mRNA vaccine development and in-house manufacturing capabilities, BioNTech and its collaborators are developing multiple mRNA vaccine candidates for a range of infectious diseases alongside its diverse oncology pipeline. BioNTech has established a broad set of relationships with multiple global pharmaceutical collaborators, including Genmab, Sanofi, Genentech, a member of the Roche Group, Regeneron, Genevant, Fosun Pharma, and Pfizer. For more information, please visit www.BioNTech.com .
BioNTech Forward-Looking Statements This statement contains forward-looking statements within the meaning of the Private Securities Litigation Reform Act of 1995. These forward-looking statements may include, but may not be limited to, direct or indirect statements concerning: BioNTech's potential collaboration between the Government of the United Kingdom and its institutions and authorities with regards to the provision of cancer immunotherapies, infectious disease vaccines and the expansion of BioNTech's footprint in the United Kingdom, including the aim to provide personalized cancer therapies for up to 10,000 patients by the end of 2030; the set-up of a development plan with the aim of being ready to enroll the first cancer patient in the second half of 2023; plans to invest in a UK R&D hub in Cambridge with the first scientists to commence R&D by the end of the first quarter of 2023; the ability of BioNTech to reach an agreement with potential collaboration partners in the United Kingdom; BioNTech's ability to develop, test and commercialize products and product candidates, including the timing to initiate clinical trials ; BioNTech's anticipated market opportunity and size for its product candidates; and the rate and degree of market acceptance of BioNTech's investigational medicines, if approved. Any forward-looking statements in this statement are based on BioNTech's current expectations and beliefs of future events, and are subject to a number of risks and uncertainties that could cause actual results to differ materially and adversely from those set forth in or implied by such forward-looking statements.
For a discussion of these and other risks and uncertainties, see BioNTech's Quarterly Report on Form 6-K for the quarter ended September 30, 2022, filed with the U.S. Securities and Exchange Commission ("SEC") on November 7, 2022, which is available on the SEC's website at www.sec.gov . All information in this press release is as of the date of the release, and BioNTech undertakes no duty to update this information unless required by law.
Media Relations Jasmina Alatovic +49 (0)6131 9084 1513 [email protected]
Investor Relations Sylke Maas, Ph.D. +49 (0)6131 9084 1074 [email protected]
1 in collaboration with Genentech
BioNTech SE
An der Goldgrube 12
55131 Mainz, Germany
T: +49 6131 9084-0
F: +49 6131 9084-2121
[email protected]
© 2023  BioNTech All rights reserved

UK Committee on Research Integrity strategic plan
Closed 19 dec 2022.
Opened 23 Nov 2022
Ben Williams
(Secretariat lead)
[email protected]
The UK Committee on Research Integrity  is a new addition to the research system and has responsibility for promoting research integrity across the UK.
Vibrant, innovative research requires high integrity, and the committee was established to recognise and support high integrity in research. The committee was formed in 2022, following a report by the House of Commons Science and Technology Committee in 2018, which recommended greater attention be given to research integrity.
The committee is a free-standing committee, funded and hosted by UK Research and Innovation (UKRI) for three years on behalf of the sector.
Read our Terms of Reference and ways of working.
The committee is seeking feedback on its inaugural strategic plan , which covers the period from January 2023 to May 2025.
Why your views matter
The committee is proud to work on behalf of the sector and believes it is essential your views are heard.
The committee works across the research system, including:
higher education institutions
research institutes
research funders
public, private, and third sector organisations
Anyone with an interest in research integrity is invited to provide feedback, which will inform the committee's next steps.
UK Committee on Research Integrity draft strategic plan 416.5 KB (PDF document)
We're recruiting: opportunity to join the committee
UK Committee on Research Integrity webpage
Research Community
Innovation Community
Third Sector
Equality, Diversity and Inclusion
Accessibility
Terms of Use
Help / feedback