Kindergarten
All Worksheets
Social Studies
Coloring Pages
Worksheet Generator
Common Core
All Lesson Plans
All Workbooks
All Exercises
All Project Ideas
Physical Science
Earth and Space Science
Life Science
Applied Science
Behavioral/Health Science
Reading & Writing
Common Core Resources
Guided Lessons
Weekly Boost
School Licenses
Search Printable Social Studies Worksheets
Filter results.
clear all filters
 Fine arts
 Foreign language
 Math
 Reading & Writing
 Science
 Social emotional
Social Skills
Community & Cultures
U.S. History
World History
 Civics & Government
 Typing
 Arts & crafts
 Coloring
 Holidays
 Offline games
 Pop Culture & Events
 Seasonal
 Teacher Resources
By Standard
Help Kids Explore the World with Social Studies Worksheets
Skip to primary navigation
Skip to main content
Skip to primary sidebar
Teaching Expertise
Classroom Ideas
Teacher's Life
Deals & Shopping
Privacy Policy
23 Fun Social Studies Activities for Middle School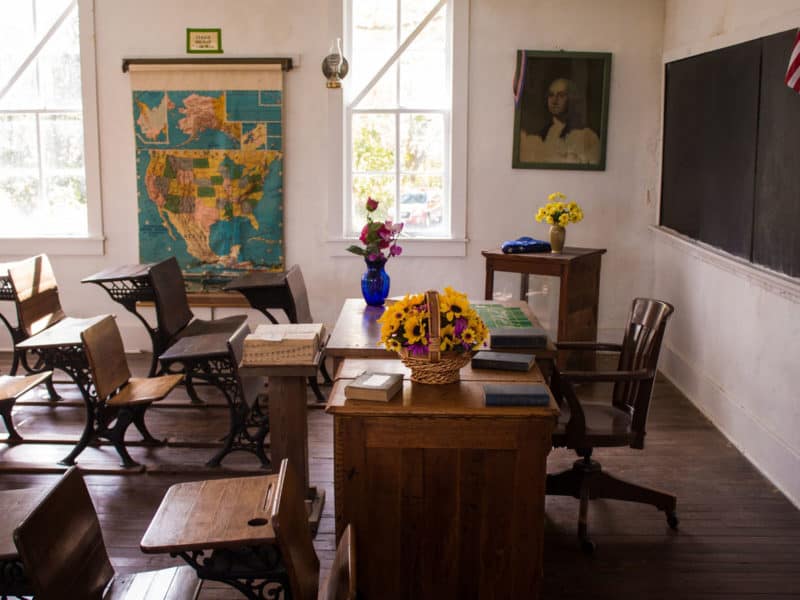 June 21, 2022 // by Megan Ellis
Middle school students will love these social studies-themed interactive activities. History and social studies can both challenge students and make learning fun. Use these activities in the classroom or at home to engage your middle-level learner.
1. Social Studies Journal Prompts
This list of journal prompts can be used in Social Studies or an English classroom for a cross-curricular writing activity. Use them to practice writing skills, or to review history-specific content. These engaging journal prompts will get middle schoolers thinking and help them to make connections.
Learn more: Thrive in Grade Five
2. Learn About Maps
These map skills worksheets include latitude and longitude practice, grid maps, physical maps, map keys, and more! These engaging activities will teach middle school students about map skills that can transfer to other content areas, and provide an authentic learning experience they can use in real life!
Learn more: Sarah Miller Tech
3. Today in History Bellringers
These history-themed bell ringers provide fun historical facts for each day of the year. These fun history lessons make a great beginning of the class activity or anticipatory set and help bring awareness to any time period that can be integrated with any Social Studies unit. Highlighting historical events that happened on the day they are learning about it engages students and makes learning relevant.
Learn more: A Page Out of History
4. Article of the Week
Give students a chance to practice close reading skills while analyzing current events in this Article of the Week activity. Use it as a homework assignment to practice and solidify learning, or integrated it into your classroom activities and prompt discussion among your middle school students.
Learn more: Musings From the Middle School
5. Interactive Notebooks for Social Studies
Interactive notebooks can be integrated into any Social Studies unit. Use these templates to engage students with Social Studies content and help them process new information with a graphic organizer or visual representation. These can be used individually in a guided note setting or can be used more collaboratively by putting students in groups to process new content.
Learn more: Students of History
6. Using Primary Sources to Teach History
Give middle school students a challenge by teaching them how to use primary sources in Social Studies class. Using primary sources teaches students critical thinking and analysis skills, and can be used in the classroom as a whole or small group activity, or can be assigned as independent work. This important Social Studies skill can be a challenge for students, but a good foundation in middle school is important to prepare for the high school level.
Learn more: Social Studies Aloft
7. American Revolution Cloze Passages
These cloze passages help students practice reading skills in the Social Studies classroom. A great opportunity for cross-curricular instruction, this set of passages includes topics such as the French and Indian War, the Boston Tea Party, the Battle of Bunker Hill, and more!
8. Social Studies Inquiry Circles
Inquiry circles help students to think about topics covered in the content, and provide a platform for meaningful classroom discussion. This is a great activity for the end of a Social Studies unit when students have gained enough knowledge to give meaningful input to a structured discussion.
Learn more: One Stop Teacher Shop
9. Ancient Civilizations Curriculum Map
This is an excellent resource if you are starting a unit on ancient civilizations. There are plans and resources included to cover an entire year of Social Studies instruction and include engaging activity ideas to try with your middle school students.
Learn more: Teachers Pay Teachers
10. Digital Learning Activities for American History
Kids love to use technology both at home and in the classroom. Use this list of learning activities to supplement student learning in American history. These digital activities and interactive notebooks can be modified and assigned through Google Classroom and other learning platforms.
11. Music Activities for Social Studies
Help students make cross-curricular connections by adding some music activities to your Social Studies classroom. This list of fun songs can make learning fun and memorable for middle school students. From songs about the bill of rights to catchy, informative US history songs, students will enjoy the change of pace in the classroom.
Learn more: Musings of a History Gal
12. Virtual Social Studies Field Trip
Virtual field trips are a great learning activity that engages students in an authentic learning task. Use this 7 Natural Wonders of the World activity for the whole class or as an option for early finisher activities . This can also be a fun family activity if you are looking for a way to connect with your middle schooler at home . Travel to a new place without ever leaving your home or classroom.
Learn more: Strategic Educational Services
13. Social Studies Review Game
This fun activity makes reviewing Social Studies content fun. This hands-on activity requires students to sort information into facts that are true or false, and fix the ones that are wrong. A modified version of this game could make a great exit activity, and the concept can be applied to any Social Studies unit.
Learn more: Stephanies History Store
14. Gallery Walks for Social Studies
Have your middle school students pretend they are at a museum using this engaging gallery walk activity. Students love being up and out of their seats, and in this activity, they will browse images and information about the unit you are covering. Have them take notes, or discuss content with a partner. You can provide an inquiry-based question to frame student thinking and analysis, or let them come up with their own observations.
15. Road Trip Project
This authentic learning project has students plan a road trip using map skills and Geography skills and can be done in the classroom or at home. It practices real-world skills and integrates well with a variety of Geography activities .
16. Unit Plan for Teaching the US Constitution
This resource is an entire unit plan for teaching middle school students about the US constitution. This plan makes vocabulary fun to learn, provides whole group and independent activities, and includes both print and digital resources.
Learn more: Lit in Focus
17. World History Google Classroom Activities
These digital interactive notebook activities are compatible with Google Classroom and make note-taking and content processing accessible for students on a digital platform. Find content for your units from prehistoric times all the way up to the Cold War, and make planning and prep time much easier.
18. Word Walls for the Social Studies Classroom
Middle schools still benefit from word walls. Create a space in your classroom for a word wall bulletin board, or a place where vocabulary words are visible and accessible. This resource provides some helpful strategies for defining content-specific terms for students and placement ideas for classroom walls.
Learn more: Brainy Apples
19. Mesopotamia Activities for Middle School
This activity is helpful for Ancient Civilizations teachers in a Mesopotamian unit. From bell ringers, free reading passages , station activities, and word wall resources, this comprehensive list makes learning fun, engaging and relevant for middle schoolers.
Learn more: Mr. and Mrs. Social Studies
20. YouTube Channels to Supplement Social Studies Instruction
Students love having the option to watch a video in class. YouTube has tons of videos that can help supplement Social Studies instruction, and this resource highlights five of the best channels to use in your classroom. These channels cover a wide range of history topics, and some teach history through storytelling. Use them in class or assign them for homework!
21. Learning Game Websites for the Social Studies Classroom
Another great way to incorporate technology into your classroom is these learning game website that is aligned with the social studies content area. From practice quizzes to geography bees, your students will love playing these games that help to solidify their learning and content knowledge.
22. Black History Month Activities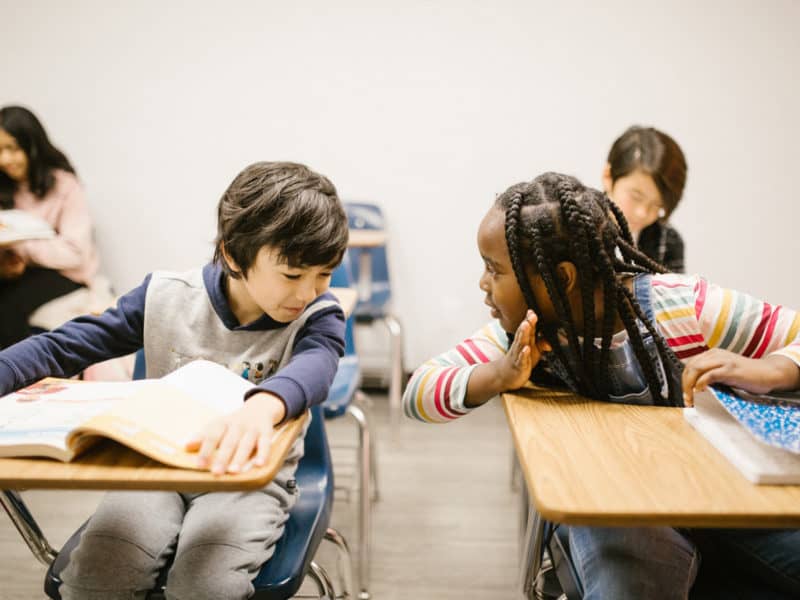 This site highlights some great, authentic learning activities to do with students during black history month (or any time!) Having important discussions about civil rights, the fight for equality, and the importance of an accurate representation of American history are all important aspects of a Social Studies curriculum.
Learn more: Celebrate Black History Month with these 15 Insightful Activities
23. Activities for Teaching Historical Perspective
Help middle school students work on their critical thinking skills with these historical perspective activities. Printables will help students to visualize and analyze different sides of history, and evaluate their learning in history class through multiple lenses.
Related posts:
You'll also like:.
No related posts.
Let's Connect
U.S. History
Government & Civics
Global Issues
Student Council & Leadership
Everything Else
Student Council & Leadership

Content can be a killer.
It dominates everything in secondary social studies. But that doesn't mean it has to be all drill and kill.
While PBL and thematic units are my jam, I also know the grind of being held tightly to the standards with a high-stakes test at the end. But having an end-of-course exam doesn't mean you can't still spark genuine intrigue and inquiry in your students. I firmly believe (and brain researchers confirm!) that real learning happens in the small daily challenges of an engaging lesson.
I am sharing my top 12 favorite engaging activities with you. These are easily used across many subject areas, low-prep, and (best of all) re-usable throughout the year. That's like the holy grail, am I right? They are grouped together into vocabulary , non-verbal , kinesthetic , and comprehension activities.
All of these activities, plus a ton more, are available in a crazy cool and easy-to-use flip deck . I use this ALL THE TIME when I'm penciling in my weekly lessons. If I don't, things seem to get repetitive and boring really quickly.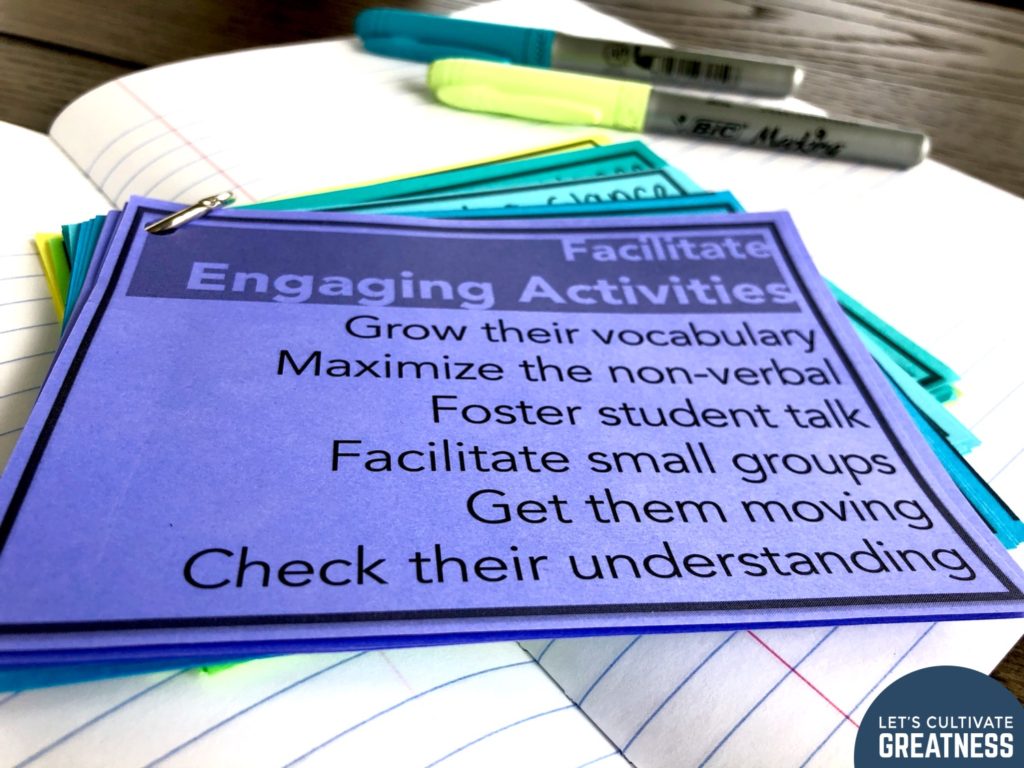 Grow their Vocabulary
We all know vocabulary is central to learning growth . Everything we ask of students involves some aspect of writing, reading, or speaking the "right" words. Even math tests are part reading tests. If your students don't have the words, they are bound to fail from the start. So let's practice the words!
Activity 1: Describe A to Z
This one works perfectly at the start or the end of a unit (or both!), depending on how you use it. Regardless of the unit's topic, there is some broad concept at its core: slavery, democracy, civil rights, war, etc. On the first day, assign each student a letter of the alphabet, and have them think of a word that starts with that letter based on what they already know or think they know about the concept. It can be a great discussion starter as well as formative assessment of students' mindsets.
Alternatively, at the end of the unit assign (or reassign) all the letters and have students select a word based on what they have learned. If you recorded words at the start of the unit this is a great way to show them their growth.
Activity 2: What's the Password?
Display a pool of words on your wall. These could be either unit-specific content vocabulary or from a list of should-know academic words . Whenever a student needs a pencil or wants a bathroom pass or any other type of request, challenge them to use one of the words properly. If you choose academic words, challenge students to find ways to incorporate the words into their discussions and writings. Would you say he sounds pugnacious?
Activity 3: Roll the Dice
This could be a formal review game in small groups, or an on-the-fly bell ringer or exit activity with a couple selected student in front of the class. Designate each number of a die to a different task related to the concept you are covering. Then, challenge students to roll the dice. Here's one option:
1 = define the concept
2 = describe an example of the concept
3 = provide a synonym of the concept
4 = provide an anonym of the concept
5 = draw a picture of the concept
6 = act out the concept
Have the other students guess the term. This is a super easy and interactive way to get them talking about concepts from all sorts of angles.
Maximize non-verbal strategies
This one is especially important in the high school setting as listening, talking, reading, and writing dominate the curriculum. If we want students to understand new and often-abstract ideas and concepts, then we need to be cognizant of including spatial, visual, and tactile strategies.
In a study where participants were asked to memorize a series of words (dog, bike, lemon), those who were encouraged to visualize the words (a dog riding a bike while eating a lemon) could recall the words at a significantly higher rate. Not only are learning deeper and retrieval easier, but the time to learn a new concept is shortened when visuals are included. Talk about a win-win!
Activity 4: Shape the Learning
Stash a pack of pipe cleaners or tiny tubs of playdough in your cupboards. Challenge students in pairs or small groups to create something three-dimensional that represents what they have learned. For example, have students shape the one prized possession an Ellis Island immigrant may have packed in their suitcase. Or, an object that represents a right from the Bill of Rights. Endless possibilities!
A popular example of this shaping technique involves arranging gummies bears to learn different forms of governments.
Activity 5: Color It
Find ways to color code reoccurring things through a whole unit or even the whole course, either through your use of colored paper or through students marking text with certain colors. For example, during your WWII unit, code anything about the Axis Powers in one color, Allied Powers in another.
Or, have students read an extended passage, color-coding for different things, like statistical evidence and quotes, or push and pull factors.
Or my favorite, copy the same worksheet in different colors, requiring students to get up and find a new partner with a different color for every step.
Activity 6: Pick an Object
Stash a basket in your classroom with a random assortment of inanimate objects: a basketball, paper clip, lip gloss, sticky notes pad, measuring cup, whatever! Bring it out every once in a while, and have students connect what they have learned to one of the objects. Or ask students which object most represents their understanding at that moment of the lesson or unit, whether it is a mid-unit check-in, or the day before a big project is due.
Occasionally change out the objects to keep things interesting.
Get them moving
We know that different parts of the brain store different parts of our knowledge. And now brain researchers have confirmed that the brain reconstructs memories by tapping into those cross-brain connections. The more connections (like pairing physical movements with memorizing facts), the stronger the understanding and the easier it is to retrieve the stored information. Not only that, but movement has been found to increase students' motivation and morale, too!
Activity 7: This or That
This is as great bell ringer, exit ticket, or mid-class formative check. Pose a forced choice or a "yes" or "no" question and designate each side of the room as the answers. Students walk to the side of the room to express their answer. Once there, challenge students to collaborate and share out the strongest reason for their answer, ask a question of the other side, offer a rebuttal, etc.
This is so powerful that I will find myself gesturing to the sides of the rooms for the whole rest of the unit when revisiting the topic.
Questions can be as specific as asking about a certain primary source: "Do you agree or disagree with the political cartoonist's message?"
Or questions can be central to your whole unit: "Was President Jackson a Common Man or an elitist?" This kind of question is great to revisit a couple of times throughout the unit to see if students' most recent learning causes them to change their position. Very powerful!
Activity 8: Walk the Line
This is the next level to "This or That," yet still super easy to do.
Head out to the hallway and throw string or masking tape on the floor. Mark one end 100% or Absolutely Yes, mark the other 0% or Absolutely No. Have students express their answer by heading to the spot along the continuum line that represents their feeling. The only difference from This or That is that now you are phrasing your questions so students can quantify their answers:
"How well did President Hoover address the problems of the Great Depression during his administration?"
"How democratic is the Electoral College?"
If students need help identifying amount qualifiers (and most do!), this continuum line word wall is a game changer! I couldn't imagine teaching without up in my classroom.
Activity 9: Expand the Walls
Think past your classroom walls for where students could complete the day's lesson: the hallway, gym, sidewalk, commons area, field, or courtyard. How might those locations actually improve the impact of the lesson?
Some ideas to get you thinking with common activity options:
Sidewalk or courtyard : completing chalk talk , concept mapping, or hashtags and six-word novels (see below!) in sidewalk chalk
Hallway: hosting silent learning stations or gallery walks
Auditorium seats: providing extended silent reading
Gym or cafeteria: facilitating several simultaneous small-group discussions
Check for student understanding
No, this doesn't mean a drill of questions with single answers. There are so many more open-ended, creative, yet no-prep-time-needed ways to gauge student understanding, while simultaneously expanding it in new ways. If you know Marzano, you know that summarizing is one of his 9 High Yield Strategies, but if you simply stop there you really aren't engaging students. It's in the making of new meaning that intrigue and deep learning truly happen.
Activity 10: Circle the One
This works great after students have finished reading a longer text or filling in a full-page graphic organizer of notes. Have students zoom out and look at the work as a whole. Then, challenge them to make a decision by selecting one paragraph, sentence, bullet point, piece of evidence, quote, etc. and either circle or highlight. Your challenge should pose a task that includes a decision-making evaluation word: best/worst, most/least, biggest/smallest, strongest/weakest.
This works so well because students' answers will vary and sometimes demonstrate pretty out-of-the-box thinking when you ask them to explain.
I use this one all the time so that my students have their evidence and thinking already decided when we head into end-of-unit review and essay outlining.
Activity 11: Six-Word Novel
As the story goes, Ernest Hemingway was challenged to write a six-word novel . He came up with: "For sale: baby shoes, never worn."
While this activity could be used in a variety of contexts, I like using it at the end of a unit. Particularly in my immigration unit , where we study how to examine history through storytelling.
I assign students to write a six-word novel for one of the immigrant groups we've studied and then for immigrant story as a whole. So, so powerful.
Plus, these are fantastic to display on a bulletin board afterwards.
Activity 12: #Hashtag
Not too different from the type of creative thinking required for a six-word novel and always a favorite of my students, especially the wittier ones. I like this one because it connects their learning to either something previously learned or to a current event or cultural reference. This activity can also be used as a quick bell ringer or exit ticket, or during a unit review.
Show a few examples of real-life tweets that model the connection-making, but also the wit that make it a perfectly funny, ironic, or satirical hashtag. Or create some of your own examples using content from a previous unit.
Have students jot their hashtags down at the top or end of an assignment or along the side of a written text. Now this is annotating!
Share the best ones the next day. Their thinking might even provide you some entertaining bulletin board material!
I hope these activity ideas give you the starting point or reboot you need to be an awesome teacher!
Click below to grab my complete 48-card Engaging Activities flip deck for more great ideas in one easy reference tool!
Image credit: Sarah Noltner

12 Best Instructional Strategies to Thrive as a Social Studies Teacher
Designing & teaching us history thematically in 5 steps.

Related Posts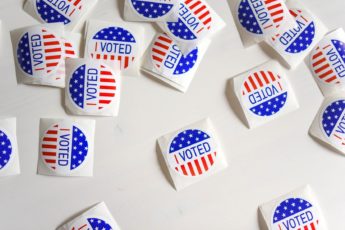 5 Super Easy Ideas to Bring Election Day into Your Civics Class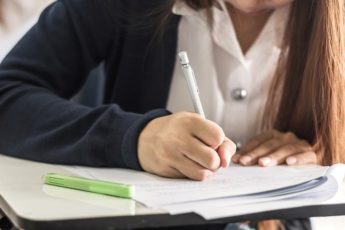 Deconstructing Essay Questions in 4 Simple Steps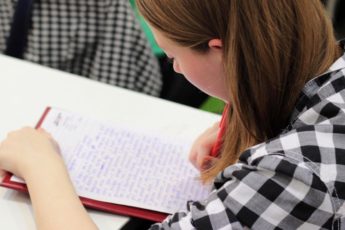 How to Scaffold Social Studies Essay Writing Like a Pro
Video Library Access
Cultivate: A Program for New Teachers
Teaching Channel Plus
Substitute Teacher Program
Video Library
The Danielson Group
12 Fresh Ideas for Social Studies
August 7, 2014 / by EW
When it comes to lesson planning, it can be a challenge to make information feel fresh and exciting (for both teachers and students). In an effort to mix things up, we're taking a look at some novel approaches to teaching a variety of subjects. In this blog, we're looking at resources for social studies.
You probably won't be able to incorporate all of these resources into your classroom, but hopefully they'll spark your creativity and inspire you to think about your curriculum in a different way.
Best for Elementary School
1. The Sport of Life and Death : This site won a slew of awards for its thorough and interactive examination of life in ancient Mesoamerica. The website provides a history of the region, as well as suggestions for in-class projects, and a game that assesses what students have learned.
2. Mummify a Chicken : Yes, you read that correctly. With a few inexpensive ingredients, you can demonstrate firsthand how the ancient Egyptians prepared and mummified human remains. This is a somewhat long-term project (and not for the squeamish), but certainly memorable. It's also an effective way to pair social studies with science.
3. Dictator for a Day : This exercise allows younger students to explore the pros and cons of a dictatorship. The lesson plan provides various ways to configure this activity so that it is inclusive and instructional.
4. Well-Behaved Women [and Men] Seldom Make History : Students read grade-appropriate texts about historical figures, and then use a graphic organizer to compare and contrast these individuals' stories and the effect they had. This is a great way to teach historical context, and can be adapted to any period of history.
Best for Middle and High School
1. Crash Course : Crash courses with dynamic brothers John and Hank Green. This YouTube channel offers hundreds of colorful, fast-paced, insightful videos organized into the following courses: literature, psychology, chemistry, ecology, world history, US history, and biology.
Check out this video on the colonization of the United States:
2. Studio C : A light-hearted take on how history and culture can shape the relationships between countries. It could be fun to have students research certain countries and create similar skits, incorporating what they've learned.
3. Making the Declaration of Independence Come Alive : Study the Declaration of Independence -- with a twist. High school students in particular will enjoy this fresh look at the purpose of the Declaration.
4. Mystery Skype : An educational game invented by teachers and played by two classrooms on Skype. The aim of the game is to guess the location of the other classroom by asking each other questions.
It's suitable for all age groups and can be used to teach subjects like geography, history, languages, mathematics, and science.
5. iCivics : Founded by Justice Sandra Day O'Connor, iCivics is a seriously cool site that offers lesson plans, curricula, supporting materials, and games to teach students about how government works.
Another excellent site related to civics is Generation Citizen , which encourages students to participate in the democratic process. Generation Citizen provides teachers with a Common Core-aligned, action-based civics curriculum, a trained college co-facilitator, and supplementary resources to help create meaningful, hands-on experiences for their classes.
6. The Smithsonian's IdeaLabs on Artifacts and Analysis : This site presents a strategy for incorporating historical artifacts and documents into the teaching of US history. Designed as a companion to the Advanced Placement Program US History course, it is also effective in any instructional setting that emphasizes analytical thinking and writing.
7. Teaching History with Political Cartoons : This is a very visual way to have students grasp historical events. While most of these examples from the Library of Congress are from the 18th to 20th centuries, students could also compare and contrast political cartoons from the present day -- and perhaps draw their own cartoons.
8. Simulations and Role-Playing : One way to bring history to life is to assign students the roles of historical figures and have them debate a unique issue from the time period. For ideas on specific scenarios, as well as an online tool to help develop arguments for the debate, check out the SCAN tool .
Topics: Social Studies
Written by EW
Sign up for the Teaching Channel newsletter to get the latest articles, videos, and resources delivered to your inbox every Saturday morning.
Recent Blogs
Search blogs.
Description
Articles by Topic
Professional Learning (569)
Class Culture (221)
Lesson Planning (194)
Engagement (171)
Video Playlist (151)
New Teachers (116)
Science (110)
Assessment (102)
Resources (100)
Motivation (99)
Coaching (94)
Next Generation Science Standards (87)
Technology in the Classroom (79)
English Language Learners (74)
English Language Arts (68)
Growth Mindset (67)
Social Studies (65)
Differentiation (61)
Equity (56)
Social Justice (56)
Summer Learning (52)
Back to School (51)
Classroom Experiences (48)
Teaching Channel News (43)
Educating for Democracy (42)
Podcast (42)
Supporting Students (40)
Literacy (37)
Common Core (35)
Social Emotional Learning (34)
Civic Engagement (33)
Teacher Wellness (33)
Virtual Learning (32)
Leadership (31)
Classroom Setup (29)
History (28)
Classroom Management (27)
Teacher-Family Engagement (27)
Communicating with Families (26)
Culturally Responsive Teaching (25)
Engineering (25)
Project Based Learning (24)
Writing (21)
Co-teaching (16)
Holidays (14)
Student Voice (14)
Social Media (13)
Special Ed (9)
Learners Edge (8)
Media Literacy (6)
Partner Blogs (6)
Anti-Bullying (5)
Biliteracy (4)
Achievement Gap (3)
mindfulness (3)
Early Education (1)
WANT TO PARTNER WITH US?
We're always looking for new TCHERS' VOICE bloggers! If you're interested in writing an article, please get in touch with us.
Information
Terms & Conditions
Privacy Policy
Newsletter Signup