Games for Students with Visual Impairments
When thinking of school breaks, it gives us time to do some of the activities we often don't have time for during our busy school week..
Written by: Lisha Yochimowitz
Share on Twitter
Share on Facebook
Share on LinkedIn
Share on Pinterest
When thinking of school breaks, it gives us time to do some of the activities we often don't have time for during our busy school week. Making time for a game night, peer game activity, or summer vacation family time is not only making great memories but creating opportunities for learning many important goals. Goals that can include taking turns, counting/math skills, problem solving, matching, reading practice, and socialization with peers in a fun setting. AFB (American Federation for the Blind) has a article that has a great list of game options too.
Game Options
Dice and Playing Cards
The best place to start when talking about games is dice and cards. There are large print cards and dice that are easier to see as well as braille cards and dice.
Dice can be purchased with larger print, with large print numbers, tactile dots, and even braille numbers.
large dice option link Dice with numbers link Tactile dice link
Playing Cards
Large print and braille cards are great for everyone to use. The braille cards often have both print and braille on them so they are something everyone can use together.
Playing cards in print and braille link Uno cards with braille link Large print playing cards link
Examples and Links to Games
There are some great options when looking to purchase games that have the adapations your child/student may need to participate. Here are some to be aware of:
Lakeshore is my "go to" place when looking for educational games for preschool and elementary aged students. Though their prices can be higher, their materials are nicely made and their games are developmentally based. I have found that many materials are accessible or need little adaptions. Here is one example:
I know the Answer Buzzer Game with link
Maxi Aids is my go to place when looking for games in general. When parents ask about gifts, I tell them to look here. They have a bunch of great games adapted for the blind and visually impaired including:
Various cards like "Go Fish," dice, matching games
Tactile 4 in a Row
Braille and large print Bananagrams
Tactile Spinners AND MORE!
American Printing House
APH has a long list of games that are educational based for both indoor and outdoor. Many qualify for Federal Quota in the USA . Here are a few examples:
Beeper balls
Game board kits
Tic-Tac-Toe
Match it up
Talking word puzzles
Score Cards
Raised line board for games with link
AFB (American Federation for the Blind) has an article that has a great list of game options too. This inlcudes chess, checkers, braille monopoly, and textured dominoes.
Adapting Games
Adapting games that need braille, larger print cues, and/or tactile discriminators doesn't have to be expensive or time consuming.
Teachers of students with visual impairments (TVIs) are usually glad to help adapt games by putting braille on them for their students. You can also do this yourself even if you are not a braille user. There are labels and braille stickers you can purchase or if your braille child is able, ask them to team up and do it together.
Braille Label Maker
I have used this over the years because it is a quick way to get a braille label on items and doesn't cost a lot.
The Braille Superstore has the label maker at the cheapest price but you can also look on Maxiaids and Amazon. The Braille Superstore also has bumpy dot stickers, puffy paint, and clear sheets of braille labeling paper that has a sticky back and can be cut to size.
American Printing House (APH) is where I have purchased these sheets in the past.
Braille label maker with instructional link
Tactile Discriminators
Puffy paint, hot glue, wikki sticks, and raised dot stickers are all great to items to use when making tactile discriminators on game boards, cards, and other materials that may require them. You can often find great bumpy stickers at the Dollar Store if you are on a budget.
APH has a variety of stickers that include braille and different raised textures. You can also do a Google search for bumpy stickers you will find a great variety to purchase.
Bumpy dot stickers found on Amazon link
Tips to Adapting Games Article
Keep reading
Project INSPIRE Virtual STEM BOWL: Mission INSPIRE
Dump Truck Braille Drawing
Learning and Teaching the Nemeth Code within UEB Contexts: A Step-by-Step Guide
20 Activities for the Visually Impaired
Found In: › Activities › Articles
People with vision impairment will often require help with every day tasks they could once complete on their own. They may also require support to enable them to stay in touch with the community, friends and their leisure pursuits.
Age-related vision loss is common as we grow older and can often be corrected with spectacles, eye drops, surgery and other medications. Some eye conditions however, such as macular degeneration, glaucoma, cataracts and other diseases may evolve into blindness or partial-blindness presenting considerable challenges to those affected.
Most people with disabilities wish to be as independent as possible.
Barriers confronting people with vision impairment:
Lack of confidence
Diminished mobility (to avoid falling)
Increased loneliness
Social exclusion (many public places such as cinemas, restaurants, theaters etc are not easily accessible)
Feelings of being 'a burden'.
Lack of knowledge of services available to them
Tips for communicating with visually impaired people
Don't talk too loud.
Use normal language; there's no need to avoid words such as "look", "see".
Don't point or say 'over there'. Be specific "It is on the bed to your left".
Identify yourself as you enter: "Hi Mavis, it's Linda".
It is acceptable to describe colours, patterns and shapes.
Don't patronize them. Don't assume you have to make things 'easy' for them.
Check if help is required and ask the person for instructions on how to help.
Don't channel the conversation through a third person.
When walking with them describe the terrain; steps, carpet.
Always respect the person's individuality, dignity and independence.
20 Activities for Vision Impaired People
1. Read Aloud Find out what sort of books they like and read to them.
2. Talking Books Borrow 'Talking Books' from your local library.
3. Share Jokes Amuse each other with jokes. Related: Jokes to Share
4. Tactile Games Play tactile Dominos or Tic-Tac-Toe.
5. Go out for coffee Take them to a coffee shop once a week for exercise and sensory stimulation.
6. Air Dry Clay Encourage them to work with air dry clay; use moulds or create a special memento. Related: Air Dry Clay Activities
7. Join a Social Group Invite your client to join a group of other vision impaired people for support and socialization.
8. Find a volunteer Seek out a volunteer for regular visits and companionship.
9. Pet Therapy
Find out what sort of pets they like and invite someone with docile pets to visit.
Related: Pet Therapy in Nursing Homes
10. Gentle Exercise Aqua aerobics or yoga with clear verbal instructions is popular for fitness and pleasure.
Related: Gentle Chair Exercises
11. Listen to the Radio Local radio is a source of exciting and interesting programs. Search for:
Science programs
Book Reading
Spiritual broadcasts
Related: Free music playlists for the elderly
12. Gardening Buy a couple of pots, potting mixture and some herb seeds; parsley, basil, thyme. Caring for plants is very therapeutic.
13. Make a Salad Supervise them as they prepare themselves a fruit or vegetable salad.
For fruits: Buy soft fruit such as bananas, kiwi fruit and grapes. Serve the fruit salad with ice cream.
For vegetables: Buy zucchinis, green beans, asparagus, and carrots. Ask them to peel and chop the vegetables and then cook for them in a microwave for 4-5 minutes on high.
Related: How to Start a Garden Club for Seniors
14. Enjoy Trivia Games Share quizzes, word games and riddles from Golden Carers.
Related: Quizzes to Share
15. Go for a walk A walk in the park with a partner for the sights and sounds of nature.
16. Go fishing! Find a safe pontoon in your local city for safe fishing. Outdoor sports are good for the body and mind.
17. Create a Bird Sanctuary Engage clients to help create a bird sanctuary in your backyard.
Related: How to create a backyard bird habitat
18. Visit some children Ring your local nursery school and enquire whether you can take a client for a visit. The laughter and voices of children can lift spirits.
19. Decorate Cookies Engage and assist your client to decorate cookies; place icing on one cookie and top with another cookie.
20. Cook Something Cook something together; the client can break eggs into a bowl, measure sugar and flour, stir. Cooking together provides the opportunity for wonderful conversations & sensory stimulation.
Related: Cooking with the Elderly: Recipes to try
Books to Support and Inspire the Vision Impaired
For clients that still have some vision, buy good magnifying glasses. Otherwise borrow 'Talking Books' or seek volunteers to read aloud twice a week for 30 minutes.
Touching the Rock: An experience of Blindness - by John M. Hull Autobiography; instructive and profoundly touching.
The Island of the Colour Blind - by Oliver Sacks The story of the small Pacific atoll of Pingelap where a congenital mishap led to most of the island's inhabitants being color blind.
Nightwatch - by Errol Broome Little girl Chippy attends the local school. Her heightened awareness of sound, smell, and space uncovers foul play. .
The Country of the Blind - by H. G. Wells A mountaineer named Nunez slips and falls into a valley cut-off from the rest of the world where inhabitants are all blind.
If You Could See what I Hear - by Tom Sullivan Blind from birth, Tom tells you stories that will make you laugh out loud..
Stars Come Out Within - by Jean Little Autobiography of Canadian children's author Jean Little, blind since birth..
A Dolphin in the Bay - by Diana Noonan A young boy's relationship with a dolphin helps him overcome his fears.
What activities have you found to work well for visually impaired clients?
Related Activities
Save time with 1000's of meaningful activity ideas for every occasion.
Enter your email address to collect your free activities.
Comments Post a Comment
20+ FREE Activities
Enjoy meaningful activity ideas that you can use with your clients straight away.
Free Activities
Become a member!
A 12 month membership with unlimited access is just $59.99 USD ! It's quick and easy to sign up.
Golden Carers has made creating our monthly rosters so much easier with fantastic ideas, games and quizzes to keep my Day Club members entertained and the brain ticking over. Thank you, the membership fee even for our small volunteer group is money well spent. :)
Member Feedback
How Can Golden Carers Help You?
I just want to let you know, I really am glad to be your member. I am learning so much with your information and I create daily activities with your help. My residents are so happy and this means the world to me. Thanks to you all. Catalina M Seymour Activity Leader Member Feedback
Become a member for Unlimited Access
It's quick and easy! 12 months just $59.99 USD
Join Now Free Activities
✓ No Automatic Renewals ✓ Money Back Guarantee

Braille Translator
Web Accessibility
Color Contrast
Disabilities
Assistive Technology
Special Days
Engage Your Visually Impaired Kid in these Fun Activities
Keeping kids engaged in productive and fun activities is important not only from the viewpoint of their overall development but also to keep them from becoming bored. Children, especially at their developing age, want to engage in something 'new' because they get bored easily from any activity. Children with visual impairment are no exception. As a parent, it is a tough task to constantly search for fun and productive activities suitable for a child with limited vision or no vision . To make your task a little easier, we have listed some fun activities that will keep your visually impaired child engaged and also help them build on some skills.
1. Making Different Shapes with Bold and Bright Colored Play-Doh
You can find zillions of toys in the market but nothing can replace the simple play-doh. Children enjoy playing with play-doh because it allows them to unleash their creative imagination. If your child has limited vision you can choose bold and bright colored play-doh to make their experience more fun. Even if your child cannot distinguish between different colored doh, they can enjoy making different shapes out of it. Play-doh is something that puts no boundaries on imagination. So, encourage your child to play with play-doh and make them understand different shapes.
2. Playing with Multi-coloured Jelly Balls
Call them magic beads, water beads, orbeez or whatever, one thing remains the same – they are fun to play with! The magical beads that start their journey as tiny hard balls and grow many times their size by absorbing water are also called 'sensory balls' for a reason. Your visually impaired child will love the feel of these jelly balls and can be kept engaged for a good amount of time. The bright colors of the jelly balls are also an attractive feature for those who can perceive some colors.
3. Gardening
Engaging your visually impaired child in gardening at a young age is a very good idea because it will help them in developing their senses of touch and smell. Gardening gives a very soothing feeling and can turn into your child's favorite time pass for their entire life. Let your child touch the leaves, feel the stem and smell the flowers. Try to incorporate different types of plants in your little garden to make your child's experience varied. You might like to choose plants without thorns though.
4. Helping Around in Household Chores
You might see household chores as 'work' but for young children, they are fun activities because they get to know about so many 'new' things. Don't force your visually impaired child to stay away from the household chores, instead encourage them to help you in whatever little way they can. This will not only introduce your child to the environment around them but will also give them confidence and a sense of independence . Explain to them the function of things, let them touch and feel the difference between different things. When you go shopping let them feel and distinguish between different currencies and explain how they are used to buy things. There are lots of things that children pick up intuitively but a visually impaired child will need your intervention to make them understand those things.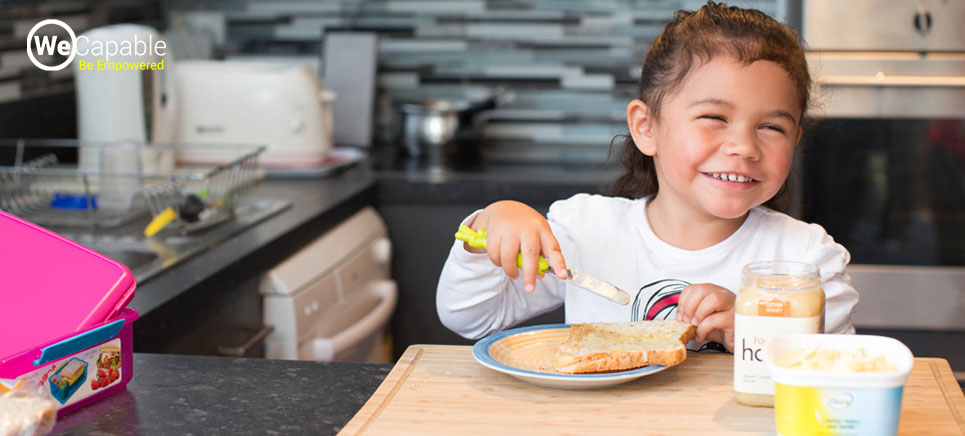 5. Playing a Musical Instrument
You can engage your visually impaired child in playing any musical instrument. Anyone wanting to play a musical instrument needs to see through their fingers and not eyes (not literally) . When your child already uses her fingers to feel objects around her you can expect her to have an edge over other sighted-children of her age. If music attracts your child, you should definitely enroll her in a music class.
6. Playing Tactile Games
One of the most important skills a child with visual impairment needs to develop is the skill of touching something to understand the shape and the feel of the object. And obviously, you need to make things fun or your child will get bored easily. You can search for tactile board games available in online as well as offline markets . Your child will learn the required skill while having fun playing the games. It is more important if your child will need to learn braille for her studies. You can see this as an early preparation for her school.
7. Listening and Telling Stories
Stories are an integral part of any child's development. Make it a habit to read or tell a story to your child. For a visually impaired child, it is more important to find a relatively quiet environment as it will help her concentrate on the story. Visually impaired children can get more easily distracted by surrounding sounds. As your child cannot see those pictures printed in the book, you need to make an extra effort to make the story entertaining. You can use voice modulation or create a 'story box' with objects used in the story . You should also encourage your child to tell stories out of her imagination.
8. Playing with Other Children
While you may want to keep your child safe and secure within your home, you should understand this is not going to happen forever. Encourage your child to socialize with other children as early as possible. You can take them to a park or a public library where she can find kids of her age. You may stay around for your child's safety but do not become overprotective. Let your child mingle with other children and find a way out of any difficulty on her own. She will be happier and confident.
As a parent of a visually impaired child you just need to focus on filling the gap created by their lack of vision and let your child bloom like any other children of her age. If you want to add any other fun activity for a child with visual impairment that has not been discussed above, feel free to drop a comment.
"Engage Your Visually Impaired Kid in these Fun Activities." Wecapable.com . Web. March 6, 2023. < https://wecapable.com/visually-impaired-kids-fun-activities/ >
Wecapable.com, "Engage Your Visually Impaired Kid in these Fun Activities." Accessed March 6, 2023. https://wecapable.com/visually-impaired-kids-fun-activities/
"Engage Your Visually Impaired Kid in these Fun Activities." (n.d.). Wecapable.com . Retrieved March 6, 2023 from https://wecapable.com/visually-impaired-kids-fun-activities/
Leave a Comment Cancel Reply
Your email address will not be published. Required fields are marked *
Start typing and press enter to search
What are you looking for today?
Helpful Links
Academic Calendar
Study Abroad
ITS Service Catalog
Vision Impairment | Chapter 5: Activities
Literacy instruction in braille.
Author:  Elmwood Visual Resource Centre, Christchurch, New Zealand
...Braille: Deciphering the Code... Every character in the braille code is based on an arrangement of one to six raised dots. Each dot has a numbered position in the braille cell. These characters make up the letters of the alphabet, punctuation marks, numbers, and everything else you can do in print. 
The Braille Cell
The letter "A" is written with only 1 dot.
The letter "D" has dots 1, 4, and 5.
The letter "Y" has dots 1, 3, 4, 5, and 6.
A "Period" is written with dots 2, 5, and 6. (Do you see how it is the same shape as the letter "D," only lower down in the cell?)
When all six dots are used, the character is called a "full cell"
The picture below shows you how the dots are arranged in the braille cell for each letter of the alphabet. See if you can find the letters in your name and tell the dot numbers for each one. 
Braille does not have a separate alphabet of capital letters as there is in print. Capital letters are indicated by placing a dot 6 in front of the letter to be capitalized. Two capital signs mean the whole word is capitalized. 
The Braille Number
  braille numbers.
Braille numbers are made using the first ten letters of the alphabet, "a" through "j", and a special number sign, dots 3, 4, 5, and 6. 
Expanding the Code
  expanding the code.
Now that you understand how dots are arranged in the braille cell to make the letters of the alphabet and numbers, you're ready to learn more about the code. Braille uses special characters called contractions to make words shorter. We use contractions like "don't" as a short way of writing two words, such as "do" and "not." In braille there are many additional contractions, 189 in all! Using these contractions saves space, which is very important because braille books are much larger and longer than print books. 
In addition to contractions, the braille code includes short-form words which are abbreviated spellings of common longer words. For example, "tomorrow" is spelled "tm", "friend" is spelled "fr", and "little" is spelled "ll" in braille.
You might think that because short-form words are so easy to spell that children who write braille get a break on their spelling tests. Actually, braille readers also learn regular spelling for typing on a computer. Let's see what kind of difference contractions make in braille. Look at the same phrase, you like him, in uncontracted braille (sometimes called "grade 1 braille") and contracted braille (sometimes called "grade 2 braille"). What do you notice about the length of the two phrases?
Other Braille Codes
The braille code used for writing regular text in books, magazines, school reports, and letters is known as "literary braille." There are other codes, though, that let people who are blind write just about anything, from math problems to music notes to computer notation! One More Comment About Braille People sometimes ask if it would be easier to use raised print alphabet letters, rather than dots. When you read about Louis Braille, you'll learn that raised print letters were tried in the early 1800s before he invented braille. However, these letters were very difficult to read by touch, and writing them was even more of a problem.
If you ever see an experienced reader's fingers gliding across a page of braille at 100-200 words per minute, you will appreciate the genius of the simple six-dot system. Braille can be read and written with ease by both children and adults. It is truly an invention that is here to stay. 
Classroom Activities
1. Happy Birthday, Louis! Have a celebration in honour of the inventor of braille on January 4. Decorate cookies, cupcakes, or a cake with braille letters made of M&Ms, gum drops, red-hots, chocolate chips, or other candy. Decorate with a braille banner or posters, and balloons arranged to form braille letters. And, of course, play braille games!
2. Follow the Trail of Braille Write a simple message in braille, and cut between the words. Mount each word on a sheet of collared paper and post them randomly throughout the room, or around the school (e.g., above the water fountain, on the office door, etc.). The first student to figure out the message wins. You can do one each week, gradually increasing the complexity and length of the message.
3. Play Braille-O Lotto Duplicate a lotto sheet containing 5 rows of 5 squares for each student. Players print the letters of the alphabet in random order in the empty squares. Round pieces of cereal can be used for markers (or other game pieces can be used). The game can be played with varying levels of difficulty: 
4. Poster Contest Conduct a classroom—or school wide—poster contest with the theme of braille and what it means to those who use it. Award prizes for the most creative poster in each designated age group. Display posters on bulletin boards around the school. 5. "I Spy" Contest Contestants can be individuals, teams, or classrooms. The object is to find as many uses of braille in the community as possible. For younger children, the contest can begin on Monday and end on Friday; for older students, the contest can run for a month. Students receive an "I Spy Braille" scorecard with entry spaces for date, where the braille was found and what it communicated (e.g., elevator floors, ATMs at specific banks, soft drink cup lids, etc.), and a space for an adult signature. Points can be earned for the greatest number of places braille was found, as well as for unique entries.
For variety, play Braille Bingo. Students print numbers in random order: 1-15 under the B, 16-30 under I, 31-45 under N, 46-60 under G, and 61-75 under O. The caller writes a braille number on the board (don't forget the number sign!) and players locate the corresponding print number.
Literacy Instruction for Students with Low Vision
B-1.  Base literacy instruction as often as possible in experiences. Also, use concrete objects as often as possible (McGregor & Farrenkopf, 2002).
B-2.  Pair real objects with representational forms (pictures, miniatures)," then "pair real objects with symbolic forms (print, Braille)" (McGregor & Farrenkopf, 2002, p. 2).
B-3.  To teach the alphabet, a multi-sensory approach should be utilized. Use real things to demonstrate initial sounds (ADE, 1996). Some examples of multi-sensory activities are as follows:
 Write letters in shaving cream with fingers and say the sound (Montgomery, 2005) - Write letters in trays of pudding or finger paint. The colors of the tray and pudding or paint should highly contrast (Cooper, 2000). For more ideas see Dr. Holly Cooper's website  http://home.earthlink.net./~vharris/index.htm  (Cooper, 2001). Make raised indentions of letters by writing letters with crayon on paper that is placed over a screen, trace the raised indention with finger and say the sound of the letter (Montgomery, 2005)
B-4.  Make lines with a marker or felt-tip pen if the student has difficulty tracking and/or keeping his/her place in the text (ADE, 1996; BCC, 1993), or use an index card (Montgomery, 2005). Use "a typoscope or template" (ADE, 1996, p. 13) over a page of text in order to find and follow the next line of text (ADE, 1996; BCC, 1993). If preparing an original typoscope, consider the student's individual needs when it comes to glare and contrast (BCC, 1993).
B-6.  If the student needs to hold the page very close to see the text, permit them (ADE, 1996). A reading stand may be helpful to the student (BCC, 1993).
B-7 . Choose a font with easily recognizable characters, either standard Roman or sans serif fonts. A good choice is the sans serif style, Arial.
B-8.  When producing print, choose highly contrasting colors for print and background. Also, use "bold, well-spaced letters," since "they are often easier to see" (ADE, 1996, p. 14). The American Printing House for the Blind provides more detailed guidelines for large print; refer to  http://www.aph.org/edresearch/lpguide.htm  (Kitchel, 2004). APHont TM a research-based and developed font for people with vision impairments, is also described on the website and can be downloaded for free provided it will be used by or for students with vision impairments at  http://www.aph.org/products/aphont_orderform.html  (Kitchel, 2004; APH, "APHont TM Order Form", 2004). The bold type font is difficult to read because it looks smeared and makes details difficult for some to see. More information can be obtained by referring to the article "How to make print more readable for people with visual limitations at  http://www.nwlincs.org/kaizen/EBTS2_Print.htm
B-9.  McGregor and Farrenkopf suggest making concept books and storybooks for students with VI. They provide a materials list and a detailed procedure for making these kinds of books at  http://www.tsbvi.edu/Education/toronto2002/braille.rtf  with and/or for students with VI (2002).
B-10.  Consider shortening reading assignments, since students with low vision use more energy than sighted students when reading (ADE, 1996).
B-11.  Some devices for students with low vision that can help improve literacy skills include: handheld magnifiers, stand magnifers, telemicroscopes, Closed Circuit Television (CCTV) (Pennsylvania College of Optometry, 1997). Letter recognition activities and examination of story illustrations can be conducted using these various media (BCC, 1993).
Mathematics
Teaching Mathematics
Teaching Nemeth Code
Checklist to Determine If a Graphic Should Be Brailled
Checklist for Making Decisions about A Tactile Graphic
Basic Principles for Preparing Tactile Graphics
Report on Braille Adaptations of the Texas Assessment of Academic Skills
Guidelines for Braille Test Adaptations Texas Assessement of Academic Skills
Susan Osterhaus' Math Packet
Downloadable .pdf
Teacher's Manual for Adapting Science Experiments for Blind and Visually Impaired Students
Authors:  Matthew Dion, Karen Hoffman, Amy Matter
Introduction
Teaching the Blind and Visually Impaired
How Blind and Visually Impaired Students Learn
Basic Teaching Guidelines
General Guidelines for Making Adaptations
Principles of Adaptation
Adaptations for Visually Impaired Students
Adaptations for Blind Students
RNIB Questions
Laboratory Adaptations
Safety Concerns
Skill Modification
Basic Tool Modification
Advanced Tool Modification
Specific Experiments
Evolution of Gases
Distillation of Salt Water
Conductivity of Acids
Conversion of Energy
Wave Generation
Resource List
Teaching Art
Promoting Active Participation
Keep in mind organization skills and high contrast colors (discussed in previous sections) when developing art activities for students both with low vision and blindness. When developing activities, go beyond coloring or drawing. 
Dr Holly Cooper recommends choosing materials that emphasize texture and dimension or teach concepts and skills through art (Cooper, 2002), for example shapes (Cooper, 2001). Themes, for example seasons, can be used to develop concepts, such as colors, shapes, and objects associated with that season (Cooper, 2002). 
For more detailed tips on choosing art activities see "Art: A Great Tool for Teaching Students with Vision Impairment "    For more ideas refer to "Art and learning activities for visually impaired students and their friends".  Another site, called "Art Beyond Sight: Collaborative Art Education for the Blind,'" at  http://www.artbeyondsight.org  provides information about art and culture in an accessible format online.  
When students with low vision are cutting or coloring, "outline the images with a large black marker to make the edges easier to see" (BCC, 1993, p. 193). This will also help any students with fine motor difficulties.
Art Ideas for Blind Children 
Using the edges from form-feed braille paper, use brass paper joiners (the kind you can swivel around like when you made pinwheels) to put through the sprocket holes to join the strips into shapes (I used this in high school geometry to create parallelograms, triangles, etc.).  
Use crinkle-ribbon to curl twists for hair on something. Braid ribbon.  
Hanging mobiles with 3-D cardboard geometric shapes 
Paper or fabric cutouts (inverses of each other made by cutting two pieces at the same time to get a front and back) glued along the edges and stuffed with tissue paper, wood shavings, sawdust (for scent), potpourri or fiber filling. 
Kite structures made with paper and straws 
Make paper beads by rolling gift wrap, foil paper, colored paper into cylinders, balls, etc. Cut paper into triangles and roll to get beads with thin ends and thick middles. 
Use a cardboard tube, Pringles chip tube, oatmeal cylinder to make a Native American rainmaker.
Push nails into the cylinder randomly (they should be too short to go through the other side). 
Put dried peas, beans, shells, pebbles, M&Ms or similar objects into the tube--to fill only 1/8 or 1/4 of the tube. 
Seal off the ends of the tube. Decorate the outside with fabric and dangling tassels. 
As the tube is turned over, it sounds like rain (especially with small objects). 
Make pillars, table legs, etc., for a stage play using the corrugated board used for bulletin boards. Use the same material to texturize other items. 
Skills/Concepts:  art, geometry, physics, recycling, history, drama, and math
bare copper wire twisted into spirals with long-noosed pliers to make jewelry, to frame around a picture, to be an integral part of a picture (e.g., as hair). Make earrings. 
use the aluminum foil sheets from the raised line kit (or from a hobby shop or wholesale hardware store or a foil pie tin's bottom) and a wooden dowel rod rounded or pointed at one end and cut on a diagonal at the other to emboss shapes in reverse in order to get bas relief on the shiny side. If you can get copper sheets, it is even prettier. 
aluminum foil sheets/pie-tins with patterns of holes punched through (a cardboard cutout or cookie cutter can help guide the student around the edges to make an outline or silhouette of the shape). A carpet needle or large nail might be used to make the holes (put wads of newspaper under the work). The holes are textured for a completely blind student and a light can be shown through it for a sighted student. Joining several pieces of the metal sheets together can make a candle holder that lets light through without too much wind (Colonial American history) 
Combine skills from 2 and 3. 
String, Yarn
use a stiff, thin cardboard (shirt board or gift box) and draw two lines intersecting at right angles to make a large "L" or corner. This can be made as Elmer's glue lines allowed to dry. Using a braille ruler and a carpet needle, punch evenly spaced holes 1/4 inch apart along both lines--the same number of holes along each line (say 12 holes). Thread the needle with colored yarn. Starting from the back side (with the glue), pull the thread through the farthest hole (hole 12) on one line (A) and into the hole (hole 1) closest to the right-angle on the other line (B). From the back, go into hole 2 on line B and draw the string through and into hole 11 on line A, etc. When done, do the reverse order (hole 12 on line B into hole 1 of line A) with a different colored/textured string/yarn. The result is a pretty curve. 
Skills/Concepts: mathematical relationships (1-to-1 correspondence), pattern analysis, fractal geometry, physics (support bridges use cables similarly). 
same idea but with a circle or oval with evenly spaced holes (number them, if possible from 0 to ___). I did this one and just photocopied the shapes with the marks where the holes would go. The students thread through hole one to hole 5, to hole 10, etc., skipping by 5. This was taped to the back of the cardboard. When the students are done, gently tear away the paper from the cardboard or cover the back with felt. It makes for a great frame for pictures, 3-D art glued in the center, or just as art by itself. The students can experiment with getting a larger or smaller blank opening by skipping more or fewer holes (skipping by 3 produces a larger blank center than skipping by 7). As I recall, however, there has to be an odd number of holes along the rim of the circle (I think), and younger children get confused once they reach a hole that already has thread in it.
For an older child to do this independently, s/he can use a needlepoint ring, which (I think) has holes in the rim already. Once completed, it can be a free hanging "sun-catcher". Older children can imbed brass nails or hat pins into soft wood, cork sheets or Styrofoam blocks (cover with black felt for a dramatic effect) and wrap the string around the nails (student can independently use a large gear such as a bicycle gear with lots of teeth as the template and place the pins into the notches). Skills/Concepts: pattern analysis, pre-multiplication (skipping by 5 once gets to hole 5, twice, to hole 10, three times to hole 15, etc.). 
fabric wreaths: use a straw wreath (craft shop). Use old pieces of fabric (LOTS) cut into 2 inch squares with pinking shears (there are electric shears available or a fabric shop might be able to do them in bulk if you plead well enough). Using a pencil with the lead broken, a slightly sharpened dowel rod, or a Phillips screwdriver, place the tool in the center of the square of fabric and push it into the straw wreath. Continue over the front surface of the wreath. Different colors/textures can be focused in one area, or different sized squares of fabric can be used to create different effects (e.g., to indicate the "top"). Finish off with 2 small eyelet screws pushed into the back and use picture-frame wire for hanging. 
different color/textures of fabric to make a collage. An animal shape made of small pieces of overlapping fabric can be glued to a poster board to make a collage. 
Yarn, soaked in glue, wrapped around a balloon, when dry, the balloon is popped to leave a lace structure. (This can be frustrating for a child to keep the string from slipping around. 
cheesecloth or similar cloth soaked in starch and draped over jars, dowel rods, cardboard boxes. When dry, they retain the shape. These make great Halloween ghosts, just glue on Googly eyes or macaroni or buttons.
Beads/Braids
Remember lanyard braided into key/whistle chains? 
braid hair, rope, dough
beads on hair, string necklaces, hanging planters 
beads woven into fabric 
potholder weaving (it's still going strong at craft shops) 
leather strips braided into belts (there are leather belt kits available at stores that sell stuff for the Boy Scouts).
If you can get the domino sugar tablets (not the cubes, but the ones actually shaped like dominoes), Elmer's glue (if you want to keep it) or frosting can be used to glue them together to make pillars (putting a ruler lintel across them), pyramid arches, and curved arches (lightly sandpaper into blunt-edged wedges to get the curves).
This can be used to teach the physics of architecture--why was it necessary for early structures using the pillar and lintel to have so many pillars? (The lintels can't support too much weight and structures couldn't be too tall--you would need too many pillars inside the building that there would be no room for people). 
What advantage would an angle arch have in holding up a wall and roof? (Allows more light and air to get into a building). 
What advantages did the Romans and the Byzantines get from arches? (Could support more weight, needed fewer pillars, more light and air, structures could be taller). 
What advantage does a flying buttress arch have? (Like the Notre Dame Cathedral, the interior is free of pillars, so there is more room for people). 
Skills/Concepts: physics needed in architecture, pre-graphing for geometry, community awareness [Where is there a building with an arch? (e.g., church, government buildings, bridges). Where in the room is there lintel? (doorway).], planning ahead. 
To go along with the above, put waxpaper or saran wrap inside a bowl. Periodically cover with a thick sugar coating (or tempered chocolate) and allow to dry. When thick enough, remove the dome to make a Rotunda (which is an arch swiveled 180 degrees that leaves a chocolate trail). 
Skills/Concepts: 3-D geometry (non-Euclidean), etc. 
gingerbread house (can be made with graham crackers instead) 
pasta art using uncooked pasta: string them, weave them, glue them together. Pasta (macaroni, elbows, etc.) come in different colors now, or can be painted (add scents to the paints for another sensory stimulus).
make a candle holder with blocks of wood of various heights, thicknesses. Use a handle-held drill to get holes deep enough to hold candles. Blocks can be glued together into a small centerpiece or dowel rods can be inserted into holes to spread them out. Don't have the dough for this? Get a log or thick branch. Plane the bottom to make it flat and drill a series of holes along the top. Spray paint or glue glitter, beads, macaroni. 
use wood shavings from a plane to make "hair". 
Affix objects (nails, coins, rope, yarn, buttons, bottle caps, pop can pull tabs, etc.) to the surface of wood.
Soap Carvings
Use Ivory or scented soap bars and a plastic knife/nail/sharpened dowel to scrape, dig, and carve 3-D shapes, make textures by cross hatching, random small pokes, etc.
Use the shavings to scent the inside of a fabric animal shape or to glue onto a picture for added texture. 
Where to Get Ideas
Check out craft shops, Girl Scout and Boy Scout books, art shows, craft shows, art books, etc. for more ideas. Make a reindeer out of clothespins or a dog bone biscuit. Wreaths made of hangers and tissue paper (or clear plastic bags). Hollowed out eggs for a head with pipe-cleaners for arms and legs. 
Gather pieces from toy games (Mr. Potato Head, Lego blocks, checkers, car wheels, etc.), visit a hardware store (get a jar of washers, Hmm, that cabinet handle could be a nose or train, gears for wheels), go to garage sales (plastic fabric pieces, imitation leather, small objects d'art), baker's/restaurant supply store, wedding/party favor store (neat dried flowers, candy molds, objects used to make favors, Googley eyes, etc.) for ideas and supplies. Teacher stores also have a lot of materials. Look at the stuff with your hands and sniff it. Ideas just come a poppin'!
Physical Education
Physical education, recreation and games for students with vision impairment.
Physical Education and Sport Classes - Some Considerations:
 Even when the vision impaired student cannot participate fully, there is a social advantage in knowing about rules, equipment, terminology and team spirit of the popular team sports.
Always give clear directions when describing an activity eg. the bat is on the floor to your right.
Be aware that many vision impaired children have difficulties on bright sunny days. It may take some time for their vision to adjust when travelling between bright and dim environments.
 Don't stand with a light source or window behind you when addressing the student.
 Read aloud when you are writing on the board and spell new words.
 Ask the vision impaired student to hand out materials and equipment. This will give her an opportunity to see who is in the class.
 Because the vision impaired student cannot see your smile of encouragement, be sure to offer verbal encouragement when she does well.
 Ensure that the student is well oriented to the area in which she is expected to move.
 Secure the student's attention by using a whistle and or calling her name.
 Choose balls and other equipment that have good contrast for the student with low vision.
A ball with a bell will assist participation for blind students.
If the layout of the playground, oval or gymnasium is altered, point out these changes to your vision impaired student.
Your vision impaired student may know the school environment very well but on excursions she may be less confident in her mobility skills and may need assistance from classmates or an adult.
Include the vision impaired student in all class experiences - displays, jokes, visitors etc.
Swap 'buddies' if the situation is unpleasant for either student - they might become good friends another time.
Don't avoid 'blind' and 'seeing' words - blind people do 'watch' TV and go to 'see' a friend.
If you are concerned about a blind or vision impaired student participating in a game, think carefully through the issues and the skills required. Often there is a simple solution which will allow inclusion. Utilise the following approach to problem-solving. 
Activity Concerns and Possible Solutions:
Baseball/ soccer: The activity uses large, open space and the playing object can escape. Decrease the playing area by using predictable boundaries. Use auditory devices on bases, beep balls and spotters.
Relays: There is an uneven number of vision impaired students and the activity requires that evenly matched teams compete Blindfold an equal number of sighted students who have volunteered to play blindfolded OR determine evenly matched teams yourself as opposed to student captains selecting teams.
Some eye conditions can be aggravated by strenuous physical activity and contact sports. Teachers should check with parents and the Visiting Teacher for specific information.
Running Tether - shoe laces make great tethers when running. Flat shoe laces tied in a loop so that there is just enough room for the guide and runner's hand. This provides control to the guide and makes arm-swing timing much easier. There is also less risk of injury to both the guide and runner when using a short tether
Events utilizing a target - use an auditory signal behind or under the target such as a radio, hand clapping, a bell with a string.
To delineate the playing area - use brightly coloured mats or tape.
 PMP and Other Skill-Based Activities - use contrasting surfaces and equipment eg contrasting mat under a balance beam.
Catching activities - use a bean bag instead of a ball OR bounce pass instead of tossing the ball.
Virginia Reel and Chase/Catch Games - where partners separate and locate each other again, use an auditory signal such as a clap or whistle to assist location.
Throwing Events - a block of wood held in the ground with tent pegs acts as a good toe board. The rest of the students in the class will also find this useful.
The activity area has limited boundaries - use carpet or rubber runners as markers.
Volleyball and other activities utilizing a net - decrease the playing area AND/OR modify the body position from upright and running to a safe position such as a crawl, walk or crab walk AND/OR require players to play in pairs.
Field Hockey and Soccer where one player is required to protect the goal - reduce the area of the goal AND/OR use a larger, softer ball AND/OR divide the goal area between two goalies.
Trampolining - mark the centre of the trampoline with a bell attached to a small piece of thread.
Correction Swimming Goggles - take the goggles and prescription to your local optometrist who will be able to supply correction swimming goggles.
use a buddy systems, peer tutoring, and teacher aides to assist in learning and participating in movement patterns, motor skills and sports activities;
Can the student be better prepared for the activity? eg practice performing the skill prior to its introduction to the class.
Tunnel Ball 2 or 3 teams - human version. On the whistle the leader crawls through legs of team members. As a player 'disappears' down the tunnel the next player starts to go through the tunnel.
Human Chain. Same as above only students twist in and out of team members as they move down the line.   
continue to Chapter 6

20 Outdoor Activities for Blind and Visually Impaired Children
Monday July 19, 2021
Nearly all children with retinoblastoma have some degree of sight loss arising from the cancer and its treatment.  Identifying outdoor activities they can fully engage with may be hard for families.  Bilateral Rb Survivor, Abby White , shares 20 classic and creative activities that include blind and visually impaired children and help connect them with the natural world.
What do you have planned for this summer to help your child explore the natural world? This is a perfect time to engage the senses, get a bumper dose of Vitamin N, and develop new skills and confidence through play.
A little creativity and thoughtful adaptations will ensure children with sight loss are included in play and can connect deeply with nature.  They nurture curiosity, and open up worlds of knowledge and exploration that sighted children absorb without even realising.   We hope some of the following suggestions will help you and your child enjoy a deeper connection with nature this summer.
Connect with the Elements
1. plant something.
Growing shrubs, flowers, herbs, vegetables and fruits such as tomato plants is a great way to learn about nature, and where food comes from.  Gardening is a wonderfully tactile learning activity for blind and visually impaired children.
Involve your child in choosing the plants, bubs or seeds, and deciding the best place to plant them, explaining the options and reasons for each.  Children can participate in every step of the gardening process, including digging, planting, and watering.  Explain each step verbally, and guide your child's hands as needed to help them understand.
2. Visit a Farm
A super active place to learn about plants and animals.  Many farms have summer open days with family-friendly activities.  Some have year-round farmyard attractions where children can gain hands-on experience of the animals, big tractors, and farm processes.
Pick-your-own farms are a great option for hands-on learning about seasonal fruits and vegetables.  Children with some sight may be able to use visual cues to identify ripe produce.  Other children may need to learn tactile techniques, such as the firmness or scent – ask the farmers or pickers for guidance on multi-sensory cues for the particular produce on offer.
3. Buy of Make a Wind Chime
Differing wind speed and direction can be seen from indoors as the breeze moves through greenery and blows items about.  People with sight loss miss this information.  A wind chime can be a beautifully relaxing and fun way for children to learn about wind, and how it changes throughout a single day and year-round.
There is a wide range of carefully crafted and perfectly tuned options available.  Understanding the structure, and how different materials and sizes produce different sounds will help you find the perfect chime for your child and family.  This is a super chime buying guide with some top suggestions, including audio examples.
Place a wind chime near the door or window you have open most often.  This could be used as an auditory signal to locate the area, but it will go silent if there is no wind.  Explain to your child that the chime may go silent, and ask them to explain the reason why, to demonstrate their understanding of action and reaction.
4. Fly a Kite
How do children learn the scientific concepts of flight when they will never see a bird or plane take off, land, or fly through the air?  The simple joy of flying a kite is one wonderful way to connect with and explore the world, understand some of these processes, and nurture a sense of awe.
Build your own kite as a family, or buy a pre-made one with an easy-to manage reel control.  Making the kite with your child gives them the opportunity to learn about its structure and aerodynamics, but you can also explore and discuss the structure of a purchased kite with your child before flying it.  Look for kites with audible tails , or add your own to help your child keep track of the kite in flight.
Review kite flying safety with your child . Ensure you choose a safe open area, far from electricity and telephone lines and other dangerous obstructions – reinforce to your child why this is so important; children with sight loss who want to fly their kite independently won't be able to see power lines and judge that an area is safe.
Together with your child, set the kite flying, then guide your child in how to control its flight.  Gradually let go of the control until your child is in confident full control.  Encourage your child to focus on the experience of managing the controls, the sensation of the kite pulling against the reel, and the sound of material buffeting and the tail jingling in the wind overhead.  If your child is confident with the action of flying the kite, or later if they need to focus on the controls, talk together about what your child experienced, and how their concept of flight has evolved.
5. Toast Marshmallows
A classic summer activity that all children can have fun experiencing, regardless of visual disability.  Take special care to orient your child around the area, and specify safety rules to all children present.  Ask the children to explain the rules to you, so you know they have been understood.  Use long-handled toasting forks that enable all children to stay well away from the fire, and assist as needed.
6. Enjoy a Fireworks Display
The bright lights set against a dark sky make fireworks displays particularly visually stimulating and fun when children have some sight.  However, without a commentary, the loud hisses, whizzes, crackles and bangs may be disorienting and distressing for a blind or visually impaired child, or simply boring.
A quality description of fireworks will help bring the spectacle to life for children with sight-loss, and give context to the potentially frightening soundtrack.  Think about the language you can use to describe different fireworks , including their colours, movement and changing shape, and where they are in relation to the familiar environment.
7. Take a Boat Trip
Young children with limited or no sight often have a hard time understanding that water in rivers, lakes and oceans is constantly moving.  Being "on" the water allows them to feel the motion that others can see.  From rowing or paddle boating on a city lake, to sailing on the open ocean, there are so many ways to experience the ebb and flow of water beneath the boat.
Giving several boating opportunities in different environments enables the child to compare and contrast their experience.  For example, punting or riding a gondola on a quiet, shallow river feels very different from canoeing in a sheltered cove, which in turn feels different from taking a fast ferry across open water.
Orientation and safety education is especially important for children with sight-loss – refresh general water safety with each new experience, and teach rules specific to that activity. However, there is no reason why blind and visually impaired children can't participate in boating activities.  This is a great time of year to take an aquatic adventure.   Look for hands-on opportunities that will maximize their experience.
8. Make a Water Obstacle Course
On hot summer days, an aquatic obstacle course can be a wonderfully fun way to cool down, especially if infection control restrictions mean you can't visit water parks and pools.  With your child, brainstorm all the materials you can use, such as garden sprinkler, paddling pool or very large bowls, face cloths, plastic cups for pouring, clean squirt bottles or water guns, sponge balls, hula hoops, pool noodles, garden furniture and toys.
Help your child use their imagination to plan, and set up the obstacle course, then orient and support them around the full course if needed.  This video may give you some activity station ideas for the obstacle course.
Children enjoy water play at the Sally Test Paediatric Centre in Eldoret, Kenya.
Stimulate the Senses
9. sensory play.
In our June 2018 article on our blog , child life specialist Jocelyn Leworthy, describes how playfully engaging the senses aids development in babies and young children :
"As children grow, they also acquire more complex skills through sensory experiences.  For example, when playing with sensory materials like water, play dough, blocks; sand etc., they begin to develop fine motor skills – use of the small muscles in the hands. This is achieved through molding, manipulating, stacking, grasping, pouring etc.
"Children learn about concepts like cause and effect when their play involves complete actions like pouring, mixing, stacking and moving. They also learn about physical properties (shape/size/colour/texture), and conservation. Through exploring with the materials, they also develop foundation skills for math and science, including measurement, observing physical changes when materials are mixed or altered, and making comparisons.  Sensory experiences also promote imaginative play and encourage social development like turn taking, sharing, and perspective taking when other children are involved.
"In summary, the senses play a critical role in a child's holistic development, and their ability to make sense of the world around them. As a parent or caregiver, there are endless opportunities to engage the senses through fun, stimulating interactions and experiences.  Take time to try some new approaches today."
For a simple sensory play experience, half fill a washing-up bowl with water and provide a selection of silicone or plastic utensils and containers for play. Encourage your child to experiment with the equipment. Make their play even more interesting by adding new items to explore, like ice cubes dyed with food colouring, or natural materials that respond to water in different ways, such as a sea sponge, sand, shells, leaves, twigs, flower petals, pebbles and pine cones.
10. Visit or Make Sensory Garden
Landscaped gardens tend to be very visual, which can be rather dull for a person with limited or no vision.  A sensory garden is designed specifically to stimulate all five senses, using carefully selected flowers, herbs, shrubs, landscaping, and other features.  These environments are very engaging for children and adults with sight-loss, empowering all visitors to connect with nature in multiple ways.
Fabulous creative sensory gardens exist throughout the world, from botanical gardens to small oases within city parks.  Find out what options exist near you.  Your visit may even inspire you to create your own sensory garden at home .
If you don't have a garden, or don't want to take on a big sensory gardening project, you can make a super sensory garden box with your child. The creative possibilities are endless, even with a small herb planter.
11. Sensory Treasure Hunt
Take a walk with your child, and encourage them to search for items themed around the five senses.  Keep this very simple with a list of open-ended items, such as looking for something that
Feels soft or hard
Makes a noise
Can be eaten
Smells sweet
Help them to find items by drawing attention to points of interest with description as you walk, and help your child explore with their hands if needed.
If you're visiting the beach, encourage your child to explore a small area and collect different seashells, pebbles or rocks.  Take some time together to investigate each item in the collection through the sensory range.  What do they look like?  Do they make a sound?  What is the texture?  Do they have a scent?  What do they taste like (or what does the child imagine they might taste like)?  How are they similar and different from other items in the collection?
12. Nature Art
Art and crafts are always a great way to occupy children. Go for a walk with your child in search of natural materials they can use in their next art project.  For example, fallen blossoms, petals, cut grass, leaves, bark, feathers, sticks, berries, and seed pods.  Use them to create a tactile collage picture or card, to decorate a box or photo frame, or any number of imaginative projects.
Simple art Abby created from beach treasures she has gathered over the years.
13. Adapt Active Games
Outdoor games are a core part of childhood summer fun, and they can easily be adapted to include children with sight loss.  Use high contrast for children with some sight, and auditory and tactile cues.  For example, use bright materials, duct tape or sound sources to define the different elements of your game "board" or pitch, and contrasting colours for each participant's marker.   Glow sticks or brightly coloured mini pool noodles taped together into rings make great highly visible substitutes for ring-toss games.
14. Take a Walk or Hike
Walk around your neighbourhood or visit your community park at different times of day.  Or take some time to explore a nearby country trail. Encourage your child to help you choose the location for your walk, investigating the options together and what they could experience along each route.  Many trails throughout the USA have been made accessible for blind hikers .  Consider your child's orientation and mobility skills and endurance when looking at the route's terrain and complexity.  If your child uses a white cane, ensure they use it, and assist with guiding when needed.
As you go along, take regular breaks so your child can safely explore the environment around them with their different senses – this can be hard to do when they are using their senses for orientation.  Blind children miss the visual element of potential destination – the vista up ahead.  So Immediate surroundings, and the sensory experience they generate, become much more important. Describe the delights of nature, and encourage your child to share what they experience.
15. Go Swimming
Serious summer fun for everyone, whether at a pool or in a warm summer sea. Be sure to orient your child around the pool, especially which end is shallow and which is deep, where the step entry points, showers, and changing areas are, and where your group is located.  Define your location with something easily visible like an umbrella, or an audible marker like a wind chime.
Discuss with your child what they should do if they become disoriented in the water, and practice the steps so they feel confident.  Never let children play in the water unobserved or unaccompanied.
Jumping waves at the beach, or splashing about in a paddling pool is also wonderful fun for little kids.  If your child can't yet swim, consider arranging swimming lessons – learning to swim and stay safe near water can be lifesaving.
16. Discover Accessible Sports
With quality instruction and thoughtful adaptations, a wide range of sports become accessible to blind and visually impaired children.  From horse riding, tandem cycling and sailing to tennis, cricket, football and mountain biking.  If your child expresses interest in a particular sport, research adapted options in your area.  Ask your local and national rehabilitation representatives what accessible sports services are available for blind children, and ask your child if they would like to have a go.
An afternoon on the water during Retinoblastoma Week at Camp Sunshine .
17. Have a Picnic
A simple pleasure on their own or as part of another activity, picnics offer great opportunity to teach life skills with some fun and excitement.  Involve your child in planning, preparing, and packing the food.  If you are grocery shopping specifically for the picnic, consider paying in cash so your child can practice making purchases. Encourage them to identify the notes and coins needed, and count any change.
With simple demonstration and instruction, children can help with many food and picnic basket preparation tasks, such as:
Locating ingredients and utensils
Counting out food items or utensils
Washing fruit and vegetables
Spreading fillings onto slices of bread with a spoon
Combining, mashing, stirring, or scooping ingredients
rolling pastry and cutting into shapes
Lining a baking tray
You don't have to go far for a fun family picnic. Enjoy al fresco dining in your own garden, or even a carpet picnic in front of the TV.  A vacation from the table can be a great adventure for children.  Breakfast in the garden is especially good as sunlight exposure first thing in the morning boosts the body's daily biological clock and is the most effective source of natural Vitamin D.
18. Guided Imagery Meditation
If you don't have a garden and you can't visit green space near your home, or you just need a little extra oasis of calm, guided imagery meditation can be an excellent way to unwind. Carefully prepared recordings transport the listener to beautiful places and a meditative state with soothing spoken word and creative soundscapes.
The narrator will talk you and your child through the process step by step, with easy to follow instructions for breathing and visualization. You can simply listen, let go of the day and all burdens, and relax.  The soothing effects of guided meditations often result in you falling asleep before the meditation ends, with little or no recollection of the story when you wake up.
Get Sleepy , Sleep Cove , and Guided Sleep Meditations are all podcasts with wonderful natural guided imagery episodes suitable for both children and adults in their extensive backlist repertoire of meditations and sleep stories.
In this episode from Get Sleepy, Thomas Jones narrates a mystical story about a girl named Ella, and a magical lake where beautiful wonders await.
19. Learn to Recognize Birdsong
Birdsong is beautiful, relaxing and uplifting to listen to, and can be especially rewarding when we recognise individual birds in the chorus.  The marvellous range of songs and calls in the avian kingdom offers blind and visually impaired people an alternative route to identifying birds, and the process can be very meditative.
Being aware of the birds in our local environment at different times of year is an important part of learning about life, growth, global environments, migration, and conservation.  Empowering children without sight to recognise individual species, and even differentiate between male and female calls, opens up a realm of connection with the world around and far beyond them.
There are many learning resources and guides online, tailored to the range of birds found in different locations around the world – search for resources covering your region or country.  You can also use birdsong apps to identify birds in the wild, or learn the songs and calls and test your knowledge.  This comprehensive birdsong app guide is particularly useful for North American residents .
20. Write a Nature Inspired Story
Encourage your children's creative writing or storytelling skills with one of the following challenges (or use your own). If your child is too young to write, encourage them to tell you their story so you can write it down for them.
Describe a magical woodland using all five senses.
Find an object on a nature walk and tell the story of its life.
a magnifying glass
sitting in a tree;
a bird in flight;
a hunting cat.
a picnic from an ant's perspective;
a zoo from an elephant's perspective;
an ocean sunset from a dolphin's perspective;
an African rain storm from a zebra's perspective;
the summer thaw from a polar bear's perspective.
Share the stories together at a family reading.
About the Author
Abby's father was diagnosed with bilateral retinoblastoma in Kenya in 1946. Abby was also born with cancer in both eyes. She has an artificial eye and limited vision in her left eye that is now failing due to late effects of radiotherapy in infancy.
Abby studied geography at university, with emphasis on development in sub-Saharan Africa. She co-founded WE C Hope with Brenda Gallie, responding to the needs of one child and the desire to help many in developing countries.  After receiving many requests for help from American families and adult survivors, she co-founded the US chapter to bring hope and encourage action across the country.
Abby enjoys listening to audio books, creative writing, open water swimming and long country walks.
Read the story of how WE C Hope began.
Share this entry
Share on Facebook
Share on Twitter
Share on WhatsApp
Share on Pinterest
Share on LinkedIn
Share on Tumblr
Share by Mail
hi this inspired me to do a day of baking with my blind child vivian she had cancer and lost her eye sight she loved baking with me and she wants to say " I got to help out on something it was really fun because I dont get to help out alot"
That's wonderful to hear! I'm so glad Vivian enjoyed baking with you, and had fun helping out 🙂 Our most recent blog post includes a couple of links to simple baking ideas for inclusive Holiday decoration (scented and braille features) that Vivian might like to try. Happy holidays!
( https://wechope.org/child-life/12-ways-to-inclusive-festive-fun-how-to-celebrate-holidays-child-blind-visually-impaired-1/ )
Leave a Reply
Leave a reply cancel reply.
Your email address will not be published. Required fields are marked *
Retinoblastoma
Retinoblastoma Overview
Know the Glow
Medical Care
Child Life Support
Living With Retinoblastoma
Through Our Eyes
Our Vision and Mission
Our History
Daisy and Rati
Meet Our Team
WE C Hope Blog
Awareness Campaigns
World Rb Week
Rati's Challenge
Supporting Families
One Rb World
Get Involved
How Your Money Helps
Hold Your Own Event
Sporting Challenges
Corporate Partnerships
Kenya Partner
Privacy Policy
User Agreement
Braille Necklaces
Badge Holders
VI Drinkware
Vision Bags & Totes
Braille Greeting Cards
Keyrings/Zipper Pulls/White Cane Tags
TVI's Guide Complete Set Bundle
TVI's Guide to Teaching the ECC
Thematic Keyboarding & Braille Fluency Worksheets
Visual Efficiency & Magnifier Fluency
Task Box Activities
Vocabulary Cards & Checklists
Interactive Sensory Stories
Interactive Matching Activities
Presentation Complete Set of 16
Foundations of Teaching the ECC
Itinerant Teaching Strategies & Tips
Strategies & Activities for SIDPID
Strategies & Activities for MIMO
Job Tasks for Jobs, Career & Life
Strategies & Activities for Standard Course of Study
Accommodations for BLVI
Accessible Content for BLVI
Using Themes to Teach the ECC
Tips for Being a Physically Fit TVI
Conducting a FVLMA
Developing SMARTER Goals
Determining Service Intensity Using the VISSIT
Selecting the Right AT
The Art of Teaching the ECC
Activities to Teach the ECC
Job Postings
Product Support
TVI, Greene Co., Ohio
TVI or Dual TVI/COMS, North Carolina
Paid Member Pages
Member Pages
Shop for Visual Impairment Instructional Resources and Gifts
Ecc instructional resources, vision bags & totes, recorded presentations, job posting service.

Helping Your Baby Reach Greater Wonders
Bringing Blindness Awareness to the Sighted Classroom

This post may contain affiliate links; please see our terms of use for details.
By Carol Castellano
This article was adapted by the author, Carol Castellano, from her book Making it Work: Educating the Blind/Visually Impaired Student in the Regular School , copyright 2005, Information Age Publishing, Inc. The article first appeard in Future Reflections Winter/Spring 2006 .
A "blindness awareness" presentation is a good way to foster understanding, acceptance, and respect for the blind student in the classroom. A blindness awareness presentation can help sighted students become familiar with the tools and techniques of blindness and learn ways to interact with and include the blind student in activities.
The session can help students realize that their blind classmate is a student just like them who will be learning the same subjects and doing the same assignments but who might be using different tools to get the work done. A blindness awareness presentation can be made by the teacher of the visually impaired, a skilled blind adult, the student himself along with a parent, or a volunteer from an organization such as the National Organization of Parents of Blind Children.
Beware of Simulation
Teachers are often tempted to use simulation exercises to raise awareness and "to show students what it is like to be blind." In these exercises, sighted students don a blindfold and then attempt to perform various tasks or walk around the school building being guided by a classmate to "build trust."
What are the goals of such exercises? Sighted students will probably have trouble performing tasks under blindfold that they are accustomed to doing with their eyesight. Is the goal to show them how hard it is to be blind? Sighted students will probably be nervous giving over their safety to a guide who is walking them around. Is the goal to show that blind people are helpless and dependent and must put their trust in good-hearted sighted people in order to get anywhere or to keep from falling down a flight of stairs?
Before you embark on such an activity, think about what you want the students to learn. Wearing a blindfold for a little while might show what it would be like to suddenly lose vision, but it certainly does not show what it is like to be blind. Real blind people learn a series of skills that enable them to perform tasks without or with very little eyesight. Likewise, real blind people learn mobility skills so that they can trust themselves and get where they need to go.
If children are blindfolded but are not taught any of the skills that real blind people use, they are likely to emerge from a simulation experience feeling that blindness is scary, sad, and difficult. Is this what you want them to think blindness is like?
Instead of fostering acceptance, understanding, and respect, these exercises engender sadness, fear, and pity. Instead of thinking of their blind classmate as a potential friend, students can end up feeling more distant from their blind classmate and feeling sorry for him or her.
A better way to foster understanding and promote friendships is through a presentation that will promote respect for the blind student and the skills and tools she will be using.
Discussion Topics
Read the stories of Erik Weihenmayer, the blind man who successfully climbed Mt. Everest, Abraham Nemeth, the blind mathematician who created the Braille code for mathematics, and Geerat Vermeij, a blind biologist. Your students might enjoy learning how to read and write a few simple words in Braille. You can purchase the program Braille Is Beautiful for your class or school. This curriculum program provides an educational video, a history of Braille, biographies of famous blind people, Braille games and activities, tools for writing Braille, a Braille service project, and other materials for learning about blindness and Braille. These stories and materials will provide background and factual information for the following possible discussion topics:
How do blind people accomplish tasks?
What jobs do blind people do?
How might blind people use their other senses?
What skills and tools do blind people learn in order to do their schoolwork, get to the supermarket, cook a meal, do their jobs?
How does Braille work?
How can we get our blind classmate into games?
Special Items
Ask your presenter to show students items such as print-Braille and large print books, Braille and large print rulers and tape measures, a Braillewriter or slate and stylus, a talking and large print calculator, a talking dictionary, a coloring screen, Braille and large print playing cards, a bell ball, etc.
Cane Travel Discussion and Demonstration
A cane travel discussion and demonstration is effective in helping students understand that their blind classmate will be learning travel techniques that will enable him to move about safely and independently. Discussion topics can include the following:
How do blind people move about independently?
How can a person get information without eyesight?
How does the cane work?
In addition to demonstrating basic cane use, your presenter can show students how a blind person gets information through the cane, identifies different surfaces, gets around obstacles, and goes up and down stairs.
Trying It Out
Give students some hands-on experiences with the tools and techniques of blindness. Here are some examples:
Have the blind student or adult presenter write each child's name in Braille on a piece of paper that the children can take home.
Point out that the number five on a phone pad usually has a tactile marking that blind people use as a reference point when dialing; let students try to find the marking using their sense of touch. Some might then want to locate the other numbers.
Children often wonder how a blind person can eat without being able to see. Put several plastic forks and spoons in a bag; have the students reach in the bag and retrieve either the spoons or the forks. They will see how easily they were able to discern which was which. Then have them close their eyes and see if they can get a spoon to their mouths. Point out that they probably brush their teeth without looking.
Brainstorm with the class about how people could accomplish various tasks without eyesight.
Set up role play situations in which one child closes her eyes and a partner tries to show her an object. Students will soon see that using words and putting the object into the blind child's hands will be effective.
Brainstorm ways to get the blind child into games. For example, in a game of kickball, instead of rolling the ball to the blind student, the ball could be placed in front of him or her.
Activities like these teach skills and broaden awareness. The blind child will probably enjoy the attention given to his methods; the sighted children will enjoy the success they experienced and the understanding they gained and will feel empowered to interact with their blind classmate. These experiences will foster the idea that their blind classmate can be a friend and an equal, and friendship and equality beat charity and pity any day.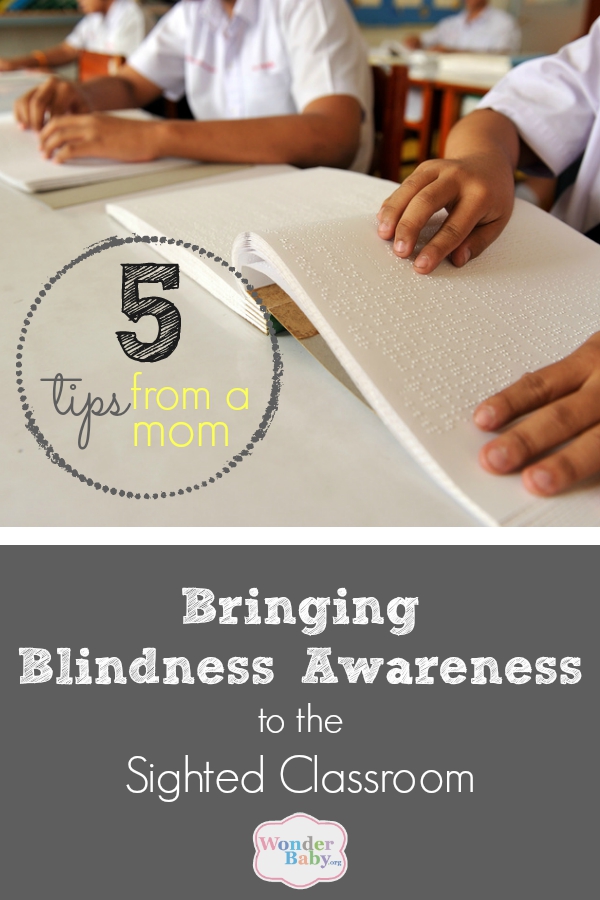 Related Posts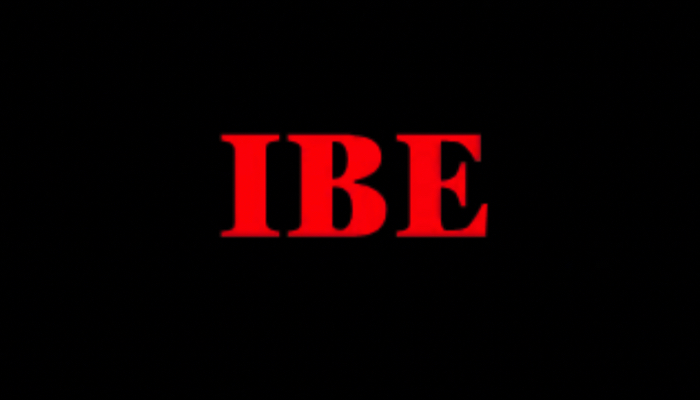 Visual Impairment
Insight Beyond Eyesight
Insight Beyond Eyesight provides support, information, and networking for Jewish individuals who are visually impaired and their families.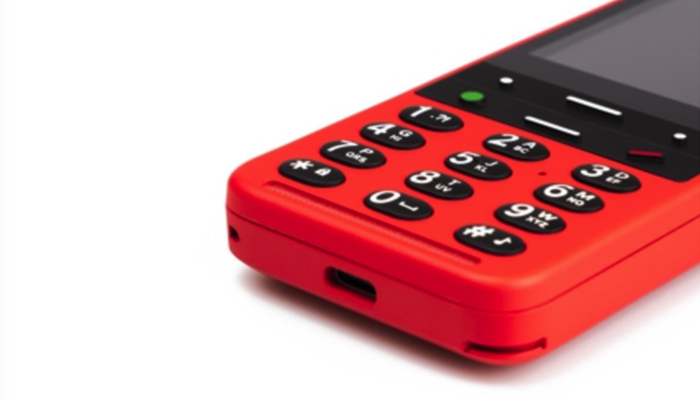 Assistive Technology, Visual Impairment
BlindShell Accessible Cell Phone
The BlindShell Accessible Cell Phone, with a tactile keypad, large screen, and enhanced voice control, is the perfect phone for those blind users.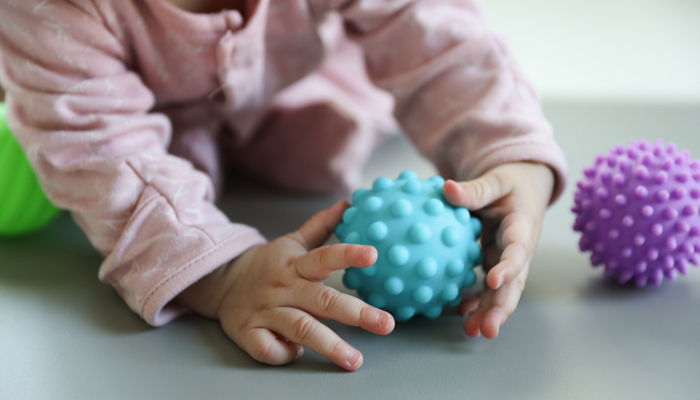 Developing Multisensory Skills in Blind Babies
Multisensory play, combining sounds and touch, and encouraging reaching and exploration can help your blind baby develop better spacial awareness.